So now that you have a Cricut machine, you are probably wondering what else you're going to need in order to make the items and projects you want, right? Well, look no further! Here, we will talk about the wide range of accessories that Cricut has to offer, and how these accessories will make your products really stand out!
From useful tools to every kind of mat you can imagine, Cricut has a ton of accessories that will make your crafting life a whole lot easier and more streamlined. You obviously don't need every accessory ever created for the Cricut, as you may not do the types of projects that relate to every accessory. However, by going through the accessories listed here, I'm sure you will find a few you can and will definitely use!
Maker Tools
There are many different types of tips and tools that can be used to add flare, elegance, and delicacy to any project you want to make with your Cricut Maker. Note that these tips can be changed out using a QuickSwap Housing piece (sold separately), and your Cricut Maker will cut, engrave, and deboss in ways you can't imagine.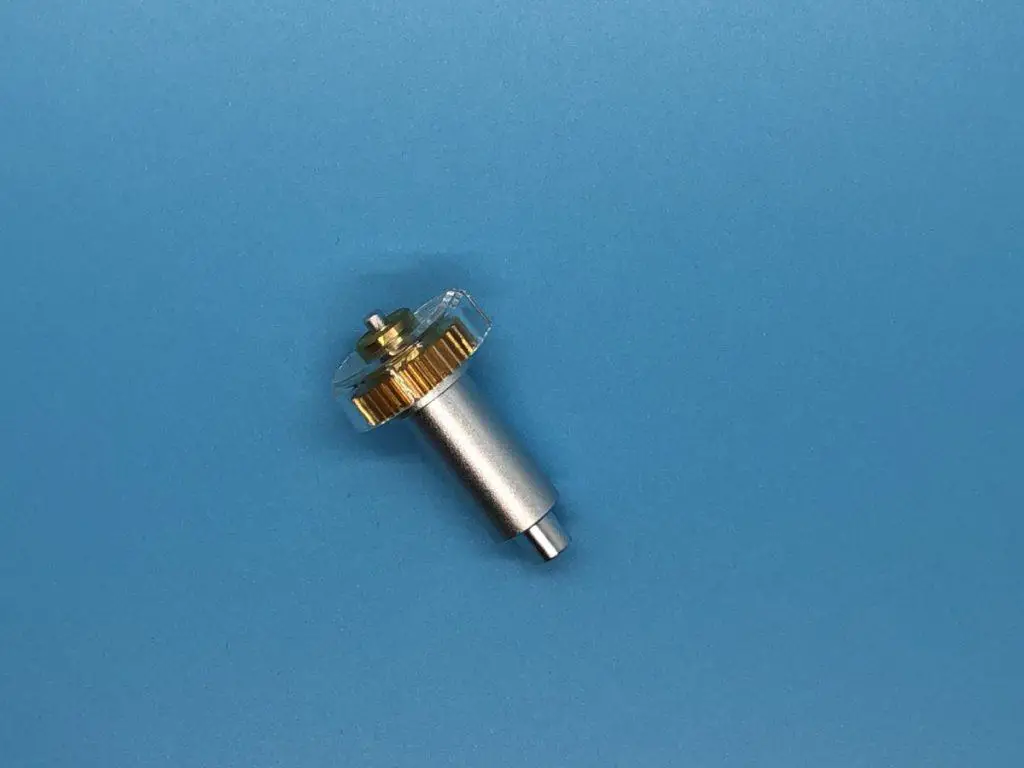 The Fine Debossing Tip is a tip that adds elegance and detailed debossed designs to any paper project you can think of. This tip is perfect when using cardstock, foil poster board, foil cardstock, foil kraft board, poster board, kraft board, and other paper materials. This tip can help you add dimension, elegance, and intricacy to all of your paper craft projects. 
Another tip that's handy to have is the Perforation Blade Tip, which will help you make projects that need perforation lines, such as raffle tickets, journals, or tear-off advertisements. The Wavy Blade can be used to add design accents, scalloping, and finished edges to your projects, from vinyl to fabric or paper. 
Have you ever wanted to make your own metal bracelets or pieces of art with engraved quotes or sayings? Well, the Engraving Tip is one that you are definitely going to want to invest in. Cricut even sells aluminum sheets that you can engrave for different projects. With this tip, you can bring your engraving dreams to life in an easy way. In fact, did you know that Design Space has an engrave line type with customized material settings to help you achieve your perfect design and cut? Amazing!
Pens
Blades and tools are great for adding flair, but what if you want a more personal, "handwritten," or "homemade" style? Well, Cricut Pens are an amazing accessory for just that purpose, and they come in a wide variety of colors. These can be used with the Cricut Explore family of machines and the Cricut Maker machines. Note that the Cricut Explore One does require an Accessory Adapter, which is sold separately. There are even sets of pens and markers available for the Cricut Joy!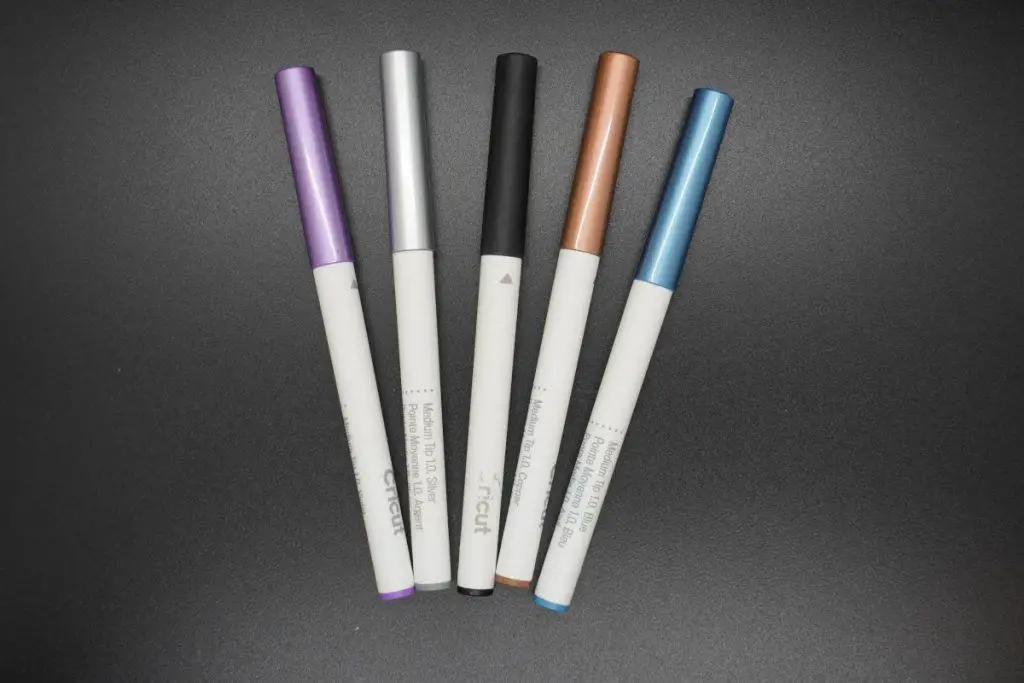 Using pens with your Cricut adds a personal, "handwritten" touch to your projects, especially for invitations, cards, signs, and the like. Cricut pens come in a variety of styles, including Extra Fine Point, Fine Point, Gel (also glitter gel & milky gel!), Washable Fabric, and Metallic. With these pens, you can add flair by using them by hand or by attaching them to your Cricut machine. Another variety of pens includes Markers (bolder strokes for those projects that need broad marks and designs).
Cricut Infusible Ink pens and markers are another way to add a personal touch to a project. The difference with these is that you use them to draw on standard laser jet copy paper, then use a heat press or EasyPress (must heat to 400°F) to transfer your design to your project. It's another level of artistic work you can easily do with the right tools and materials. 
Scoring
When you want deep score lines and sharp creases on your projects, from cards to home décor, the scoring tips and stylus are going to be your new best friends. The Scoring Wheel Tip and the Double Scoring Wheel Tip both use the QuickSwap™ Housing piece that we talked about with the other tools. The Double Scoring Wheel Tip is for thicker materials, including heavier cardstock and coated materials. The Scoring Wheel Tip can be used on basic materials, still giving you the creases and folds you want.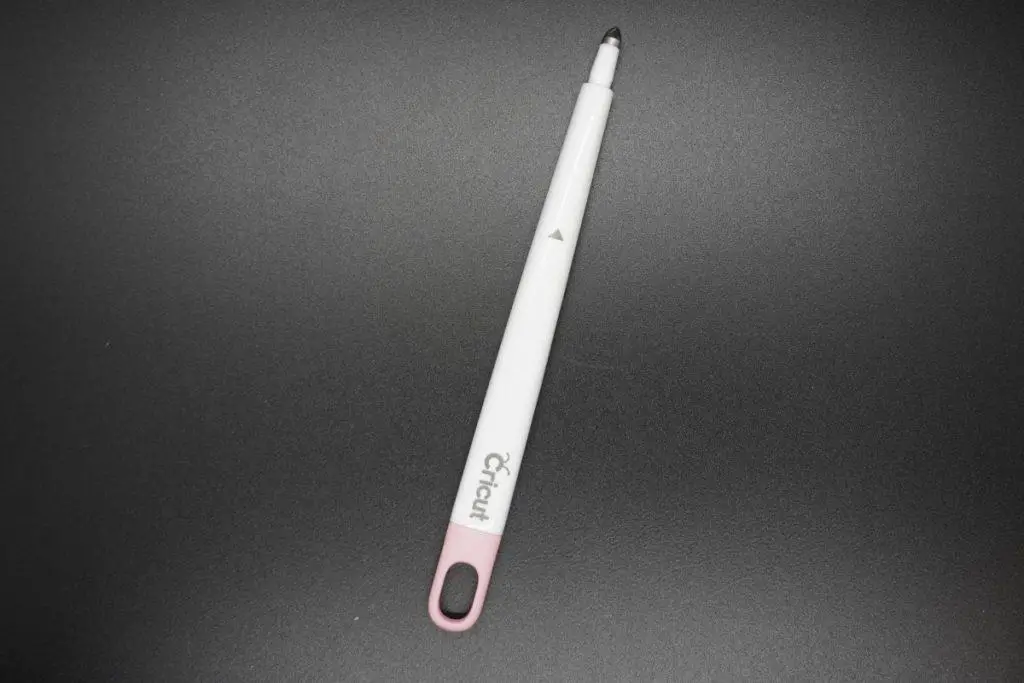 The Scoring Stylus is another handy accessory that can help you when making projects that need fold lines, such as envelopes, boxes, and cards. If you're using a Cricut Explore, you can even cut and score at the same time, as it will hold both the stylus and a cutting blade simultaneously. 
Mats
Mats make cutting with your Cricut easy and help make cleaner cuts for your designs. Now, depending on what type of material you are trying to cut helps you determine which type of mat will be best for you. One helpful hint – always keep the clear film cover on your mat when you store it so that nothing like dust or animal hair will adhere to it. Taking care of your mat will help it last much longer for your crafting needs. Your projects will also come out cleaner and more pristine if your mat is well cared for. 
The StandardGrip Mat is for use with the Cricut Maker and Cricut Explore cutting machines. This mat is used for heavy cardstock, vinyl, iron-on, patterned paper, and more. This mat holds your material in place as its cut, and 2 are usually included with your Cricut. 
The FabricGrip Mat is used for … you guessed it! Fabric. "Fabric" includes anything from cotton to denim to canvas. Using the Rotary Blade or Bonded-Fabric Blade with your FabricGrip mat will definitely make the cleanest cuts of your preferred fabric materials for projects.  
The StrongGrip Mat is perfect for those materials that are stronger and heavier than you are probably used to using. This mat works well for things such as specialty cardstock, backed fabric, matboard, and even chipboard. The main thing to keep in mind is that if your material is heavier, you need to use a stronger grip mat so that the material stays in place while you are cutting it using your Cricut.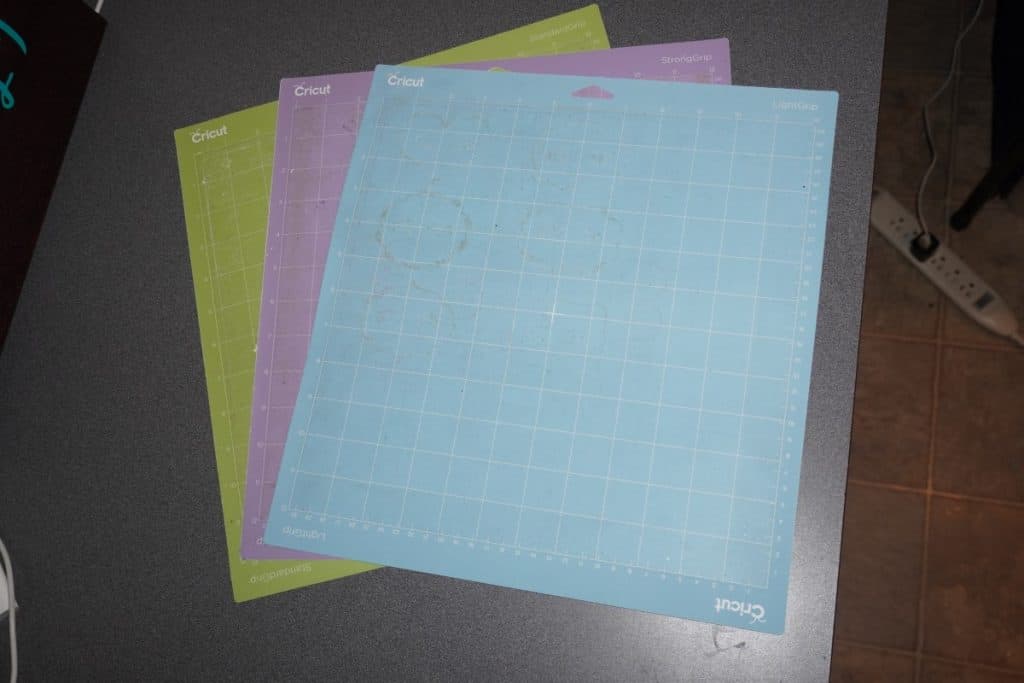 A LightGrip Mat Is often used for standard paper, light (not heavy) cardstock, vellum, and more lighter weight materials. This mat is specially designed for use with lightweight materials, and for best performance, should only be used with those materials.  
The Self-Healing Mat is a cutting mat for many different projects. Note: this mat is not for use inside Cricut machines but can be used for any cutting project outside of the Cricut itself. This mat has an extra thick surface, preventing your blades from cutting through it. 
For heat-transfer application, the EasyPress Mat is a great companion to the Cricut EasyPress. It not only protects the surface you're working on, but it also helps evenly distribute heat to allow the heat to go to your project instead of the surface you're working on.
Rulers
When you need a straight edge to cut on, a Cutting Ruler or Acrylic Ruler will definitely be your best bets. The Cutting Ruler has a stainless steel straightedge and a protective guard for your hands that not only makes cutting easy, but also fast and safe. The Acrylic Ruler has not only easy to see measurements, but also angled measurements at 30, 45, and 60 degrees, so you can have precision cutting at any angle you need. These can be used for every craft project where you need a straight, clear edge to cut on.
Cutting Tools
When it comes to cutting a trimming while you're crafting, you want precision. Cricut has an entire line of cutting tools that make these jobs easier on you, from trimming fabric to cutting through canvas and paper.
The Portable Trimmer is a simple tool that allows you to easily trim off extra materials with a clean, straight line. It's easy to load materials into, and measure and cut from either side of the tool. The measuring marks, which are in inches, centimeters, and grid marks, will help you to accurately measure. Remember – measure twice, cut once! 
When you want to cut thin plastics, canvas, or paper with precision, the True Control Knife is one accessory that is an absolute must have. This knife has safety in mind, with its hands-free blade changing system and an anti-roll design, which guarantees that it will stay in place when not in use. 
When crafting with fabric, there's often a time where you're going to need to cut the fabric to either fit your project better or fit into your Cricut. The Cricut Fabric Shears are a great addition to your crafting tool bag, as they are ultra sharp and cut cleanly through even the thickest of fabrics. 
The Rotary Cutter, which reminds me of a pizza cutter, is a great accessory for cutting any material you need to cut. If you use a ruler while using the Rotary Cutter, you'll guarantee a straighter cut. The Rotary Cutter is also safe to use, with a quick-release button that activates the blade when not in use. 
If you are doing a lot of crafting projects that involve fabric, such as sewing or quilting, the Thread Snips will be a great accessory for you to have. Simply cut unwanted edges off of your fabric pieces precisely and easily. They're easy to use, and cheap to boot. 
Storage
Storage. That's often a conundrum when it comes to crafting – how and where are you going to store all of your tools, accessories, and materials for crafting? Not to mention – where are you storing your machine or your EasyPress/heat press? Are they ever going to travel with you? These are things to think about when considering storage, and luckily, Cricut does have some handy storage options available. 
BrightPad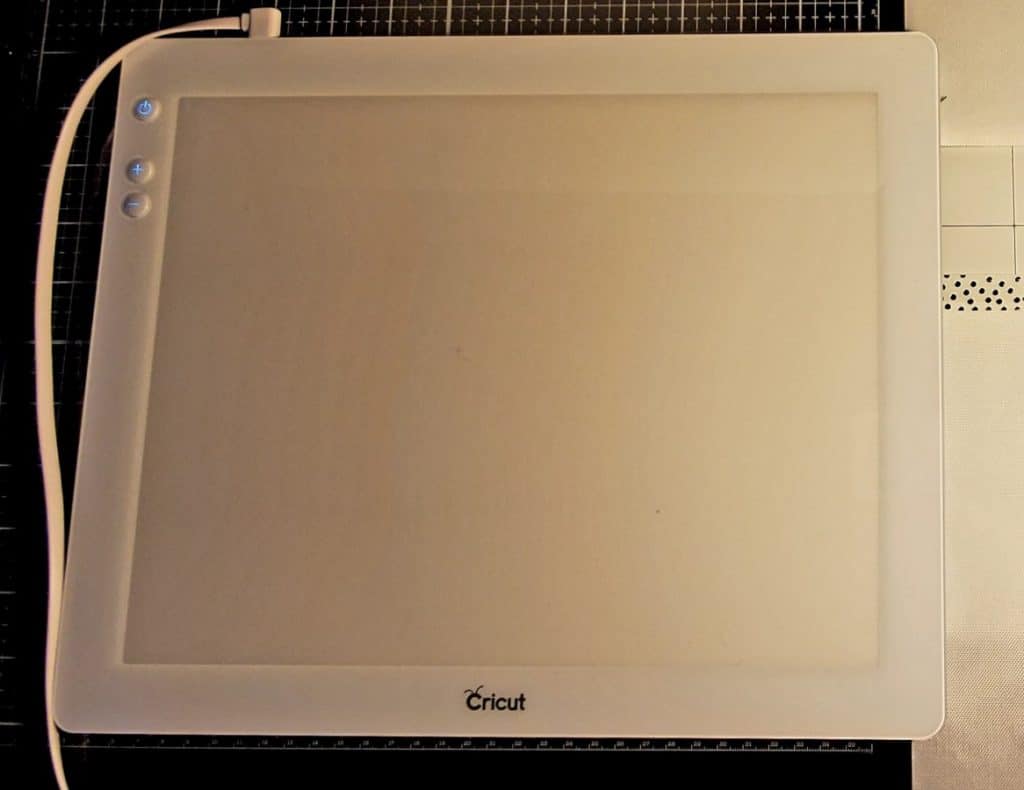 A Cricut BrightPad is a great tool that will help you when weeding, quilting, tracing, and more. This pad illuminates your project so that it is easier to weed vinyl, pierce paper, and make jewelry. This tool helps reduce eye strain and make crafting much easier for you, no matter what you are trying to do. Note that the BrightPad™ needs to be plugged in (US power outlets only) when in use and does not have a rechargeable battery. 
Other Accessories
Along with the Thread Snips and Fabric Shears, a Seam Ripper will help you with your sewing craft projects. Whether you need to remove a seam or a stitch, the Seam Ripper will make it effortless. 
If you're doing a large number of sewing or quilting projects, you may want to invest in a Sewing Kit, which contains everything you'll need, including fabric shears, thread snips, seam ripper, pin cushion and pins, measuring tape, and leather thimble. This kit has everything you need to complete your sewing and quilting projects, and is the perfect accessory for your Cricut. 
Another set you may want if you plan to work with fabrics with your Cricut is the Applicator & Remover Set. This includes a Brayer, which is a soft rubber roller that helps adhere your material to the Cricut mat, as well as a pair of steel broad-tip tweezers that help remove pieces of fabric, threads, and debris from your Cricut mat without damaging the adhesive of the mat.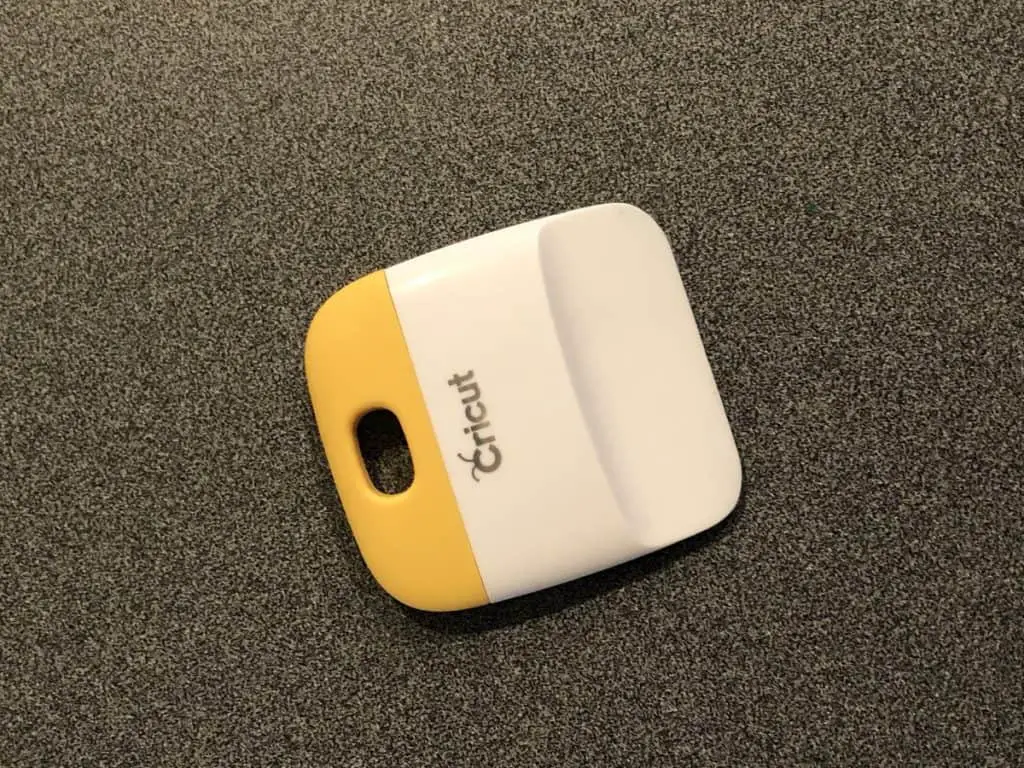 When working on bigger projects with vinyl, a Scraper is going to be one of your new favorite accessories. It will not only help you apply vinyl smoothly on larger projects, but it will also help you clear machine mats with ease, removing scraps to make your mat last longer. The Spatula works well with the Scraper and makes removing your cut images from the machine mat a breeze. It may look like a toy Spatula, but trust me when I say it will frequently come in handy!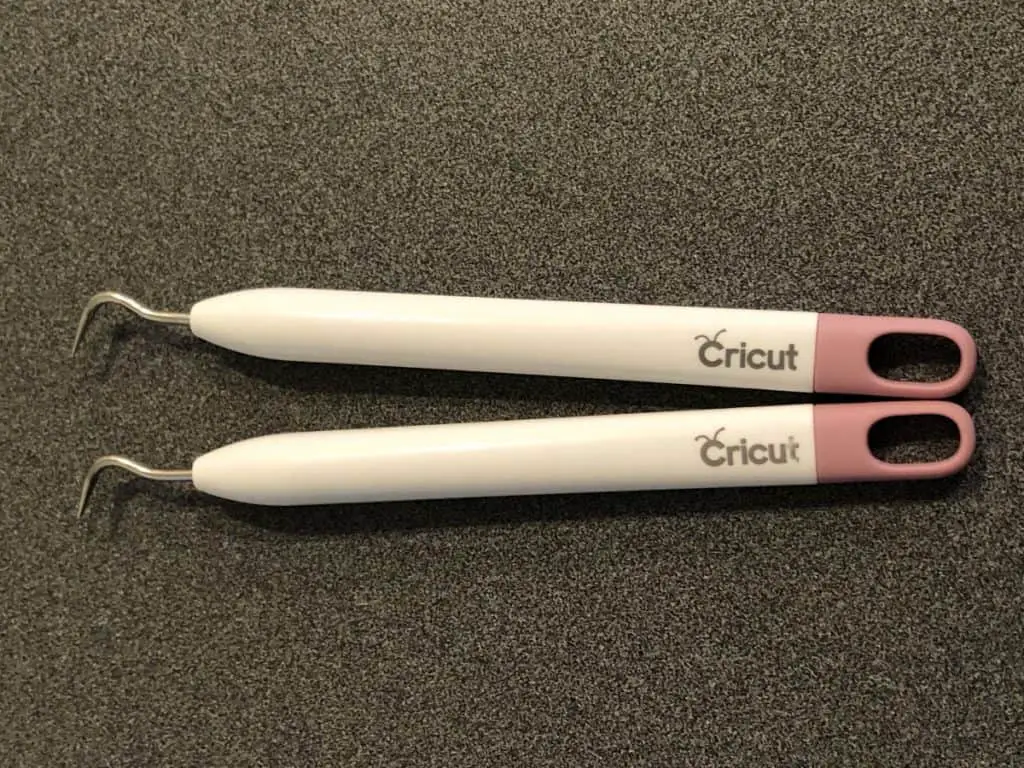 An incredibly important accessory for you to have is a Weeder. This is especially helpful if you plan on doing anything with vinyl, as it is designed to remove tiny cuts and negative pieces of vinyl and iron-on. From simple projects to intricately detailed pieces, the Weeder will come in handy on a regular basis. 
When you're making bags, shirts, or other projects that involve iron-on designs, you may want to have the Iron-On Protective Sheet to help protect your design and help evenly distribute heat. Simply place the Iron-On Protective Sheet on top of the iron-on liner (which has your design on the fabric) and apply heat to the project with an iron or heat press. It will help you get the look you're going for with your project. 
If you intend to do a lot of paper crafting, the Paper Crafting Set from Cricut will be a great asset to you. The set has 4 tools. The Piercer allows precise positioning of fine cuts and embellishments on all of your designs. The Quilling Tool makes even, taut, decorative spirals that you can incorporate in your craft projects. The distresser creates textured edge effect on paper, which is great for your cards and designs, and the Craft Mat features multi-use piercing and self-healing surfaces to protect your workspace and your projects. 
The Rolling Craft Tote is one option which can hold all of your tools, accessories, materials (from vinyl to cardstock), mats, and other items you will need for crafting. Although this tote will not hold the Cricut machine itself, it would be a handy accessory to have, especially if your craft materials travel around your home or crafting space. This tote will have everything in an organized spot right when you need it. 
For your actual Cricut Machine, the Machine Totes are perfect. This tote provides a padded compartment for your machine and has side pockets for cords or accessories. It also features sturdy handles and was designed to stack on top of the Rolling Craft Tote. There are bags for specific Cricut models, so make sure you buy the one that fits your machine properly for the safest fit possible. 
If you have an EasyPress , that you also want to store safely or travel with, the EasyPress Totes will be your best bet. This tote is specially designed for the Cricut Easy Press, and also has space for the Safety Base, mat, and small accessories including the cord. The interior Velcro straps hold the EasyPress in place, giving it the safest place to be stored when not in use. 
While on the subject of the Easy Press, let's discuss what that is. The Cricut Easy Press is the heat press made by Cricut for pressing iron-on vinyl to fabric or other material like wood and canvas. It is kind of like an iron but better, it distributes heat evenly and gives a great flat finish to your projects. Unlike regular heat presses this one can be portable.
They make the Easy Press in a few different sizes, the mini which is 6 x 7 in, the medium in at 6 x 9 and the large at 10 x 12. These are all great and depending on what projects you will be doing you may want one or even TWO!
All that and then some…
Those are all of the accessories (blades will be covered in a separate piece!) that are available right now from Cricut. Yes, there are some "off brand" versions of these items, but just remember that if something goes wrong and Cricut knows you used an "off brand" item, that will void your warranty and you won't be able to get the machine repaired. Just some food for thought as you mull over which accessories you're going to invest in to truly bring your Cricut to life!
Be sure to check out some other nifty functional craft ideas through our other posts here on Craft-ILY as well as checking out some videos on DIY and How To's over on YouTube. Look for "Crafting Unedited" to see!