Sublimation is one of the most popular methods of garment decorating, the process is simple and call for less materials than traditional vinyl garment decorating. One of the main materials you need for sublimation is sublimation ink.
There are many – like hundreds to thousands of brands of sublimation ink out there, so how is one to go about choosing the right one for your printer? Well, there is a lot of trial and error with inks and various printers available. Here is a comparison of the top three sublimation inks for converted printers.
A-Sub Sublimation Ink – Top choice, the transferability is phenomenal, it is affordable and comes with everything you need to refill your tanks.
Hiipoo Sublimation Ink – Second top choice, vibrant transferability (A little less than A-Sub), affordable as well and does come with everything you need to refill you tanks.
HTV Ront Sublimation Ink – Third top choice, decent transferability (less than the other two but still great), also affordable and also comes with everything you need to refill your tanks.
These are the top three, I have tested many sublimation inks and these three were the best. All for the main reasonings that they have amazing transferability, vibrant colors and they are affordable.
What is Sublimation Ink?
Sublimation ink is a special ink that is used for sublimation printers and used in the sublimation process. The ink is special because it can be turned into a gas which then becomes one with the substrate you are making. When used on fabrics it is bonded to the polyester material of the fabric.
How Does it Work?
Sublimation ink works with heat and light pressure. You have to have both and a polyester based substrate for it to work. To use sublimation ink you need to have a printer compatible with the ink. Then you choose an image, print it and the using a heat press, press the image onto the blank with high heat (400 degrees Fahrenheit) and light pressure for 60 seconds.
The sublimation ink combined with high heat turns into a gas, which then adheres and bonds into the material. You can learn all about the sublimation ink process here.
A-Sub Sublimation Ink
A-Sub sublimation ink is my top choice, this ink has proven itself time and time again. A-Sub has always given consistent results when used and has kept true to being affordable.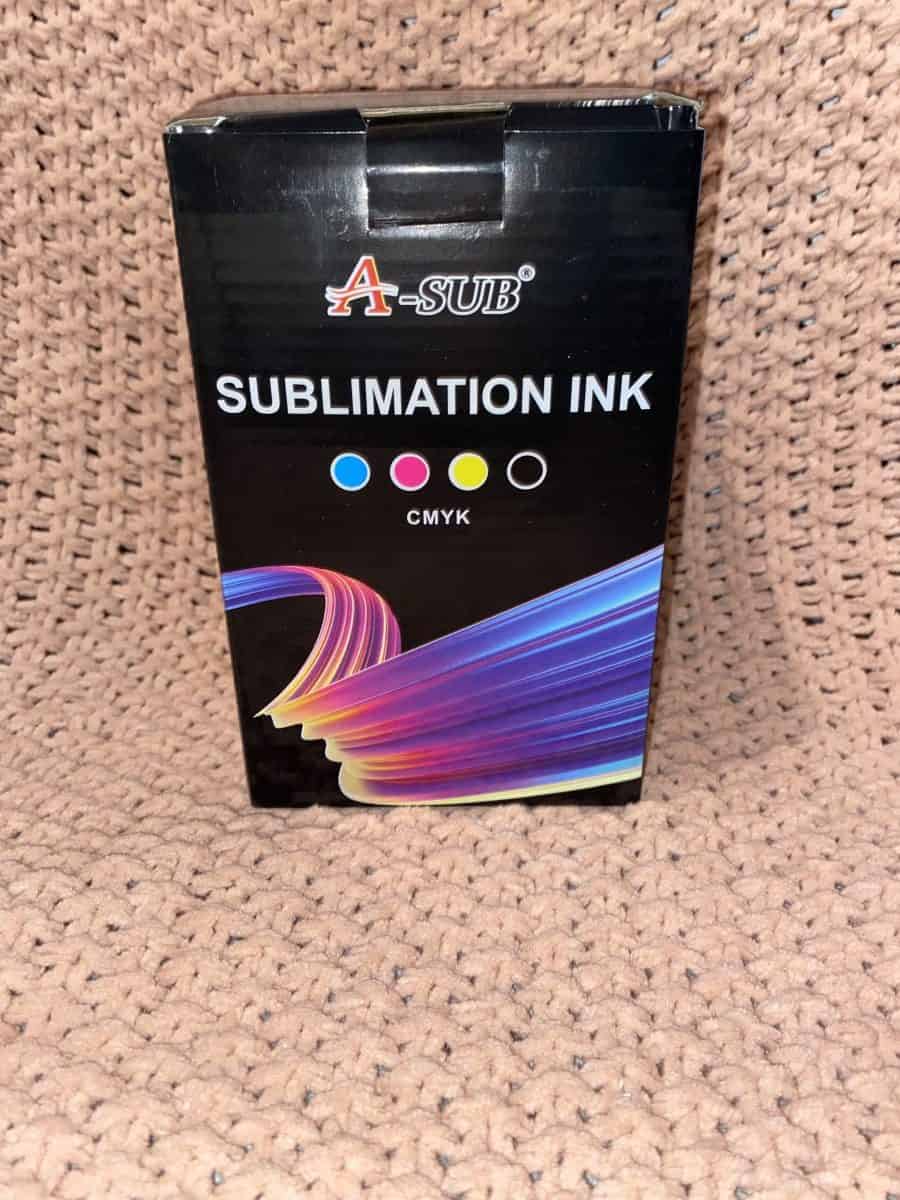 The transferability is one of the main reasons A-Sub is a top contender. When pressed in a recent comparison video and post I did A-Sub knocked the others out of the park with its vibrancy on the garment and the lack of ink that was left on the sublimation paper.
A-Sub is also a repeatable company and this allows them to keep their products at a high quality and a lower cost. You can find all of their products on Amazon, they offer different sizes and weights of sublimation paper, ink and more.
Hiipoo Sublimation Ink
Hiipoo is one of those brands I hadn't anything about until they reached out to me and wanted to send me a free sample (turned out to be full size products) of their ink and paper to review. When I did the review I enjoyed the results that I was given from their products. When I compared them side by side with other products I was shocked.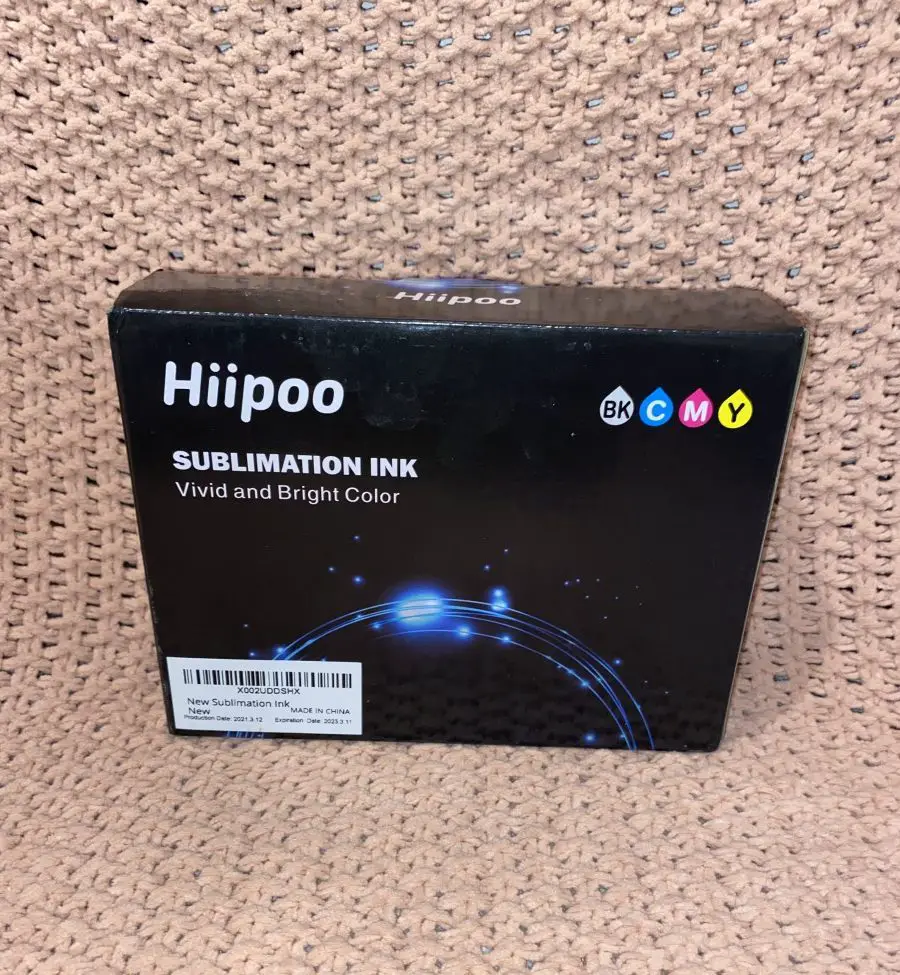 In order to really judge a quality product you need to get it side by side with the competitors to really see the true differences, including the good, bad and ugly. Hiipoo ink was vibrant and had barely any ink left on the sublimation paper when it was removed from the substrate.
Now for the MAIN reason Hiipoo is number two – the ease of refilling, these come with a similar cap to the Epson caps therefore they are so much easier than a syringe and fill.
Hiipoo also offers different sizes of paper, great sublimation ink as well as other products like heat transfer paper, waterslide paper and sticker papers. So you can get all your products from one supplier on one site, Amazon!
Here is a link and a code to save you some money on Hiipoo! Code : 20AT4HCD
HTV Ront Sublimation Ink
HTV Ront sublimation ink is number three, but you know what it is really a tie between Hiipoo and HTV Ront. What sets the two apart is that Hiipoo had just a smidge more transferability than HTV Ront. However, HTV Ront offers more products thank Hiipoo but we aren't comparing products just ink here.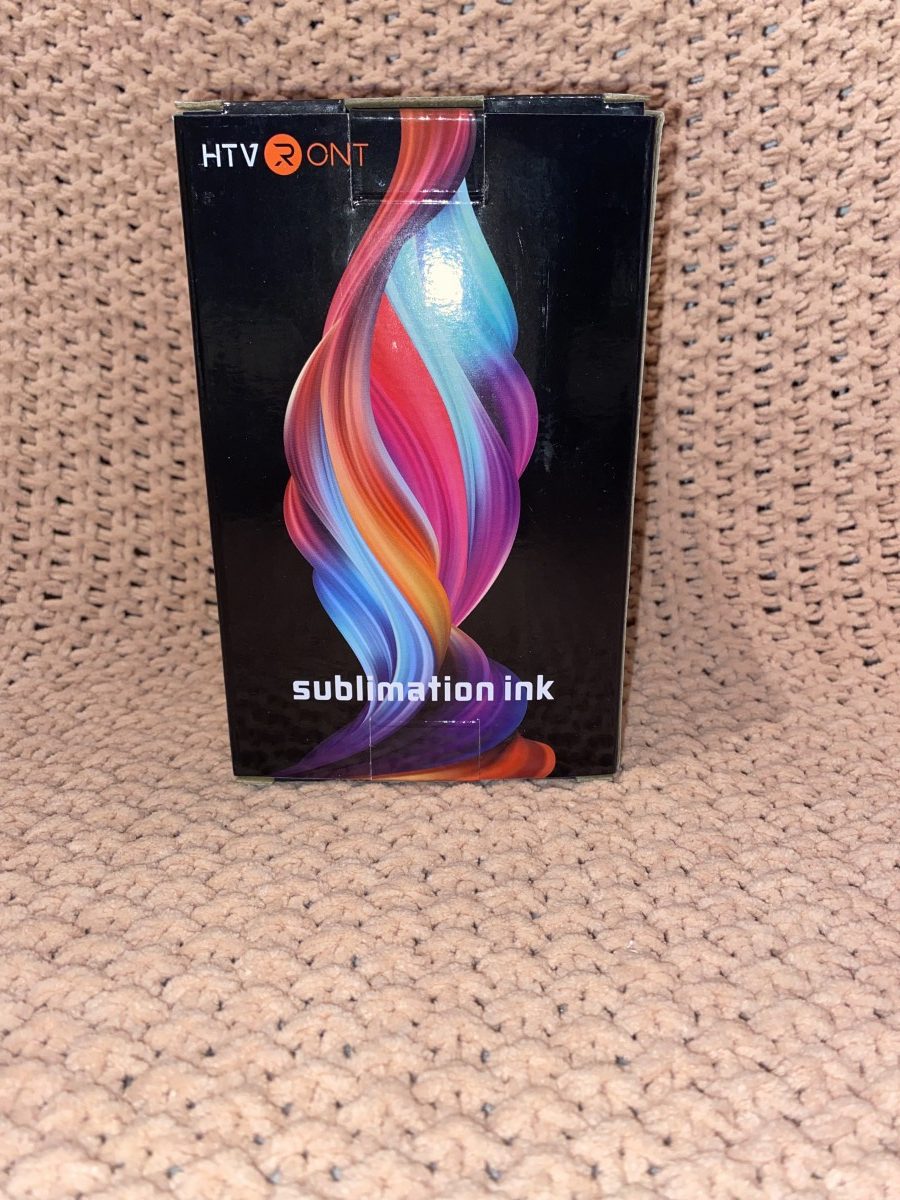 HTV Ront ink is super affordable, easy to refill and has great transferability when compared to several other ink brands. You can purchase HTV Ront ink and other products on Amazon.
Where Do You Get Sublimation Ink?
Sublimation ink can be purchased on many store websites and even some local craft stores. The most popular and easiest way of shopping for sublimation ink is to head over to Amazon and use that Amazon Prime membership to your advantage. All three top sublimation ink brands are on there and have their own stores too.
Amazon has made it really easy for not only consumers but business owners to sell, resell and promote their products on one platform.
Small Note with a BIG Impact
It is vital that if you have a Sawgrass printer or another sublimation specific printer that you use ONLY the same manufacturers sublimation inks with those printers. The second you add a different ink you void the warranty. The same goes to printers that have been converted, the moment you add the sublimation ink you have voided the warranty. So proceed with caution and be prepared.
Final Thoughts
With all the many types of sublimation ink available it can be really overwhelming trying to decide which to purchase. Providing the top three will help ease your mind and give you less options to stress over. The top three – A-Sub, Hiipoo and HTV Ront are all solid choices and you will not be disappointed in any one of them.
Be sure to check out some other nifty functional craft ideas through our other posts here on Craft-ILY as well as checking out some videos on DIY and How To's over on YouTube. Look for "Crafting Unedited" or just click the name in blue to see!