Home décor is one of the most versatile and fun parts of crafting, especially if you already have a theme picked for your home. With your Cricut, you can personalize all kinds of items, and make your décor pop with your personality and style.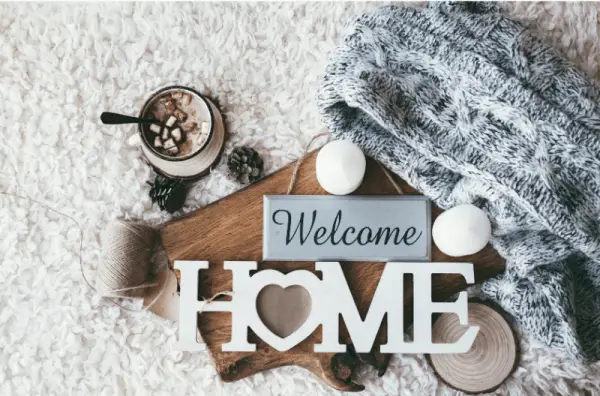 Along with what you will need to create stunning home décor, I will also walk you through some details about each idea throughout this article. By the end you will have your home looking like a picture out of Home and Garden magazine.
For home décor projects, the tools you will need (depending on the project you choose):
Wall decals
Using permanent or removable vinyl, you can make decals for your walls of quotes, different images, or even your family name. These decals are not only great décor pieces to tie your home's style together, but they also add personality to your home, depending on where you put the decals. Decals on appliances, including the washer and dryer, are popular with laundry room quotes, "laundry fairies," or vinyl bubbles.
Decals are also great for children's rooms, as you can often find SVGs of different characters or sayings, cut them out on your Cricut, and adhere them to the wall. Decals can also serve as household reminders – such as a small one above a light switch that says "turn me off" or "close me tight" on the refrigerator door. For household reminders, you may want to use removable vinyl as opposed to adhesive/permanent vinyl in case you move or redecorate. This way, the vinyl can be removed and not cause much damage to the surface it was adhered to.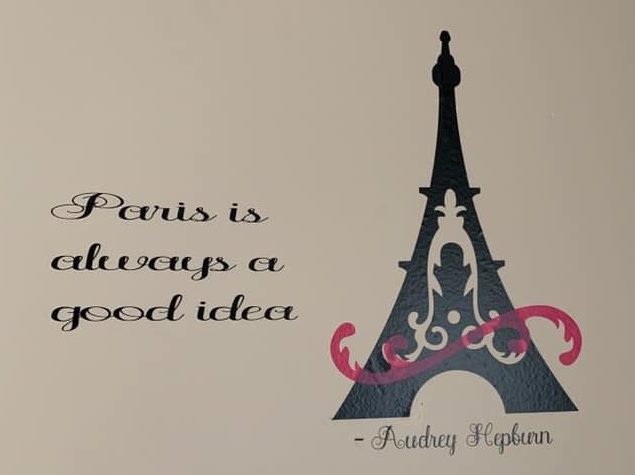 Canvases
Another popular décor piece is to make signs or artwork on canvases and hang them up. You can use flat or wrapped canvases, and you also can use either HTV or permanent vinyl for this project. One nice element about canvases (especially wrapped ones) is that they can be easily switched out according to theme or season. You can simply hang them on a hook or pushpin and switch them as the seasons change or when holidays occur. 
Reverse canvases are another option with wrapped canvases. You simply remove the canvas from the frame, paint or stain the frame, add your design to the canvas, and reattach it to the back of the frame. You can use either HTV or permanent vinyl on canvases, and either use a hot glue gun or a staple gun to reattach the canvas to the frame. The frames underneath canvases are surprisingly attractive, and then it will not look like you "just" hung a canvas on your wall with some vinyl decoration.
Pillows
Pillows are another great home décor piece that can easily be switched out depending on season or holiday. Most small throw pillows are a standard size, which means you can buy plain cases for them and use HTV to create a design on your pillowcases, and then fill your case with the pillow. For pillows, always make sure to heat press your pillowcase without the pillow inside, and put something such as a shirt, towel, or Teflon paper inside the pillowcase to prevent any heat damage inside or to the back of the pillowcase.
A word of caution with pillows is needed here. Make sure that you pay attention to the type of material that the pillowcase is made out of, as it might prove challenging to get the HTV to adhere to some materials, and/or may melt the pillowcase while you're pressing it. 
Blankets
Putting a personalized design on a blanket with HTV is a very popular project, and can be used in a variety of ways. Say that you are having a movie night with family members, and you want to send them all home with a personalized "movie watching blanket." Once you have a clever saying or family memory in mind ("This is my Smith Family Christmas movie watching blanket" or something to that effect), you can easily cut out the vinyl with you Cricut and adhere it to your blanket.
One note on blankets is that you do want to pay attention to the material of the blanket, as sometimes HTV will not adhere to the material, and you may have to use infusible ink instead to transfer your image to the blanket so that it will stay permanently. Infusible ink would be ideal for most blankets because of the fibers that blankets are made of. Again, you would need to pay attention to the material of the blankets you buy and what is useable with infusible ink. 
Shadow Boxes
Shadow boxes can be used for a variety of home décor, from decorative art filled with paper flowers to memorial boxes for pets for family members. For shadow boxes, you would want to fill the box with your items, and then vinyl the front glass of the box with your words, names, dates, etc. depending on what you are using the box for. One popular piece of art now is to make rows and rows of paper flowers out of cardstock and put a quote or saying on the glass front of the box.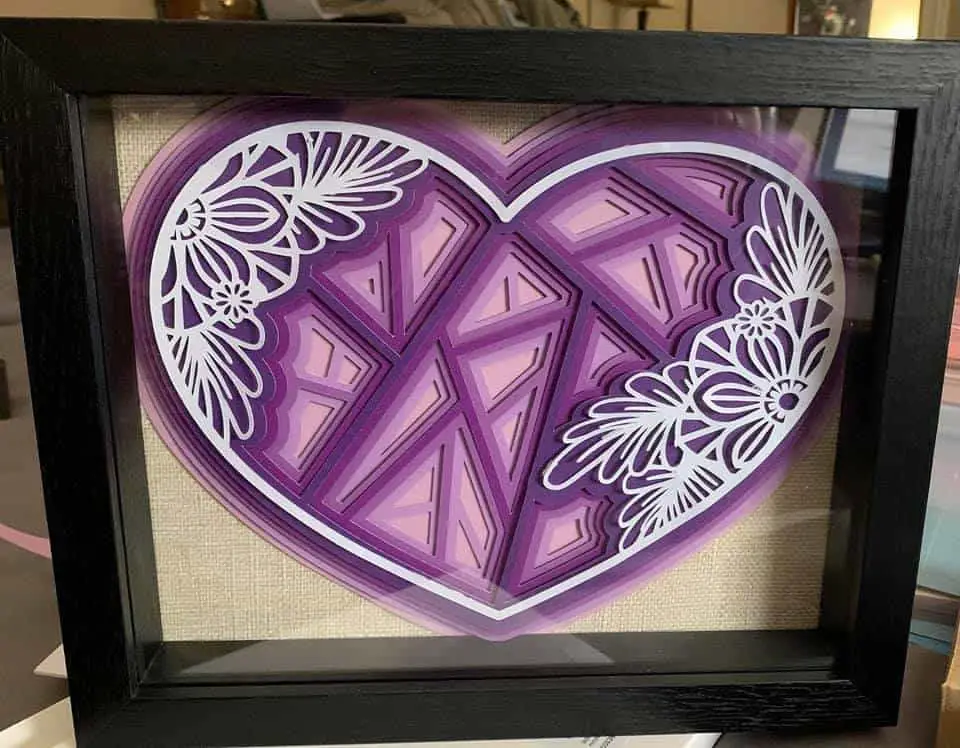 These shadow boxes are not only attractive but can also be easily personalized and can be tied into any style of home décor. Shadowboxes also make great gifts, especially for occasions such as Mother's Day or anniversaries, when flowers are most popular. 
Fridge/Pantry labels
For those of you who are insistent on things being labeled and organized throughout your house, you can easily use adhesive or removable vinyl. You can label your plastic storage containers that hold your dry goods in your pantry, your shelves in your fridge, or even plastic storage drawers in your office or kids' room. You can easily tie the labels into your home décor style by using certain fonts or color and make your labeling look like part of your overall home ambience instead of simply a desire to be organized. 
Labeling is also useful in the classroom, from drawers to cabinets and binders, permanent/adhesive vinyl will help you keep your sanity in the classroom or at home with virtual learning. 
Wreathes/Door Signs
Many people switch out their front door décor with seasons and holidays and wreathes and door signs are a great way to do this. For wreathes, you would need a wreath form, cardstock of a variety of colors (depending on your design of course), hot glue, and possibly adhesive foam squares. Many wreathes are multiple flowers in cut out different colors to correspond with holidays or seasons. These would be cut from a pattern in Design Space and rolled/connected to make flowers of many layers.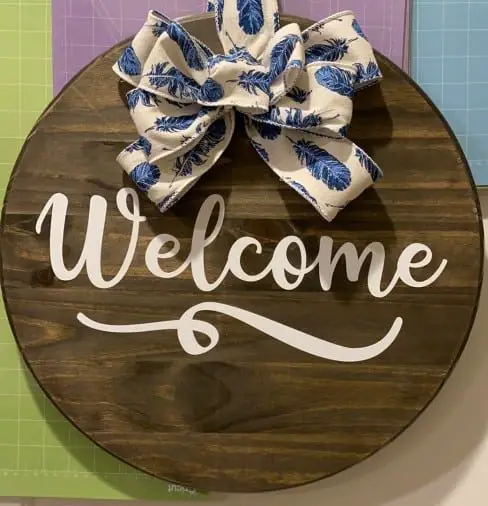 Round metal pizza pans from the dollar store are another great alternative for door decorations that can be easily switched out with the seasons. For these, you would want to use permanent vinyl, and either attach a ribbon to hang it on a wreath hanger, or strong magnets if your door is metal. The ribbon and wreath hanger would probably be the option for most people. Designs can range from anything from your family's last name to welcome signs, to holiday quotes and symbols. The sky really is the limit when it comes to door decorations and vinyl.
Vases
Glass vases are definitely a popular thing to decorate with vinyl because you can make ones for different seasons and holidays. For vases, you can either use permanent vinyl and actually stick the vinyl to the glass using transfer tape/contact paper, or you can use the vinyl as a stencil, and use etching cream to etch the glass. These vases can be personalized for holidays or made as gifts for people.
Home décor can easily be done yourself with the Cricut, and you will have items that not only reflect the theme of your décor, but also reflect your artistic abilities and personality as well. These ideas are simple ones to add some personality and flair to your home, so do not hesitate to try them out, and let us know how they go!
Be sure to check out some other nifty functional craft ideas through our other posts here on Craft-ILY as well as checking out some videos on DIY and How To's over on YouTube. Look for "Crafting Unedited" or just click the name in blue to see!