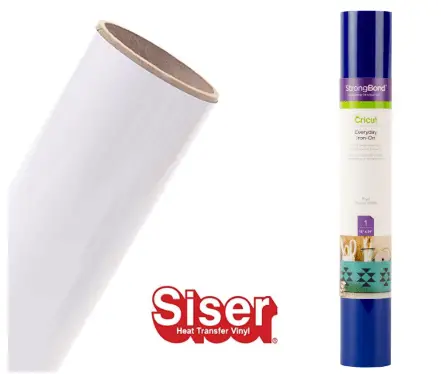 In the crafting world there are hundreds of types of vinyl as well as many different brands. I honestly don't even know all of them and give major credit to anyone who does. I have had experience with several of those brands but have come to the conclusion of which two are my favorite, those are Siser Easyweed and Cricut HTV. I do have a favorite out of those two and I am going to reveal that in a bit. First let's chat about the two. 
What is Siser Easyweed HTV?
Siser Easyweed Heat Transfer Vinyl is an iron on vinyl that comes in almost any color you need. It is available everywhere either in a craft store or online, it's a pretty easy find. Siser Easyweed is sold in 11.8" by 36" rolls but be cautious, as there are a few other types of Siser that are generally located in the same area as Easyweed is. I made the mistake of grabbing the stretch instead one time, thankfully there wasn't a huge difference at all other than it stretched more before cracking (not an issue normally anyway). You can buy larger quantities online as well. 
What is Cricut Iron-On?
Cricut Iron-On is an Iron on (obviously) heat transfer vinyl that comes in every color and many different patterns. Cricut has partnered with major celebrities like Martha Stewart and other companies like Disney to create and sell licensed patterns as well. It is available in rolls of 12" x 24" and is also available in bulk online. It can be purchased at any retailer that sells Cricut supplies and a few online retailers also. 

Now let's chat about the specifics on differences. 
Differences?
There are many differences between the two types of vinyl so I am just going to tell you about a few major ones. Each vinyl has its own "niche" I would say. As in each of them are great at something different, as well as some of the same things. The next items will cover the differences between the two and the similarities. Of course, everything is opinion based and not from a professional standpoint. I have had plenty of experience using Cricut vinyl and Siser vinyls, not just the two mentioned in this post but several others as well. I have my favorites just like you might have your favorites and as I grow my business and work with other brands that may change. Who knows!

First lets discuss the biggest difference in the two. Quantity. Cricut gives you less on a roll than Siser does by an entire foot. That is a sheet of product if you are looking at it the way that I do. When pricing my vinyl for decals I charge in 12x 12 sheets. 

Which is better, opinion based of course. 
As you delve into all the various types and brands of vinyl you WILL get very overwhelmed and it will be a lot of trial and error. Everyone has their own opinions on which ones are best. It is kind of like choosing a paintbrush, in the end you will want a different type depending on the project. If you are doing a wall then you will want to add rollers to that list too right?
Well the same steps apply here, if you want to use Siser Easyweed on a basic cotton top then that's great but if you want to use Cricut Iron On for a workout tank that will be stretched out and beaten up then you will regret it (just my experience). Now don't get me wrong, I don't play solely favorite to Siser by any means, I love Cricut for many reasons too!
Cricut Iron On and its many patterns are wonderful for basic materials including lots that are used everyday. I use Cricuts HTV for a lot of things except for shirts. In my experience I have found that Cricut doesn't stand up well to cotton that will be worn over and over again BUT it does work fantastically on mugs (yes you can totally use HTV on a mug!), canvas and even wood, along with a few other surfaces. They do offer a stretch HTV and other types but they cost more and you don't get as much bang for your buck. 
With Siser Easyweed I tend to stick to shirts or other wearable materials like shorts, pants and headbands. The more I work with it on these types of materials the more I fall in love with it. There is a solid reason for it's name "Easyweed" and it holds true to it. Easyweed is by far the easiest HTV to weed in my opinion. I have tried to find another HTV that compares and have failed. Though there are cheaper HTV brands out there Siser holds the title for this purpose.
When it comes to weeding out fine details in projects with tiny dots or letters this makes a world of a difference, I know there are many readers out there thinking this and have felt the pain staking process of weeding out fine details. For example, I recently did a project that involved these adorable gnomes that I found as a free SVG and I did not think about the weeding when I offered the design up to a family member for their family photo shirts…were talking SIX shirts, SIX of these gnomes!!
If I had used one of my other HTV's this probably would have taken more than two hours of weeding it took. It could have easily taken five or six hours and several mistakes to do. Here's a pic of these bad boys, yes they turned out adorable and were worth the two hours but I can't say that I would say that if it were any longer. I took a picture before the main parts of the weeding had started, before I realized what the hell I had gotten myself into.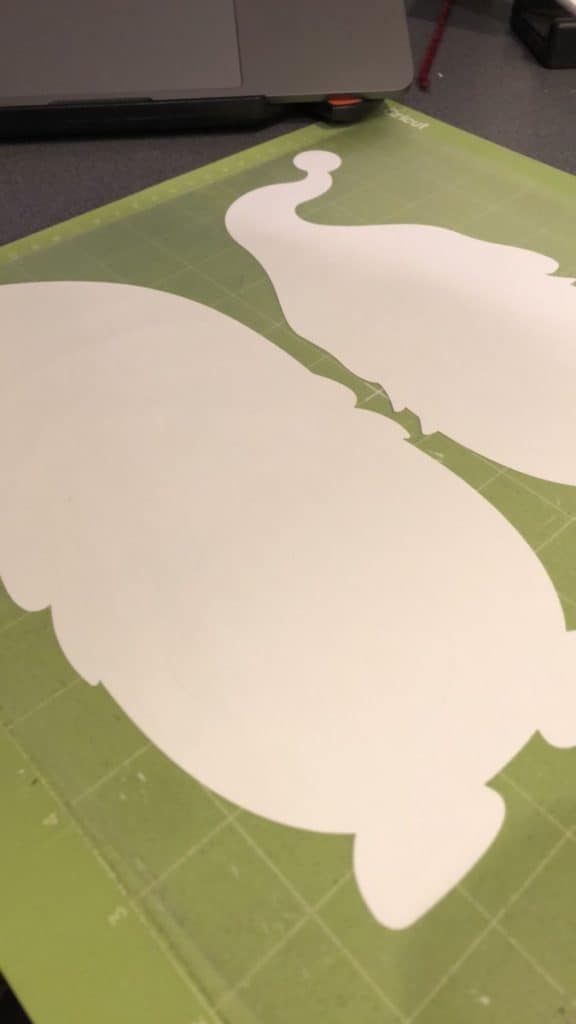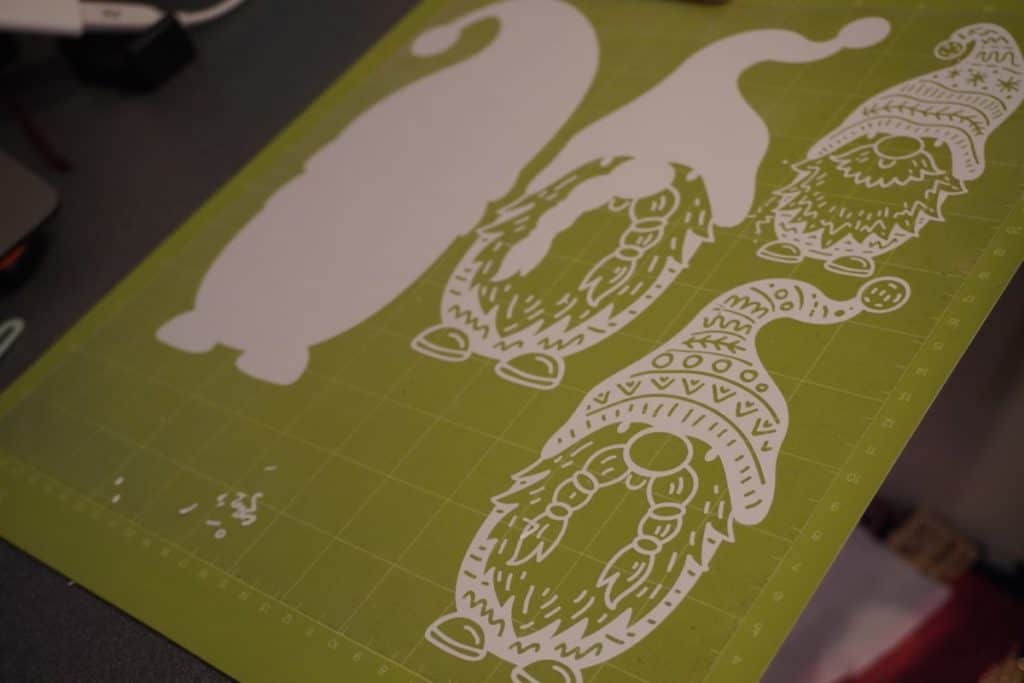 Cost?
Now I know what you are thinking, "with all this chatter about how much better one is for this and the other is for that there can't be that much difference in cost". There is and it is a hefty one to me. You see when you are a small business owner starting out and you are not willing to take on massive amounts of debt to supply the start up costs you pinch every single penny you can to save wherever and however you possibly can. So let's compare the two at a major retailer like Michaels.
| | | | |
| --- | --- | --- | --- |
| Siser | | | |
| Regular | $18.99 | Sale | $11.99 |
| Size | 11.8 x 36 | Total Amount | 424.8 |
| | | | |
| Cricut | | | |
| Regular | $11.99 | Sale | |
| Size | 12 x 24 | Total Amount | 288 |
Just a little quick math to show you the cost and amount differences. Of course there are a few variables like what sales are going on as well as WHEN this post was written (12/2019) that play a part. The biggest deterrent I have is that you can't use any coupons on Cricut products, they are either on sale by Cricut or they are full price. Siser however you can use all the coupons on and even stack them! I love coupon stacking, so much that I even made a video on how I do it! You should check it out over on YouTube on my channel Crafting Unedited! Anyway Siser is great price wise, you get more on the rolls and you can use coupons so you can save even more!
Where to buy?
There are several major retailers you can buy both Cricut Iron On and Siser Easyweed. Both can be purchased online and in stores. However, major retailers are your best bet at being able to use coupons and discounts. Places like Amazon and Cricut.com you don't have many coupon options. Sometimes and I do mean sometimes, well basically once in a blue moon you will find some coupons.
I don't like to wait for products so I am an avid shopper at Michaels and what used to be Pat Catans (a local craft store that recently went out of business). If you search hard enough you might be able to find a local crafter store that is privately owned that prints their vinyl and buys it wholesale so it's cheaper but it is more than likely not name brand but you can always try them out and see if its good or not. You never know! 

So the results are clear, in my opinion anyway! Which is the reason for this post anyway, hehe! I have a favorite for different things so to me so its a win win! Basically I use Siser for wearables and Cricut Easyweed for everything else in the HTV or Iron On world that is.
There are many other types of vinyl which I cover in a different post that you can always go check out too if you would like. I have lots of useful posts on my site, especially for Cricut users.I have a Maker and an Explore Air 2 and I love both machines, I am just getting started in the Maker world, it has so many uses and my mind gets a bit wild when it comes to creating with it. 

I really hope you enjoyed this post and that it helped you in your decision making. Also I hope you learned something new. It has taken me roughly two years to figure out these differences and my preferences, maybe you won't have to wait so long.  
Be sure to check out some other nifty functional craft ideas through our other posts here on Craft-ILY as well as checking out some videos on DIY and How To's over on YouTube. Look for "Crafting Unedited" to see!

Until next time my friends!