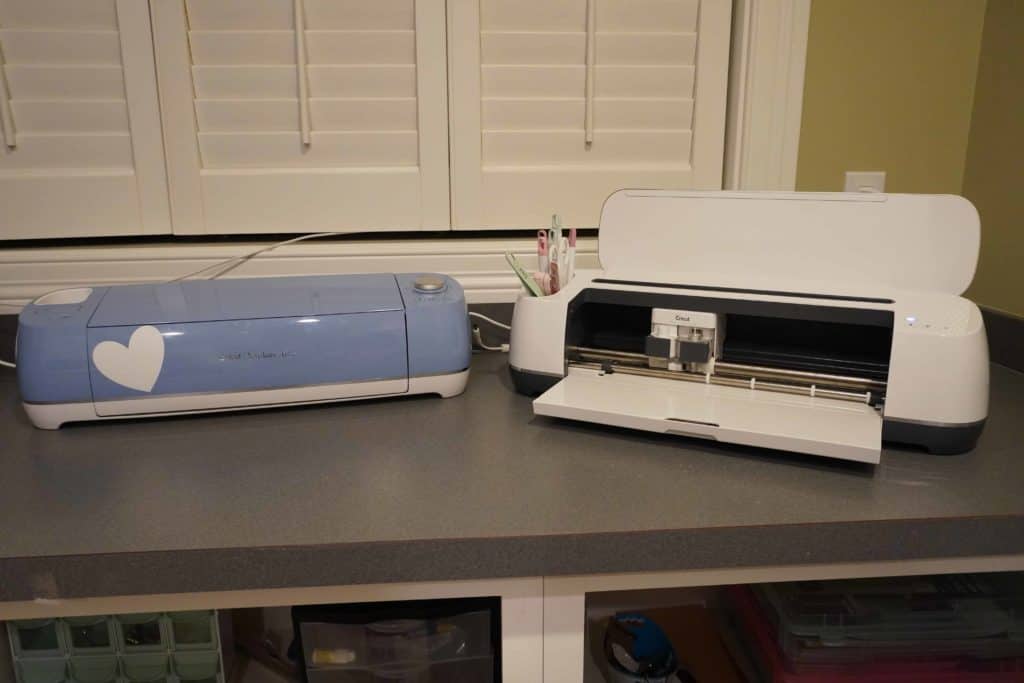 As you know I got a Cricut Maker a couple weeks ago right? No? Now you do haha. I bit the bullet and spent the extra dough. I had the urge to do more to create more and to build more of a library of products, how to videos and blogs for all my peeps! So I wanted to share with you the differences between the two, the Maker and the Explore Air 2 that is. 

First well start with the basic specs of each machine.
Specs
Weighs 16lbs (roughly)
24 X 9.5 X 9.5 so about the width of a countertop give or take
Comes in various colors (vibrant and neutralish) 
Compatible with older model Cricut Cartridges
Bluetooth enabled and comes with an adapter for non wireless connectivity
Weighs 24lbs 
22.6 x 7.1 x 6.2
Comes in more subtle colors, very modernesque with the white base and shiny metal top
No smart dial, the tech is built right in the machine
Can only use Cricut Design Space, it's not compatible with the old cartridges, which for me is fine. But if you want to use them it may be a deal breaker. 
It's also Bluetooth enabled but does not come with an adapter for non wireless like the Air Explore does. 
Has an electronic slot to hold your tablet or phone while you work, it will even charge your device (cord not included) 
Outside of the obvious physical differences and the amount/type of products you can cut the two machines aren't very different in reality. Until you dive in, and deep. I'll go over all of that, well as much as I can from my experience so far as I have only had the Maker for about two weeks now. 
So you have a debacle, what machine should you get?? Do you need to drop around $400+ on a machine or could you go the $200 route? Well that honestly depends on what you are trying to accomplish. Are you just wanting to make some fun T-shirts for the family or some of your friends and maybe make some awesome cards instead of paying top dollar for them? Or, are you trying to build a crazy, insane and fun crafting business? Or maybe you don't want to build a business but you DO want to create all kinds of fun and cool home decor, shirts, gifts, cards and more.
If you are in that first "I just want to make shirts for family and friends and make some fun cards for holidays" group you'll be totally fine opting for The Explore Air 2. But if you have ANY type of want to do more than that take my advice now and just drop the cash now on the Maker, you will end up saving yourself $200+ in the future, take it from me who has dropped the ball on this. But in all fairness when I started this whole gig two years ago I had no idea what I really wanted to do with it. Now that I know what I want to do and where I want this thing to go I knew what I needed to do. I needed to buy the Maker. Period. 
Back to the point here, you're trying to decide which one YOU should buy right? Well let's cover some of the things that the two machines can do. 
You're probably thinking something along the lines of "there isn't much of a difference" or "I don't see $150 worth of extra value here". Well that is because I haven't told you where that value comes from so we will start with what comes in each box and the cost of each machine. 
In The Box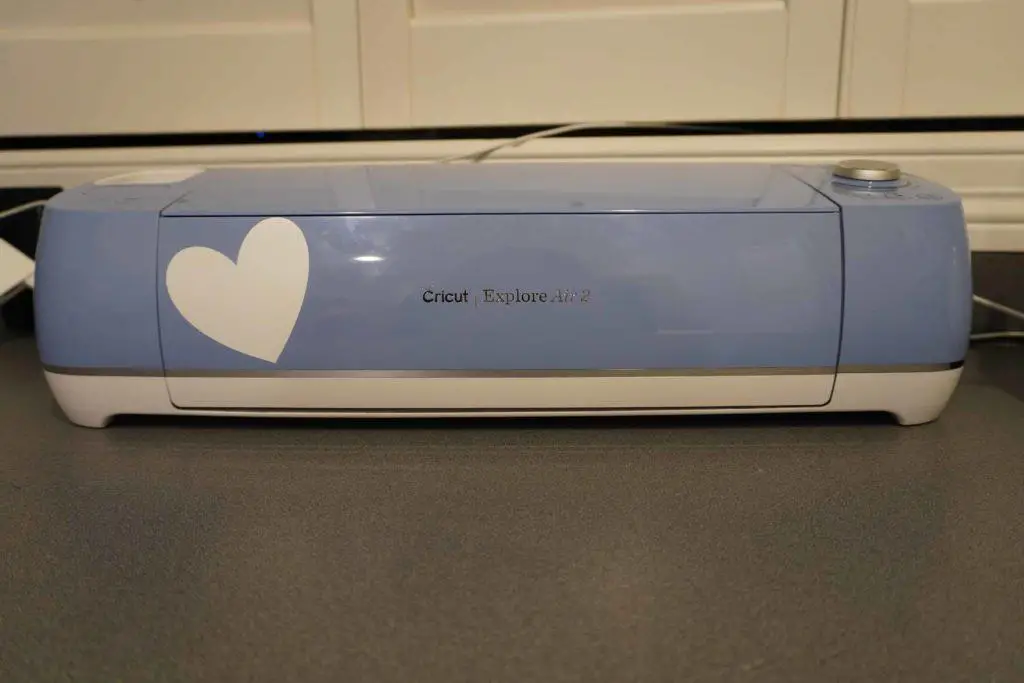 $199 at the time of writing
Trial to Design Space
Machine
One Fine Point German Carbide Blade
USB and Power Cords
Accessory Adapter 
One 12×12 Standard Grip Mat
One Fine Point Black Pen
Material for First Project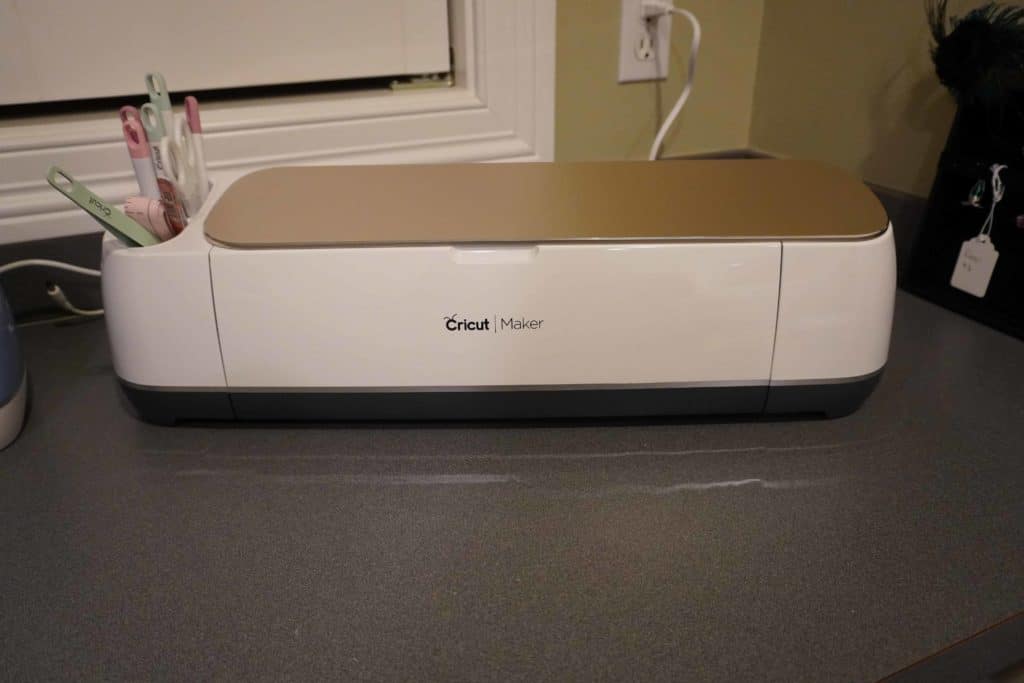 $399 at the time of writing
Trial to Design Space with additional access to Fabric Ready to Make Projects
Machine
One Fine Point German Carbide Blade
One Rotary Blade
Power Cord
One 12×12 Light Grip Mat
One 12×12 Fabric Grip Mat
One Fine Point Black Pen
Materials for First Project
As you can see the Maker already shows where SOME of the value is, you get two blades, two mats, Access to the fabric project library in Design Space. Is that where $150 comes from? Nope but it's a start! 
The Explore Air 2 is able to cut 100+ different materials, where the Maker can cut 100+ and then some, were talking probably 100+ on top of that in different materials. Which means that when I try to figure out everything the Maker is capable of my mind just kinda short circuits, it's so much. Lets cover the differences there:
Differences
Iron-On Vinyl
Cardstock
Kraft Board
Paper
SOME Fabric, with a ton of patience and hit/miss learning terms
And more (obviously)
Iron-On Vinyl
Cardstock
Kraft Board
Paper
All sorts of fabric as delicate as chiffon and silk to tough, rugged fabric like denim or canvas (and it does it like butter)
Leather (real and faux)
Wood
Acrylic (major learning curve here but it's definitely doable) 
Etch glass
Embroidery on fabric and leather
Basically anything up to 2mm thick
And So.Much.MORE
There is more added value right there, your option for materials really open up with the Maker, you don't really have to worry too much about "can it cut this or that" it's more along the lines of "how can it cut this" situations. If you have some patience and determination I feel like this beast will cut anything up to that 2mm cut off with ease. The 2mm cutoff is due to the amount of space between the blade housing and the mat, there's no wiggle room outside of that. For the purposes I needed it is perfect!
The last bit of value comes from the pure quality of the Maker. While yes the Explore Air 2 is a fantastic machine and gives you that "will last you several years" feeling, the Maker give you the "I will be able to pass this down to many generations to come" Cricut really  outdid themselves with the quality in these things. Every piece is designed to last, designed to put up with the stressed out crazy crafters it appeals to.
I have had my Explore Air 2 for two years and honestly the first thing that I counted on going was the blade and it have yet to replace that or even had to think about that once since the purchase. The only thing that I have had to replace is the mats and those are on me, I am not cautious with them nor delicate by any means. In fact in one of my YouTube Videos (you can watch here) you see me snap a mat in the middle of the video. Outside of that though everything still works beautifully.
The Maker though, when you pick it up you feel the weight, you feel the quality, then when you open it up you see how exquisitely the created the organs. I wish I knew how much time it took them to come up with the design. The blade housing looks like something you'd find in a fancy expensive car, it has a very carbon fibery look to it. It has a very open base to it so it looks clean and modern. I mean let's be serious, somehow they added the feature that when you open the lid rolls open like Angels should be singing in the background. I mean, that might just be a me thing but every time I open this bad boy Angels sing!
The only negative aside from the cost (honestly I don't see this as a negative if you can see the value in what you are getting, it is worth it) is the fact that it is the same old Design Space. I mean it's not really a negative either, to me it makes it pretty simple to transition into using your machine, you don't have to learn and entirely new software. You just plug and play basically. 
The reality of it is that they are both really incredible machines and they can both do many amazing things. So while I can't make up your mind for you I can break it down to you asking yourself one solid question…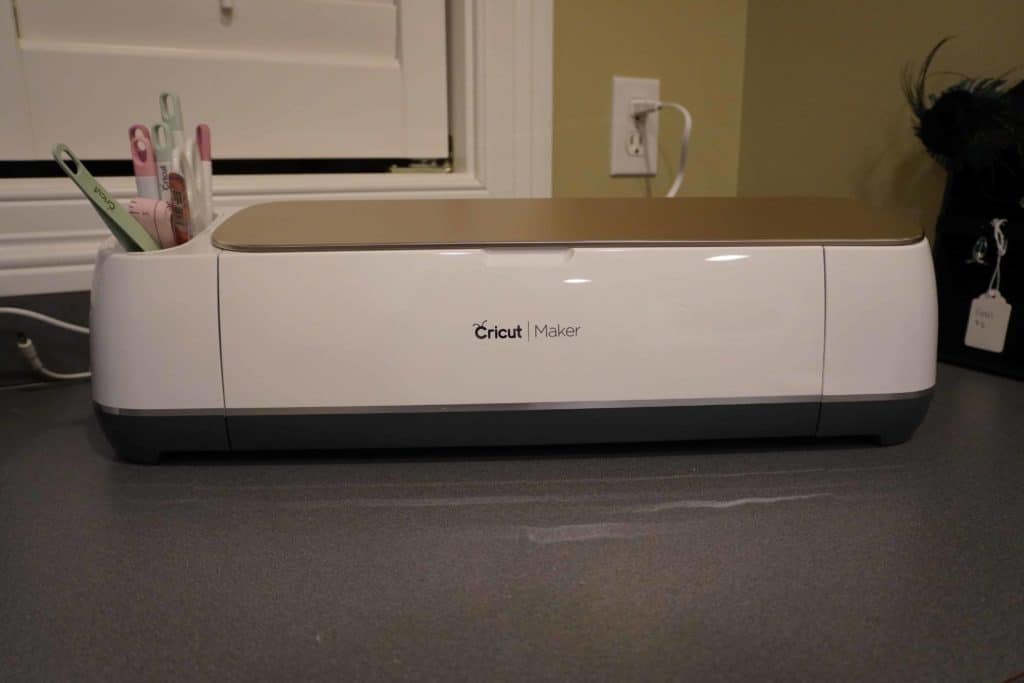 Where do you see you and your machine in the future? For me, I didn't know at all, thinking back now I wish I had just spent the money then because the future is with the Maker, hands down, all day for me. Now unless I find out that I have some major struggles using it that isn't changing anytime soon.
I hope that this has helped you in deciding on what product to buy and not made you more indecisive. If it did I'm not sorry at all, really I am not. This is why…
If you are STILL contemplating between the two I am telling you now.
BUY THE CRICUT MAKER. Just do it, if you are researching the differences constantly it is obvious you want the damn thing bad enough that you can justify the cost. I PROMISE you you will see the value in the Maker in the first week you work with it. 

If you liked this read, you can watch me explain it in person (here).

Until next time my beautiful crafters – Ci