So you bought a Cricut. Now what? What's your plan for your first project? Any ideas? Well, there are a ton of "beginner" projects you can do (that are fun, but not too intimidating!), so let's dive in and see what the options are depending on what materials you want to use.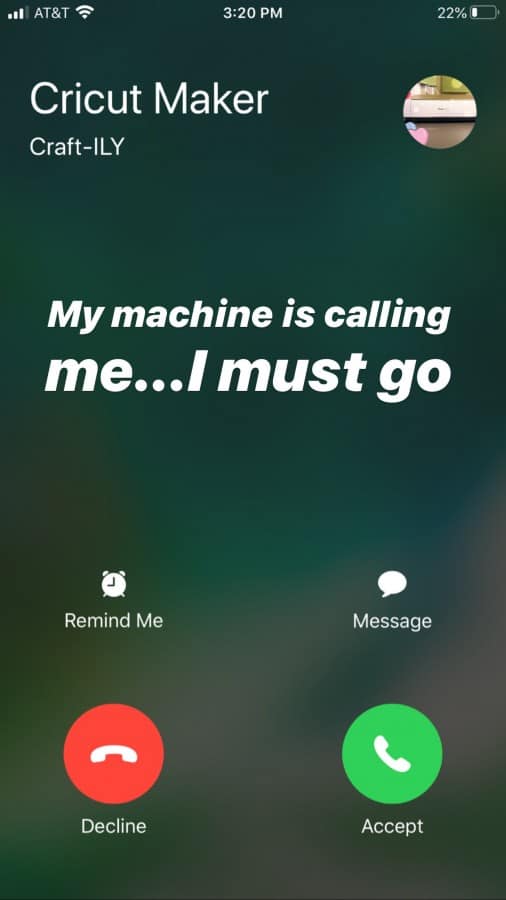 Cricut projects can be extremely simple but can also be very intricate and delicate. Whether you're wanting to start with vinyl or paper, you can make anything you desire related to craft projects and pieces of art. You don't have to sell the products you make, but you can make them for yourself, friends, and family, and they make great gifts for the people in your life.
Using simple materials combined with the Cricut Design Space, you can make homemade items that will not only last for years to come, but also will be appreciated by anyone who receives them.
Vinyl
Let's start with vinyl. There are different kinds of vinyl – HTV (Heat Transfer Vinyl) also known as iron-on vinyl, and adhesive vinyl are the two that are used most often. HTV is used for projects that you'll either use an iron or Cricut EasyPress to adhere the vinyl to the product. These projects include products like clothing, bags, and headbands.
These are easily personalized by using the Cricut to cut the vinyl, weeding out the extra vinyl, and then ironing the vinyl onto the product. Adhesive (craft) vinyl can be used for a variety of projects, from cups to signs and everything in between, without the use of heat.
Shirts, jackets, and bags are often the pieces that are most often personalized using a Cricut. It's often more cost-effective to make your own shirts instead of buying them already designed elsewhere.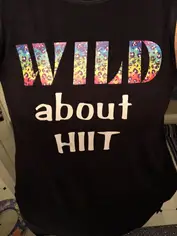 As you can see with the shirt at the right, you can use different styles and colors of vinyl to make shirts that are personalized either for yourself or other people. Using rainbow cheetah print vinyl and white vinyl, this ordinary black tank top became the perfect workout shirt for someone who's WILD about HIIT (High-Intensity Interval Training).
Often, these types of shirts serve as motivation to people who work out and are trying to get healthy. They help them to push through the workouts and make it a lot more fun to want to work out. This type of design is a simple design, cut, place, and iron. There is no layering or intense vinyl work involved to create a shirt such as this one.
Obviously, these shirts are easily changed depending on what style or color of vinyl you use, as well as the font style you use on the Cricut itself. Some fonts are easier to use than others, and a lot of this takes trial and error to figure out what works best for you.
There are many websites and resources where you can download certain font styles from favorite movies or television series, and then use them on your designs. Your friends will be thrilled when they know what you're able to make with your Cricut!
Vinyl work also takes some practice. When you're going through the steps, make sure to remember that everyone makes mistakes when they first start out and that the mistakes are how we learn the tips and tricks to make the process all around smoother for product creation.
There are a countless number of resources available online for step-by-step procedures for a wide variety of Cricut projects, and many free designs and files are available to help you expand your repertoire of creations.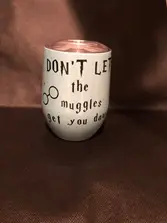 Another option with vinyl is to personalize cups, water bottles, canvases, and other accessories or art pieces. These items would use adhesive (craft) vinyl instead of HTV. These pieces are cut on the Cricut and then transferred to the product without the use of heat.
Often, people have favorite quotes from movies, books, or people that they cannot find on the type of cup they want. This is where your Cricut comes in! Using adhesive (craft) vinyl, you can cut out words and pictures for all different kinds of materials – from glass to plastic, metal, wood, or canvas.
These make wonderful signs and personalized materials. As you can see from the picture, putting your favorite quote on a stemless wine glass is easy if you have a Cricut and some adhesive vinyl.
Adhesive vinyl can be tricky when trying to adhere to a surface as straight as possible. Luckily, it is easy to peel off and replace it. However, don't do this multiple times with the same vinyl or the adhesive won't be sticky enough to actually stay on the material where you want it. So the best advice is to center it where you want the vinyl to go before actually sticking any of it to the material you're using.
Paper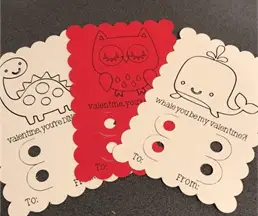 Another popular and fairly easy, material to use with the Circuit is paper. You can use different weights of paper depending on what you're cutting and can make cards, signs, and anything else you can come up with paper. Once you've designed your creation in Design Space, you'll cut the paper using your Cricut, and put together your project.
Paper is a great way to practice using your Cricut, as the paper is often much cheaper than vinyl, and it is easy to redo your project if you do happen to make a mistake. Paper does sometimes take a fair amount of time to cut, depending on the intricacy of your design and the weight of the paper, but simple cards or signs can be made in just minutes.
With paper, you can design your own birthday, anniversary, or other cards and invitations. All you need is a design idea and the type of paper you want to use. There are various SVG files on Pinterest and across the internet for card designs that you can also usually personalize. Not only is this a very neat way to give someone a card but it also much more cost-effective than buying a greeting card from the grocery store.
Holidays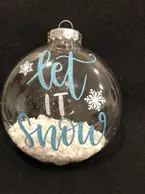 Holidays are great opportunities to practice your Cricut skills, as you can make personalized items for family members and friends, items for events, or decorative items for your own home. From shirts with holiday sayings to ornaments and candle holders, your mind is the only limit when it comes to the creation of gifts or decorations when using your Cricut.
Adhesive vinyl is your best material choice when it comes to holiday decoration ideas, including ones like the ornament here. Once designed and cut out of vinyl, just place your design on your ornament, and it's ready to be a lasting memory for you or someone you love.
This is not only a memorable and personal gift to give but also one that is cost-effective and more sentimental than any ornament you could purchase in a store. These make great gifts for teachers as well, especially if you personalize it with something they love plus your child's name. It's always nice for teachers to receive items that are obviously about them and that took time to create and design.
Home Décor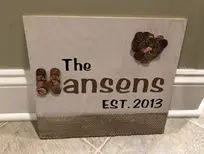 Home décor items are great options when thinking about beginner projects with your Cricut. Aside from household goods (cups, water bottles, etc.), home décor pieces are ones that start conversations with visitors to your home and bring a personalized piece into your home, regardless if you own or rent.
When you make a sign, you'd use Design Space again to create your design. You would want to use adhesive vinyl in this case, since you wouldn't be using an iron-on wood, canvas, or other signage materials. Size and placement are big factors when it comes to signs, as you want it to not only be readable but also not too big for the size of the sign you are making that it takes over the sign itself.
You can also personalize this sign beyond just the use of vinyl for the words, and add other embellishments to enhance the look of the vinyl wording. The placement is important with signs, especially if there are divots or pockmarks in the wood you are using.
Often, you don't want to cover these up with the vinyl, as it may not stick, and won't look even. Thus, you need to work around the imperfections to make your artwork look as you want it to.
Overall, Cricut projects can range from simple and straight forward to intricate and highly detailed. Starting easy and straight forward will help you get used to not only Design Space, but also cutting materials and placing them on whatever medium you choose to use.
It will also give you the opportunity to experiment with different materials and mediums, and decide what types of vinyl or paper you prefer to use when creating your designs. So let your imagination run wild and enjoy your creative endeavors with your Cricut!
Be sure to check out some other nifty functional craft ideas through our other posts here on Craft-ILY as well as checking out some videos on DIY and How To's over on YouTube. Look for "Crafting Unedited" to see!