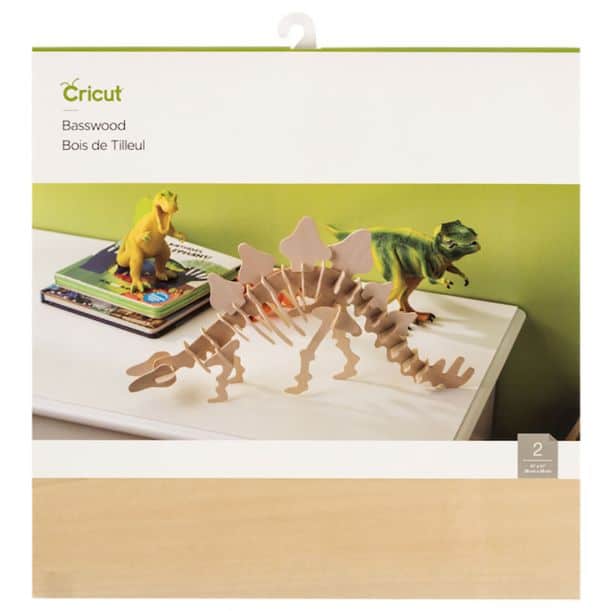 So you have decided to invest in a Cricut Maker, and you are now wondering what unique projects you can make, right? With the Maker, there is a fascinating option using Basswood, which you can make all kinds of different projects. Here, we will explore Basswood, what is needed for the Cricut Maker to use it, and a sampling of the different types of things you will be able to make.
In order to do anything with wood, you not only need a Cricut Maker (not the Explore or Joy), but you also need a knife blade and housing unit. This particular blade helps add texture and dimension to your thicker material projects and will leave clean cuts and designs. It is necessary to mention here that the Knife Blade projects usually take a lot longer to cut and are not able to be done from mobile devices for this reason.
Some tools you may need to make basswood projects may include the following:
Masking tape or painter's tape
Note that if you are using Bluetooth (rather than plugging your Cricut into your computer via USB) to cut with your Knife Blade, be sure to turn sleep off on your computer so that you do not risk an interruption in your Bluetooth connection, as well as the potential loss of your cutting progress. Often, projects with materials such as Basswood can take a much longer time than other materials do.
There are basically two types of wood you can cut using your Cricut – Basswood (often known as "hobby wood" – has a dense, tight grain that's heavier) and Balsa wood (a thinner, "model wood" that is often cheaper and might be easier to find).
You can purchase basswood wherever you can find it but be aware that the Cricut brand basswood is specifically 1/16" and is optimally designed for use with the Maker and the Knife Blade attachment. There is also the option of 1/32" basswood if you need a thinner piece of wood for your intended project. The pieces you find need to be as smooth as possible, with no knots, warp, or blemishes. These are important things to think about because of how the blade will cut the wood, and that it cannot go over knots in the wood itself.
Balsa wood can be cut by your Cricut if it is one of these three thicknesses: 1/16", 1/32", or 3/32". Balsa wood is often easier to find and cheaper than basswood, but be aware that it also has a tendency to break easier because it is so thin.
So why basswood instead of other types of wood like balsa? Basswood is more dense and smoother than balsa wood, which makes it not only easier to cut with the Maker, but also makes for cleaner projects and designs. It can also be easily stained or painted however you desire, without having to prep or seal the wood first. This is a more versatile wood than other options, so it is the one that should be used with the Maker.
If your wood is thicker than recommended (1/16"), your blade might get stuck while cutting. Cricut has only "approved" the Maker for Basswood that is 1/16" or 1/32". Anything thicker than that is not recommended, and if your machine becomes damaged because of your use of thicker materials than recommended, remember that Cricut would not be responsible for replacing your blade or machine. So, stick with the recommended thickness, and you should be good to go!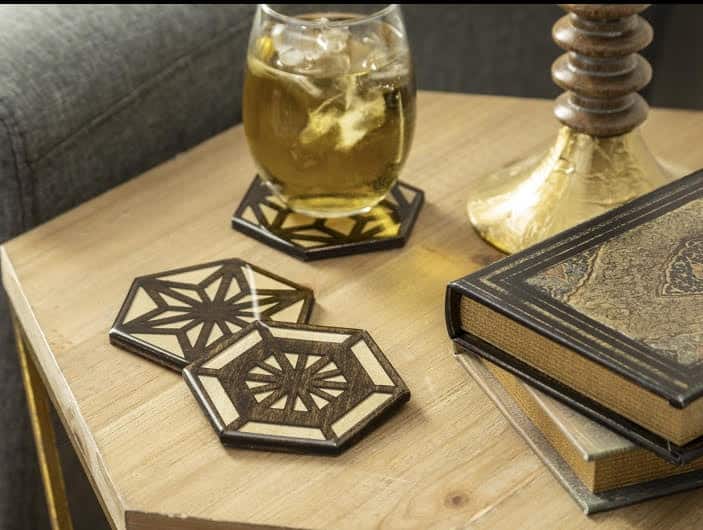 It is definitely a good idea to stay within hearing distance of your machine at all times during these cuts (which can take hours). This way, if your blade does become stuck, you can brush away the dust/debris and resume the cut using the "C" button on your machine. Make sure to also use some masking tape or painter's tape on the sides of the basswood so that it does not move when you are trying to cut your piece. Now, let us see what we can actually MAKE!
Figures and Toys. Maybe you remember Balsa flyers from back in the day. Small, light airplanes made of balsa wood that would actually fly a decent distance when gently thrown. Making airplanes, dinosaur replicas, and other wooden toys for either display or gentle play (remember that Basswood is sturdy, but still fairly fragile because of thinness. In Design Space, you can search for different projects for your Maker, and you will find templates for figures, including a 3D dinosaur. There are even designs online for puzzles and other toys. The sky is the limit!
Signs. When you are thinking of what else you can make using Basswood, small decorative signs may come to mind. Using free svgs in Design Space, you can easily make signs to decorate your home or as gifts for friends and family. One nice features of Basswood is that it is easily painted or covered in vinyl, without extensive sanding or preparation. This way, not only do you have a homemade wooden sign, but it can also be personalized and decorated to match your home's décor or someone's favorite color.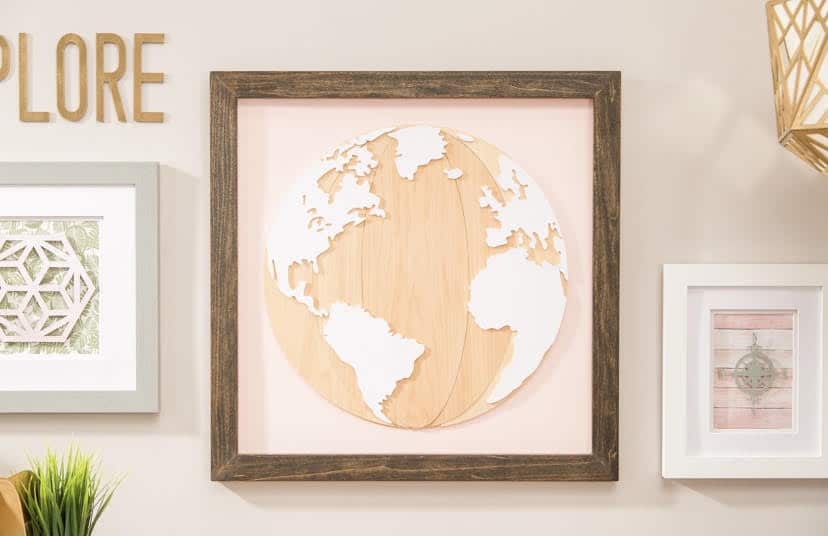 Cake Toppers. Are you throwing a birthday party, but the cake is missing a topper? An easy way to make one is to use your Cricut Maker and Basswood to cut out a number. A bold, simple font is easiest when it comes to cutting cake toppers. If you want to, you can also cut adhesive vinyl to decorate the cake topper. Once you cut the number (remember that basswood takes many passes to cut completely), you can decorate it to match your party theme (vinyl, paint, etc.), and glue a toothpick to the bottom (at the back) of it so you can stick it on your cake.
Bookmarks. When considering unique gifts for others or yourself, bookmarks made of Basswood are a good option. You would only use part of a sheet of basswood, attach it to a ribbon, and have a bookmark that is not only unique, but also versatile. Cutting designs into the Basswood for bookmarks is similar to how you cut everything else, but keep in mind that you need to measure the Basswood first so you do not waste extra material while making bookmarks.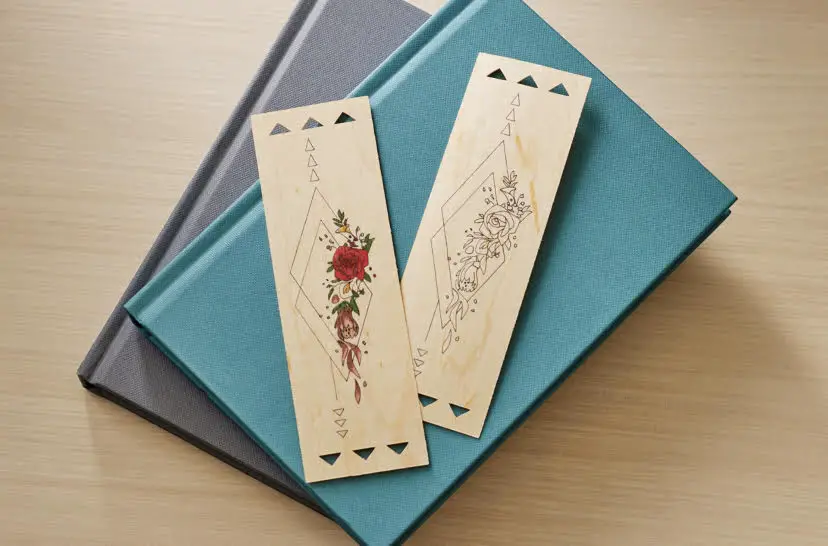 Earrings. Many crafters make jewelry using their Cricut Maker but often use leather to do so. You can also use your Maker and Basswood to make light, unique earrings that will surely be a hit. There are many earring templates and designs within Design Space if you subscribe to Cricut Access. If you do not, you can always find SVGs for earrings on Pinterest or Etsy to use. Basswood earrings will be unique, especially depending on the wood used, these earrings can then hang from wires and be uniquely personalized gifts for family or friends.
There are many other projects you can make utilizing Basswood and your Cricut Maker. The tips shared here will help you have the most success when attempting projects using Basswood. Remember that this is a learning process, and although your projects may not come out completely perfect, trial and error is part of the process, and will help you become a better crafter in the long run.
Remember that Cricut Design Space and Pinterest both have many design options for Basswood, and they will both give you the opportunity to expand your horizons. You will quickly see what your Cricut Maker is truly capable of, especially when it comes to unique materials such as Basswood.
Follow me for money and time-saving tricks so your wallet doesn't go completely empty in this hobby.
Be sure to check out some other nifty functional craft ideas through our other posts here on Craft-ILY as well as checking out some videos on DIY and How To's over on YouTube. Look for "Crafting Unedited" to see!