Cricut Infusible Ink is awesome, there is no doubt about that! There are so many things you can make, blanks you can use and materials you can mix up and swap out, but what about things are not "Cricut Infusible Ink compatible" like anything with a low or no polyester blend in it? I mean not everyone likes a clingy shirt, am I right?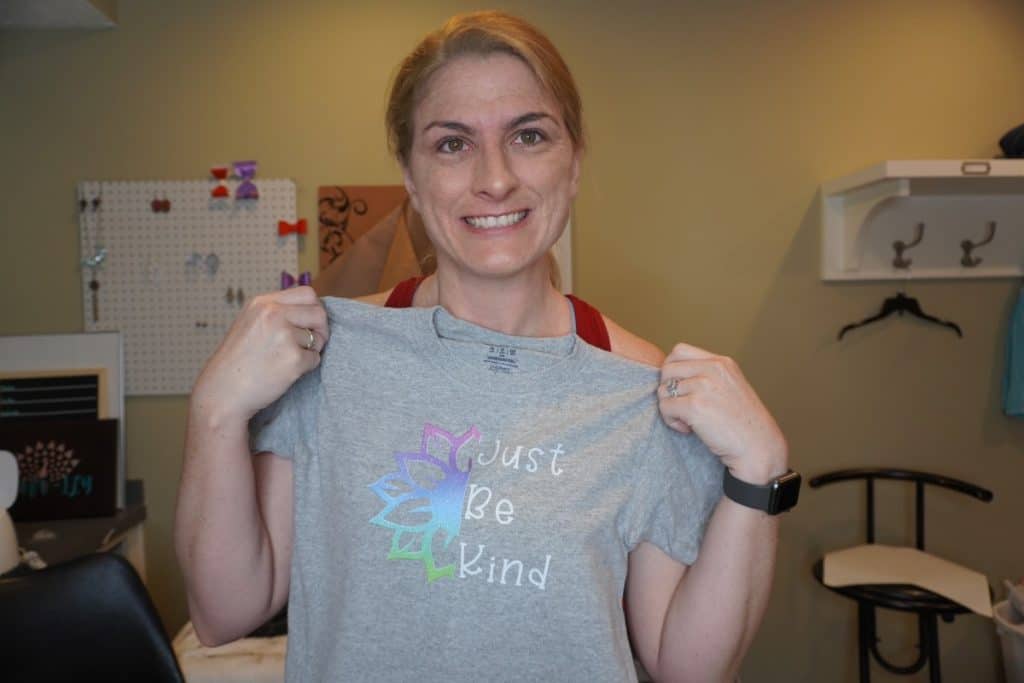 You can most definitely put Cricut Infusible Ink on a cotton shirt and I am going to share with you my little secret hack! By the end of this article, you will know how to master the Infusible Ink transfer onto a cotton shirt with ease. You can use this hack for other cotton materials too, like pillowcases, placemats, headbands, and even pants!
Supplies
First you will need some supplies, you always want to have everything you need ready to make your project, regardless of what it is you are creating. This way you are not half way through or even worse, almost done and realize you don't have the most important supply or tool!
Cotton Shirt of choice, color doesn't matter
Cricut Infusible Ink Transfer Sheets ( I have not tested this hack with the markers or pens yet but I do believe it would work…LIGHTBULB, I know what I am trying later this week)
Butcher paper (comes with the Cricut Infusible Ink transfer sheets) or I have used a piece of white cardstock before as well.
WHITE GLITTER HTV – this is the key to this hack/project.
Easy Press or Heat Press (I currently have the Siser Craft press) NOT A HOUSEHOLD IRON. More on this later
Weeding tool
A design!
Now that you have all of your supplies and are ready to start lets begin! I did a video tutorial on this as well, for those of us that like to learn more visually. Check it out out here.
Create
The very first thing you will want to do is design and cut your decal. Here are the steps you will take to do it using the glitter HTV and the Cricut Infusible Ink.
NOTE***Wash your hand thoroughly or wear gloves when handling the Cricut Infusible Ink. The oils on your hands will cause marbling of the ink and it will transfer to your base. I wear gloves to avoid it, that way there is no chance in me ruining my Infusible Ink. Another thing to pay caution to is light, when not using the Infusible Ink you want to make sure you replace it back in the black wrap or in a dark and dry place, this will keep your infusible ink last.
First you will create the design for the Infusible Ink transfer sheet, I do recommend not using any super thin lettering or fine details, the transfer sheets are a bit thick for that type of detail. Weeding them out will cause you a big headache, think of it like a thick cardstock, the thinner the detail the more chances in the blade pulling or tearing. That is never fun to deal with.
Cut
Next you will cut your image, you need to mirror the Cricut Infusible Ink Transfer sheets, they are cut just like normal HTV. You will use the Cricut Infusible Ink cut setting in Design Space. Now when you are ready to weed out your design you will want to weed like you normally would any other vinyl, except first you will want to do a little lifting.
In order to lift the transfer sheet you will want to bend it a bit, not like folding it bend just a light roll. This will help ALOT, trust me! Basically you will not really need a weeding tool if you do this part right, everything should just pop off pretty easily.
The next step is to cut and weed the glitter HTV for your base layer. This is cut mirrored and you will use the glitter iron on setting in Design Space. You will cut and weed the glitter HTV just as you normally would.
Prep the Press
Once you have both of your images weeded you are ready to prep your heat press. You will want your heat press set to 385 degrees F. Before you go pressing your HTV onto your blank you will want to preheat the shirt. Doing this step will help remove any moisture from the fabric and will give you a smooth surface to work on.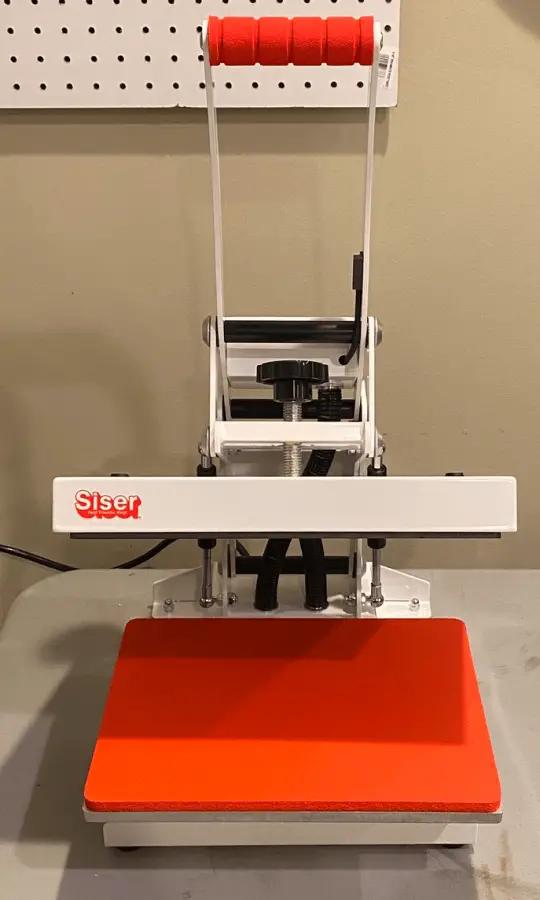 The reason you can not/should not use a household iron is the simple fact that they can not produce even heat. For the Cricut Infusible Ink it MUST HAVE even heat and MUST BE PRESSED on a flat and firm surface (hence why I recommended an actual press). The other reason is that most of the household iron have those holes in them for the steam release, those make little pockets in the Infusible Ink and will cause marbling.
TIP*** for centering easily I fold my shirts in half and make a pressed seam down the middle then again at the pit level. This will give you a nice centered space to work in.
After your press is preheated and you have prepressed your shirt you are ready to apply your HTV!
Apply
First apply the glitter HTV to the desired location on your shirt, pressing at 385 degrees for 20 seconds (no longer, you do not want to melt it), then you will peel off the mask and place the Cricut Infusible Ink transfer directly on top of the glitter HTV, getting it as close as possible. Once placed, put the glitter HTV mask back on top of the entire image. I do this to avoid melting the glitter HTV and also to help stabilize the Infusible Ink sheet. Once covered press for 60 seconds at 385 degrees and lift your press but do not touch the decal, let it sit.
I repeat, DO NOT TOUCH it, let it completely cool before you remove the mask or touch your shirt. GO have a cup of coffee or glass of wine while you wait for it to cool. Once it has been a solid five or ten minutes return to your shirt and peel off the mask to reveal your beautiful piece of work!
Reveal
Now that you have successfully removed your mask and revealed your design you are ready to flaunt your new shirt! The care instructions for this method is the same as any other HTV shirt, wash with like colors, no bleach and no iron!
As you master your Cricut cutting machine more and more you will no doubt want to venture into more complex projects. When that time comes, don't hesitate to reach out to me or even drop me an idea ( I am always looking for something new to create and I love a challenge!).
Remember when crafting, create a peaceful environment, never rush through and always follow safety precautions.
Here is that video tutorial again if you want/need a visual tutorial.
Be sure to check out some other nifty functional craft ideas through our other posts here on Craft-ILY as well as checking out some videos on DIY and How To's over on YouTube. Look for "Crafting Unedited" to see!
Happy Crafting!