You have probably caught on to the latest and greatest crafting trend of bleaching t-shirts by now. If you haven't you soon will, especially reading through this easy-to-follow tutorial. Bleaching shirts is the easiest way to create a unique and one-of-a-kind T-shirt that you or your customers will love.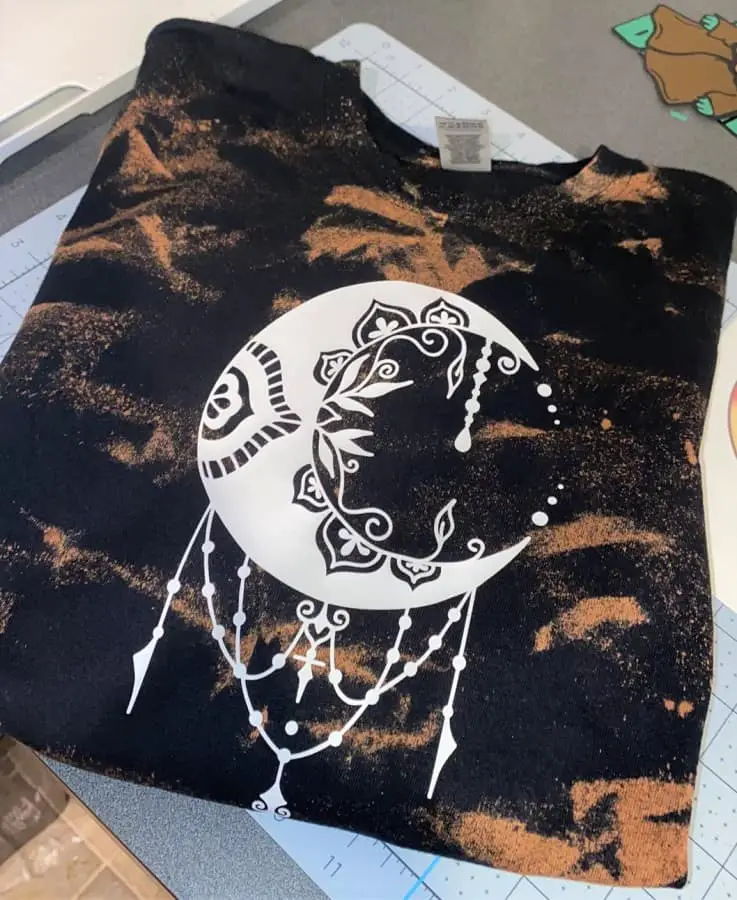 In this easy tutorial you will learn the process of creating a one of a kind bleached t-shirt. Included in this tutorial you will also learn how to heat press onto your finished bleached shirt using Siser Easyweed HTV.
Here is a list of supplies you will need to create this one of a kind shirt:
Colored Cotton Shirt (I use these Glidan ones from Amazon)
Bleach
Water
Cardboard
Trash bag
Design created with HTV (I use Siser Easyweed)
Paper Towels
Bucket or sink of COLD water
Gloves to protect your hands
Mask (if you are sensitive to smells like me)
Old clothes (or make yourself a "bleaching shirt")
Washer
Once you have your supplies gathered you are ready to begin.
Getting Started
Before you get started you want to do two things. One prepare the work area, you want to make sure you are not working on carpet or any area that you don't want bleach on. This method gets all around the shirt, so leave yourself a good chunk of space to work on.
Second is if you are adding a decal to your finished bleached shirt you want to make sure you have an idea of what you are putting on it. Reason for this is if you want to have an area for the decal lighter than the rest of the shirt you want to make sure you have adequate space for it.
Step One
Step one is mixing your bleach to water ratio, I do a one to one ratio. So my mix is 1 cup bleach and 1 cup water. This is enough to color the shirt and not over process it by accident. You can add both right into your spray bottle ( I used some old LA Awesome Cleaner bottles I cleaned out).
Step Two
The second step in the process is to grab your cardboard that should be the size of the inside of the shirt you are bleaching and the trash bag. Place the trash bag over the cardboard and tie at the bottom. Then take the bag covered cardboard and insert it into the shirt. This will create a barrier to protect the other side of the shirt.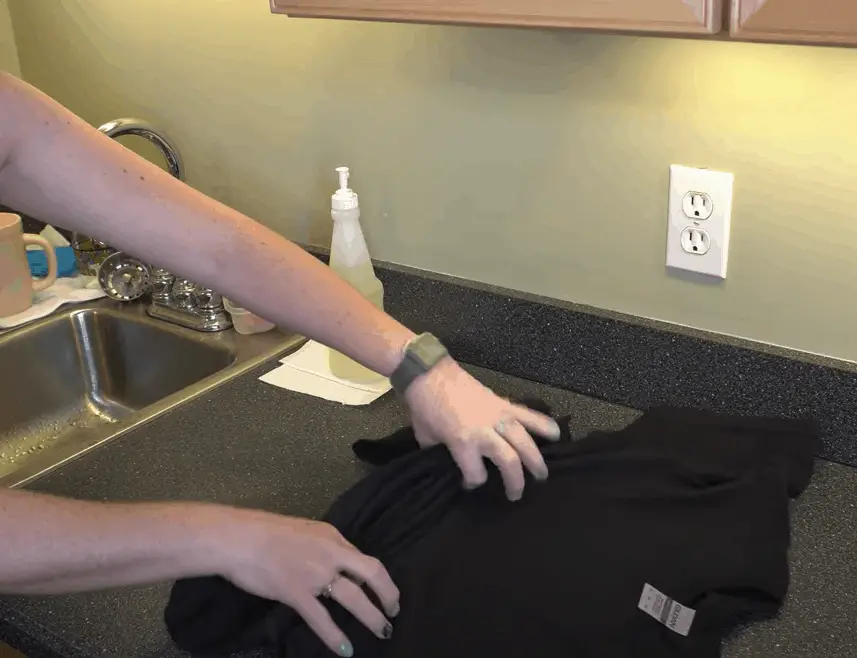 IF you are doing the bleached tie dyed look you can skip this step and replace it with scrunching the shirt. To scrunch you will just start from the middle of the shirt and pull it inward creating a scrunched look. This will create a messy but organized look.
Step Three
Put on your gloves and mask (I highly recommend both) and start spraying the area you want bleached. If you are doing a specific area for a design try to spray that area (light sprays, do not drench the area) first and gauge from there where else you might want it. Also, if you are doing a designated area I recommend using some painters tape to create a shape for your image. As you spray take a towel and dab the area you are spraying.
If you are doing the tie dye bleach affect then just start spraying everywhere. Light sprays again, no drenching one area as you spray remember to dab with a towel to prevent any over processed spots.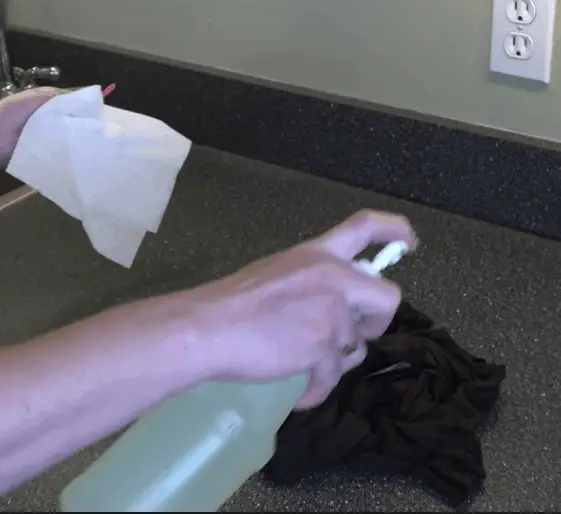 Once you have finished one side you can just flip the shirt over and repeat on the back (unless doing a designated area. Then you will move to step four.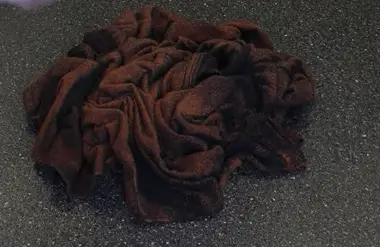 Step Four
Once you have your desired bleached look you will then take the shirt and dunk it into the COLD water. If you have done the designated area style you will remove the bagged cardboard then dunk into the sink or bucket.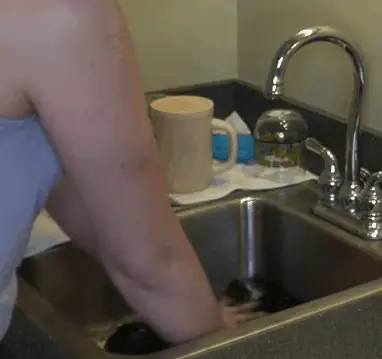 The reason for this step in the process is to actually stop the bleaching process, so do not dunk until you have the desired look.
Step Five
Once you've dunked and investigated your look and it is what you want then ring the shirt out until it is not sopping wet and where you can take it to the washer without dripping everywhere.
Run it through a regular wash cycle using only soap and cold water, NO FABRIC SOFENTER. Then pop it in the dryer with NO FABRIC SOFENTER. If you use a fabric softener you run the risk of your HTV not sticking properly.
After your shirt is dried, pull it out of the dryer and get your design ready for application.
NOTE – DO NOT PRESS WITH BLEACH ON. This will cause the bleach to over process and you will have holes in your shirt. This is why you must wash it before applying a decal.
Heat Pressing Time
Now that you have a freshly bleached, washed, and dried tee you are ready to put your decal on it! This step is super easy, you follow the same steps as you would any other shirt. Here is a post on how to make a Custom Tee.
Heat Press Temp: 325
Heat Press Time: 30 seconds
I realize most people do lower temps and short times but I want a one and done and this setting has not failed me thus far. The only time you want to adjust these settings is if you are using a specialty HTV like puff, holographic or something along those lines.
Step One
Place your shirt on the pressing plate and take a lint roller across it to remove any lint or debris that may have adhered during the washing and drying process.
Step Two
Prepress your shirt, this is a very important step. What the prepress does is remove any moisture that might be trapped in the fabric and give you a flat, smooth surface to work on. You don't want wrinkles in the material when pressing HTV, once that material is stretched at all it will ruin the image.
I also like to fold my shirts in half and press again for a brief moment to give myself a center point to measure from.
Step Three
Apply your decal using either the three finger from the collar rule or a t-shirt ruler. You can use the centering method I mentioned above or use a ruler to center from the edges.
The other thing to make your life a bit easier is you can fold your decal in half and align/center it that way. This is my go to method, it works super well.
Once you've aligned everything place a sheet of butcher paper or a Teflon sheet over the transfer and press. Depending on the vinyl you used it can be cold or hot peel so check your vinyl material for those. I can say that Siser Easyweed is a hot peel and Cricut Iron On is cold peel. Just be safe and check the suppliers site to verify.
All Done!
You now have a brand new and unique shirt to flaunt off to the world or to add to your shop! Yay!! Not only that but you have mastered (well maybe after a few more) a new skill too!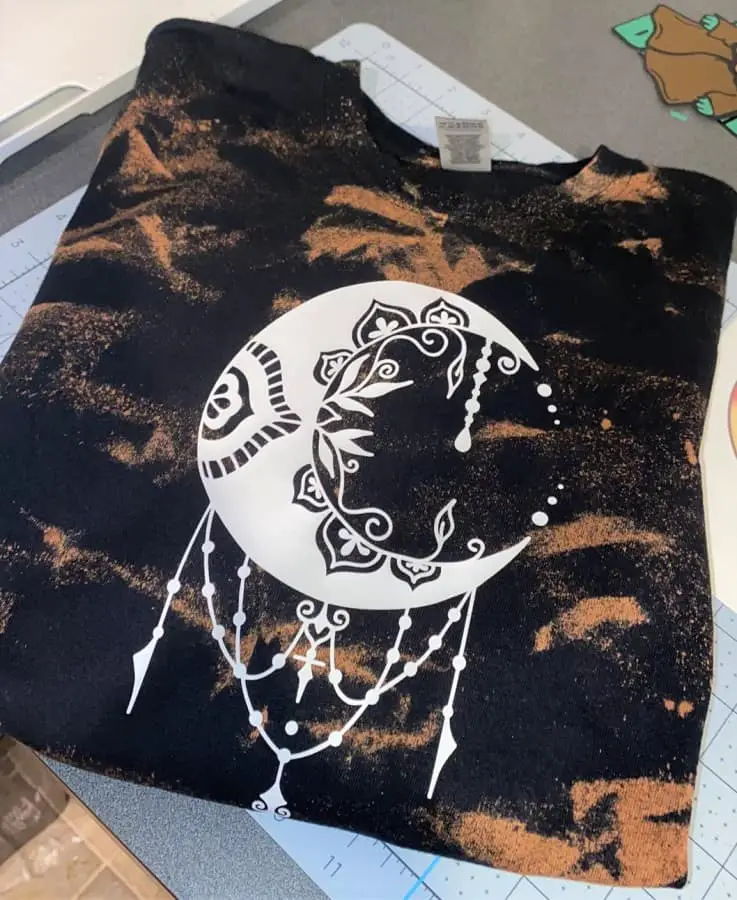 This tutorial is also available on YouTube in a video format, check it out here!
Crafting is all about learning new things and growing your creativity. Never let being afraid of trying something hold you back.
Be sure to check out some other nifty functional craft ideas through our other posts here on Craft-ILY as well as checking out some videos on DIY and How To's over on YouTube. Look for "Crafting Unedited" or just click the name in blue to see!