Cricut Access is a program by Cricut that allows you to have access to 100.00+ images, projects and fonts in Cricut's software Design Space. It also offers you discounts on products from the Cricut website, like vinyl and accessories.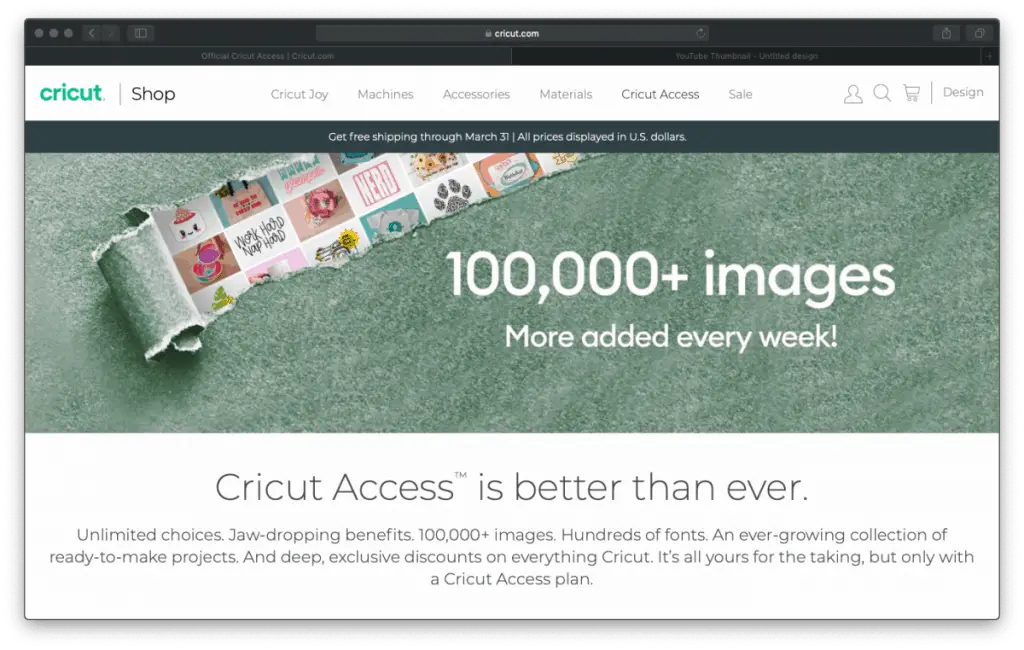 This program has been given both good and bad reviews and some might say that it isn't needed or worth the cost, others will say they can't function with the Cricut machines without it. To me, it is all about perspective and purpose.
Let's discuss in a bit more detail, from what exactly Cricut Access is, what it offers and why you need it.
What is Cricut Access
In short Cricut Access is a subscription program that gives you unlimited access to all that Cricut Design Space has to offer. Thousands of images, hundreds of fun and unique fonts and ready to make projects all at the tips of your fingers for a low monthly or annual fee.
When it comes to Cricut Access subscriptions there are three levels and prices to choose from, well two levels and three price levels that is. Those look like this (current prices and they may vary) :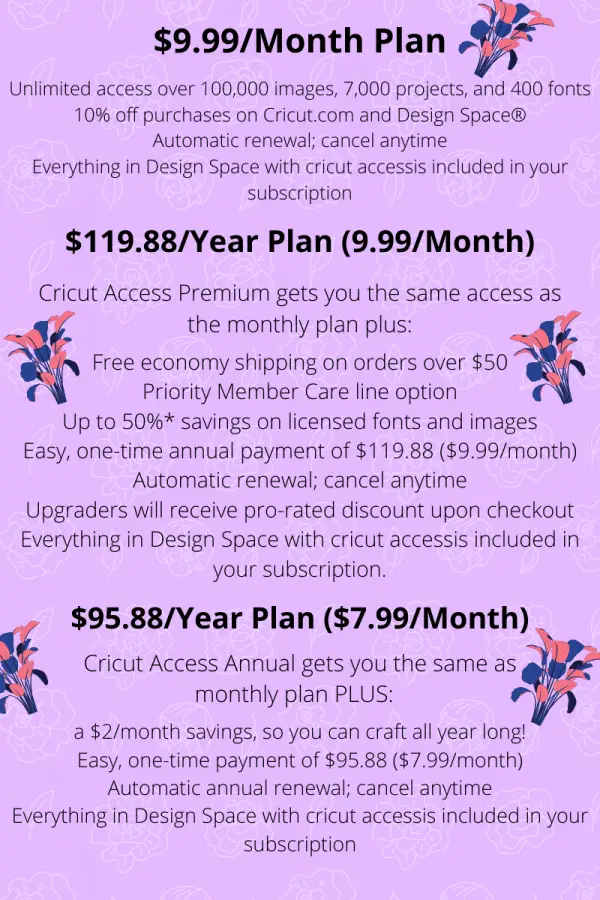 For me the best plan option is a no brainer, The annual subscription makes the most sense. I use my Access membership almost daily and having the added perks are so worth it.
When you sign up for a Cricut Access subscription you get more than just a bunch of images, fonts, and projects. Let me elaborate a bit more on everything you get, even with JUST the basic subscription.
The neat and generous thing that Cricut does for all of its makers is when you purchase any new machine and register it you are automatically added to a free trial period of two weeks. This give you the opportunity to use the images, fonts, and projects before you commit to a plan to see if it makes sense for you personally.
Images
Without an Access subscription you get quite a few images, but the amount and quality do not match what you get with Access. The quality of images for free is very basic and single layered.
Single layered means they are one color and are not able to be modified much if at all. Now Access, you get it all. Every image created by Cricut as well as those created by other crafters that have been shared (more on that in a minute).
On top of that, if you get the premium membership you get a discount on the big brands like Disney, Marvel, Martha Stewart and more. These designs are really cool. Here are a few examples to show you ( I do not have the premium membership yet but I will soon, so these images have the cost on them)
You can see how amazing these images are, the detail and the fun that can come from it all! Don't worry though, if you do not have a subscription you can still see and use these types of images, you will just need to pay for each of them. If you are like me and do a ton of crafting you will pay more this way in less than a month!
Fonts
Fonts, you are probably thinking "so what I can get those free from this or that site" while that is true you do not have rights to those "free fonts" therefore if you are selling the projects you make with them you are subject to copyright and a major lawsuit. So unless you are using the fonts for personal use only it is not worth it.
Design Space has thousands of fonts available when you have an Access subscription. Literally, thousands and every time I go to pick one out for a project I spend probably 20 minutes playing with the fonts. Without Access, you still have plenty to choose from but again they are basic and most that you will see in Word and other general programs.
The same goes for fonts as with images, you will see them and be able to utilize them but you will pay for them. Keep reading for more regarding Cricut's Angel Policy, this will cover the copyrighting information in a little more detail.
Projects
Design Space offers you a plethora of ready to make projects, but only to Access members. If you do not have a membership you will not have access to the ready to make projects for free that is. You will still be able to see them, however, you will have to pay for them individually just like the fonts and images.
I will add that the Cricut projects are amazing, they are (mostly) pretty easy to make and are already completely designed for you to just "make" them. If you want to add a personal touch that is easy to do as well by just selecting the "customize" button.
One of the major downfalls and I believe Cricut is working on this is the instructions for some of the projects are terrible, I am a pretty creative person so things like this come pretty easily, others that aren't as crafty may struggle a bit more.
There are also YouTube channels like mine with crafters that have figured out how to put a project together and thought it made more sense to show rather than just tell how to do them. This flower tutorial is a perfect example of this.
Cricut Design Space Paper Flower Full Instructions
Cricut Angel Policy
The Cricut Angel Policy has nothing to do with angels other than it basically meaning your honor the policy like an angel would…this policy covers everything from the rules on selling products made with Cricut Access and Design Space images, to potential copyright issues. It has a ton of legal jargon in it so I will put it into crafters words.
Simply put the Angel Policy allows you to make and sell items images from the Cricut library, as long as they are non-licensed images by brands like Disney, Sesame Street and Martha Stewart to name a few.
If you would like to take a look at the Angel Policy in full detail (I strongly urge it) you can do so here:
Non Licensed Images
A non licensed image in the Angel Policy is any image that is on this list:
Walt Disney Company (Disney Consumer Products Inc.)
Sesame Workshop
Hello Kitty
Warner Bros
DC Comics
Martha Stewart
Kirstie Allsopp (BBC Worldwide Limited)
Entertainment One UK Limited
Nickelodeon (Viacom International, Inc. )
Boy Scouts of America
If it on this list and you purchase and image in Design Space from one of these brands you CAN NOT SELL anything with that image on it. If you do, you will be subject to copyright and be sued. This is a risk to me that is not worth taking. If you want an image from these brands and want to sell the products you make you will have to reach out to the company and get their permission.
Finished Products
Another item this policy states is that you are only allowed to sell any Cricut library image or projects as a "finished product" and while you may think this just means simply anything you finish, it is not that simple. If you use an image from Design Space library on a coffee cup, t-shirt, cards, scrapbook pages or signs, then those are all examples of "finished products".
However, if you use a Design Space image to make stickers, individual letters or shapes to sell those are not "finished products" meaning the customer has to finish the product themselves. I guess the loop hole here would be that you CAN sell sheets of stickers if they are part of a completed project like maybe a sticker book or coloring pages with stickers or even planners and scrapbook kits. All fun ideas nonetheless .
10,000 Finished Products Limit
Let's clarify this one a little more. The Angel Policy states that you can sell up to 10,000 in a year of a product using a Design Space Image or Font. First off, that is A LOT of projects, I can't images producing that many with my single Cricut machine.
What this really breaks down to is if you want to sell something with a Design Space image or font on it do not make more than 10,000 of that same project. This does not limit you to 10,000 products a year, it is 10,000 per product. This number in incredibly generous considering the amount of work that goes into each product made with a Cricut, I do not ever see myself making that many or close to that amount of products in a year.
There is a bit more detail in the Angel Policy, like I said it has a lot of legal jargon in it and if you want a more in depth detail to it you should really read the entire policy.
Simply put, you need Cricut Access
My personal opinion is that if you wish to create some pretty epic designs, images and finished products just pay for the subscription and get to work. Access offers so much more and truly makes it worth every penny to have access to all of the images, fonts and ready to make projects. They really made it an easy and stress free way of crafting.
Be sure to check out some other nifty functional craft ideas through our other posts here on Craft-ILY as well as checking out some videos on DIY and How To's over on YouTube. Look for "Crafting Unedited" to see!