Sublimation printing is an effective and modern way to get your message out there in a creative way by simply using heat to transfer ink into a variety of materials such as t-shirts and mugs through heat transfer paper. One of the main characteristics of this printing method is that it is incredibly efficient and of high quality. However, as with any craft or artsy project, you might come across some complications, and one of the most common issues consumers face is sublimation printer issues.
There are various reasons why your sublimation printing might not be turning out properly, but the first step to resolving the issue is finding or detecting the problem. The most frequent complication users face is not printing due to running out of ink, which can be determined by checking the ink level.
Even though this is, in fact, one of the most habitual problems people face, there are several more that can be easily troubleshooted at the commodity of your home. In this article, we will review the most common printing issues and mistakes, how to resolve them, and proper care.
How Does a Sublimation Printer Work?
Before analyzing how to solve the most common sublimation printing issues, it is vital to comprehend what it is, how sublimation works, and things to consider when creating product.
What is a Sublimation Printer?
Sublimation printers utilize a thermal transfer printer that employs heat to create the image on the product it is printing onto, which can be almost anything, considering many different types and sizes of printers are available in today's market.
This means all you need for your Sublimation Printer is an ink or dye set formulated specifically for direct-to-garment use by manufacturer brand name companies like Siser, Sawgrass, HTV Ront, and more. Also, it is done by changing the ink particles and converting them into a gaseous state to print anything into the fabric or material.
In the apparel and crafts industry, this is an incredible technology that allows completely flawless garment designs. Because of its remarkable effectiveness and ease of use, it has become one of the most popular printing methods by many companies and enthusiasts since it delivers high-quality results.
However, even though this is a wonderful tool for printing, if the process is done incorrectly, you might end up with ghosting patterns and white creases on your designs, which results in a waste of time, money, and frustration. This is why it is important to take into consideration the following factors to prevent these issues:
Using the correct sublimation ink:
The most important thing to remember when purchasing ink is that the dye or pigment of your choice needs to be formulated especially for direct-to-garment use. Otherwise, you might run the risk of irreparable damage due to inferior quality and unknown ingredients in some off-brand dyes. As far as what specific type of sublimation ink is best suited for each application?
There are two types of sublimation inks:
Solvent Sublimation Ink: this dye is oil-based sublimation ink, and the most common usage is for ZAAR Spectra and other wide format printers. 
Dye Sublimation Inks: This ink is also good for some polyester, cotton, and blends that are medium to light in color where pigment tends to get lost within the garment itself. For example, white shirts work well with this type of ink because they're already a lighter base color, so it will enhance clarity while giving you vibrant colors when printed over them.
In addition to this, they tend to be of higher quality, long-lasting and waterproof. Also, they can quickly go from a solid to a gaseous state at extremely high temperatures, which makes them a perfect dye to use for polyester fabrics.
Process of Sublimation
Now that we know how sublimation works and the different types of inks that are commonly used, we can dive into the actual printing process for a flawless result.
Select your design and use a sublimation printer in order to print it onto the special paper. The ink used converts into a gaseous state, combining with the material and sticking permanently onto it.
The design gets printed onto the fabric or paper using a heat press and placed into the oven. Often, this is done with transfer paper so the design can easily embed or combine with the fabric.
Through heat, the pores of the material are open, letting the pressure make the ink cool down and turn into a solid state.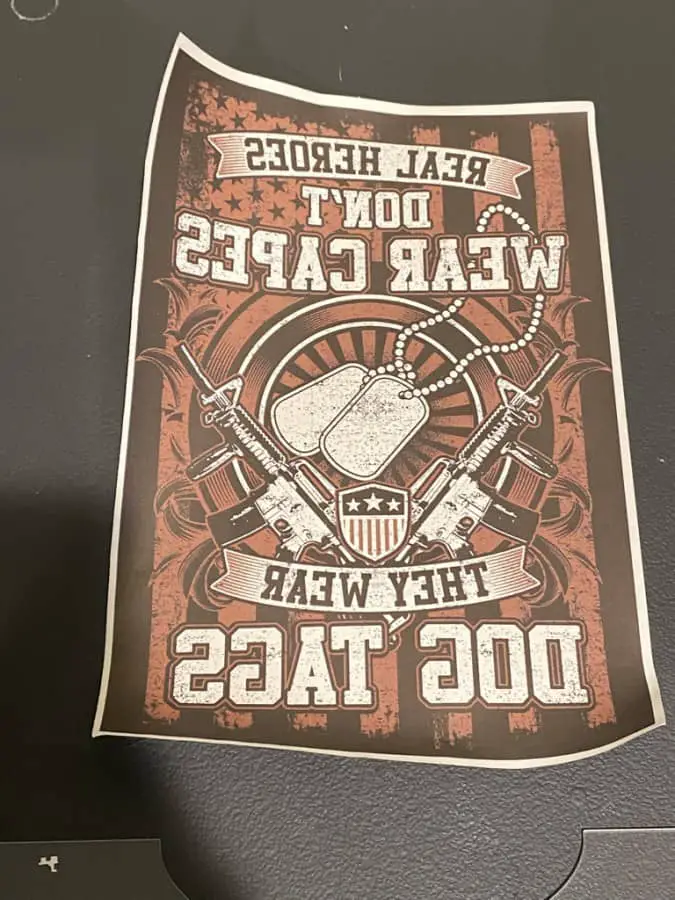 As you may notice, the process is pretty simple, but it takes a lot of practice to master it and prevent issues from happening.
Most Common Sublimation Issues and How To Fix Them
After reviewing the correct sublimation printing process, it is now time to identify which issue you're currently struggling with when you print your design to find the cause of it.
There are several common sublimation printing issues that you need to be aware of before purchasing a machine. This includes problems like blotchy prints, incorrect color order, and white lines running through the image.
This is why it is extremely important to identify the following sublimation printing issues in order to find a solution:
Blotchy Prints:
If you are getting blotches or splotches in your print, this is most likely due to the printer's temperature. The top and bottom rollers should both be at a similar temperature so that they can apply even pressure on your garment while printing. Check these temperatures before starting any prints. Otherwise, you might find yourself with an incomplete image!
Incorrect Color Order
This happens when one color comes out lighter than the other colors in the design. To avoid this issue, ensure that all of your images have been optimized for sublimation printing before sending them off to press! You'll want to set up a reverse channel job that will eliminate unwanted white space from being printed.
Transferred designs coming out dull
If, after printing your designs, they come out less vibrant, there are a few things you have to consider. Different dyes are more likely to come out dull on other fabrics. Make sure you use the right fabric type for each of your designs! Many brands will print a color guide with their sublimation products, which shows customers what colors they can expect from certain materials. In addition to this, also make sure you're using the correct side of the sublimation paper and a proper correction program.
Ghosting Image or Design
If your design is ghosting or images under the sublimation transfer, you may need to adjust the press temperature. This will make sure that everything gets printed properly on paper and transferred onto fabrics!
Another reason this might happen is when the transfer paper moves while the sublimation process occurs, which is heavily related to the heat press. One way to also fix this is by taping the substrate tightly to the sublimation or transfer paper by using thermal tapes and stay away from auto press sublimation printers since the regular open press tends to unlock too soon, sometimes causing ghosting.
Additional Tip
When it comes to sublimation there are two main and very important tools you will use very often, your sublimation printer and your heat press. Having both of these tools maintained properly will save your business a ton of money. This does not mean you have to spend a ton of money or even have a techy person on hand to maintain them (unless it is an electrical issue).
Most sublimation printer issues can be solved just by running the maintenance programs directly from the printer or the manufacturers website. I clean my print heads once a week, run the nozzle check once a month, and every 6 months or so (if I haven't ran out of ink, I replace my ink.
Sublimation printers work in much the same way as regular inkjet printers, so anything related could also affect them. For example, dust can easily block up heat vents and prevent good circulation, which will only cause printing errors! So make sure you keep your printer clean at all times – especially when producing large batches at once.
For the heat press, the simplest way to correct any issues (again unless it's an electrical one) is to keep your area clear. This will help prevent anything from accidentally being melted by the press. You also want to clean the platten often to avoid it from getting dusty or anything else from accumulating onto it.
Following these basic maintenance tasks will keep your business going for many years to come.
Conclusion
Sublimation printing is a fun and creative way of making custom items. As with anything the more you do it the better you will get. Most of the issues can be resolved just by researching what has worked for others, as well as keeping up on the maintenance on your tools.
Here are a few additional resources that you may find really helpful in your sublimation journey:
Before you get too into the tips side of things, you will probably want to take a quick review on what you need to get started. You can check out my post on full details here –