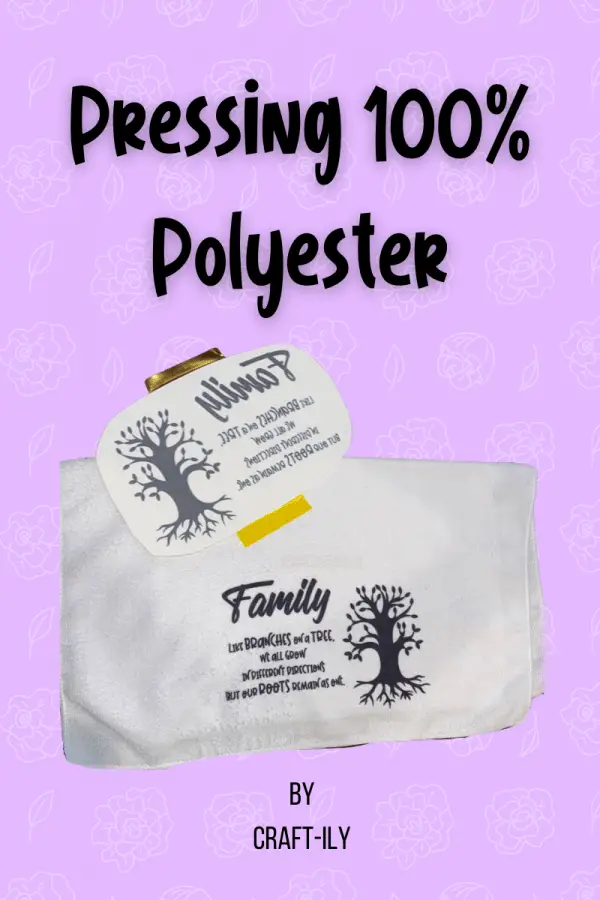 Making the transition from vinyl to sublimation can be stressful, learning how to press the materials is by far the most complicated part. I wanted to share my process for pressing the most commonly used substrate, 100% polyester. 
I started with Cricut and HTV (heat transfer vinyl) many years ago and loved it, I still do. The most difficult thing is getting multiple layers for one image to align right, not look bulky and not have anything overlapping. Also, the cost. When you think about it the cost of using HTV adds up quick, you have to have three different rolls or sheets for most projects. Those sheets are about $1-2 for a twelve by twelve depending on what you need and the rolls can run $10-12 for a five yard roll. 
I transitioned into sublimation very recently and have no idea why I didn't do it sooner. Seriously, it's so much easier (once you get the printer settings down) and cheaper. You can have as many colors as you want on one design and not have the hassle of layering, lining up or the other stressors that come with HTV. If you use the right substrate it'll last forever, no peeling or flaking. 
What to do? 
Now for the main purpose of this article, let's discuss how to press 100% polyester materials. I wanted to write this article to piggyback off of my YouTube video "How to Press 100% Polyester" there are crafters like myself that need both, written and visual explanations. 
What's needed? 
In order to begin your pressing you'll want to make sure you have a few things on hand. Here is what I keep close to my heat press. I have them hanging on a peg board that I got at Home Depot a few years back, it works well because you can hang some cheap Dollar Tree hooks onto it.
Heat Press – you can use a Cricut Easy Press, however just keep in mind that it may cause uneven pressure and cause some ghosting or lighter areas. 
Butcher paper – you can use any type of butcher paper, I am currently using a Costco sized box of parchment paper and it works brilliantly.
Heat resistant tape – I use the one linked from Amazon, there have been some reports of it leaving a residue but the ones linked are what I use and I have not had this issue.
Image printed on sublimation paper with sublimation ink – I use ASUB 125gsm from Amazon and am currently using Hiipoo Sublimation Ink form Amazon as well. If you don't have a sublimation printer yet and you are wanting to get started I highly recommend the Epson EcoTank 2720. It is a great beginner printer!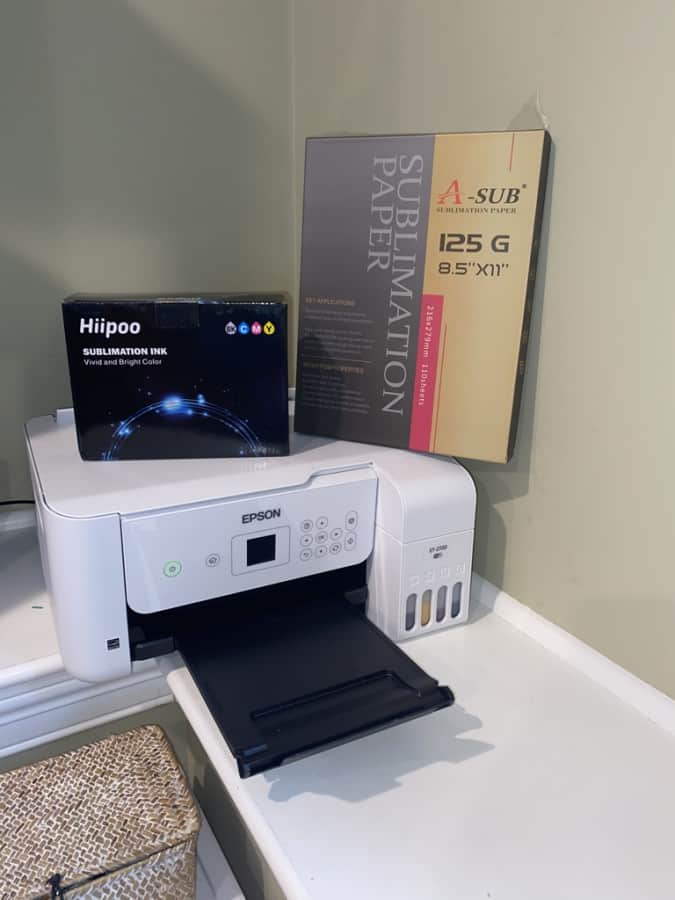 Lint roller – any lint roller will do!
That's it!
Now let's get to work on pressing 100% polyester materials! You can press anything that has a polyester coating or blend to it, this higher the polyester count the brighter and better your transfer will be.
Step 1
Preheat your heat press to 385 degrees, set it at 60 seconds and move it to be about medium pressure, not too much pressure as this will leave press marks on your substrate. 
Step 2
Lay out your substrate so that it is flat and use the lint roller everywhere that the image will be transferred to. If you skip this step you are risking transferring pieces of your image onto the lint rather than your substrate which will leave you with a spotty transfer.
Step 3
Take the substrate (material) under the press and prepress it for 20 seconds to remove any moisture from the fabric. Moisture can cause uneven colors, discoloration and ghosting. Step 4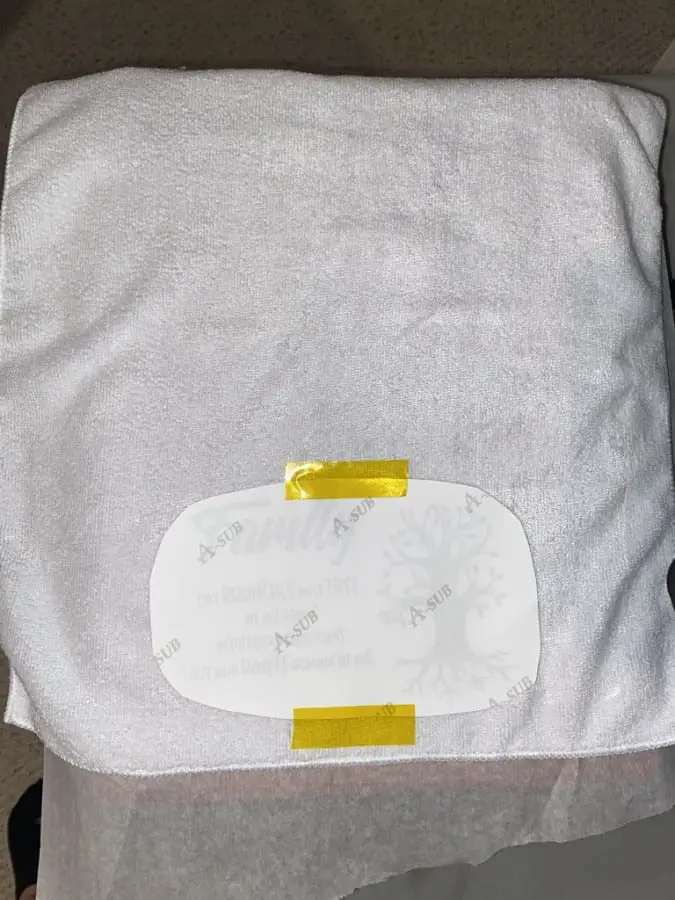 Remove the substrate from the press and place your sublimation print on top of the substrate face down and tape it using the heat resistant tape. The reason for this step is to ensure that the sublimation print does not shift when the press is pushed down and lifted off of your substrate. This step avoids ghosting and shifty transfers.
Step 5
Place a sheet of butcher paper in the bottom of your press (or whatever surface your pressing on) to protect that surface. Then place your substrate with sublimation print on top and cover with a second sheet of butcher paper. 
If you are pressing a shirt you need to put the butcher paper inside of the shirt covering the entire area the image will be transferred to. 
Step 6
Press the substrate for 60 seconds at 385 degrees with medium pressure. 
Note***if pressing a pillow, onesie or tote you'll need a pressing pillow or towel to help lift the away from the seams and create a smooth look.
Step 7
Once the timer is done lift the press and immediately remove the butcher paper and the sublimation print. Then remove the substrate from the press plate and hang.  Most crafters will not do this but I do, I let the transfer dry for a minimum of 12 hours before folding it and 24 hours before washing it, which allows the ink to really process into the fibers.
Now that your substrate is pressed and ready for use you want to make sure you care for it properly. Most sublimation blanks are white, which means they will stain easily and you (or your clients) will want to use bleach on them. I HIGHLY recommend against it, bleaching the substrate will fade the image, not much at first but little by little it will fade. A good way to clear most stains is an immediate spot treatment.
I like to use bleach on areas that are away from the image and Oxy Clean on the rest. Either way, the more you avoid using cleaners directly on the image the brighter it will stay. For general cleaning you can use whatever laundry soap you normally use and just make sure you are not using tons of fabric softeners. Your image (if you used my instructions) should last a lifetime (of the substrate).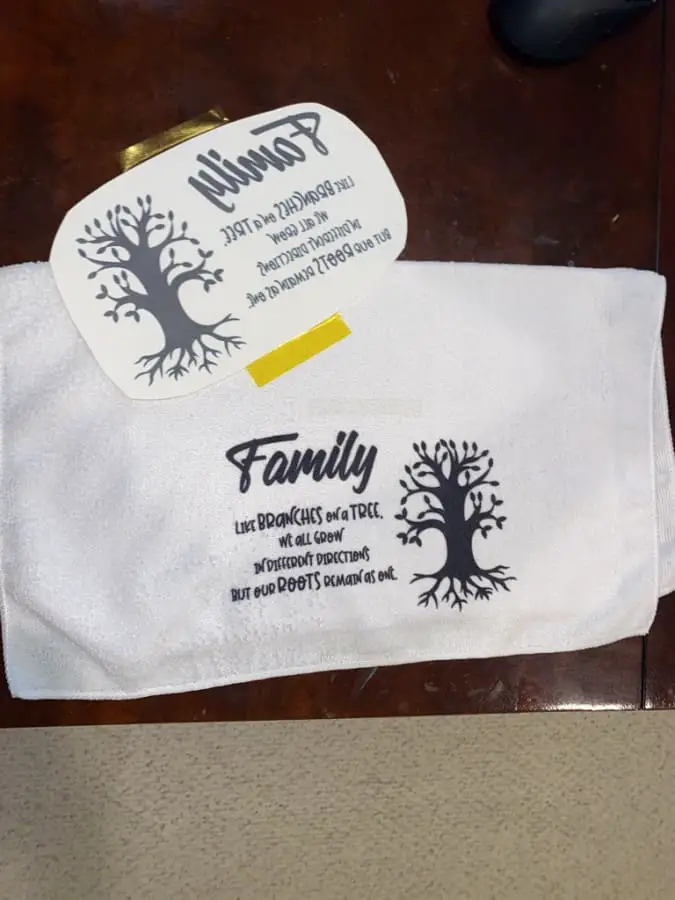 Be sure to check out some other nifty functional craft ideas through our other posts here on Craft-ILY as well as checking out some videos on DIY and How To's over on YouTube. Look for "Crafting Unedited" or just click the name in blue to see!
As always Happy Crafting!