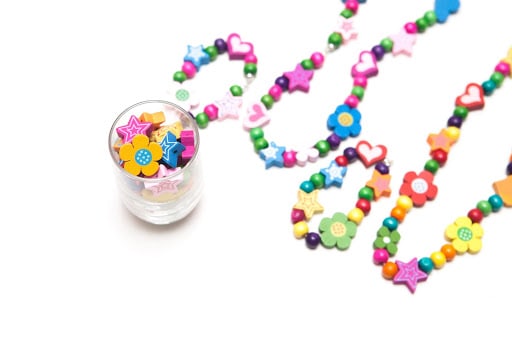 As adults, we love to accessorize and complete our style with a piece or two or more of jewelry. Did you know kiddos can join in the fun? My two little girls love to borrow some treasures (jewelry to them). They always reach for bracelets, especially ones made with beads. And if it's really colorful, then that's just another bonus for them. Kids want to mimic what their parents do (well at least the fun stuff).
So, what kind of jewelry is available for children? Let me tell you, I've learned that if it's available for an adult, then it is available for a child. There are rings, bracelets, necklaces, and watches of various styles and sizes (just like for adults).
If you can think of it, it's available somewhere for you to purchase. When I was pregnant with my oldest daughter (she's now five and a half), a family friend of ours got her silver ring. Not suitable for a baby, but it was beautiful. So, if they can get a ring for a new baby, you can most certainly help your youngin accessorize.
But what should you get your kiddo?  What are the best things available? First, depending on the age of your child, you might want to avoid buying anything too expensive. Children can be unpredictable and silly and it'd be very upsetting if you bought your four year old a beautiful charm bracelet that she gave away to a friend at school because her friend didn't have one and she wanted to share. Just be mindful of the age you're buying for when you make your decisions. 
When you decide to let your child join the jewelry party, take into consideration their style. Just like you, they have their own style that they may want to express. Are their ears pierced?  What pieces of jewelry are they usually drawn to? Which ones are they wanting to take out of your jewelry box? Let's look at different style bracelets, rings, necklaces, and watches available for kiddos to keep them out of your stash and starting their own.
Bracelets
Bracelets are such an easy piece of jewelry to accessorize with, especially for kids. Mine are always asking to "borrow" mine and when they ask to borrow, they mean: Can I wear it so I can break or lose it later? So, I've learned to get them their own inexpensive pieces. 
If your kid is young and unpredictable (like my three and five year olds), the best jewelry to buy is something inexpensive or easy to take on and off. Something with beads and stretchy like these are perfect for the younger ones. We all have special occasions that we want to dress up for. There are beautiful link type bracelets like these that are inexpensive but also stylish for that special event. I love these because you don't have to break the bank to get a cute piece of jewelry. 
We all have different priorities and our finances are different. Some are looking at the more inexpensive options, that way you don't feel you've wasted money if the bracelet gets lost or stolen or damaged. However, on the opposite side of the spectrum, some are better off financially and want to splurge.
There are so many exquisite and lavish bracelets available for those with a healthier jewelry budget, like this pretty gold bracelet with butterflies and small diamond cuts. It's beautiful and I know my little girls would love it (but it's not in our budget nor do I trust them yet…One day maybe).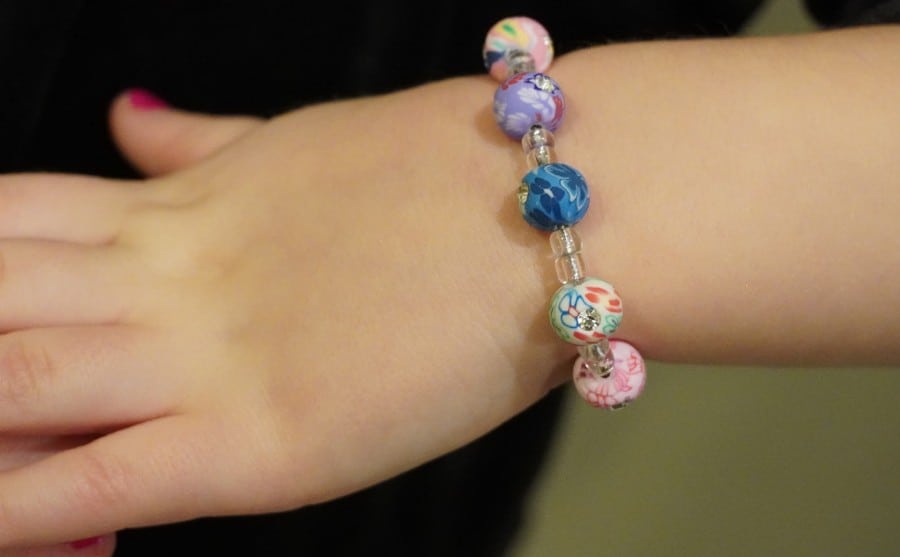 Now if your child is older, it's way more fun to buy jewelry (theoretically they will appreciate it more than younger ones). When buying a bracelet, or any piece of jewelry really, you want to keep in mind your child's interest, that way, it is more personable for them. If it is something they really love, they will be more responsible with it.
One thing they love is custom jewelry. Bracelets with some type of customization , like their birthstone or some type of engraving are fun and make that piece a little more special. This bracelet becomes a little more meaningful because it can be customized specifically for the wearer. It makes the one receiving it feel like extra thought went into this gift selection.
Another way of selecting a bracelet for your child is finding them something with a theme of what they like. For example: animals, bugs, beaches, mermaids, unicorns (and other mythical creatures), hobbies, specific colors, and so on. Charm bracelets are great for these specific interest bracelets. People (yes including your child/children) have multiple interests.
Charm bracelets are perfect for showing off pretty jewelry and the things they enjoy. Pandora is amazing for this. Check out this travel themed one here. Pandora can be pricey for sure, but the charms available vary in price.
So some are kind of budget friendly (starting at $15) and increase in price (up to hundreds), but it really is a gift that keeps giving. It takes a lot of charms to fill that bracelet up. So for years you've got your gift idea!  (It's infinite!) I really love that it is so personable! No two bracelets are going to be the same because we all have different interests. It's perfect!
Don't worry. Spending hundreds on a Pandora charm bracelet isn't the only option for a themed bracelet. Some bracelets have a single charm (or two) and some stores sell pre-designed charm bracelets. Here is an example of a single charm bracelet. Cute and simple. Claire's has a few adorable pre-designed charm bracelets. They're complete (you don't have to worry about any additions) and they are inexpensive. This one is an adorable mermaid themed one that most young girls would love.
I know my three year old loves mermaids and would jump with joy if we added this to her collection. And this bracelet is such an inexpensive option. In reality something like this is perfect for both age groups I have at home. It's super cute (check it out!) and doesn't cost an arm and a leg. So it'd be a bummer if it got lost or broke but I wouldn't be devastated about it. It's an amazing option.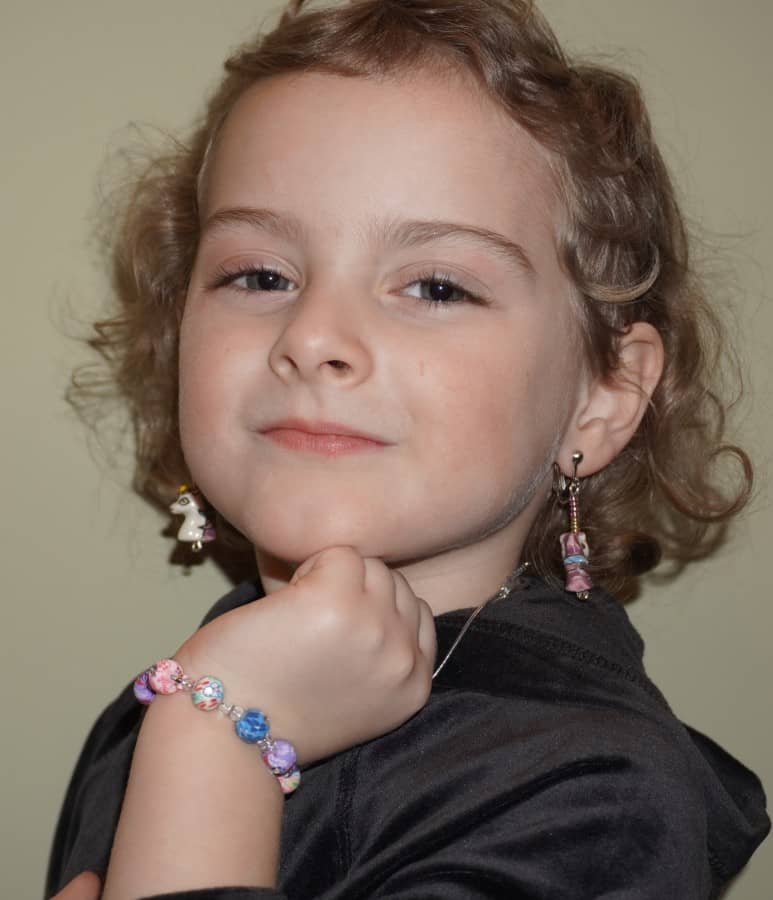 Last up for bracelets: bangles. No we aren't talking tigers. We are talking about a rigid bracelet made of wood, metal, plastic, or glass. For kids, let's stick with plastic or metal (that's safest for everyone).
The gals in my house (me and my two girls) just love bangles. They come in so many colors and you can wear lots of them at once (layer it up). It's great!  These are such fun options for all ages! And some even have charms! But it's great because you can keep on layering!
I love bracelets. They are such a great jewelry option for girls of any age. From super young to super wise. There is something for every age and interest.
Rings
Let's talk rings. There are costume type rings available for the younger group of girls. My kids love these and they give me peace of mind because they are easy to find at stores and cheap. The jewels on them come in lots of fun shapes and colors like these. And you can't beat the price, seven dollars for twenty four rings! It's perfect for the younger kiddos.
Don't worry. If you're still wanting to get costume style jewelry for your slightly older kids there are options that aren't as cheaply made. Some stores, like Claire's, have rings (and ring sets) available. They are silver finish with a fun charm or gem on it. They are a fun way to add some style and switch it up.
An option that is wallet friendly and cute that your growing girl will love to rock like these. If you want a fun moment with your little, you can give her a little manicure at home (or take her out) and let her pick a ring to match. My littles absolutely love manicure days! (Especially if they get some fun bling!)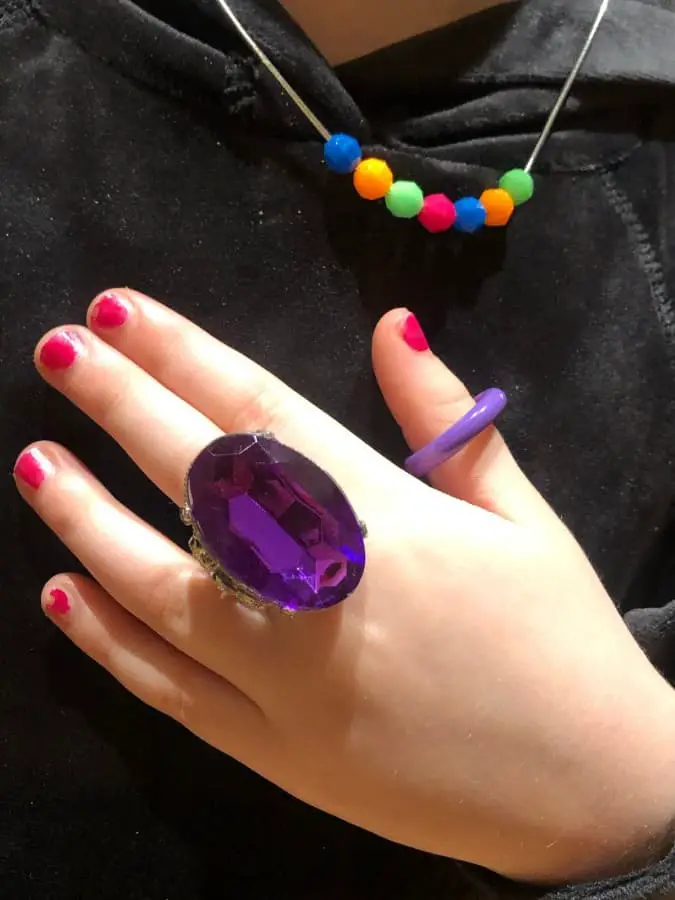 Now as our kids grow, we tend to want to get them something nicer but not super extravagant. And just like with adult jewelry, there is a ton of variety and options for rings. Plain bands, fun shaped bands, and plain bands with a single charm or stone are just a few of the options available. There are so many pretty things available!  Depending on the styles and how big the charms or stones are, your girly can layer or stack more than one ring. I think these rings make a great stacking option. Doing this can add some extra flare to her look that day.
Who remembers mood rings? Every teenage girl needs to experience the joys of a mood ring. These are so great. What's not to love about a ring that changes colors? Who cares if you can't control it? These are stylish too. They're available in simple bands and plain bands with a fun charm. Personally, if I see them in the store, I still pick one up to rub it. I just love seeing if it truly reflects how I'm feeling at the moment.  And they always make me smile because it brings back some great memories.
Of course you can't forget to get your highschooler her class ring. You and your daughter can have a lot of fun designing those! These are one hundred percent customized to what she wants. From the style of the band to the type of stone to the engravings. Get creative! Doing this will leave you both with a fun memory (hopefully) and a keepsake that will last a lifetime. I know I loved making mine (and I still have it, though I don't wear it as much these days!).
Necklaces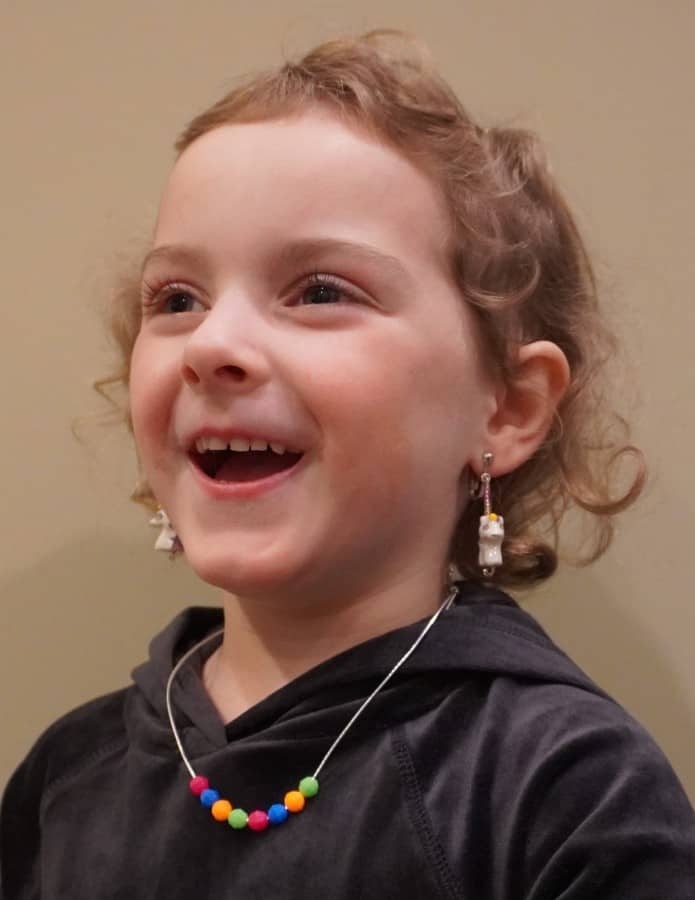 Necklaces are my favorite accessory. I don't know about you, but I have two admirers in my house that would love to get their sticky fingers on their mommy's necklaces. Necklaces are so much fun and for kids they are wonderful accessories! 
Necklaces are very similar to bracelets. Lots of options for every age group of kiddos.  You know the beaded necklaces they give out during parades? That's where the collection of necklaces starts. (If you go to a parade they're free, no money spent there!) Let me warn you though, they multiply.
These necklaces in my house are the army figures like in Toy Story (we are always finding some on the floor, always). If you want to give your toddler and upgrade, these are a great option. They're still beads, but more colorful and cuter beads.
Plain silver or gold chains are an amazing place to start. The fun part about a chain is that it can be worn by itself or you can add or switch out the dangly charms on them (if your child has a collection of them). You can customize these like you would a charm bracelet. Your child can pick out charms for her necklace the same way as she would for a bracelet.
If you're out and about shopping and your daughter finds a charm she likes but doesn't like the chain, it's cool. Get the charm and buy a new chain separately. Chains come in different sizes and colors and even styles (different types of links).
Life hack: I also love the idea of throwing rings on a chain if your child (or even yourself) needs the ring out of the way but doesn't want to lose it by setting it down somewhere (if they play a sport or maybe into pottery making or something, who knows). But it's a nice option to avoid losing a ring. There really is some versatility with the options available for chains.
Earrings
Earrings really do alter appearance. They definitely add to a look or style. Guess what. Kids like to wear these too!  Now my main tip is, get your kids real gold while they're young. They are less likely to get an infection from real gold (trust me, I speak from experience on this one). You will be thankful you didn't have to go through that experience. As they get older and can switch out their earrings on their own, they can play with the costume jewelry.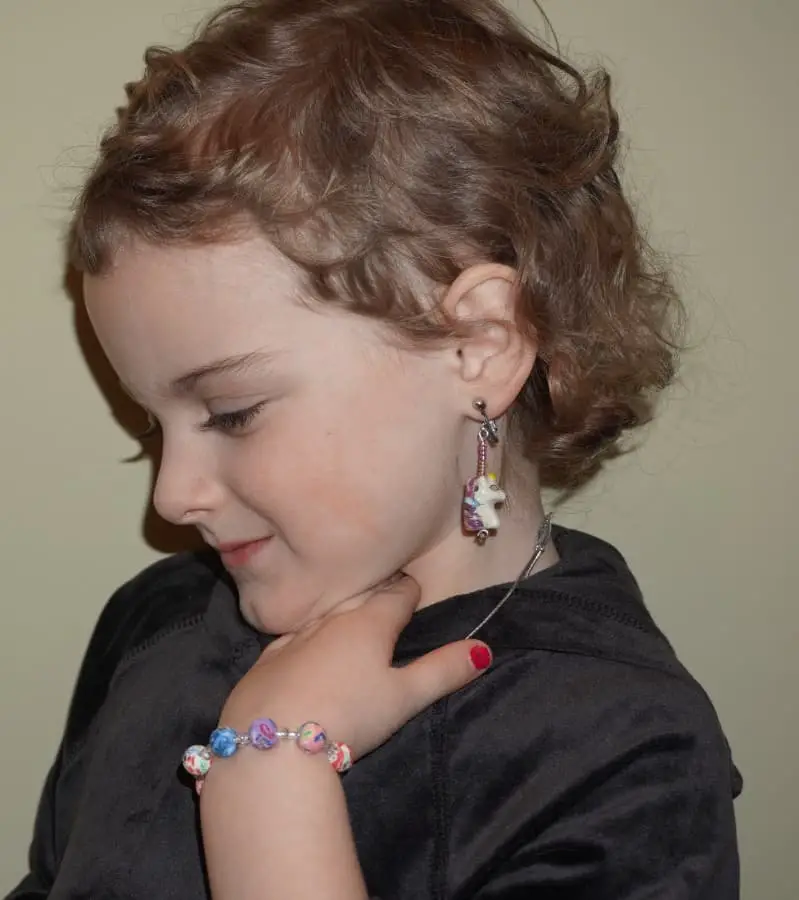 There are different styles of earrings for kiddos. There's your standard stud earrings, hoops, and dangles. Studs are where we all start when we get our ears pierced. I feel like most people get their birthstone (because why not) but there are multiple stone options for kiddo to choose from. Now if your kid has had pierced ears for a while, there are tons of themed jewelry. For example, if your kiddos love sweets, you can get these cute cupcake earrings. They will love it. 
Hoops come in different sizes and colors as well.  Some hoops even have small charms dangling from them. It's super adorable. Or, your little can try it out regular dangle earrings. I love picking out stuff that caters to my children's hobbies and interests. Clarie's has so many amazing options, from costume to real. From simple to wild. 
Let's not forget our little girls that don't have their ears pierced (like mine). They make clip ons! Yes they are still a thing! And sometimes they are so good, you can't even tell!  There are ones that look like posts and dangles. So cute! Check out this set I found on Amazon (I might even get it for my littles!). They are perfect for the younger kiddos.
If your older child doesn't have her ears pierced, there are options for her as well. You can easily find clip ons like these that look like regular diamond earrings. There is something for every age group! We can help our girls feel stylish and pretty even if they don't have their ears pierced! 
As you can see there are plenty of options available for jewelry for kiddos. They've got costume jewelry and real jewelry. There are simple styles for everyone and regular everyday wear, as well as pieces that have charms and designs for specific interests or occasions. Jewelry for kids can be just as enjoyable as it is for adults.
Kids jewelry have bright colors and silly fun shapes a plenty! With all the choices available to us, we can help our kiddos create and develop their own personal style. What's more fun is watching their excitement as they pick out their new accessories!
Explore your local stores. Department stores and small local shops will have a variety of pieces available. If you know someone that designs and makes jewelry, they could easily make something special for your little. That piece would be extra special because it's handmade and one of a kind. And who doesn't love having their own one of a kind items? So, if you don't have someone to make you and your kids jewelry, find one. Happy shopping!
Be sure to check out some other nifty functional craft ideas through our other posts here on Craft-ILY as well as checking out some videos on DIY and How To's over on YouTube. Look for "Crafting Unedited" to see!