Sublimation paper is one of the main products of the sublimation process. There are so many different brands and types out there that it can be pretty much impossible to make a decision on the best one or ones for you and your transfers.
Choosing a sublimation transfer paper is hard, overall the top three picks for sublimation transfer papers are Walakut, HTV Ront and Koala paper. Having many choices can make it harder to decide by comparing them you will see the good and the bad.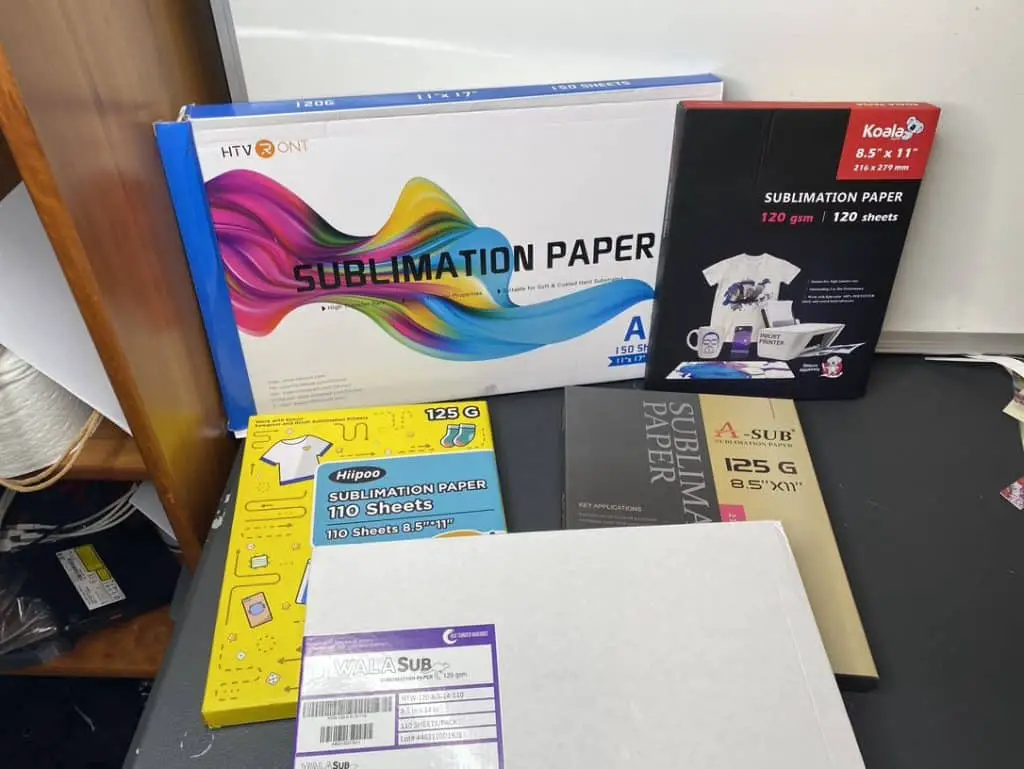 In this sublimation comparison you will learn the best of the best sublimation transfer papers. Let's review and compare!
What is Sublimation Transfer Paper?
Sublimation paper is paper that is coated with a special film that doesn't absorb the ink so that it can transfer onto your substrate. There are several different blends and some manufacturers use different coatings and the difference can make or break your project.
The special sublimation transfer paper allows the ink transfer to process without ruining your press, teflon sheets and blanks. It also helps lock in the gasses that are formed from the pressing stage of the process.
Why is it Important
Finding a sublimation transfer paper is important for many reasons. Sure you can use copy paper but you will waste ink, time and money on the transfers. Without the right paper for sublimation you can run into many issues, some that can cause longer term issues for your printer, press and blank. It is always important to make sure you are using quality products when it comes to running a business.
Some leave a lot of ink on the paper, which means it is ink wasted, which in turn is money wasted. See image for reference: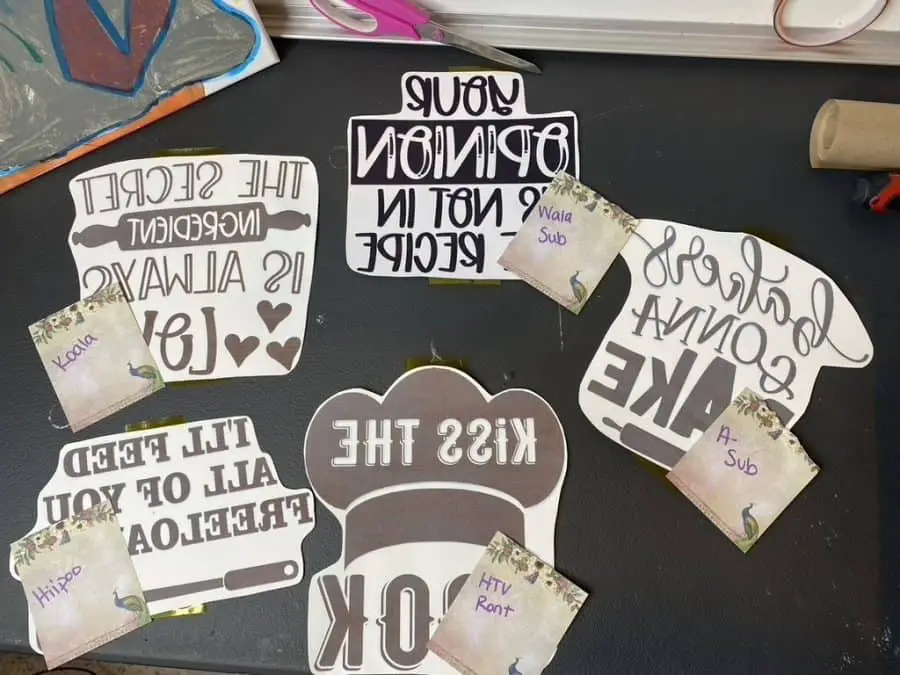 WalaSub Sublimation Transfer Paper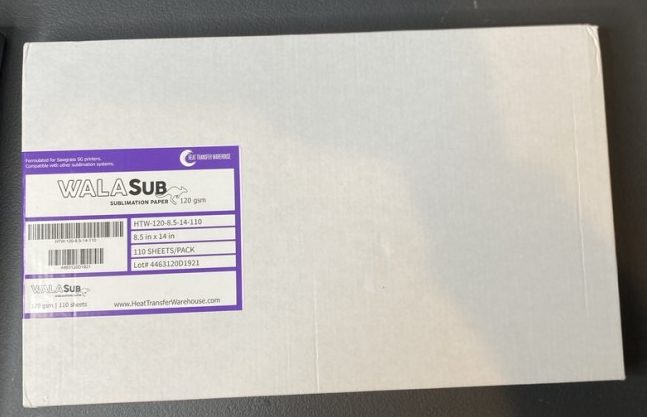 WalaSub sublimation transfer paper is from Heat Transfer Warehouse, it is available in all sizes. You can get it in different packs as well. Everything from 10 packs to 100 packs. You can see in the picture that the ink sticks to the paper just enough that it will not run during the printing process but it will also transfer once the heat hits it and turns it into gas. I really like WalaSub for the availability of sizes and packs.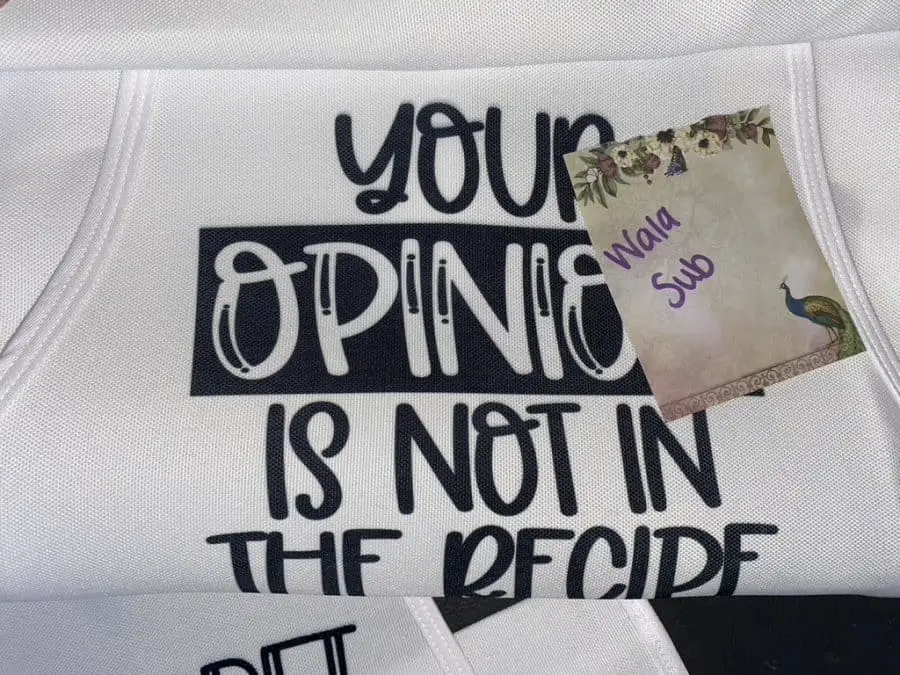 A-Sub Sublimation Transfer Paper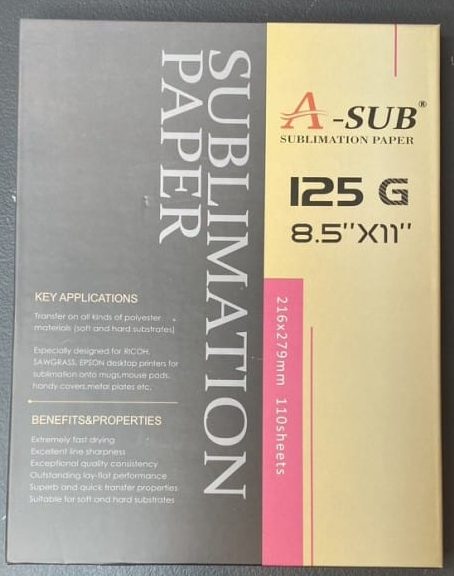 A-Sub sublimation transfer paper is my OG it is the brand I started sublimation with and it is a phenomenal one. Just as many others, they have their own ink that you can get with the transfer paper as well. A-Sub is one of the top two contenders for best sublimation transfer paper. When used the ink transfers so well, there is hardly any left on the paper!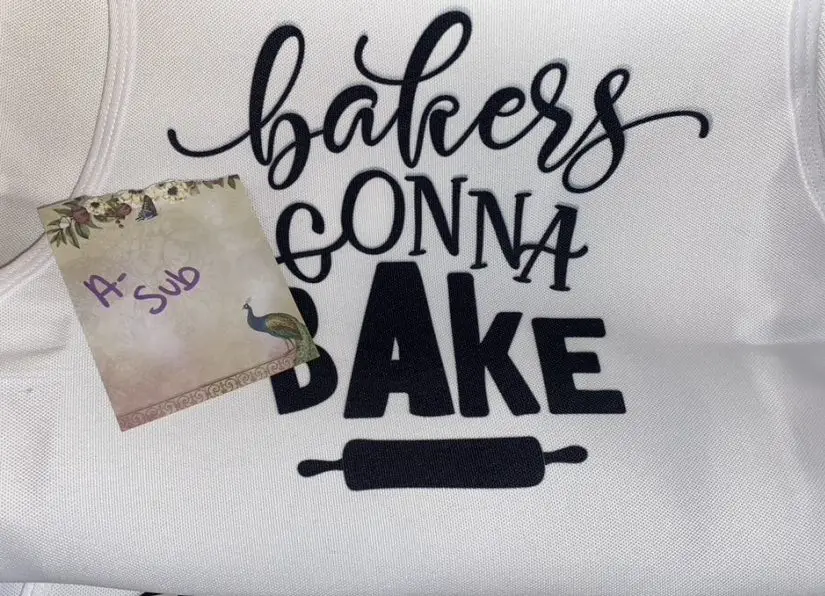 A-sub is is available in many sizes, this gives you many options when deciding for different needs. The one that is most often used for sublimation is the 125g.
HTVRont Sublimation Transfer Paper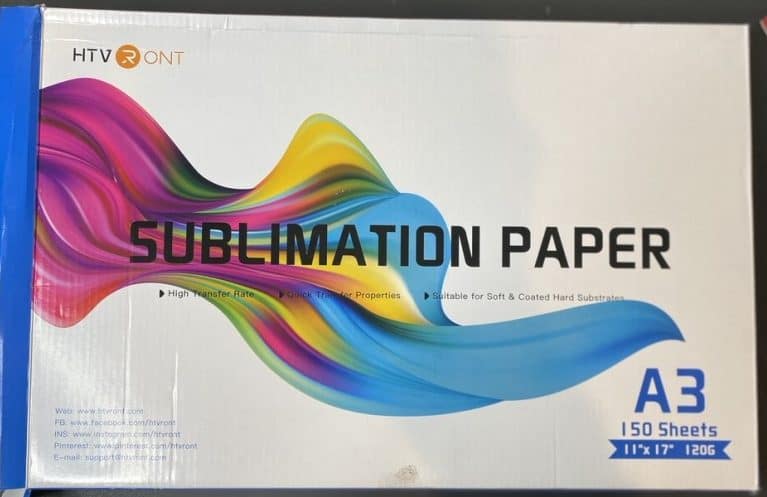 HTVRont sublimation transfer paper is available on Amazon and comes in 8.5×11, 8.5×14 and 11×17 sheets (they may have updated the sizes since this post). With Amazon's prime shipping you can usually get it pretty quick too. The ink does absorb into this one more than others, this can be an issue with wasted ink. You can see when the transfer is pressed the amount of ink that is left on the print.
HTVRont has a lot of amazing HTV products as well, IF I need to use HTV its either going to be Siser or HTVRont brand. They also have so many different size options for the sublimation transfer paper as well.
Koala Sublimation Transfer Paper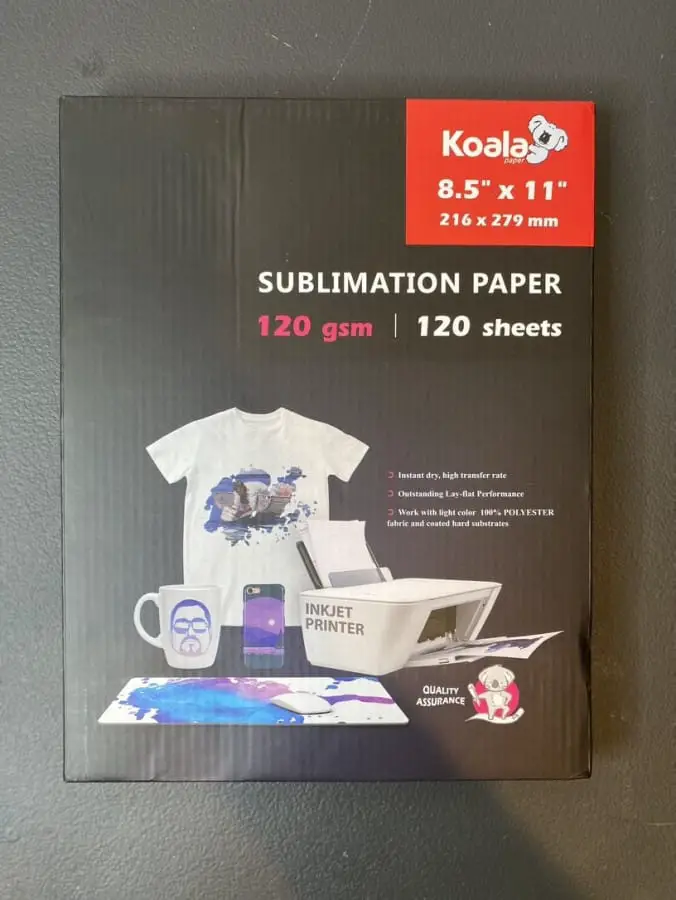 Koala sublimation transfer paper is one that recently came to light when I started researching papers and inks. Their paper is unique, it has a pink colored back rather than an image telling you which side to print on and it has a different texture to it. The overall quality of the paper is very good, it does not absorb the ink, nor does it smear. It is also very affordable and they carry a wide variety of other sublimation products.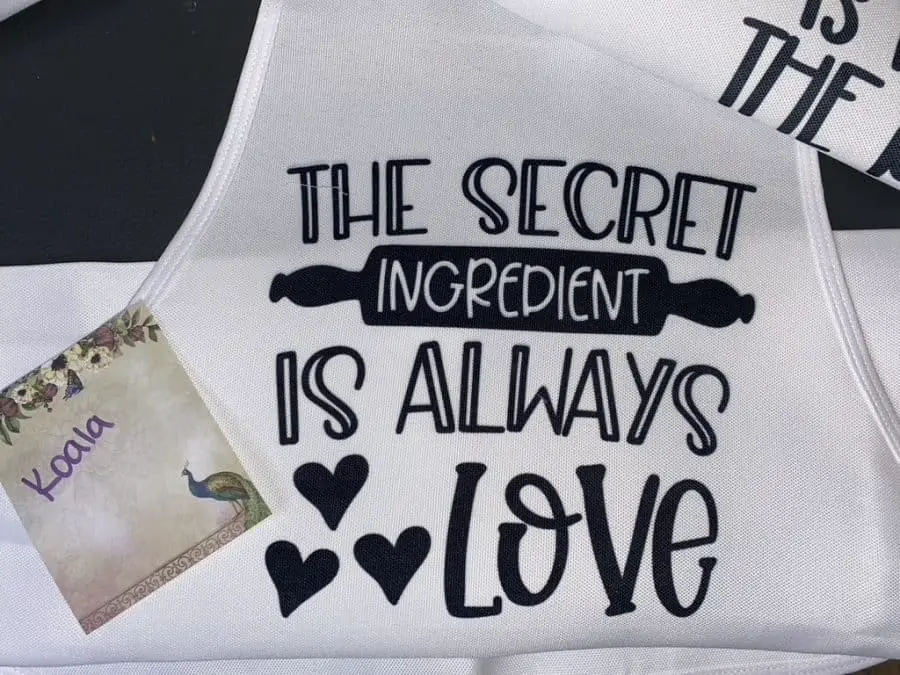 What is the best?
So, what is the best sublimation transfer paper? Well, that is going to be up to you! Everyone is going to like each one for different reasons. For me (and many other crafters out there the winner is WalaSub. WalaSub had the best overall transfer as far as vibrancy, detail and the amount of ink transferred onto the substrate.
How to Use Sublimation Transfer Paper
Using sublimation paper is pretty simple. When you get your paper it typically comes in a box and wrapped in cellophane. Some manufacturers do this to protect the paper from water, sun and other weather elements during the shipping process.
When you get your paper you want to make sure that you are only removing what you need from the packaging and leaving the rest in the box to keep it protected.
Wash hands before handling paper to remove any lotions or oils. This can cause ghosting or fading later.
Remove paper from packaging
Place your paper right side up – some papers like Koala is tinted on one side while others have a logo or lines on it. You will need to figure out which side to place the paper into your printer by doing a test print. For EcoTanks you load them print side up, back side down.
Print your transfers using your program of choice.
Make sure you have the print drivers installed for your specific printer to assure you have the best possible images.
Remove your print from the tray or leave it there if you have just one image.
Allow it to dry for. few moments while you precut some sublimation tape.
Tape your transfer to your blank and press or set it aside in a cool dark environment to use at a later time.
What can a Sublimation Transfer be Used on?
Sublimation transfers can be used on any blank with a poly coating, popular blanks like mugs, tumblers, bags, keychains and clothing items can all be found on HeatTransferWarehouse.com and Amazon. Here is an article all about The Top 5 Blanks for Sublimation.
Remember that for clothing items you want to have no less than 65% polyester blend and try to stay away from those that are blended with more than cotton/poly like nylon due to the high heat, they tend to melt and scorch. You can find the best shirts for sublimation in this article.
Need Images for your Transfers?
Here are some super useful sites and tools for getting your images free of copyright issues:
Design Bundles – designbundles.net offers thousands of SVG's sublimation images, brushes and fonts for ProCreate and so much more. The inexpensive monthly plus plan is the best way to go, you get tons of free credits to purchase their "plus"products that come with the commercial use license.
Design Space/Cricut Access – If you use Cricut you have access for $11/month to thousands of fonts and images as well. I always search Design Space for what I am looking for first, this way I don't have to go through all the steps of uploading and what not.
I also use JPIBlanks.com for images often as well. They design the images/files themselves so the copyright is released when you purchase the image/file from them. Sometimes they will even do a coupon code for free images!
Be sure to check out some other nifty functional craft ideas through our other posts here on Craft-ILY as well as checking out some videos on DIY and How To's over on YouTube. Look for "Crafting Unedited" or just click the name in blue to see!
Conclusion
We have compared the best of the best sublimation transfer papers available. Which will you chose and why? Since you now know the pros and cons of each it should make the decision much easier. Remember, not all sublimation transfer papers are the same and that choosing one that doesn't can ruin your projects.