You may be thinking about getting started in the world of sublimation. You probably have a conventional inkjet printer, which you usually use to print jobs on paper. So before buying a printer specialized in this technique, you may ask yourself the question: how can I convert my printer to sublimation?
It is only possible to convert a regular printer to sublimation if it is compatible with piezoelectric or pressure technology. If this is the case, you should:
Preferably use a brand new printer (never refilled with another ink).
Inject sublimation ink.
Start making your creations.
In many cases, the ability of a printer to make sublimations depends on the printing technology it has. Sublimation printers use either thermal technology or piezoelectric (pressure) technology. In the following sections, we will discuss sublimation technology and how to convert a conventional printer to this vital technique.
Understanding Sublimation
Sublimation is the chemical process that transforms a solid element into a gaseous element without passing through the liquid state. Regarding sublimation printing, we can say that it is a printing method on a paper specially designed for this purpose. It allows solidifying the sublimation ink and then transferring it using temperature, pressure and time, to surfaces such as polyester and other materials.
Sublimation is one of the most popular digital printing techniques in the textile industry. This technique has a lot of use among entrepreneurs and small businesses, as it allows them to make products with a unique look at a low cost. We can't deny that sublimation established a before and after in the personalization of objects.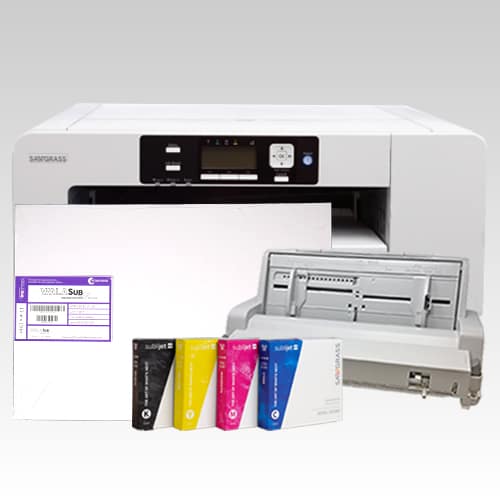 Sublimation has a vast field in creating personalized clothing and other accessories since it is enough to be creative to transform practically any object. Some of the materials on which we can sublimate are:
Polyester.
Polymers.
Polycotton fabrics.
PVC.
Polymer coated metals.
Ceramics.
Polyester fabric.
Polyester-coated aluminum.
Polymer-coated plastic.
What Are The Advantages Of Sublimation?
Among some of the advantages that this printing technique offers us, we have:
It is a technique that provides a high image quality.
The print on canvas is not perceptible to the touch.
You are not obliged to produce a minimum number of units since it is possible to sublimate only one item. Moreover, the unit cost will always be the same.
The profit margins on a sublimated product are high and healthy for the business. Many times these margins go from 2 to 6 times over the cost of the item.
There are a wide variety of products that are polyester coated ready for the sublimation process.
It is a fast printing method that allows same-day delivery or in just hours when necessary.
It is a straightforward technique to execute, and practically anyone can do it.
Is It Possible To Convert Any Printer To A Sublimation Printer?
The answer is it is not possible with all printers. You can only convert a regular printer to this technique if it is an inkjet printer compatible with sublimation. There are two main types of printers:
Thermal technology printers, which use heat to disperse or boil the ink onto the paper.
Cold piezoelectric technology printers (this patented technology is proprietary to Epson). This technology uses pressure to print.
Sublimation inks are very sensitive to heat; that is the reason why heat can activate them. So using these inks in printers with thermal printing will bake and smear the ink across the sublimation paper.
This explanation leads us to conclude that conventional printers compatible with piezoelectric technology are the best for the sublimation technique. The printhead of these printers has a small crystal that emits vibrations when it detects an electrical charge. These vibrations cause the ink to flow out of the printhead nozzles and onto the paper as expected.
What Are The Conventional Printers That I Can Use For Sublimation?
The conventional printers in the market have different types of technology, which follow different transfer and ink dispersion processes. This reality means that you cannot use all equipment for the sublimation technique.
Usually, experts recommend using inkjet printers rather than laser or other types of printers. However, concerning inkjet printers, it is also essential to make some distinctions.
Printers with thermal inkjet technology, such as Canon and HP printers, negatively result in sublimation printing because they use heat to apply the ink from the printhead to the paper.
When converting a conventional printer to sublimation, the ideal is to have equipment that works with piezoelectric inkjet technology (pressure).
The equipment that mainly handles this technology is the Epson. A concrete example of this is the Eco Tank ET-2720 printer, one of the Epson equipment compatible with piezoelectric technology.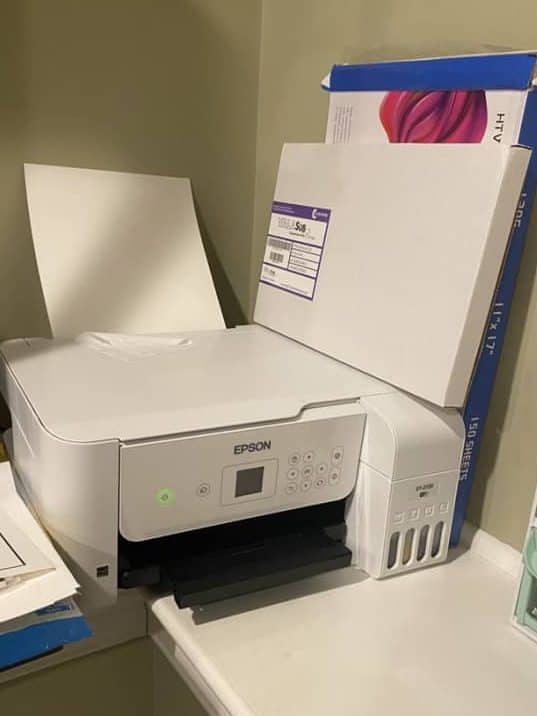 Why Do Experts Recommend Using A New Conventional Printer To Convert To Sublimation?
The main reason is that cleaning the ink ducts is very difficult or almost impossible. Before installing sublimation ink in the conventional printer you use at home or in the office, it is necessary to clean the ink ducts thoroughly.
Doing this ensures that no traces of the original ink remain and that there is no possibility of mixing the two types of ink. However, this is almost impossible to do. We can attempt to perform several deep cleanings of these ducts, but we cannot guarantee the total removal of the old ink.
When this happens, and both inks mix due to imperfect cleaning, the final result of the images transferred by sublimation is not satisfactory. We will obtain an image of poor quality and possibly with spots. For all these reasons, experts recommend that it should be new if you want to use a conventional printer to convert to sublimation.
Steps To Convert A New Conventional Printer Into A Sublimation Printer
The supplies you will need are:
New inkjet printer – Epson Eco Tank series are amazing for converting and insanely easy.
Refillable cartridges – Epson Eco Tank series have these installed already.
Ink for sublimation – Sawgrass, Step # 1

Set up the new inkjet printer; follow the manufacturer's instructions. Install the drivers to the computer you will be using to print from. Do not install the cartridges supplied by the manufacturer however, this will cause the sublimation ink and the regular ink to mix when you add the sublimation ink to it. Toss the ink that came with it to the side to sell, donate or use in your regular printer.

If you are converting an old printer that you know works you can skip down to steps 4 and 5.

Step # 2

Use the syringe to fill the refillable cartridges with sublimation ink. Follow the instructions provided on the cartridges for proper filling. This process is slow and steady, do not blast the ink into the cartridge as you will end up with bubbles in it and that ink will end up all over you and your ceiling. If you buy refillable cartridges already filled with sublimation ink, you can skip this step.

Step # 3

It is necessary to run a test print on white paper to check that the nozzle is working correctly. Confirm that the nozzle prints clear and sharp images. If the image is blurred or has no color, you should adjust the equipment settings.

Run several printhead cleanings before you actually start to print, this will clear out any air pockets and jams it may have. You should run the cleanings anytime you refill the ink and occasionally through the month.

Step # 4

Steps 4 and 5 are only for IF you are converting an old printer and the printer does not have the cartridges already in like the Epson EcoTank series do, not a new one. If converting a new one you should start with the sublimation ink not the manufacturers ink.

Open the printer cover. You have to substitute the original cartridges and replace them with the refillable cartridges filled with sublimation ink. Make sure the cartridges are correctly installed, then close the printer cover.

Step #5

Since you have just installed a new cartridge with different ink, you must purge the print head before you start printing with the new ink. Perform at least five cleanings of the print head to remove all traces of the old ink.

Step # 6

After these steps, begin test printing until you get sharp, high-quality images. I would test with bold, bright images first, clear lines are what will tell you if you are ready to start printing your sublimation designs.

A Final Thought On Converting The Printer To Sublimation

Conventional printers with piezoelectric technology are ideal for converting to sublimation. For this reason, experts recommend Epson printers as the perfect equipment to make this conversion since they have Piezo technology, which translates into excellent results when applying the sublimation technique.

The sublimation printer conversion method is much cheaper than purchasing the sublimation printer from the start and is also a great way to get into sublimation to see if it is something you want to invest even further into or not.

Here are some more articles on sublimation that you may find helpful:

Fixing Sublimation Printing Issues

Here are some super useful sites and tools for getting your images free of copyright issues:

Design Bundles – designbundles.net offers thousands of SVG's sublimation images, brushes and fonts for ProCreate and so much more. The inexpensive monthly plus plan is the best way to go, you get tons of free credits to purchase their "plus"products that come with the commercial use license.

Design Space/Cricut Access – If you use Cricut you have access for $11/month to thousands of fonts and images as well. I always search Design Space for what I am looking for first, this way I don't have to go through all the steps of uploading and what not.

I also use JPIBlanks.com for images often as well. They design the images/files themselves so the copyright is released when you purchase the image/file from them. Sometimes they will even do a coupon code for free images!

Be sure to check out some other nifty functional craft ideas through our other posts here on Craft-ILY as well as checking out some videos on DIY and How To's over on YouTube. Look for "Crafting Unedited" or just click the name in blue to see!