So you have a Cricut cutting machine and you have started to get into using Cricut Design Space and you feel like you are really getting the hang of this whole crafting thing. Then after a bit you start to work in Cricut Design Space even more and start playing around with some of the features and available tools that you see along the top and side panels of your screen.
One of the main tools you will use (once you discover it) is the group and ungroup tool. The essential function of these are exactly what they say they are, which is grouping and ungrouping items together. Read more to find out what this means in Cricut Design Space specifically and how it can and will save you future headaches.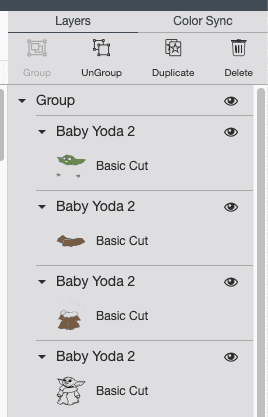 What is "Group" and "Ungroup"?
Think of these two terms as they are a group and not a group, the way Cricut has set up Design Space is to make it so user-friendly even the most technically challenged individuals can use it. However, when they send you all the goods they don't include a user guide for Cricut Design Space at all. They include how to set up your machine and to work it but not much for the software side which is pretty important.
Cricut has recently started including short video tutorials in Design Space to help with this but they aren't as helpful as having some one who has been in your shoes explain these processes. Which is why I created a video tutorial and am creating this written info blog for you too.
So the question is, what does group and ungroup mean to you when using Cricut Design Space? Well let's dig in a little more on each.
Group
Group is like a group of items congregated together. So when you are creating in Cricut Design Space and you try to move a design or pieces of a design around and they are not grouped they will all move individually. If you group them together by selecting the pieces/parts you want to move around and clicking the "group" tool you will then be able to move them as a whole.
This makes designing so much easier, say you have a layered image and you want to only move a certain layer over just a little. Instead of deleting the part you want to move you can just select it and any other parts you want to move then click group and you will then be able to move the entire piece as one. This allows you to edit and move the entire image as a whole.
The other great thing about the group tool is that it allows you to also edit in pieces if you already have it grouped together, you simply select the section you want to edit on the right side of your screen (see below) and edit that piece.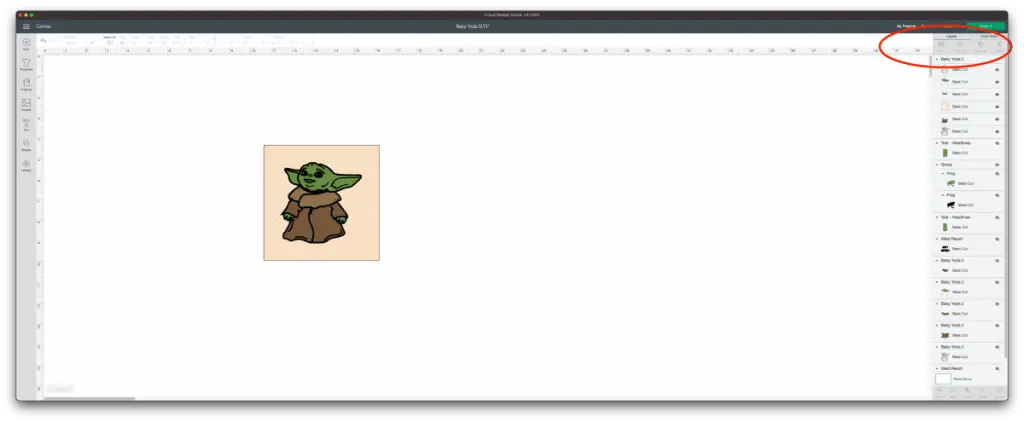 Ungroup
For ungroup let's just say you have an image that you found in Cricut Design Space and when you move it the whole thing moves but you want just a certain part to move or be hidden (more on this in a separate post). What ungroup does is when you select the whole image and select ungroup it separates everything so that it can be edited individually.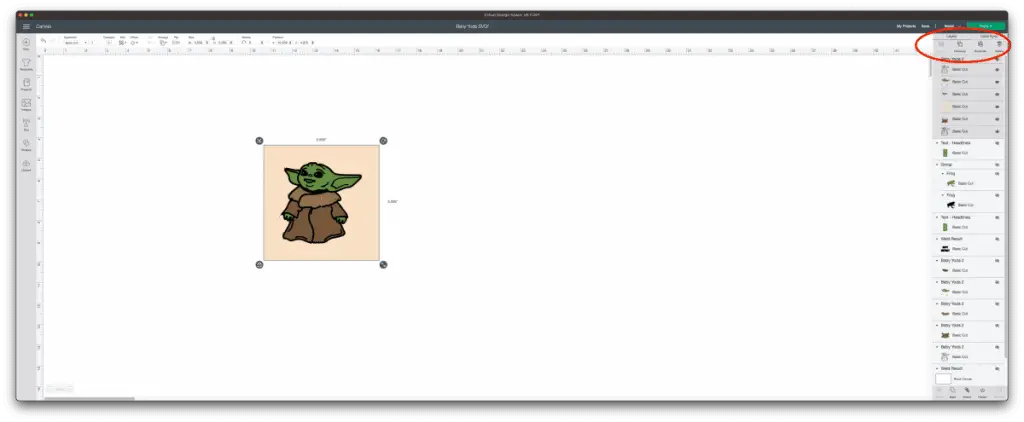 Ungrouping is great when you have an image and you want to hide a certain area or even just edit one area to be a different color or something. It allows you to edit or move the image in pieces.
The Difference
The Group and Ungroup are often compared to the "attach and detach" tools and they are not the same. The two tools work differently, just as weld and slice do. If you attach an image to another image they will all be the same color and you will not be able to edit them without unattaching them.
Why Use Group and Ungroup?
There are many situations where you will want or need to use these tools, I use them every time I use Cricut Design Space. I have a feeling you will as well once you get the swing of it and see how awesome they are. Here are just a few examples of when you would use the group and ungroup tool.
Example 1:
I wanted to use this Baby Yoda for a cake topper for my kids birthday. But I did not want the background color. I followed the steps to create the image to an svg (see my tutorial here) then I loaded the svg file into Cricut Design Space and used the ungroup tool to separate the pieces and remove the unwanted background. I then used the group tool to regroup the image and move it around my design.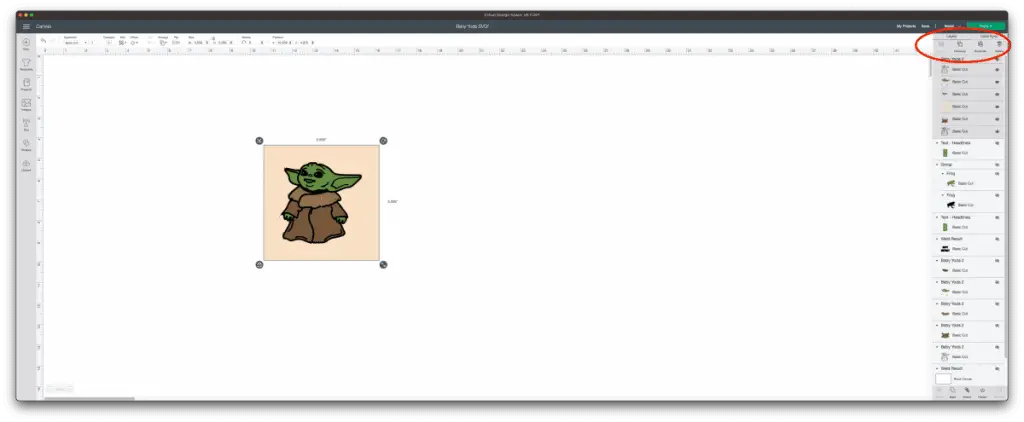 Example 2:
Another way you will want to use the group and ungroup tool is to change the colors of a certain part of an image. In this example I needed to change just one color of a certain part of my design. When I uploaded it to Cricut Design Space it came through already grouped. SO I had to ungroup, select the piece I wanted to change the color of then regroup. Sounds simple enough, but you can change one piece while the image is grouped. What if you needed to change several sections to be the same color?
This is when you need to ungroup, select all the pieces of the image you want to be the same color then select "attach" and then select the color. After you have the image in the color you want, you then regroup it with the rest of your image.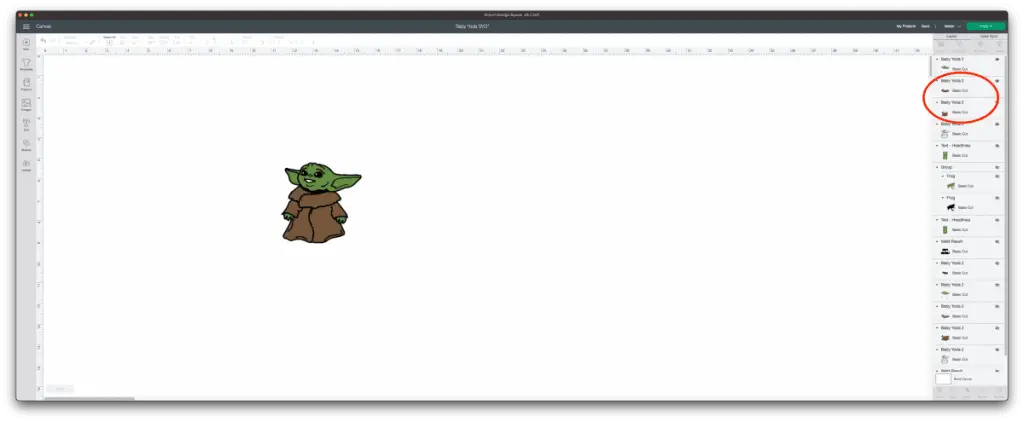 Final Thoughts
Now that you know how and when you would want to use these nifty tools don't be afraid to use them and get super creative! I have a ton of these tutorials on Cricut Design Space tools and features available on my website and on YouTube so be sure to check them out and in no time you will be a master at Cricut Design Space!
Best part, all of my basic tutorials are totally free! I know when I started out it was rather difficult to find free tutorials so I want to share the knowledge and have a more creative world.
Helpful Videos
For this guide, I created a video to accompany it, if you are like me reading helps me learn but actually seeing it helps the most. You can see the video here on YouTube.
Design Space Tutorials for Beginners – Get Started! shows you how to get started in Cricut Design Space if you are just starting out or even if you need a refresher course.
How to Shape Words in Design Space will teach you how to use the curve tool to shape letters. Unfortunately, this is only for rounding them you can't shape them to fit a specific shape. I also show you a trick I learned.
I have many more tutorials available on YouTube, go check it out!
Additional Tutorial links
If you want to learn more on Cricut Design Space here are a few additional links that can help.
How To Clean an Image in Design Space – No Spots! if you want to learn how to clean up an image using only Cricut Design Space this will help!
Best Sites for Cricut Designs and SVG's these are my top sites I use to find my images for my creations.
Be sure to check out some other nifty functional craft ideas through our other posts here on Craft-ILY as well as checking out some videos on DIY and How To's over on YouTube. Look for "Crafting Unedited" or just click the name in blue to see!