As a Cricut crafter or really any other cutting crafter you are going to need access to designs and SVG's, unless you are an artist or graphic designer of course. I want to share with you my top choices for purchasing and downloading designs for Cricut crafting.
Most of the designs I use come from these sites, some I create completely on my own and sometimes I will do mash ups using one design from one of these sites and some compilations of images and graphics I have created. It just really depends on what my wild crafting brain has going on at the moment. For anything I plan to sell though, I will create 100% myself or I will purchase the commercial licensing for, I recommend you do the same.
Most of the sites I use have free images that you can use for personal use, think things for yourself, family members or gifts, as long as you are not selling the design (either on a product, incorporated INTO a product design or as a digital design ( logos, website graphic, etc.) you are good. To use the image to sell products that incorporate the image you will need to purchase a commercial license, the sites I use are pretty inexpensive for the commercial licenses. You really want to make sure that you read the fine print and the licensing rules, don't get caught up in any copyright cases!
Cricut Design Space
Cricut's Design Space should be the first place you look for an image or design to use. If you have Cricut Access (if not you should read my article on WHY you need it here). There are literally thousands of images, fonts and ready to create designs at your fingertips just waiting for you to use them. I could sit and scroll through the insane amount of images for days and still not see them all.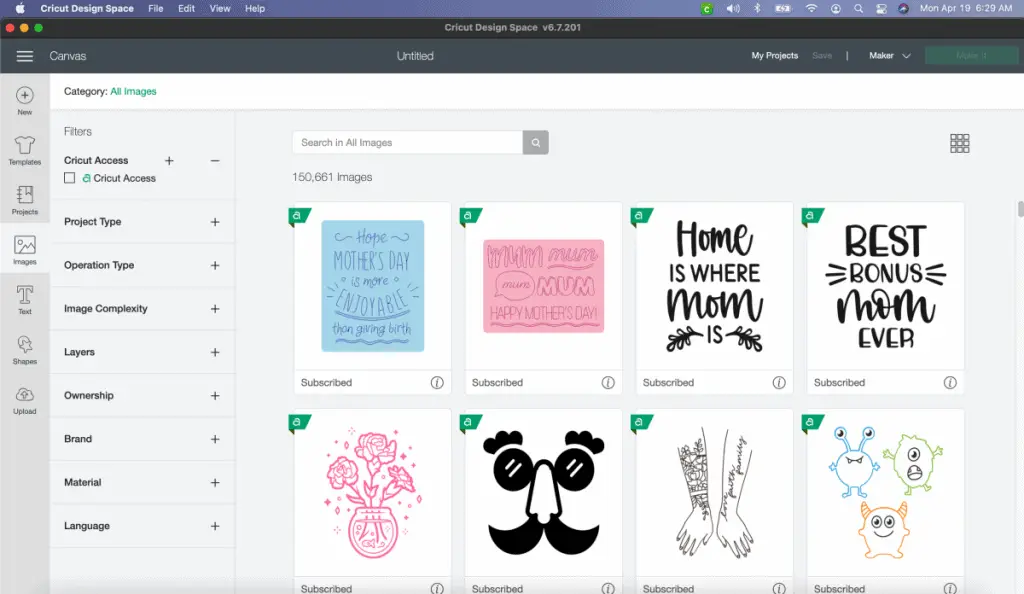 Best part? The majority of them are free with your access membership, if you don't have Cricut Access then you will pay for certain ones like the themed ones such as Disney, Pixar and Marvel, but you will still have access to free images, fonts and ready to make projects, you will just be limited to so many and can't sell anything you make with them.
DesignBundles.net
I absolutely love DesignBundles.net! They have millions (well I don't know about millions but when you are scrolling through it feels like millions) of designs, graphics, illustrations, and fonts (their partner site is FontBundles.net). DesignBundles allows you to purchase in big bundle deals for a low price or you can purchase them individually.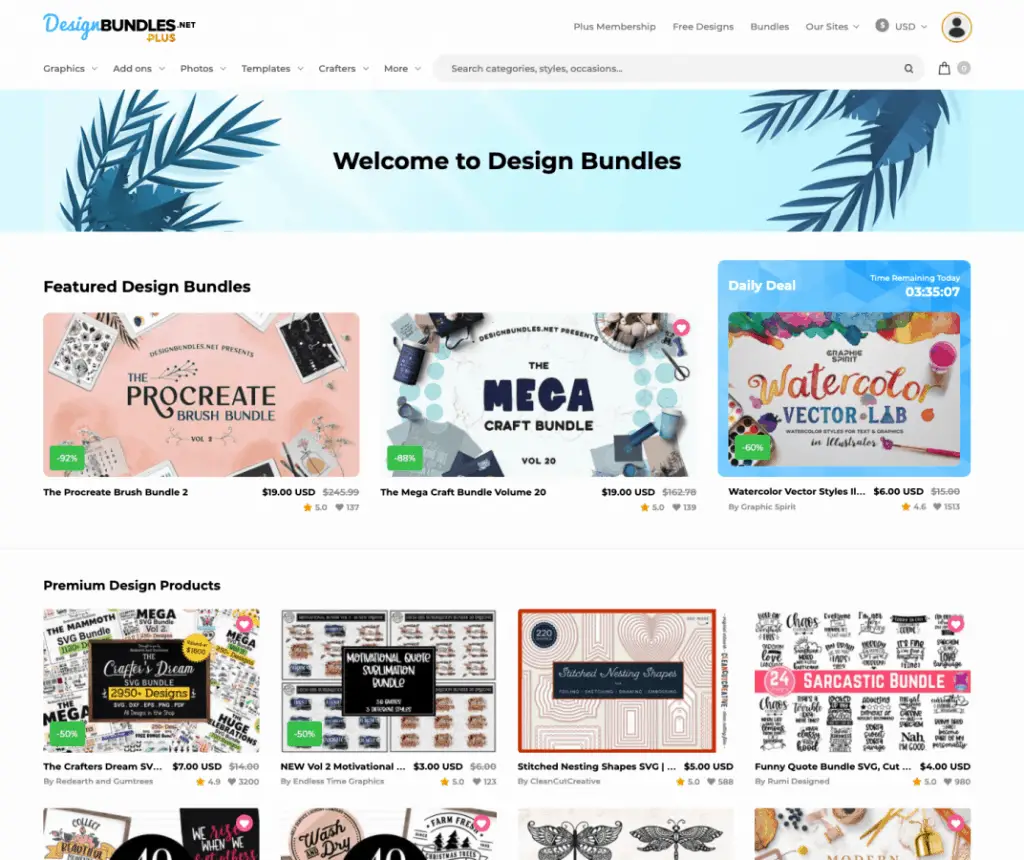 Just like Cricut, DesignBundles have created their own premium subscription plan called "PLUS" and I am telling you it has been worth every penny every month so far. The designers/creators they use are really talented and they are real people like you and I that have a passion for creating. The PLUS subscription is very affordable and if you use it right it can easily pay for itself within the first few days.
Lovesvg.com
Lovesvg.com is another really great site to purchase designs and images from. Their stuff is a bit more basic and not as detailed but I do really enjoy using their site because it it is super user friendly and they are priced to sell. I have not had any issues with the designs not loading into Cricut Design Space exactly as they appear and the availability to download is instant.

The other beautiful thing? They also have a section of designs for free! Though the free are similar to most where as you can use them for personal use but you absolutely can not sell anything you make with them, that is unless you purchase the commercial licenses which in my opinion is totally worth it. Covering my tail benefits my business and it shows I am a caring creator.
Caluya Design
I adore Caluya Design, originally I found them early in my creating days when I was still new. I was looking for sites that could help me learn how to use my Cricut machine and they were one of the first to pop up in Google. Caluya Design is owned by a married couple (how cute), not only do they have an amazing blog site filled with from scratch designs created by Saori (the wife) but they also have a full section on blogging and how to start your own crafting business.

That isn't even the best parts, she is also a momma of two AND all of their designs on the site are FREE for personal use and only $3 for commercial use (up to 500 physical products and digital use like logo designs and whatnot) I believe this to be very affordable and don't mind supporting small businesses like myself.
Jennifer Maker
The last site I really like to use but don't use as often is Jennifer Maker. Jennifer is an AMAZING creator, she has gone down the running a full-time crafting business rabbit hole journey and she has totally crushed it. She offers so much information, images, projects, tutorials and so much more.

Jennifer also offers and entire course book (basically like Cricut for dummies) that you can purchase and printout to have on hand any time you are stuck. There is an abundance of projects at your finger tips when you purchase the book as well (even if you don't). All you have to do is put in your email address and she'll send you the secret code to get your freebies! The way her site works is if you sign up for her newsletter she sends you the password to the entire library of images and projects.
The reason I like Jennifer Maker's site for images and projects is because she provides DETAILED and broken down instructions on all of her projects, as well as tips and tricks if things go array. Where Cricut projects are super spotty on if there is any instruction what to do or even what order to put things in. I know many instances where I had to wing it then do a video tutorial on how I did it to show others. A great example is this tutorial on Giant Paper Flowers!
Additional Sites to Mention
So Fontsy
Hungry JPEG
Creative Fabrica
My Designs in Chaos (also known as 123svg.com)
Special Heart Studio (I just discovered this one!)
Final Thoughts
There are a multitude of sites that you can get your images from, there are even sites that will help you learn how to create your very own images too (see My Designs in Chaos, seriously amazing). This is just a couple of my favorites that I use all the time.
There are millions of creators across the world, not just creators but really amazing artists and designers. They share their work so that it can be recognized and maybe even change the world a little. Give them some kudos!
Keep in mind when looking through the images and files that while you may want them for free to sell and make money on, the people who created those images spent numerous hours and a significant amount of thought on each and every one. You put your time into your products and add it to the cost of the product so why shouldn't they?
I remember when I first started I would get annoyed at having to purchase a file or to pay for Cricut access, now that I have started creating more and chatting with the community I have a whole new perspective on this. To put it simply, if you feel you are "too good' to pay for someone else's time don't charge for your own and see how you feel after.
Be sure to check out some other nifty functional craft ideas through our other posts here on Craft-ILY as well as checking out some videos on DIY and How To's over on YouTube. Look for "Crafting Unedited" or just click the name in blue to see!