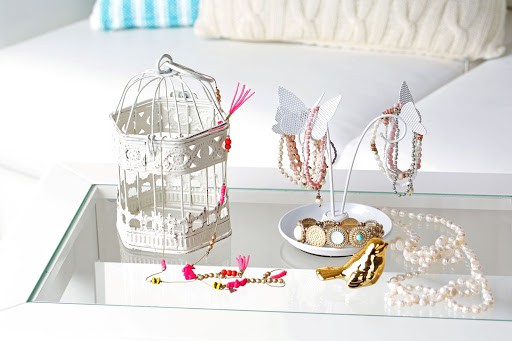 Nowadays everyone has some sort of jewelry collection established. Jewelry is not limited to any specific gender, ethnicity or generation anymore. Jewelry is so affordable that it is also not limited to those that make a high income. 
Back in the old days jewelry was for the white collar and on very rare occasions for the blue collar folks. Not worn everyday and kept in a safe when not being used. Today it is the complete opposite, jewelry is worn everyday for no occasion at all. With it being worn that often you tend to build up quite an elaborate collection. 
So what do you do with all that glitter? Well you could always store it in the usual jewelry box. You don't have to however, so let's explore some of your other options besides the generic jewelry box shall we? From a store bought style to good ole' do it yourself there are so many fun and functional ways to store or display your jewelry. 
Store Bought
Buying something as simple as a jewelry box may sound easy but I can assure you it can be quite the tasking adventure. You have to find "the one" it's kind of like buying a car (ish) without the thousands of dollars price tag. Well I guess you could absolutely buy a thousands of dollars jewelry box or display but me personally, no thank you. I would rather spend that on pretties to fill my inexpensive and fun jewelry display. 
Now where to begin with your adventure? That depends, are you an online shopper or do you prefer to touch and feel your shopping? Online shopping can be kind of difficult for some stuff but for this it would be fine. I just wouldn't recommend getting it off of some super knock off sites. There is a fine line between inexpensive and garbage. 
I found a couple really fun and inexpensive ones on Amazon. Let's review them.
While this won't hold your post back earrings it is definitely a beautiful way to display your necklaces and bracelets! The simplistic design allows you to add another piece for your earrings. 
This is one that you can also DIY if you don't want to spend the money on it. It has a rustic design and can hold all of your jewelry pieces. If you want to make it see below for that. 
What about all your rings? Well you have a couple options here,you can use this fancy dish or this fun bunny ear display. 
Need storage on the go? This travel jewelry case is great for that. 
Let Nature Guide You
Branched out! 
I bet you never really thought to use a dead tree branch as a jewelry display did you? It is very doable and extremely cheap, as in basically free! All you need to do is venture out into nature just a bit and find a great branch, one with lots of little branches will work best. Then you will want to clean it up some just by brushing it off with a towel or something similar, if you want a natural look that's all you do, if you want a more fun look then get some bright spray paint and spray away. Now you just nail it to the wall for a rustic inexpensive display.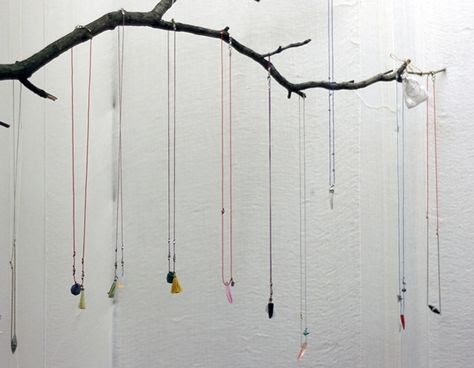 The Tree
Another inspired by nature display design is a tree, this one can be just for display or it can be a live tree and all your jewelry is just the apples to the tree. Personally I would go all out nature on this design, if you aren't into nature THAT much you can always get a fake tree for this. Here is an example for you:
Gone Corked!
Cork Board 
Corkboard is such a versatile product one that you can use to hang anything on, jewelry included. All you need is a small (or large depending on the amount of pretties you have) piece of cork board from your local home improvement store or my favorite shopping site Amazon, some tacks or even something more decorative such as these hooks and a wall to place your finished board on!
Wine corks
Almost everyone I know has wine corks saved somewhere, admit it you probably have a couple. If you don't and you love this idea you can hop on over to Amazon or even some local craft stores have them too and purchase them. You can get a pack of 100 on Amazon for less than $15.
It doesn't take a crafty mind to create this one, just the wine corks, screw hooks and some hot glue. Basically you just line the corks up however you want, glue them together and screw the hooks in either sticking outward or hanging from the bottom for longer chains leaving the sides of the corks for studded earrings.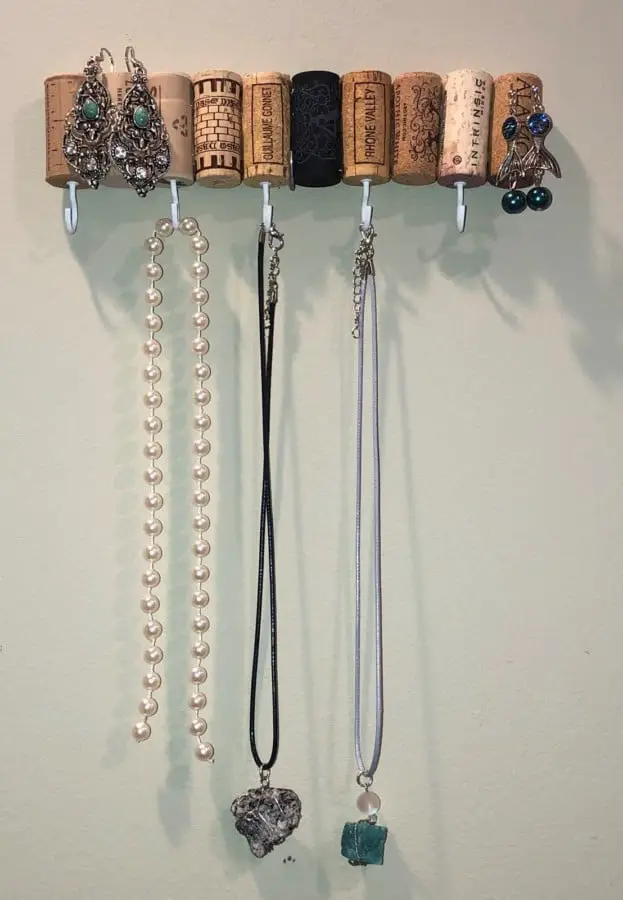 Ornate Frames
Possibly the simplest display on the list. Find you an old frame and some ribbon, burlap, metal wire or even a metal coat hanger (yes they do still exist), or chicken wire will work as well, really anything you can hang something on, some hot glue and you've got everything you need. Glue each end of your material to the backside of the frame in whichever orientation you want and in as many rows as you want. You can decorate the edges of the frame for a more trendy look too. 
Upcycled
Glass bottles
Got any empty glass bottles laying around, all those wine corks came from somewhere right? If you don't have any laying around hit up a local restaurant if you ask kindly they will save them for you. 
Once you have your empty bottles you will just need some warm soapy (really soapy) water, some rubbing alcohol and a towel. Soak the bottles for about 30 minutes and the labels should start to peel off, if not that's where the rubbing alcohol comes into play. Scrub away! Once you're done scrubbing allow them to dry and set up in a neat arrangement and get to hanging your jewelry however you like. 
Wooden Clothes Hanger 
The easiest DIY you will ever do is a wooden hanger jewelry display and you can actually use it for several other things too! You just need a wooden hanger like this one and some of these screw hooks. Screw the hooks into the bottom of the hanger and viola! You have a jewelry hanger (all puns intended). 
Modernly Convenient 
Lamp shade
Lamps are still in and they have hit the market in some very modern ways. Don't toss your old ones out just yet, use it for a jewelry display. The thin material on most shades make a great backing for hooking earrings on and you can use thumbtacks or sew some fun buttons on the shade for your necklaces and bracelets. 
Utensil Tray 
In order for this one to work you need a bamboo or wooden utensil tray and more screw hooks. All you have to do is put the hooks into place and hang your quirky and fun (especially if you paint it) jewelry display. With this unique idea there is no need to get too fancy, unless you want to! Paint a basic white or gray for a modern design. 
Jewelry Art
I recently discovered Jewelry Art and am infatuated with it. Who knew you could create something more stunning than a piece of jewelry itself? Well for this one I did an entire post on the idea which you can see here on the same site you're reading this from, convenient right? The idea is that you create a work of art using your jewelry. This is what I designed with some stuff I had, I opted for something more for storage than just display (where it is not meant to be removed).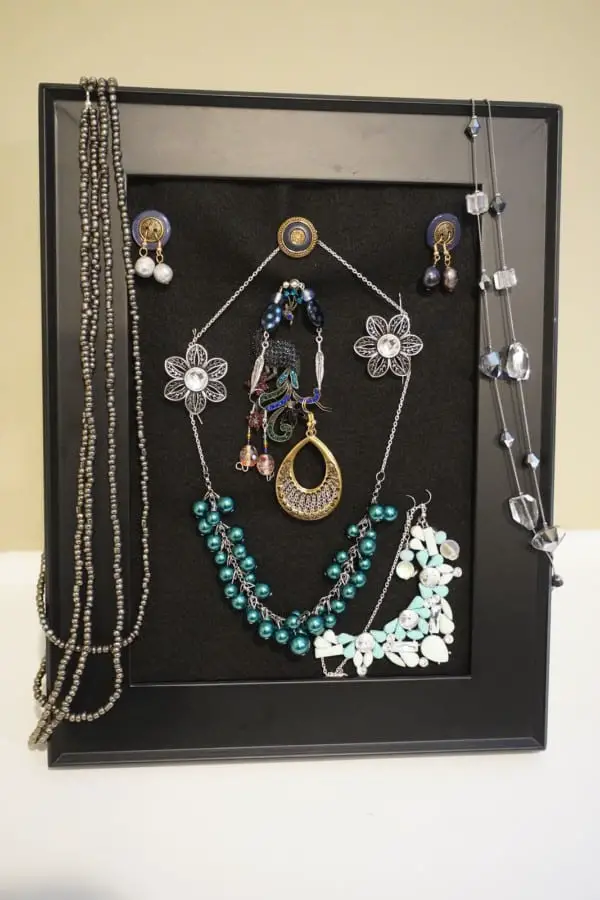 Jewelry is such a common accessory these days, it's become more and more easily accessible and affordable than ever before, not the REAL stuff of course, I'm talking about the costume fun stuff. No matter how you display your pretties always make sure it is where it catches an eye and is rather convenient for you to grab, that way you are never without you glittery accessories. 
Be sure to check out some other nifty functional craft ideas through our other posts here on Craft-ILY as well as checking out some videos on DIY and How To's over on YouTube. Look for "Crafting Unedited" to see!