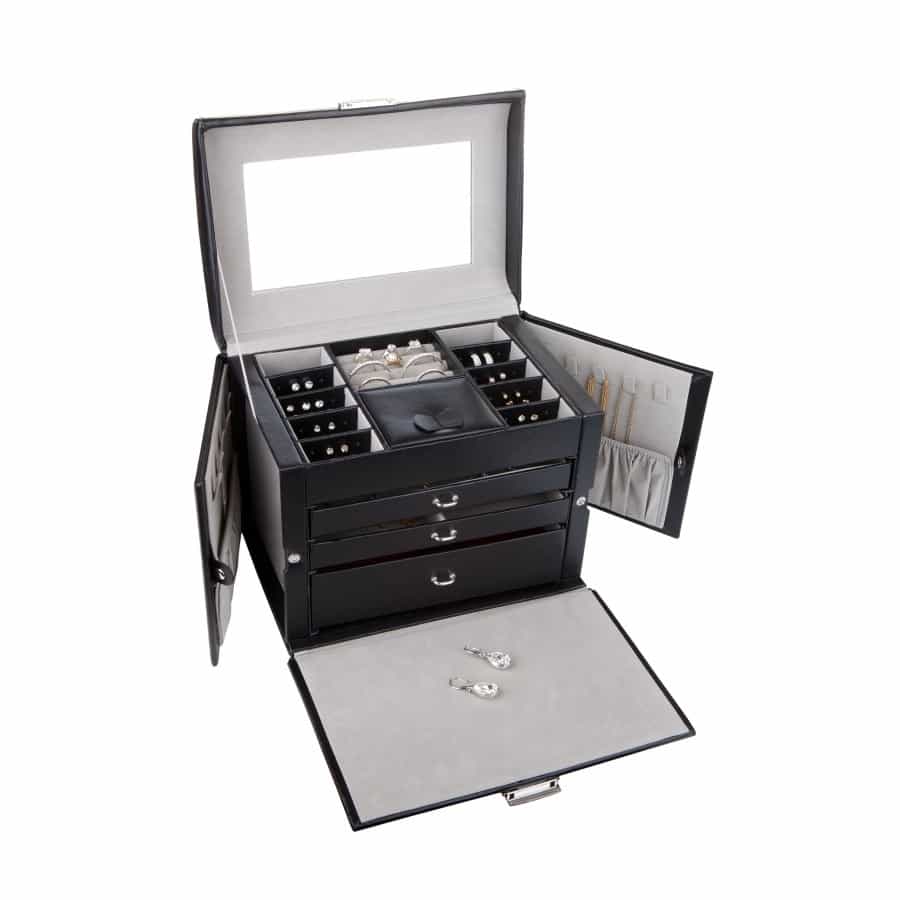 Jewelry is such a great accessory that everyone can use to add flare or elegance to finish an ensemble. Almost everyone adults and some kids own at least three pieces of jewelry. 
We need somewhere to store these fun additions to our wardrobe right? Tossing the pieces on your already crazy cluttered bathroom counter or in a bowl just doesn't seem right. So the jewelry box came to light. There are thousands of styles and different types of jewelry boxes out there. 
Since reviewing thousands of jewelry boxes would take years, I am going to cover the top 25 jewelry boxes for safe and effective storage of your precious jewelry pieces. From simplistic all the way to super flashy we will cover all tastes and styles including kids and men as well. 
Why should you invest in a jewelry box? Yes, I said INVEST.
One of the biggest things I hear when talking to people about their jewelry storage is that they don't think they really need to invest in something like a jewelry box. There are several reasons as to why you should put thought and money into a jewelry box, but the main reason is that it is a safe zone for your jewelry, which in itself can be a major investment.
Even if you don't have thousands of dollars in jewelry pieces, chances are you purchased it or it was purchased for you for a specific or sentimental reason and it would hurt you if it happened to disappear or get lost in the depths of no return in your nightstand or makeup bag. You want to protect your pieces right, so make the investment for the investment. 
Now you are probably thinking "how is a jewelry box an investment?". Well you see as stated above, the pieces you will store in this box are precious and have probably cost you or a loved one a small fortune at some point and at some time in the future those same items will be worth more in value bit sentimentally and financially.
That is basically the definition of investment, something that is worth more now than it was at the time of purchase or will be in the future. A jewelry box will protect those investments and therefore are part of the initial investment. 
That's a whole lot of investment talk, enough of that. 
Know Before You Go
Before you scurry off on the adventure of finding the perfect jewelry box you will want to make sure you consider a few things first. 
Some of the things you will want to think about are:
Where will you put your new jewelry box? This is the main question because you need to know what size to look for. Do you want it to take up your nightstand, be placed on a wall, on a shelf in your closet or just a small corner of your bathroom counter?
What do you want to store in your box? Big question here as well, will you be adding your watches to this box, do you need space for large chunky pieces, do you need space for your more precious pieces (like a hidden compartment)?
Security, does it need to lock? Do you want your box to be displayed in a modern way where many people can see all of the gorgeousness you have collected, if so you probably want a lock and key to keep those pieces safe and secure. Let's be totally honest though, even if they are not on display you will want a lock, especially if you have little ones that are drawn to all the shiny and glittery stuff in there!
Will it travel with you? Like going on adventures and vacations? I know I do! When we travel there is always an occasion that involves getting dressed up which includes jewelry. Before I discovered jewelry travel cases I would put all my pretties together in a ziploc bag and end up spending forever trying to untangle them! Talk about annoying. No longer an issue though, they make boxes that come with a travel case or you can get one just for traveling. 
Mirror? If you are keeping your jewelry box on a nightstand or dresser, you will most likely want a mirror so that you are not running back and forth to your bathroom or a mirror nearby. Let's not mention, it is a must to admire yourself in such beautiful artwork right?
How much storage do you need? Have you completed your collection or do you think you will acquire more? In all seriousness you should probably plan for adding more, so my advice would be to go bigger than your immediate need is.
As we go through this list I want you to really think about how to select the perfect jewelry box for YOU. Sit and think about where you will place it, and imagine what it will look like there, where everything will go once you put all your pieces in it and lastly, will it make you smile when you see it.
 Once you have that all sorted out you know what your mission is, find the perfect jewelry box!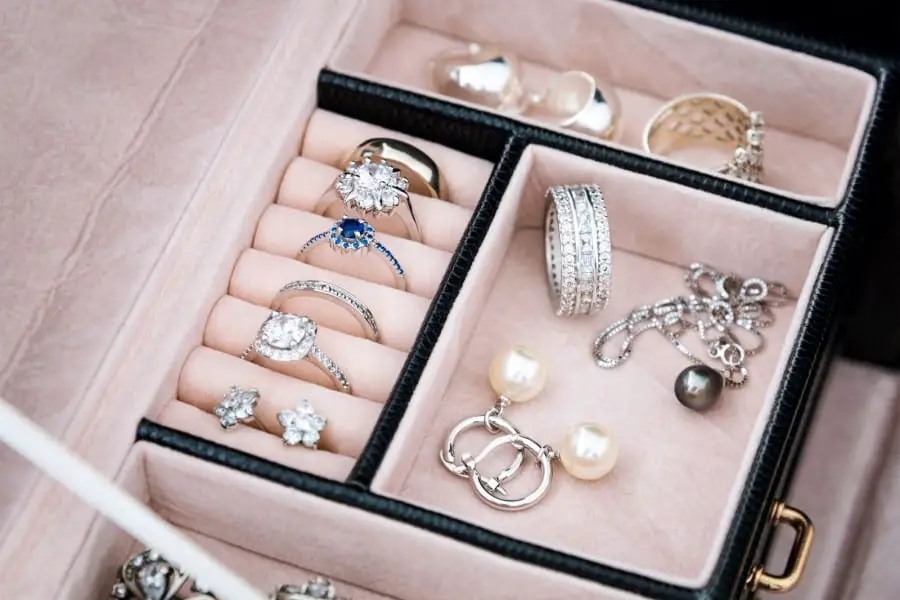 The Top Contenders
1. SONGMICS 6 LEDs Cabinet Lockable 47.3″ H Wall/Door Mounted Jewelry Armoire Organizer with Mirror, 2 Drawers, Pure White UJJC93W 
Let's start out with one of my favorites, shall we? This beautiful white jewelry box is a modern, sleek cabinet that will hold all of your jewelry and more. It has a full length mirror and you don't have to damage your walls to hang it up, it hangs right over any door. Another cool feature is the LED lights, this jewelry cabinet has 6 bright LEDs in the top that are battery operated. Stylish, modern and manufactured by one of the top rated jewelry box makers around. 
2. LANGRIA 10 LED Jewelry Armoire with Mirror, Lockable Wall-Mounted Over-The-Door Hanging Jewelry Cabinet with 3 Adjustable Heights, Carved Design with 2 Drawers (Brown)
Very similar to the favorite this is this over the door cabinet, featuring ample space for all of your items and a full length mirror. This is considered a jewelry armoire that has a more elegant look to it, a nice espresso color and fancy carved molding at the top. Not only does it have a lock,10 LED lights and ample space for each of your jewelry items but it also has drawers for other things like perfume bottles, nail polish, makeup and hair accessories too! 
3. LANGRIA Lockable Jewelry Cabinet Jewelry Armoire with Mirror Jewelry Holder Organizer Storage, 4 Angle Adjustable, Brown
Have the space for something more? This jewelry holder is a stand alone cabinet featuring a full body mirror, lock and shelves for more goodies like makeup, perfume and such. You can move it around your room and adjust the angle of the mirror for all your styling needs, don't worry though,, it comes with little studs to lock the mirror in place so that it doesn't swing around while you are checking yourself out. The dark brown color makes it very chic looking. 
4. KLOUD City Two-Layer lint Jewelry Box Organizer Display Storage case with Lock (Blue)
If you are looking for something bright, bold and fabulous THIS is the case for you. It is available in 5 colors, black, red, purple, pink or blue and has two layers of storage options and is lockable. This jewelry box is one that you can put on your bathroom sink counter,  nightstand or if you have the closet for it, on a shelf in your closet. It is one of Amazon's most wished for and top rated boxes. Best part, it will not cost an arm and leg, it is a quality purchase for a minimal cost. 
5. Kendal Real Natural Hardwood Wooden Jewelry Box Organizer WJC02AK
Let's get a little nostalgic, I vividly remember being gifted a jewelry box exactly like this little gem. It sat on my dresser as a teenager for many years all the way up until I moved across the country when it finally caved and was no longer functional. We are talking about 10ish years of quality. 
It features a carousel hanger for your necklaces, ring drawers and space for your earrings as well as your bracelets.The only downfall is it does not lock. This specific box is made out of real wood and will last many years, making it a great starter jewelry box. 
6. Sorbus Cosmetic Makeup and Jewelry Storage Case Display – Spacious Design – Great for Bathroom, Dresser, Vanity and Countertop (4 Large, 2 Small Drawers, Clear)
Are you a makeup lover and all things jewelry lover too? Finding space for both can be super tricky, and having the two together just makes sense. You must match your jewelry with your entire ensemble, not just clothing but all of it, including your makeup choices. This acrylic countertop display case is perfect for storing your jewelry and keeping your bathroom counter clean(ish). Don't like clear because it's boring? No worries, you've got choices, Bronze, black jewel, pink, purple, magenta or even GLITTER!!  
7. Acrylic Jewelry Box 3 Drawers, Velvet Jewellery Organizer, Earring Rings Necklaces Bracelets Display Case Gift for Women, Girls
Taking a more upfront and display approach is this jewelry case made from acrylic, is clear so you can see all of your pretties and has three drawers. The drawers do lock and slide all the way out so that you can put lay out your necklaces to keep them untangled. At first I wasn't too fond of this style then as I looked into it more it grew on me and I see it as a very modern piece of work that would look stunning in a room with lots clean and crisp decor.  
8. Glenor Co 28 Section Jewelry Box – 2 Layer – Buckle Snap & Magnet Closure – Large Mirror – Leather Design – Black – Jewelry Organizer for Women & Girls – Holder for Earring Ring Necklace & Bracelet
Glenor is featured in this list a few times and that is for a reason! They have quality products for lower cost (so that investment thing I referred to in the beginning isn't too much). This specific box is a smaller one with 28 unique sections for all of your storage needs, it looks like there is limited space at first but just remove the top piece and viola! There is more! 
Another sweet thing about this box is that it is available in black, which is amazing but it also comes in a bright pink or teal color too, which are perfect for a teenager or for a more funky pop to your room.
For the Guys
9. Stock Your Home Luxury Mens Dresser Valet Organizer for Watches, Jewelry and Accessories – Large Jewelry Holder and Display Case (Black)
Dudes need jewelry storage too! You may not realize it or even think about it but I promise you, men's "dresser valets" are a thing and they are amazing. Honestly I have thought about getting one for me! This one has a masculine and simple details because ya know, men like to keep it simple. 
There is a top compartment for everyday items, including a watch, keys, sunglasses and more. Then there is a second drawer that pulls out for more watches (a lot of men I know collect watches!) but these spaces can be used for anything really! 
10. Glenor Co Watch Box with Valet Drawer for Men – 12 Slot Luxury Watch Case Display Organizer, Carbon Fiber Design – Metal Buckle for Mens Jewelry Watches, Men's Storage Boxes Holder has Large Glass Top
Another Glenor Co. product, the watch box with a valet drawer is more of a display than a box. This valet features a glass top for displaying watches and a valet drawer for other items such as keys, cufflinks, tie clips, sunglasses, bracelets and rings. The outside material looks like carbon fiber which in and of itself says it's made for a guy (or gal, I personally love the look of carbon fiber). 
11. HOUNDSBAY Admiral Big Dresser Valet Box & Mens Jewelry Box Organizer with Large Smartphone Charging Station (Dark Blue – Limited Edition)
As with any mens valet, this one has a  sleek leather exterior, simple compartments for storage and a very modern look to it. The difference in this one and other valets is the limited edition color, this adds a very masculine detail to the box. It is not a vibrant blue but a bold color and adds just enough flare for a dude. This valet features a grey suede interior, eleven spaces for your storing needs and includes a bonus cufflink and ring tray. 
12. Ivosmart 24 Section Velvet Glass Jewelry Ring Display Organiser Box Tray Holder Earrings Storage Case (Beige)
Not a jewelry collector but love earrings and have an abundance of them? I've got you covered here too! This simple but very functional case holds all of your earrings and it keeps them separated so they are not getting tangled and damaged. This neat earring holder allows you to display your earrings with a glass top, and is available in five colors (three of which are really vibrant!)
13. Umbra Mini Stowit Jewelry Box – Modern Keepsake Storage Organizer with Hidden Compartment Drawers for Ring, Bracelet, Watch, Necklace, Earrings, and Accessories (Black / Walnut)
If you are lacking on space for your new jewelry box this mini Jewelry box is exactly what you need in your room. I would say it is mini and mighty because it has the neatest design. Enough space to hold all of your jewelry (unless you have an incredible collection that is) and in the most unique way possible, kind of like a puzzle. 
14. Kendal Huge Leather Jewelry Box/Case/Storage LJC-SHD5BK (Black)
Old mashed with new is a fantastic style that is definitely a trend right now. This jewelry box reminds me of the one I had as a teen that lasted forever, ya know the one with the carousel for your necklaces and the drawers? Yes, that one except this has a great modern twist on it, it features a glass top for displaying jewelry, little hooks to hang your necklaces on each side and five drawers. It is available in black, brown and an adorable white with pink interior. 
15. KLOUD City Jewelry Box Organizer Display Storage case(Gray-12 Grid)
If you prefer something more simple but still very functional and stylish this one would be a perfect match. Has a soft grey exterior that flows to the inside and has a glass top for displaying your pretties. You can get it with seven, twelve or even twenty-four slots, so plenty of options! I would say get the twenty four slots since they are removable and you can shift them any way you would like to fit your needs. 
16. Vlando City Beauty Medium Jewelry Box, Faux Leather Jewelry Organizer – Pink
Love pink, I do! This jewelry organizer is a super cute pink color (available in black, red, white and a solid pink as well) is a medium sized case that resembles a makeup case and it is just adorable. It doesn't have a lock but it does have a latch closure so your precious jewels are secured and it has a handle for traveling if you decided to do so. Lots of great storage here, the necklace holster slides into the center of the box in an upright position for keeping them untangled. 
For the Littles
17. The Memory Building Company Unicorn Music Box & Little Girls Jewelry Set – 3 Unicorn Gifts for Girls
Unicorns, need I say more? Little girls just LOVE unicorns, but they LOVE having everything mommy has and that includes jewelry. Kids in general love all that shines really. Your little ones will love this jewelry box as much as they love you (well maybe not that much) and it is a fantastic starter box, it even comes with a cute necklace and bracelet set for them to start their collection with. 
18. Lenox Childhood Memories Ballerina Jewelry Box
I know a few (one in particular) little girls that dream of being a ballerina, twirling and leaping while wearing a pink tutu and tights. This box is not just a jewelry box, it is a keepsake that will carry on for many many years. This jewelry box is made from metal so it is sturdy, comes with personalization and plays "fur Elise" as a tiny dancer twirls around. It is the perfect gift and starter box for a little one of any age. 
19. Jewelkeeper Unicorn Musical Jewelry Box with 3 Pull Out Drawers, Fairy Princess and Castle Design, Dance of The Sugar Plum Fairy Tune
Ok so what is better than unicorns and tiny dancers? Unicorns, fairies and castles, duh (in my four year old imitation) This jewelry box for little girls is adorable, it looks like it is hand painted, has three drawers, a carousel for necklaces and a compartment on the top for more storage and even a tiny dancing fairy! The little sugar plum fairy dances to the tune of the nutcracker. 
20. RR ROUND RICH DESIGN Kids Musical Jewelry Box for Girls with Drawer and Jewelry Set with Lovely Unicorn Theme – Swan Lake Tune Rose Red
Ok, this one takes the cake and for the sole reason of the adorable tiny unicorn dancing to swan lake. As soon as I saw it on Amazon's top list I just HAD to, it is almost too cute to handle! I could totally imagine my four year olds face if she received this. This box is positively perfect for a toddler starter jewelry box, it even comes with a little starter jewelry set!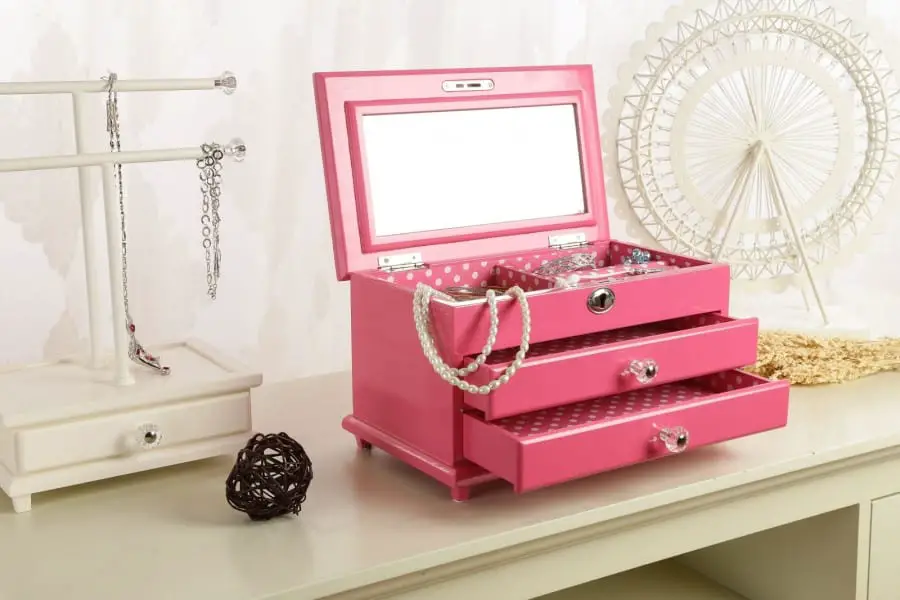 Traveling with Jewelry
21. Jewelry Box,Necklace Ring Storage Organizer Double Layer Travel Synthetic Leather Jewel Cabinet Gift Case for Women -Cross Pattern
When you travel for work or for pleasure you still want to look your best and most of the time that includes some of the essential jewelry pieces. If you are anything like me and can never decide ahead of time what to wear let alone how you will accessorize, this travel jewelry organizer is just what you (and I) need. With a snap closure, slots for every type of jewelry and more this is a definite go to. Not to mention its baby pink. 
22. Vlando Viaggio Small Jewelry Case, Travel Accessory Storage Box
Just going for a mini getaway? Or even if you feel like swapping up your look from work to a night out this little roll up case is perfect. Very chic design, with soft pink exterior and a vibrant magenta interior. It just says "look at me" but not don't look too much! The little tassel adds a bit of fun flare to it. 
23. Vlando Small Tassels Travel Accessories Jewelry Box/Bag, Gift Box Packing (Pink)
The jewelry box industry sure knows how to catch a girls eye…another soft pink babe with tassels. This travel organizer is a bit bigger, can hold more for maybe a mini vacation or even your smaller jewelry collection. Though it is smaller it has ample space for all of your pretties to be safe and tidy. Also, this beauty is available in four colors, pink, yellow, black and red! 
24. Lily & Drew Travel Jewelry Storage Carrying Case Jewelry Organizer with Removable Pouch, in Gift Box (V1B Black)
Looking for something a little more sophisticated and not so flashy, this travel jewelry organizer is ideal. It is black but also available in other fun patterns and colors, has space for everything and even includes a removable pouch for more on the go! It even comes gifting ready in a nice elegant gift box. 
25. Vlando Small Faux Leather Travel Jewelry Box Organizer Display Storage Case for Rings Earrings Necklace (Black)
Need something more sturdy? If you are like me and are anything but fragile then the answer is yes, absolutely. This little guy is just enough storage for a weekend getaway or even a beach vacay because let's be honest, any time you are at the beach jewelry is not on your mind! Either way this is (in my opinion) the perfect travel case, it is available in six colors, black, white, red, gray and blue. 
So Many Choices! 
With so many options to choose from, I can see that it would be a tough decision. However, if you follow my tips and guidance on selecting the perfect jewelry box for you, there shouldn't be much of a choice. Don't be afraid to start big or mix it up and get a couple to create your own look to match your style, jewelry is a form of expressing yourself, so don't limit your options on how to store it! Remember it is part of an investment and it is totally ok to splurge a bit to keep your precious items safe and undamaged. 
Be sure to check out some other nifty functional craft ideas through our other posts here on Craft-ILY as well as checking out some videos on DIY and How To's over on YouTube. Look for "Crafting Unedited" to see!