Whether you consider yourself a crafter or an enthusiast for craft projects, you probably heard of the Silhouette and Cricut cutting machines. Due to their immense popularity and dominance in the die-cutting market, differentiation between them sometimes can be challenging since they provide incredible performance.
The main differences between Silhouette and Cricut cutting machines are based on internal characteristics such as software, additional accessories, resources used, the design, cutting speed, price range, and ease of use.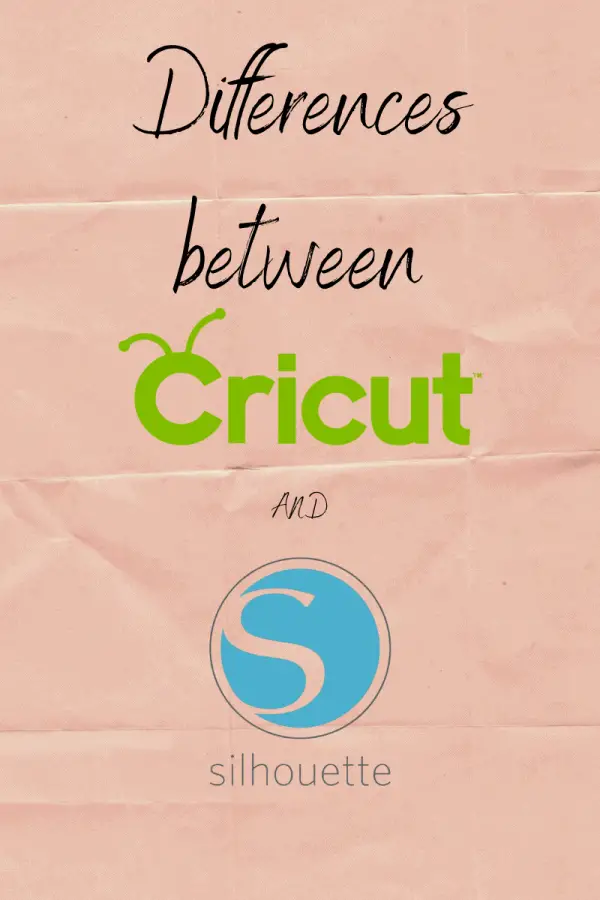 Here we'll consider the main differences between the two brands, a brief comparison of their models, the pros and cons of each, and evaluate which is better based on their cutting quality, ease of use, machine design, and software.
Cricut vs. Silhouette Brand Overview
It is fundamental to see the key differences between both brands in terms of their expertise, popular models, reputation amongst crafters, their strong points, and deficiencies. For that same reason, we will see a brief overview of both these brands.
Best Models and Technology
Cricut and Silhouette are on top in the crafting and die-cutting industry. Both of them have stellar models like the Cricut's Maker, Joy, and the Explore series (Explore 1, 2, and air), and also the Silhouette features the Cameo, Portrait, Curio, and Mint.
Additionally, these companies offer a wide range of models that meet the needs of their customers and strive to innovate in terms of technology. Examples of this are software enhancements, applications, and cutting technology. Because of this, both brands are strong competitors.
Customization and Expertise
Cricut machines specialize in cutting all sorts of designs and materials such as paper, vinyl, iron transfers, card stock, and perhaps even cutting leather. It is estimated that Cricut can cut more than three hundred materials. In addition to this, it is capable of engraving, making perforations, and debossing your designs. Many users claim that this brand's model tends to make small cuts very precisely and work with all sorts of materials. They are also popular within the crafting community because they are user-friendly and perfect for people like teachers, moms, and craft enthusiasts. However, their customization of designs, cut, and print size can be a little limiting.
In regard to the Silhouette machine, it is an expert at creating embroideries, engraving in all sorts of materials, and giving users the freedom to create designs from scratch, which makes it more customizable than Cricut, and this is why they are well-known amongst crafters. The software it uses is definitely what makes it a hard competitor because of how amazing its features are. Also, in terms of cutting, it has five incredibly precise blades, and depending on each type, they are more compatible with certain materials.
User Experience
Both of them are incredibly great and close in terms of performance. However, the liberty of creating your own designs is not available in Cricut since it is more restrictive and limited in terms of customization. Some people tend to compare Silhouette's software to Illustrator, which in some sense can be more challenging to use for certain users, making Cricut's software easier to manipulate and more intuitive.
Also, Cricut is also well known for being beginner-friendly because of their design. Silhouette doesn't fall back in this section since they also provide a great technology called "PixScan," which allows users to easily and effectively make more precise cuts.
Decision Making
If you focus more on the ease of use, the software and design capabilities, as well as cutting quality, Cricut's machine takes the lead in these aspects.
In contrast to Silhouette and its ultimate model, Cameo 4, although it also has an auto blade function. It is considered a professional-level cutting machine; its design and software are super versatile.
Significant Differences Between Cricut and Silhouette
After seeing a brief overview of both brands' expertise and well-known models, we will list the main differences between them and compare their most famous machines to understand better where the distinctions are found.
Here are the main differences between them:
Software and Ease of Use
Cricut Design Space

In terms of software, Cricut utilizes "Design Space." This is a web-based and offline software that allows users to create their own designs and cut them as downloaded content with no need for an internet connection. In addition to this, it is free to use for all file types, and it lets crafters import .jpg pictures, convert them into SVG files, and add fonts. It also has IOS compatibility, making it more reliable and easier to use through the Apple Store. They also include a vast project library that you can use to get ideas and use as inspiration. Overall, many people claim the software is user and beginner-friendly software but has restricted or limited customization capabilities. For this same reason, it is considered a simple and intuitive program that allows you to create and cut files easily.
Silhouette Studio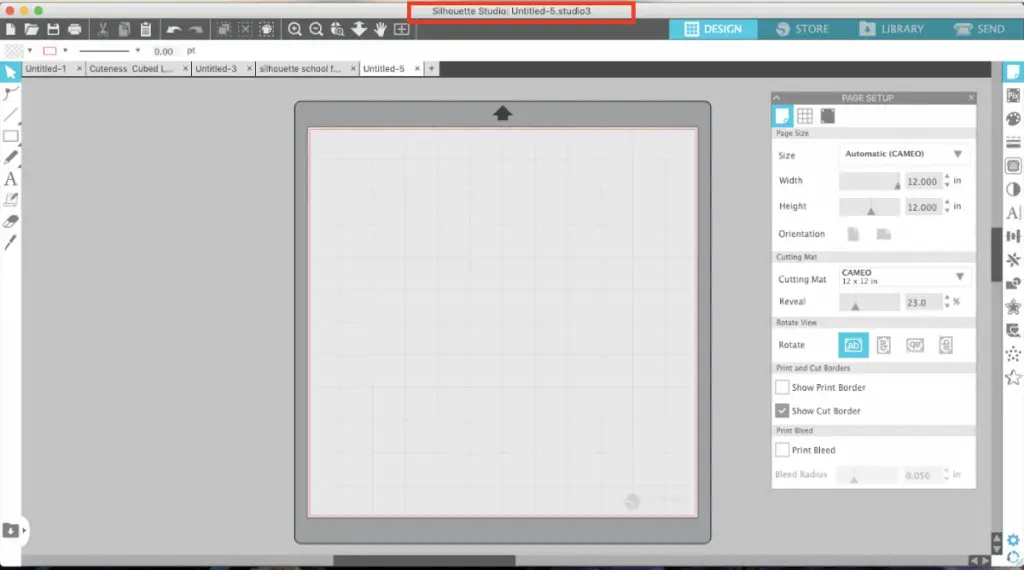 Regarding Silhouette's software "Silhouette Studio," many crafters tend to prefer this one instead and find more distinctions in contrast with Cricut's Design Space. Similar to the other software, it allows users to download the computer software to continue to work on your project offline and has extensive design features that can help you create your designs and images from scratch, making your work more original and unique. Many people tend to compare this application to Adobe Illustrator since it is also compatible and has a wide variety of customization tools for you to use. Users can also use any font they have downloaded on their laptops.
In addition to this, it also provides a free version of the software where you can save your files in a .studio file format. However, they tend to charge fifty dollars to upload .svg files. You have the option of either purchasing them individually through the online store or buying a subscription.
Materials and Blade Adjustment
The new Cricut Maker model has four kilograms of cutting force, making it ten times more powerful than Cricut Explore's predecessor. In addition to this, it also has an integrated knife blade calibration, rotary blades, and a deeper blade that can cut all sorts of materials and fabrics.
Also, the blade is placed on the top of the machine so it can be adjusted appropriately. In contrast with the Silhouette blade, the strength can be modified by twisting it to a particular number based on the type of material that it will be cutting.
Comparison Table of Cricut Maker and Silhouette Cameo 4
| Side by Side Comparison | Cricut Maker | Silhouette Cameo 4 |
| --- | --- | --- |
| Cutting Force | 4 kg of force/4,000 gf | 5 kg of force/5,000 gf |
| Cutting Size | 12" wide x 24: long | 12 in x 24 in |
| Size | 11.5 in x 11.5 in (29.2 cm x 29.2 cm) | 22.44 in. x 7.68 in. x 6.69 in. (57 cm x 19.5 cm x 17 cm) |
| Software | Design Space | Silhouette Studio |
| Bluetooth Wireless | Yes | Yes |
| Materials that are compatible | Acetate, aluminum foil, basswood, carbon fiber, canvas, cashmere, vinyl, delicate fabrics like tulle, denim, duck tape, dry erase vinyl, heat transfer material, corrugated paper, cardstock, and more. | Cotton, leather, vinyl, cardstock, heat transfer, patterned papers, sticker paper, wax paper, fun foam, gum paste, felt, acetate, burlap, and craft foam. |
| Fabric and Deep cutting | Yes | Yes |
| Upload Images | Yes | Yes |
| Upload Fonts | Yes | Yes |
| Ease of Use | Beginner Friendly | Professional use |
| Price (with bundles) | $369 | $329 |
Conclusion
It can be concluded that Cricut Maker's and Silhouette Cameo's main difference relies more on the software they utilize. Design Space has a more simplistic approach, while Silhouette Studio focuses on giving the user more customization and in-depth options or features that will allow them to create beautiful and unique designs from scratch.
Here are some super useful sites and tools for getting your images free of copyright issues:
Design Bundles – designbundles.net offers thousands of SVG's sublimation images, brushes and fonts for ProCreate and so much more. The inexpensive monthly plus plan is the best way to go, you get tons of free credits to purchase their "plus"products that come with the commercial use license.
Design Space/Cricut Access – If you use Cricut you have access for $11/month to thousands of fonts and images as well. I always search Design Space for what I am looking for first, this way I don't have to go through all the steps of uploading and what not.
I also use JPIBlanks.com for images often as well. They design the images/files themselves so the copyright is released when you purchase the image/file from them. Sometimes they will even do a coupon code for free images!
Be sure to check out some other nifty functional craft ideas through our other posts here on Craft-ILY as well as checking out some videos on DIY and How To's over on YouTube. Look for "Crafting Unedited" or just click the name in blue to see!