Cricut has become a big hit among different creators regardless of how creative they may be. That is because creating your own designs and then allowing the Cricut machine to cut them out for you can be quite addictive. But one of the things that some people tend to experience when they are using Cricut Design Space is that they have to pay to cut an image even if it might be free. So, why is Cricut charging for a free image?
There is a chance that Cricut is charging you for a free image because it is an image that has a copyright fee or that you didn't purchase Cricut Access. However, there are some instances where what you are trying to cut actually isn't a free image or design and is not part of your Cricut Access subscription.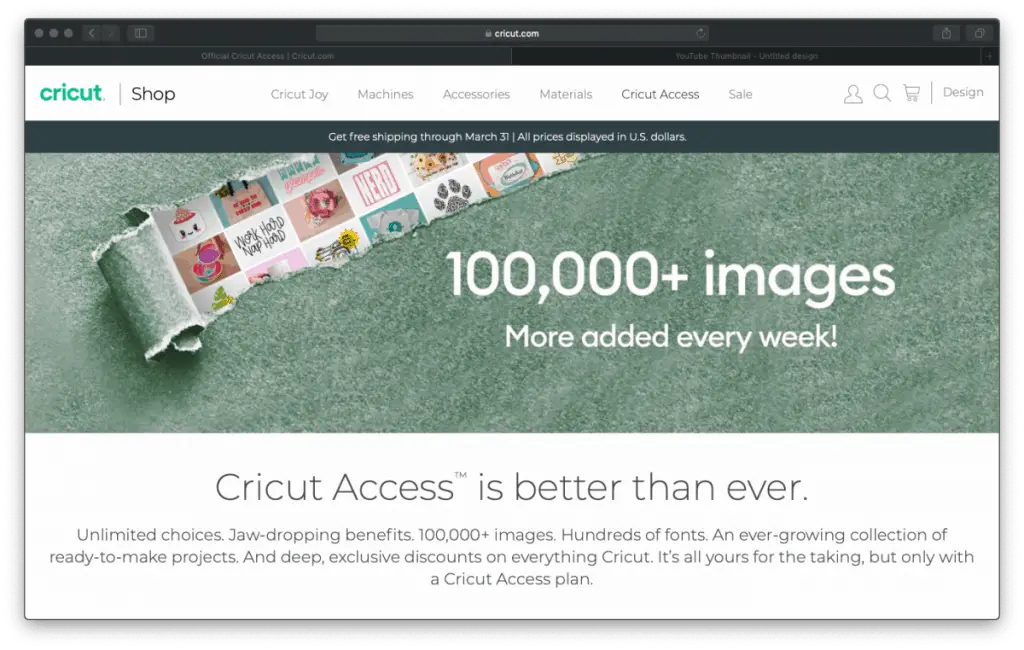 The way that Cricut Design Space works may be a bit confusing for some people who are still starting out. This can lead to expenses that you may not have noticed while you are cutting. As such, when you are using your Cricut machine, it is important that you first understand how to properly use Cricut Design Space as well as understanding what Cricut Access is and why you should get it.
What is Cricut Design Space, and how does it work?
When you are using Cricut, it is important for you to understand that this is a machine that does not work on its own. Unlike printers that can work with almost any app or program on your computer, Cricut machines need a specific app to work. This is where Cricut's proprietary Design Space program comes in as the companion app for Cricut machines out there. But how does Design Space work?
The way Design Space works is that it allows you to browse different pages that have different designs that you may want to use whenever you are looking for a good design that you want your Cricut machine to cut. Think of it as a Pinterest page for Cricut. But the difference between Design Space and Pinterest is that you can have your Cricut machine do all the work for you once you have found a good design.
But the problem here is that if you are using some of the designs that you see on Design Space, you would have to pay to use them. The reason here is that those designs are owned by other people or by Cricut. As such, the intellectual property rights belong to them. That means that if you want to use those designs, you need to pay Cricut.
The good news is that you can cut down the price you would have to pay per cut by buying a Cricut Access subscription, which should allow you to gain access to a lot of the different designs and fonts that you see on Design Space. If not, then you would have to pay for those individual designs whenever you want to use your Cricut, and you are incorporating some of the designs you see on Design Space.
Then again, there are some free images and designs that are available on Cricut Design Space. They may not be as good as the paid ones, but that doesn't mean that they are not worth your while.
Why is Cricut charging for a free image?
Now that you know how Cricut Design Space works, you should be careful about using paid designs and images that may end up charging you without you noticing it until you are ready to cut your project. But there are instances where you notice that Cricut is still charging you even when you are using a free image. So, why is it that Cricut is charging for a free image?
There are times when Cricut Design Space may end up charging you for a free image due to a fault in the app or program. This was pretty common in the now-discontinued web-based version of the Cricut app. However, it can also happen in the desktop or mobile version of Design Space.
This usually happens due to an error on the part of the server. To remedy the problem, you can try force closing the app or program, open Design Space again, log out of the app, and then log into it again using your credentials. This may be able to fix the problem regarding the free images that show charges.

However, if you are wondering why your Cricut is still charging you for a free image, this could be due to how you actually incorporated paid designs and fonts into your own design. Even though the design is uniquely yours, the fact that you incorporated paid elements will not excuse you from paying for them.
But there are still some issues that may persist even if you ended up buying projects, fonts, and images that may not exactly be free but were already paid for by you.

When you buy projects, fonts, and images from Design Space, they are already yours to use. That means that you no longer have to buy them again to use them for a separate project or design. You can use them at will without worrying about any additional charges to your account.
However, there are still times when you might end up getting asked to pay for an image or design that may be free or may have been paid for already. So, if that is the case, here are some things you need to do:
Try checking the items you see in your Design Space shopping cart to make sure that you are using things that you already own. There are some instances that you may have incorporated design sand elements that you think you paid for but actually did not. When checking your shopping cart, here is what you need to do:

Select the green purchase button that you can see in the bottom corner of your Design Space Mat Preview. You will be taken to the purchase screen when you press this button.

From there, you may be prompted for your billing information if you haven't previously made a purchase with Design Space. If you have already made a previous purchase, you will immediately be taken to the confirmation screen so that you can view the items that you have in your cart. Look at the items in your cart to see if these are already owned by you. If not, delete them and replace them with the ones that are either free or have been paid for already.

There are some instances when, after not using your Design Space after several days of being logged in, you will automatically be signed out. But the problem here is that your Design Space will still make it appear that you are signed in even if you are signed out. So, when you try to cut a design using your Cricut machine, Design Space will recognize that you are signed out and will charge you for the fonts and designs that you have already paid for. What you need to do here is to sign back in using your account credentials and check whether there is a charge to your account.
If you bought digital tools and fonts from cricut.com using your account credentials, you would be signed out of Design Space. You need to sign into Design Space again to reflect your purchases.
For those who purchased the designs or apps using Android or iOS devices, you may have to wait a few minutes or even for hours for your purchase to be reflected. That is because the purchases are processed through Google Play or the App Store. This may take some time as Google Play or App Store would have to communicate with Design Space first before the purchase gets reflected to your account.
Conclusion
In the end the main reason Cricut may be charging you for a free image is for the simple reason you do not have a Cricut Access subscription. If you are not a graphic creator or you plan to use your Cricut machine as often as possible you will want to purchase the Cricut Access subscription or utilize the sites mentioned in this article: Best Sites for Cricut Designs and SVG's, here I review all of the sites that I often use like Creative Fabrica and Design Bundles.
Be sure to check out some other nifty functional craft ideas through our other posts here on Craft-ILY as well as checking out some videos on DIY and How To's over on YouTube. Look for "Crafting Unedited" or just click the name in blue to see!