As you work your way into the Cricut crafting world you will quickly find that there is an abundance of different tools, many that are compatible with every machine and some (like the fabric tools) that are machine specific.
Cricut does offer some basic tools, tools that will essentially get you started in doing simple projects like cutting vinyl and some paper crafting. The Cricut Basic Tool Set is the best for a beginner or if you are just cutting the basics, paper, vinyl and iron-on vinyl.
Let's see what comes in that Basic Tool Set: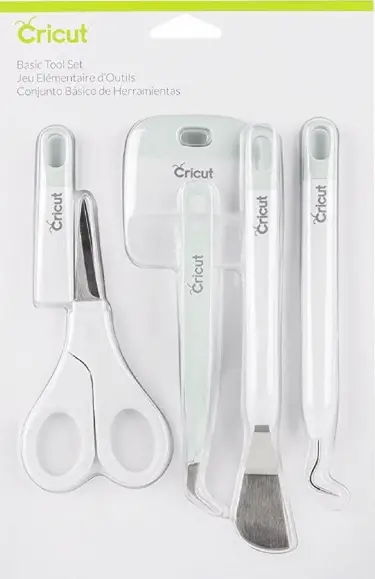 Scissors
Tweezers
Scraper
Spatula
Weeder
This literally all you need other than supplies for cutting you need to get started as a Cricut crafter. You do not have to go and buy a ton of tools to get started or really to be a hobbyist crafter. This set will do just fine.
Let's elaborate on each tool that comes in this set.
What the tools are for
So you got the Basic Tool Set and you are brand new to Cricut so you are probably looking at them the way I did at first. If you don't have a dazed and confused look and are not thinking "what in the world would I use a spatula for in crafting" then you, my friend are no newb.
All of the tools in this set, actually all of the tools Cricut offers to serve different purposes, sure you can multi-purpose some but for the most part, they are meant for a specific portion of different crafts.
Scissors
The scissors that come in this set are amazing. Obviously, you can use them for any cutting of paper and all types of vinyl. They are made with stainless steel blades so they are durable and they have a micro-tip blade for precision cutting, these babies are SHARP.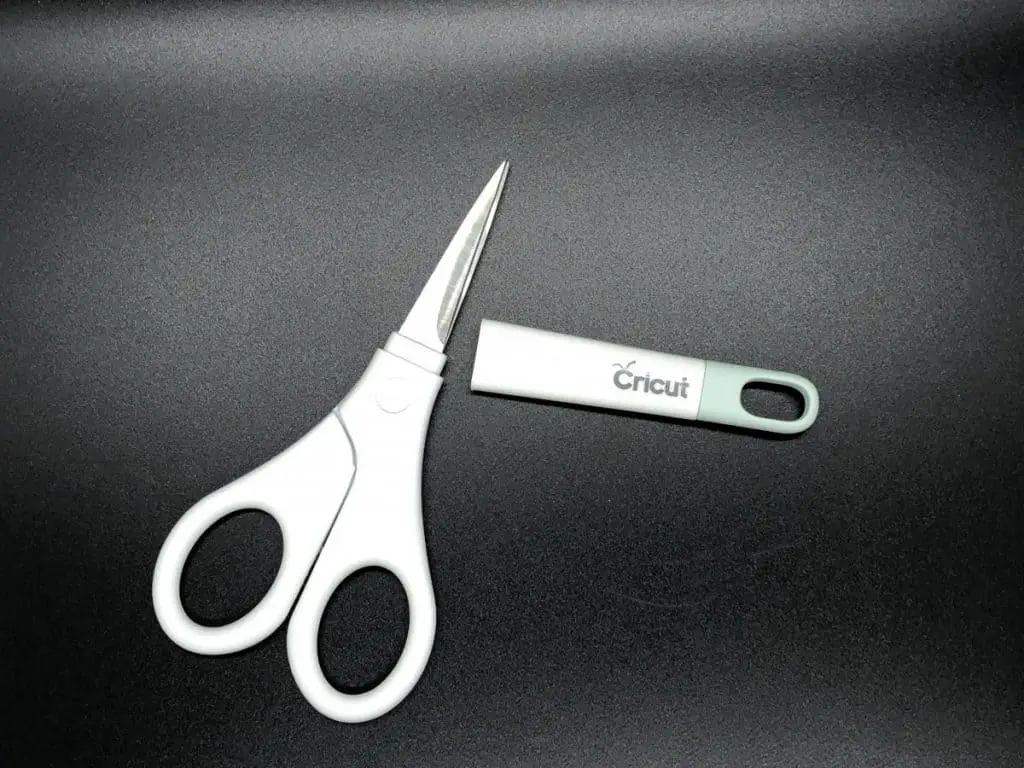 the only negative I have about the scissors is the size, they are small and the amount of cutting I do as a semi-pro crafter is too much for the size. They hurt my hand after so many uses at once. If Cricut could add some rubber to the inside and make a bigger set of the same style I'd be sold in a second!
Tweezers
The tweezers that come with the basic toolset are pretty cool, however, they confused me a bit at first. These are not regular tweezers, they have a reverse grip, so when you squeeze they open, and when you release they grab.
To this day I still get it backward sometimes, then adjust and remember they are backward ha! One of these days I will get it right, or not.
These are great tweezers though, once you get the hang of it you will find they work really well for removing those unwanted pieces from projects. I love weeding mandalas. The tip on these tweezers are really the best part, they allow you to pick up teeny tiny pieces. When I say teeny tiny I really mean teeny tiny.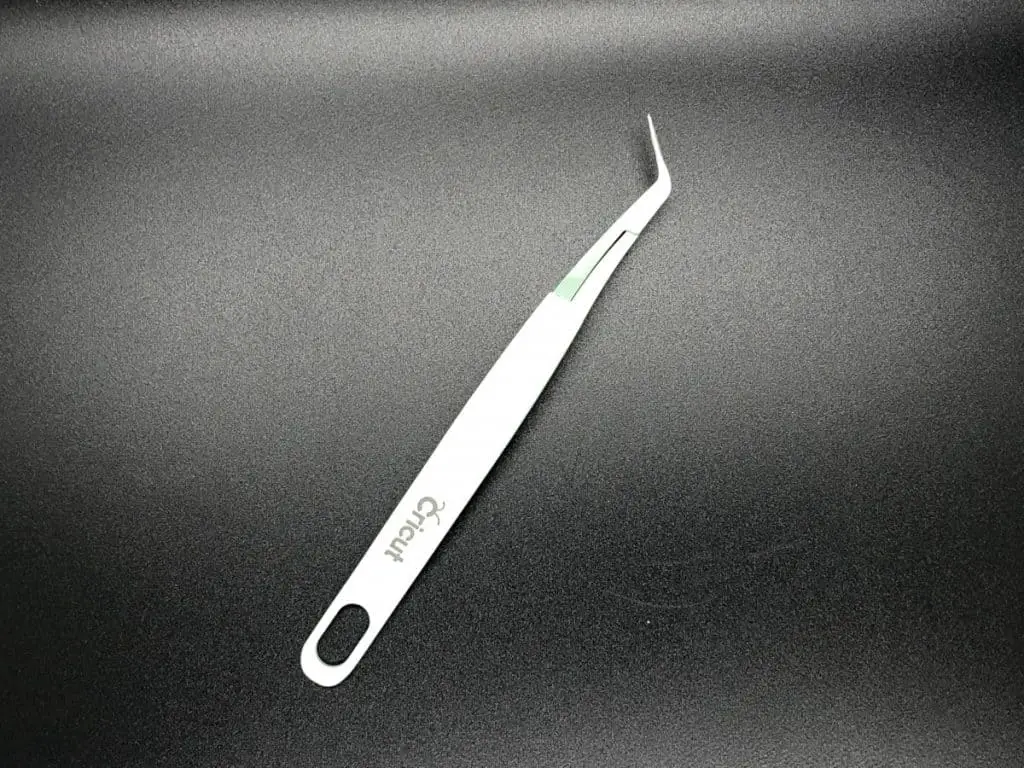 This also gets rid of some (I do mean some) of the scraps from flying and ending up all over you and your floor and sometimes your kids and animals too. I find tiny pieces of vinyl and paper everywhere all of the time.
Scraper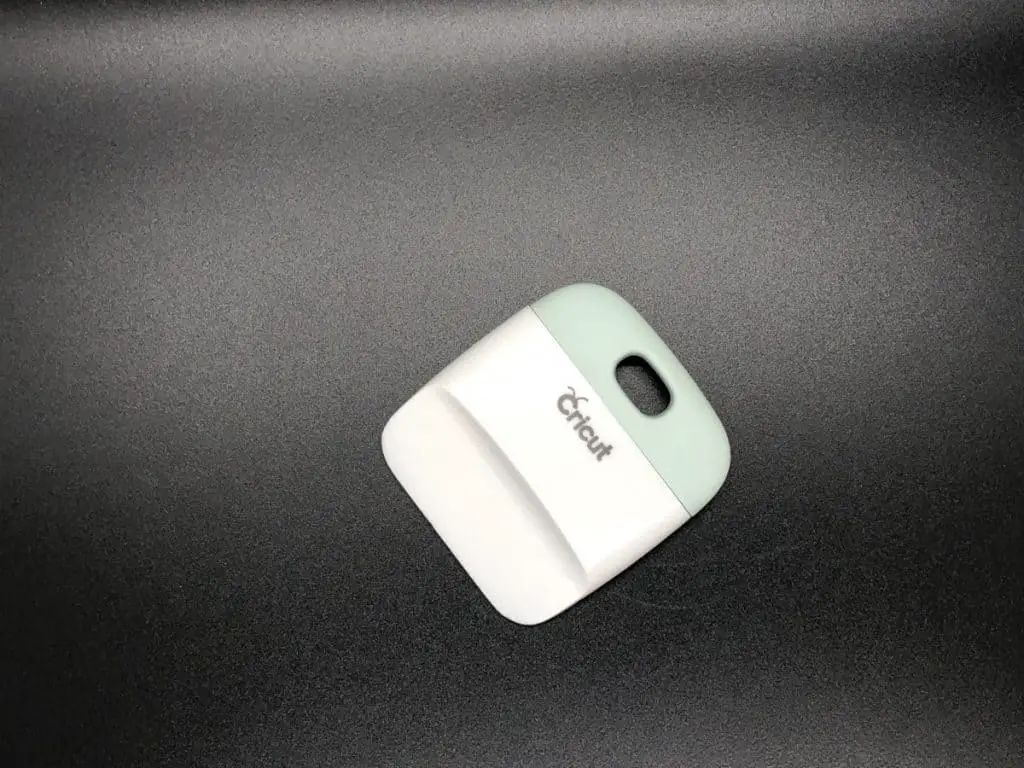 The scraper tool is one of those I kind of thought was silly until I needed it. You see, when you cut things like paper, card stock, cardboard (yep you can cut that too) and fabric (Maker and some with the Explore 2) the mats get SUPER gross.
Not only do you end up with debris left behind from the material you are cutting the mats attract the fibers from your clothing and dead skin (EWW) when you weed your projects. So Cricut came up with the scraper tool.
Basically all you do is scrape the mat from one direction down or across and it removes most of that gross debris. If you do this after every cut or even after every projects your mats should stay relatively clean.
TIP: a really easy way to clean those mats is with nothing more than a baby wipe! Just take a couple one at a time to it and scrub gently in circular motions until they are dried out and replace then continue until the mat is clean then let it dry for like ten minutes and the mats are like new!
The scraper tool is also great for helping remove thicker card stock and kraft board from the mats. Sometimes they will stick more than you want and end up rolling or tearing, this helps prevent that. The spatula is used for this as well. More to come on that in a minute.
Spatula
Ok, that was more like a second but whatever, here we are the spatula. No, I am not talking about one from your kitchen, not even one from your kiddos play kitchen set. I am talking about the Cricut spatula, this thing serves one purpose and I have yet to find more uses for it.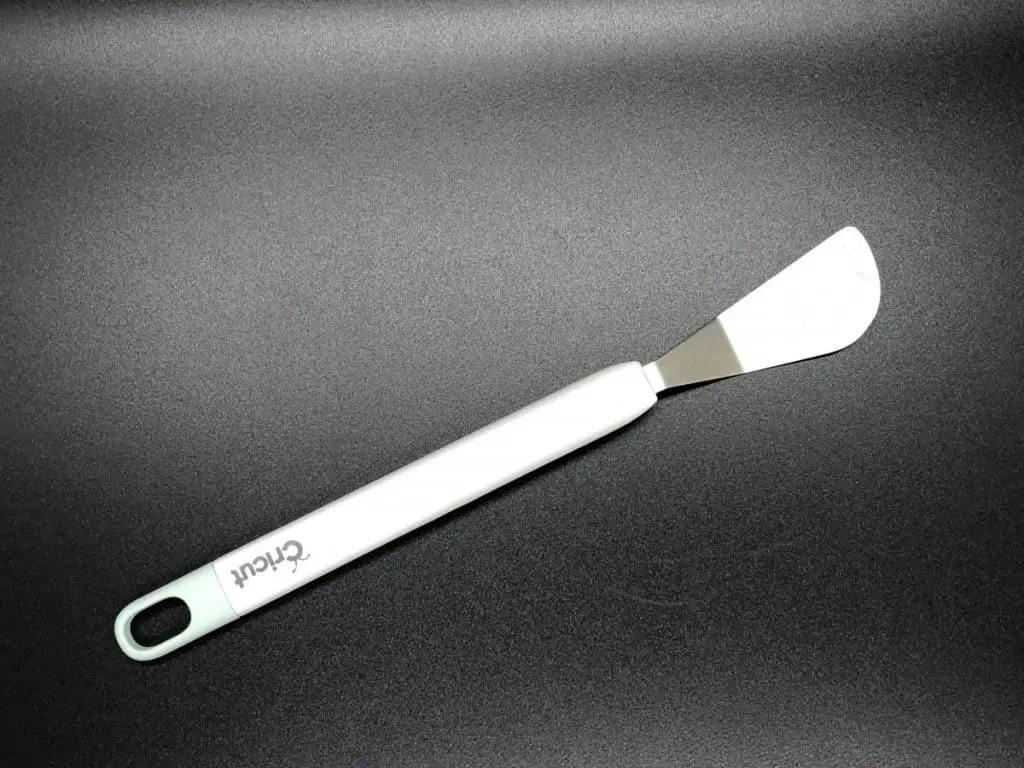 The sole purpose of this crazy idea is to help remove the paper, card stock, sticker paper, and other thinner paper crafting materials that would otherwise require your nails or some other crazy utensil to get off the mat. However, this also helps avoid rolling and tearing as well. When you are making a card you do not want rolling, it is one of the most annoying things ever.
Weeder
Weeder…hmm, like the weed eater in the shed? Nope, we definitely can not use that with a Cricut machine! I mean we could bedazzle it with some awesome decals or stickers but it will not do ya much good to use it.
Now, this weeder tool is seriously amazing. It is kind of like a dental pick for your teeth but it is used for pulling out those pieces of vinyl or paper you don't want or need in your projects. You know, I guess I would call them the negative parts. Here I will show you: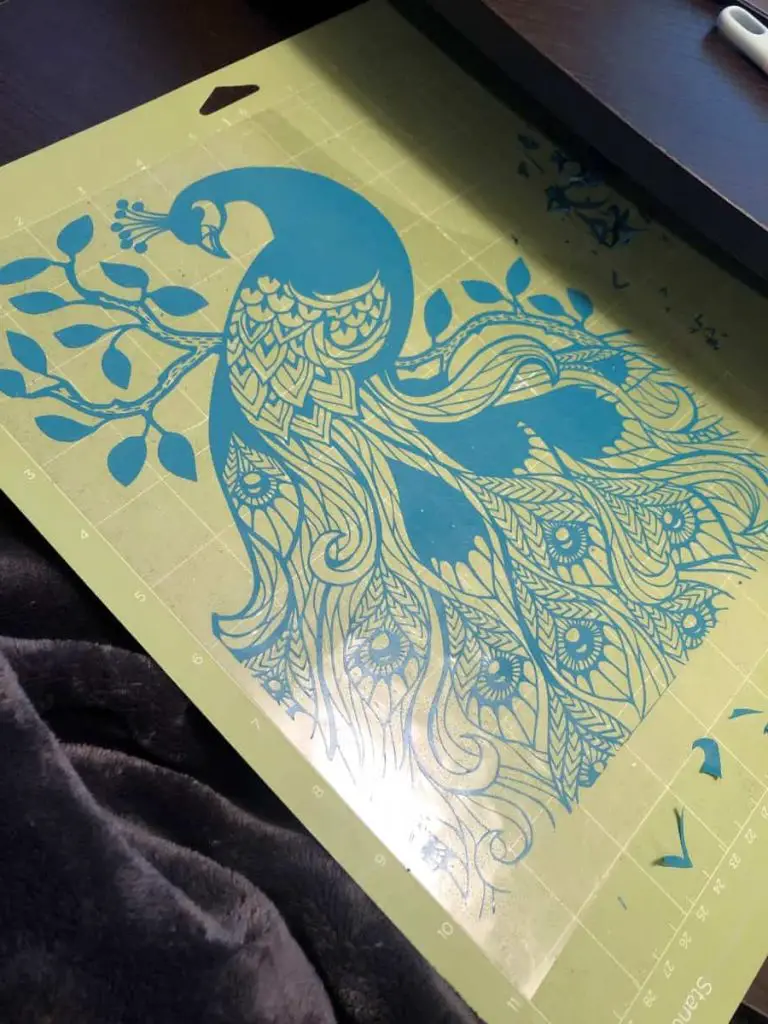 When you cut a decal with your machine you are left with a solid canvas still not a final product. In order to achieve your final product, you need to remove all the negative pieces from the decal. Depending on the intricacy of your decal this can take hours (please don't ask me how I know haha). Without this little weeding tool it would be impossible to create some of the awesome stuff I have been able to make.
I have seen many crafters use dental picks and other similar tools to weed out the negative spaces. Sometimes those teeny tiny pieces are easier to remove with a lint roller (shh it's a secret!)
Need more?
If you feel it isn't enough to just have the basics, Cricut also has a bigger basic toolset called the "Essential Tool Set" it is more expensive (obvious) but it comes with everything in the basic set and more. On top of everything just mentioned you also get: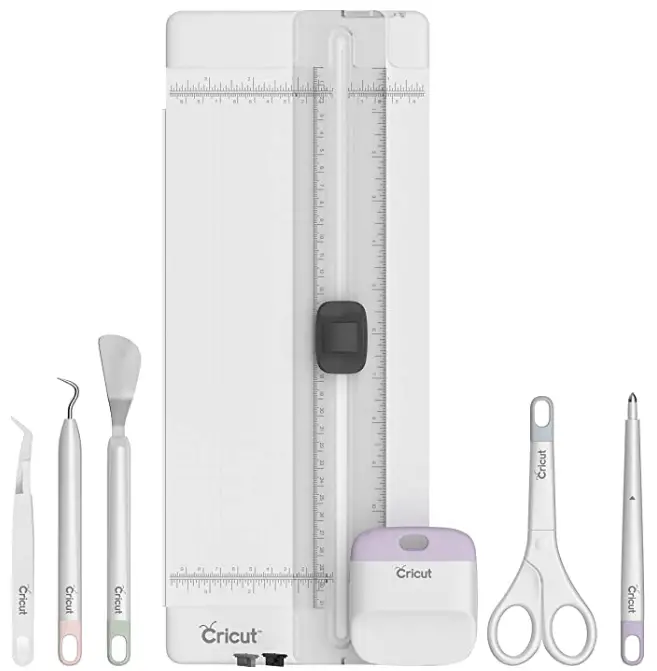 Scoring Pen – this is used to make score lines, or seam, in cards or other card stock projects. Makes folding the corners super smooth.
Portable Trimmer – used to trim card stock and vinyl. It is basically a paper trimmer that is strong enough to trim vinyl too. You can use it in place of scissors to cut your materials for projects before loading them on your mats.
Array of tools
These are just the introductory tools, Cricut alone offers so many tools for your machines and crafting it is really hard to keep up with them all and all their uses. I started with the basic set and now have more tools for crafting than my husband has in his massive tool box!
You can always spend more and purchase them separately if you really wanted, to me it does not make a whole lot of sense because you will use every tool listed here. But if you like to buy them one at a time due to budget reasons I fully understand that part as well. I will warn caution though, finding them separately is really difficult and you may have to get non Cricut brand, which works too.
What I am telling you in that is when you start on this Cricut journey you will very quickly see that it becomes more than a hobby, some might event call it an addiction. The good thing though, it is a clean addiction. Do remember you family and friends, make sure you step away from the Cricut (said in a microphone sounding voice) and enjoy them too!
Be sure to check out some other nifty functional craft ideas through our other posts here on Craft-ILY as well as checking out some videos on DIY and How To's over on YouTube. Look for "Crafting Unedited" to see!
As always, Happy Crafting!