There are several different types of garment decorating methods available these days, so many that it makes becoming an at home designer easier than ever. The hardest part is choosing which method to invest in. So how does sublimation compare to all the other types of garment decorating available?
Sublimation is one of the most popular ways of garment decorating, compared to direct to garment or film, iron on, tie dye and more it is the easiest to learn and execute. Compared to direct to film (DTF) and direct to garment (DTG) it is also cheaper to get started with, which makes it the leader.
Let's get into all the details on sublimation compared to other garment decorating methods.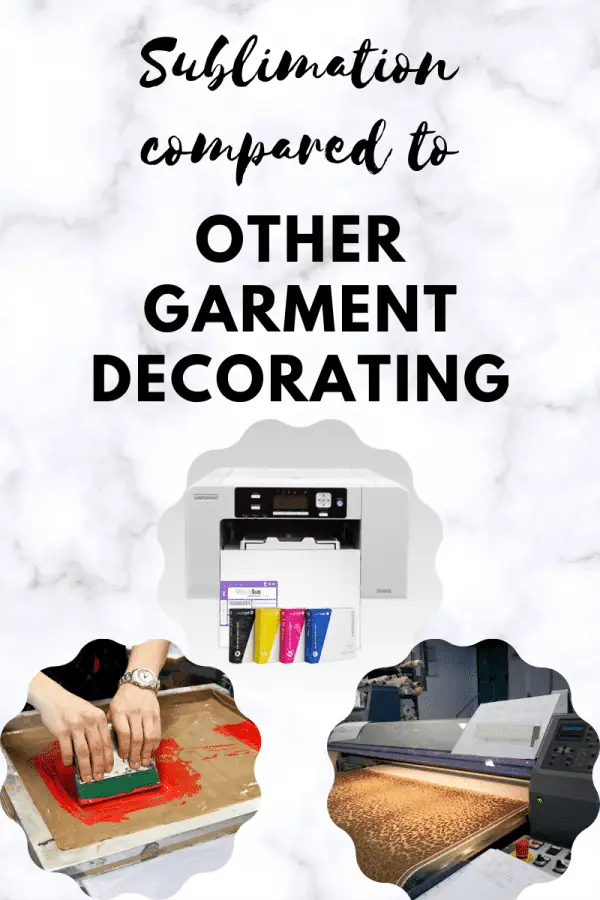 What Do I for Sublimation?
Before we get started on comparing, let's cover what is needed for sublimation and how to get started. All important aspects of the comparison process.
The process of sublimation can be broken down into just a few steps:
Find an image you want to print
Print the image using a sublimation printer that has sublimation ink onto sublimation paper
Get an at minimum 65% polyester substrate
Pre heat your heat press to 385 degrees or 400 degrees
If your substrate is a clothing item or fabric place a sheet of butcher paper between the layers or under the substrate to avoid any ink bleeding through.
Tape your image to your substrate using thermal tape
Place a sheet of butcher paper on top of the image and press for 60 seconds
Lift your press and remove the butcher paper, sublimation image and tape
Hang to dry and settle for minimum of 30 minutes, the longer the better
For a more detailed and in depth explanation of the sublimation process check out my article What is the Sublimation Process, it is a great tutorial for sublimation.
Extra Costs Of Sublimation
Aside from the printer, the ink, and the heat press machine, sublimation has other costs if you are thinking of sublimating objects different from the ordinary ones, like distinctive substrates, extra design charges, and extra time.
The main points to consider when you are reviewing the extra costs of sublimation are the following:
It has a limited color selection for every item produced because it depends on your substrate.
It has an extra cost if you want to print a different design on the backside or cut out any portion of your product that cannot commonly be printed using the process.
There are some extra charges for a gradient look instead of solid color because every surface has its opacity, which is needed when you require a different color density due to the gradient look.
Also, there are extra charges for using different materials or substrates. For example, if you print on glass, the whole process is much more expensive because of the special equipment needed to produce screen printing master plates and the extra time it takes to complete this task compared to plastic production.
All these points must be considered when deciding to invest in sublimation.
Is It Worth Getting A Sublimation Printer?
Sublimation printers are great for sublimation printing, but are they worth it?
Some people ask themselves if it is worth it to buy a sublimation printer. After all, sublimation printers are much more expensive than standard inkjet printers and can be quite complicated for beginners. While subliming takes some effort, there are many benefits to using this type of printing: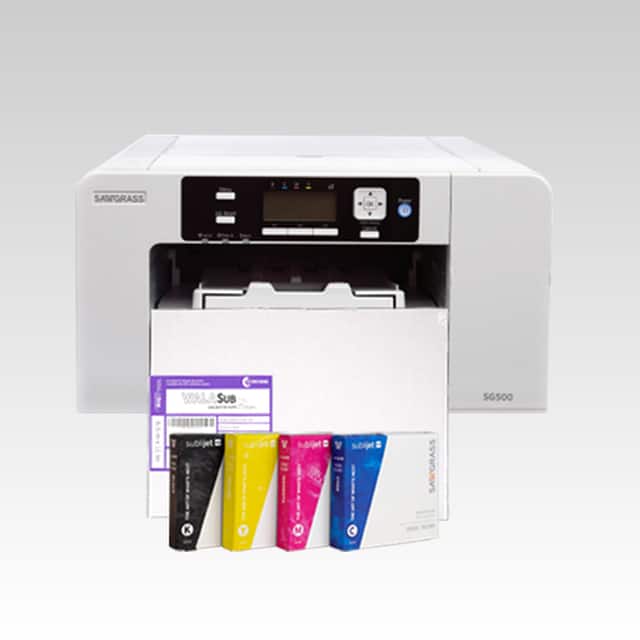 – Sublimation printers are faster to use compared to sublimation pens, which take a long time to heat up before you can start sublimating. The sublimation printer also has preheated buttons that automatically heat the sublimation ink in 60 seconds.
– Sublimation printers also produce more consistent results and can print on more fabrics than sublimating pens, which only work on some fabric types.
Sublimation printing is becoming increasingly popular for DIY projects such as T-Shirts, phone cases, and even sublimating standard ceramic tiles. Sublimate printers are much more reliable than sublimation inkjet or sublime pens and will save you money in the long run. They also print faster, produce more consistent results, and can be used on a wider variety of materials than sublimating pens that only work on some types of fabric.
Differences Between Sublimation And Screen Printing
The main difference between sublimation and screen printing is in the inks used. Sublimation uses heat to transfer ink onto apparel, while screen printing is done with ink that sits on top of the fabric.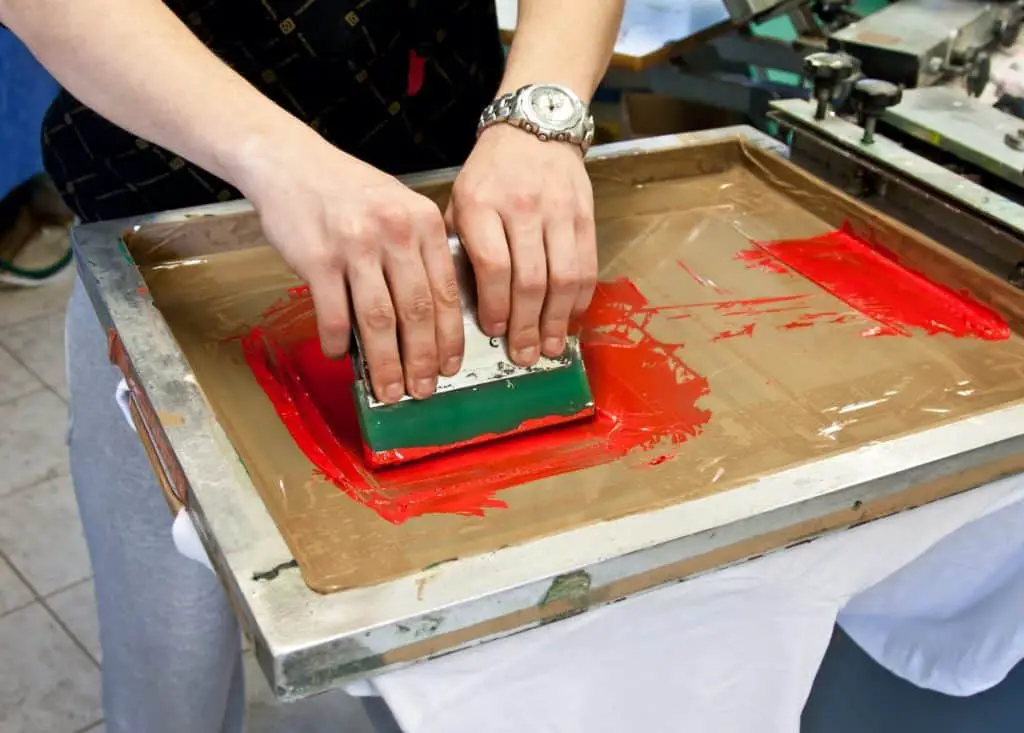 Is sublimation cheaper than screen printing? The answer is, it depends! If you're looking for clarity and vibrancy, then screen-printed t-shirts are your best bet, but sublimation might be the best for you if you want something more subtle and detailed. Sublimated t-shirts are typically more expensive than screen-printed tees because the process requires a lot of custom equipment. The price difference can be close to nothing, but companies need to keep it in mind when deciding on their apparel printing method. The cost of screen printing is calculated by the number of colors in your print, while sublimation is based on how many pieces you order.
Sublimation Compared to DTF or DTG Printing
The differences between sublimation and direct to film (DTF) or direct to garment (DTG) printing is pretty clear cut. Direct to film (DTF) is more or less a vinyl that is printed onto a film transfer sheet that can be pressed on to pretty much any type of substrate (it does not adhere well to some specialty fabrics). Direct to garment (DTG) is a vinyl type material that is printed directly onto a substrate, similar to screen printing.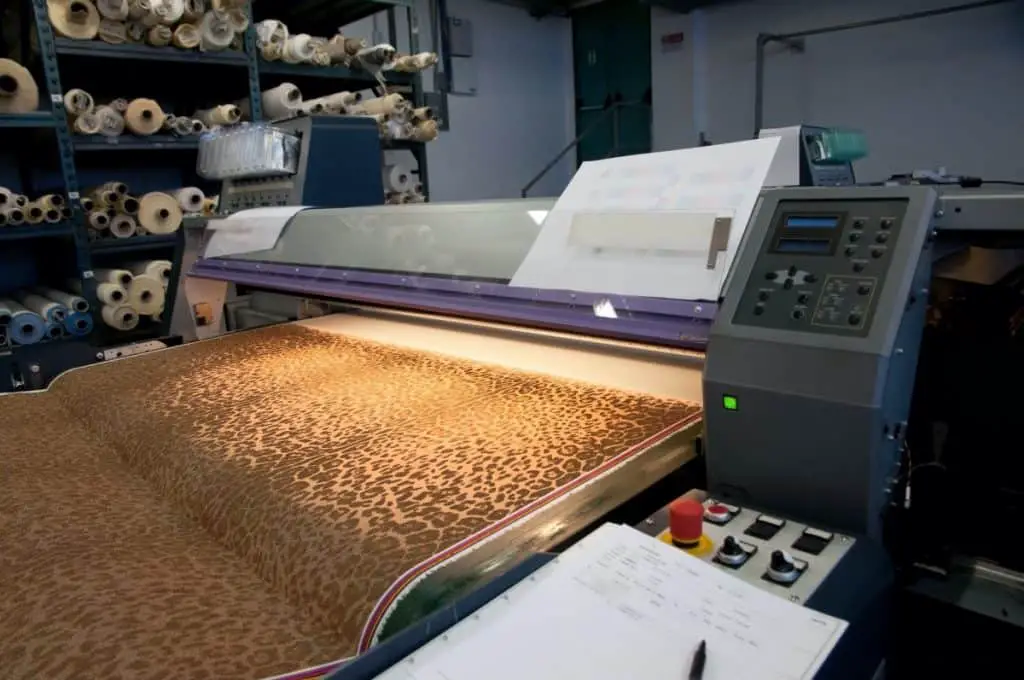 These two types of garment decorating require bigger printers (like these printers, you can also print white, with sublimation you can not print white) you also need more space and more equipment than sublimation. There is also the main difference of texture, with DTF ad DTG you can feel the image on your substrate, where with sublimation you don't feel anything. The other major difference is that you have to sublimate on a polymer based product, where as with DTF or DTG you can use a wide variety of substrates.
Conclusion
The cost of sublimation will depend on the reason: If you want a machine for personal use, the printer will be cheaper, but if it is for industrial use, it may be costly. You also have to consider that it is the cost of the printer and the ink, the heat press machine, and other supplements that may be necessary depending on the project you want to carry out. The most recommended thing is that, if it is sublimation for personal use, look for a company that can give you support, and if it is for professional use, make a list of what you need and compare different prices to see what best fits your budget.
Be sure to check out some other nifty functional craft ideas through our other posts here on Craft-ILY as well as checking out some videos on DIY and How To's over on YouTube. Look for "Crafting Unedited" or just click the name in blue to see!