For most the kitchen is the heart of the home. You want to have a warm, cozy feeling when you walk into ones kitchen and get that feeling of humbleness. There are many ways to create this feeling in the kitchen, regardless of the size.
One of the easiest and most inexpensive ways to create an amazing kitchen is with your Cricut machine. Cricut machines are fantastic for home decor, the kitchen being one of the places I have used it most. You can create signs, wall art, towels, pot holders and so much more.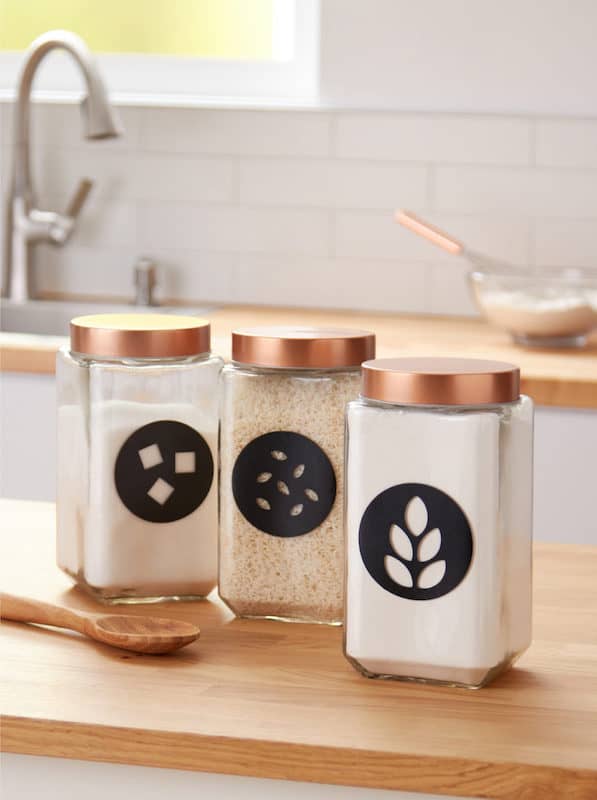 Cricut has become one of the number one ways to DIY decorate your home, with good reason. Their machines are easy to use and you can create so many different things, using many different materials. There is nothing wrong with buying these home decor items from a store but then they wouldn't be unique and original to your space.
With Cricut you can create a kitchen that is either, simple and modern, or bright, vibrant and totally one of a kind. I have seen some seriously wild kitchens created with a Cricut!
Ready to spice up your kitchen and create a warm, cozy and inviting space? I am going to give you lots of ideas to create a perfect kitchen that you and your loved ones can enjoy.
Signs
If you have walked into a Target, Walmart, HomeGoods or literally any other big box store you have probably been sucked into the kitchen decor isle at least once, am I right? Chances are you have seen some super fun and adorable kitchen signage.
You see when it comes to kitchen signs you can't just throw anything up on a kitchen wall, it has to be themed (in most cases). Farmhouse, chickens, apples, holiday themed, the Italian chef, the red truck and so many other fun themes that are out there, but most are not unique, they are very popular and lots of people are buying the same signs from those big box stores.
You don't want that, you want something original and unique to your kitchen style, right? Well all you need is a piece of wood, metal or even ceramic tile, some vinyl or paint and maybe some stain if you are using wood. I created a tutorial on How to Make Wood Signs with your Cricut so if that is the one you want to make check it out!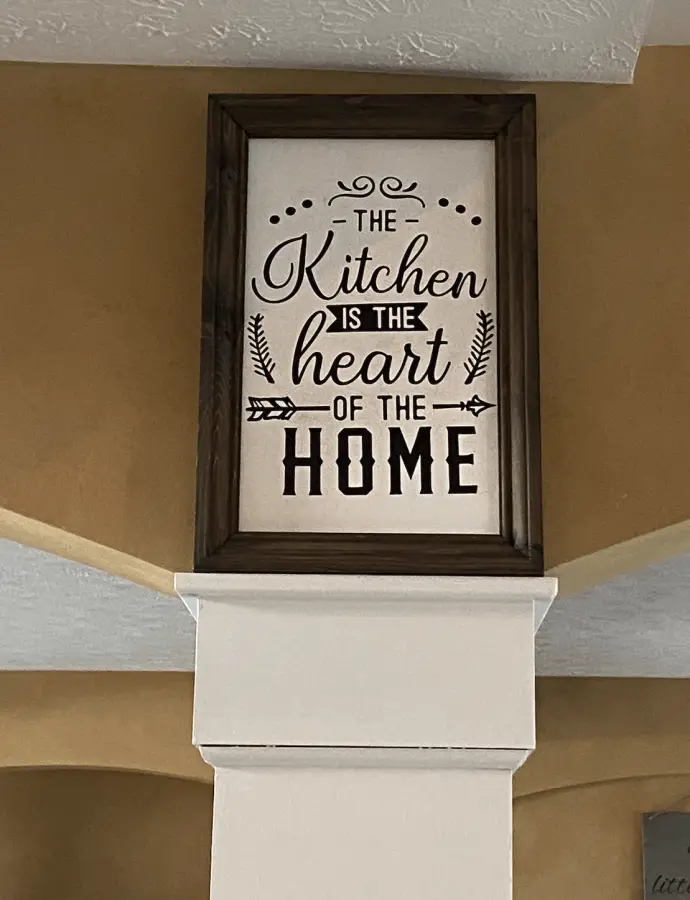 Some of the blanks that I recommend for making kitchen signs are:
Wood – for wood signs that are indoors I use a thinner wood, not the thick round pieces mentioned in the post I linked above. You can use basswood to create one of a kind shapes using your Cricut Maker then stain it or paint it and put a fun quote or decal on it. You can also find ready to stain/paint wood at you local craft store and on Amazon too.
Metal – when I say metal I am not saying to go out and grab a giant sheet of metal and weld something together, I mean a simple piece of metal. Sometimes you can find ready to create signs at Michaels or JoAnns or even on Amazon. I found these super cute mason jar shaped signs one year at Pat Catans before it closed down, these have two layers, one wood and one metal.
With metal you can paint (spray paint) or use vinyl on them for a super fun and unique project. Metal signs can go with both modern and vintage themed kitchens.
Ceramic tile – ceramic tile is a newer style of signs and usually these are made of smaller tiles because of the weight. You can use your Cricut to cut vinyl and apply anything you want to those inexpensive white ceramic tiles you find at Home Depot or Lowes or whatever store you get your supplies from. You can even paint them, then apply a decal to them for an even more unique look.
Towels
Kitchen towels are so fun because there are so many different things you can do with them. They can be used solely for decorating purposes or as functional hand or dish towels too. Having multiple purposes means more opportunity for unique designs.
For the decorative towels you want to make something that stands out and makes aa statement that it is only for decorative purposes and not to be used. I know in my home they will get used unless posted otherwise. Using your Cricut and some inexpensive hand or dish towels from the Dollar Tree means endless holiday decor year round! You can make a set of towels for every holiday, even the silly national ones.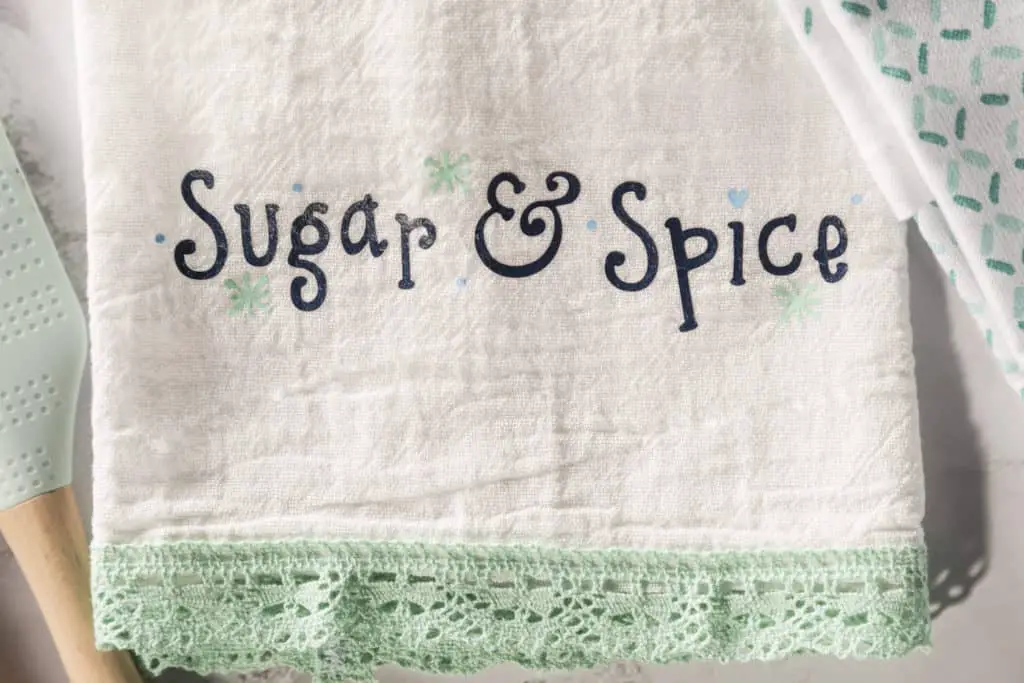 These are probably the simplest and least expensive way to spice up or decorate your kitchen. I get all of my decorative towels from the Dollar Tree, I buy a blank pack of 2 (sometimes I use the ones that have a print on them already and use my Cricut to make it more me), I also grab some pot holder (see next paragraph) and make a matching set. I use Iron on or HTV for these, it will last forever on the towels.
Pot Holders
Pot holders are the second least expensive way to decorate your kitchen with your Cricut. You can create a new set every season, holiday or just because. They also make awesome gifts too! Just like the kitchen towels these can be swapped out often, meaning you can use that Cricut to make all sorts of new designs. Make them to match the rest of the decor and have some for solely decorative purposes too.
A note for making these, make sure that the side that you are putting your image on is NOT used to pick up hot pots/pans. This is why using the ones you make for decoration purposes only is such a great idea. The vinyl will melt if the heat touches it. Just pay mind to that note!
Labels
Want to make it seem like you have your life together? Make some labels using your Cricut and some vinyl, put them on everything (maybe not everything, but on lots of things). Flour, tea, sugar, coffee, bread, cereal – you know all of the normal things but then take it to the next level and create some super cute labels, like eat or sit or drink (for the wet bar of course).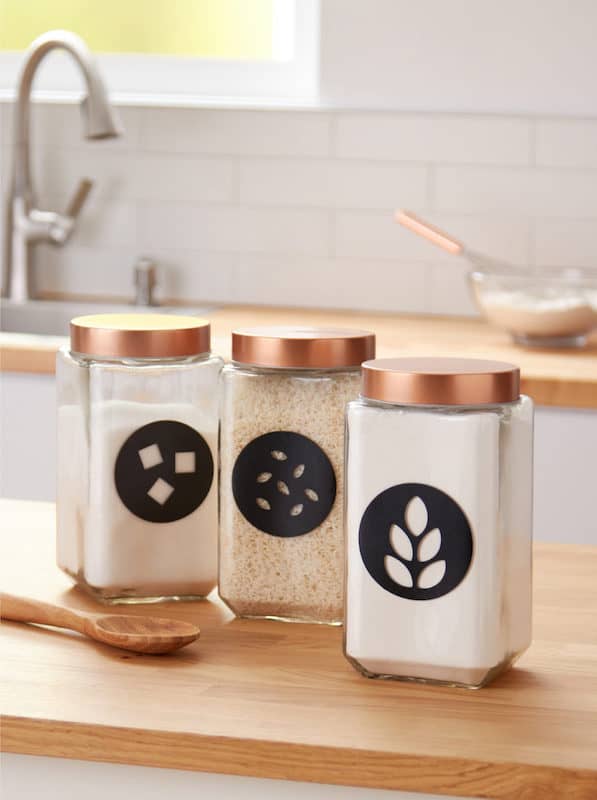 I have always thought that a fun home is a happy home, to me a fun home is one that the family living in it has freedom to express themselves and one super fun and easy way to do this is through things like fun labels and signs. Add a little flare by getting snarky or sarcastic with them, have fun with it. Use your Cricut to take that pantry from mess to organized and have it looking like a page in Better Homes and Gardens magazine.
Fridge Drawers/Storage
Fridge drawers and fridge storage are such an amazing way to make your kitchen look and feel more organized. You could have a crazy sink full of dishes but when you open your fridge to nicely arranged labeled drawers it all disappears, until you close the fridge of course!
Use your Cricut to pretty up those plastic drawers, you can also make shelf liner for the shelves using removable vinyl which in turn will make for easy clean up too!
Wall Art
One of my favorite ways to decorate is with wall art, but not just any wall art, wall art that was created with my Cricut. You can create beautiful designs, murals, quotes and more using vinyl and a Cricut. I have seen some stunning work done using Cricut to cut stencils, shapes, words even photos for walls. The beauty of this is you can create an accent wall that is 100% you and your style. Not something bought from the store and is possibly on someone else's wall.
Don't want to have anything permanent? No problem use removable vinyl or use your Cricut to create canvas art or wall art using picture frames. With a Cricut there is so much you can do for wall art.
Backsplash
Backsplashes are so fun! I haven't done this in my current home but will in our future home. Get you some basic white tile, or even just a solid colored wall will work too. Then get to your Cricut create any design you want from geometric, simple, swirls, whatever you want and cut it. If using the wall you can use that as a stencil, if using tile you will need to cut several designs and put them on the tiles before you put the tile up. If the tile is already up then it is still doable, just a little more tricky and time consuming.
Get creating!
These are just a few of the things you can make to create that one of a kind, perfect kitchen. There are many more things you can create with your Cricut machine for the kitchen and other spaces in your home. These are just some of my favorites.
If these ideas are not enough to get you to start sprucing up your kitchen space using your Cricut then I don't know what will. With a Cricut, some vinyl and an idea you can make any space uniquely you.
Be sure to check out some other nifty functional craft ideas through our other posts here on Craft-ILY as well as checking out some videos on DIY and How To's over on YouTube. Look for "Crafting Unedited" or just click the name in blue to see!