There are several ways to put an amazing graphic on a shirt, iron on vinyl, sublimation, printable iron on vinyl, DTF or DTG printing, and now there's another, Siser Easy Subli.
Siser EasySubli is a sheet of iron on type vinyl that you can print directly onto using your sublimation printer and sublimation ink to create a one of a kind, super graphic, and detailed image. Then you can use a heat press to press it onto the garment of your choice including cotton and other blends that otherwise could not be sublimated onto.
Want to learn more on how to use this magical product and be able to put your sublimation designs on to fabric other than polyester? Well, just keep reading.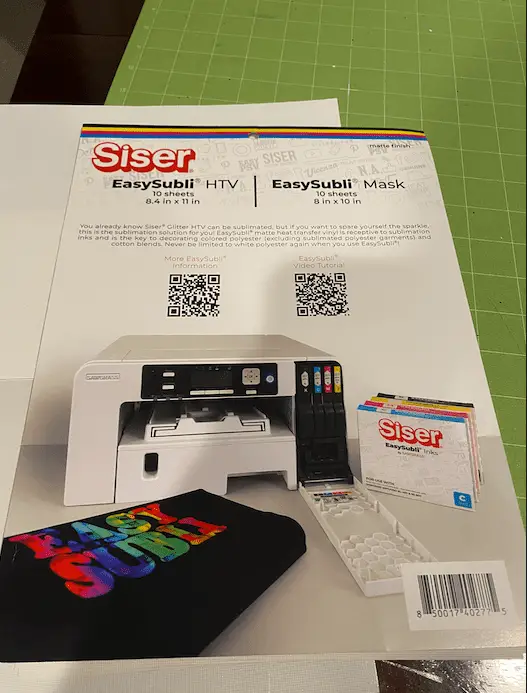 Benefits
Some may wonder what the benefits of using a product like Siser EasySubli. The answer is simple, there are so many benefits to using EasySubli. If you are a veteran crafter and have been making shirts using iron on vinyl you will immediately see the benefits. If you are new to the shirt making industry then let me explain.
Sublimate on Cotton
When it comes to sublimation one of the biggest complaints is that you can not sublimate onto cotton. This is due to the fact that the specialized ink will not absorb into the cotton fibers as it does with the polyester fibers. Many people do not care for the feel of polyester, therefore you have to be able to adapt and still get the images they want on a different type of fabric or material.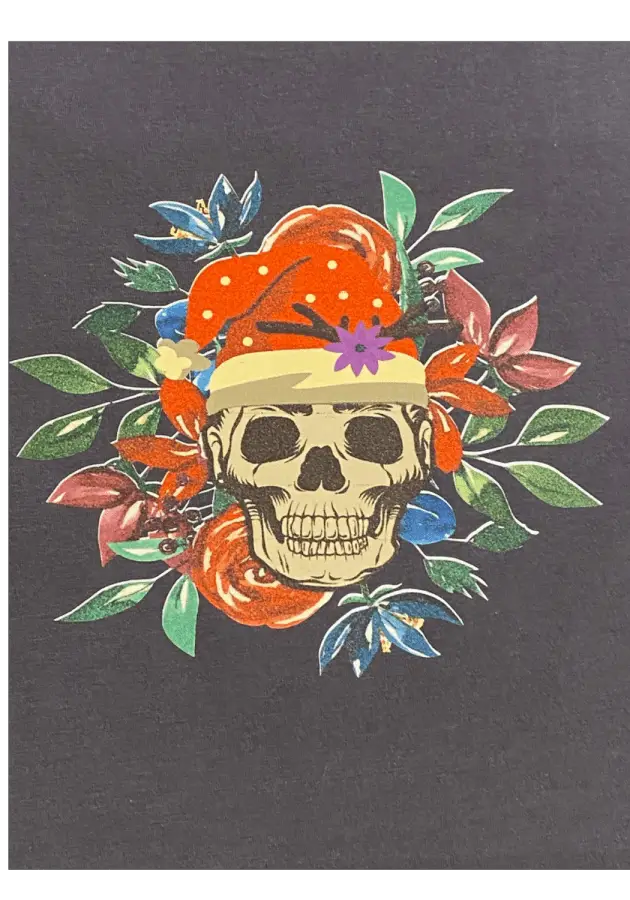 Using Siser EasySubli is going to be the closes thing you will get to sublimating onto cotton. There are other ways to doing this, which you can learn about here – How to Sublimate on Cotton but Siser EasySubli has the least amount of microns, which gives it less of a feeling of the material on the garment.
Soft Feel
Siser EasySubli is really soft to touch, it is also very flexible and has some stretch to it. This is great for more of a true to size garment or more form fitting shirt, this way the image is not being stretched out and doesn't peel after washing.
Many will say that iron on has a very thick and heavy feel, it does because in order for the colors to be vibrant and the adhesive to be long lasting it has to be thicker. Some iron on companies have done really well at getting the iron on thinner and less hard feeling.
To avoid this rough and thick material feeling, use Siser EasySubli, it presses smooth, does not crinkle, peel or fade after washing.
Lasting
Once you sublimate on Siser EasySubli it lasts. You can wash and dry the garment as you would any other garment and it will not fade, peel or crinkle. The adhesive is very strong on this product and it will last through the lifetime of the garment itself.
Remember to never iron directly over the Siser EasySubli, that part of the garment needs to be ironed inside out or not at all. This is one way that Siser EasySubli is similar to iron on vinyl.
How to Use
Siser EasySubli is pretty simple to use. It is very similar to printed iron on and regular iron on vinyl. Here are the exact steps to follow to get the best print from your Siser EasySubli. Including a list of what is needed and links to get my highly recommended products.
Materials needed:
Siser EasySubli sheets or roll cut into sheets for your printer
Cricut Machine or other cutter
Lint Roller
Design
Now that you have your supplies you can start designing. You have a couple of options for your images, you can create your own if your artistic enough or you can purchase them from places listed below:
Here are some super useful sites and tools for getting your images free of copyright issues:
Design Bundles – designbundles.net offers thousands of SVG's sublimation images, brushes and fonts for ProCreate and so much more. The inexpensive monthly plus plan is the best way to go, you get tons of free credits to purchase their "plus"products that come with the commercial use license.
Design Space/Cricut Access – If you use Cricut you have access for $11/month to thousands of fonts and images as well. I always search Design Space for what I am looking for first, this way I don't have to go through all the steps of uploading and what not.
I also use JPIBlanks.com for images often as well. They design the images/files themselves so the copyright is released when you purchase the image/file from them. Sometimes they will even do a coupon code for free images!
Be sure to check out some other nifty functional craft ideas through our other posts here on Craft-ILY as well as checking out some videos on DIY and How To's over on YouTube. Look for "Crafting Unedited" or just click the name in blue to see!
If you are not artistic you can use Cricut Design Space or any other cutting software to upload your image and create a print then cut image. You can find the instructions on how to do that in this article – Cricut Beginner Projects – Print Then Cut
Print
Once you have decided on the image you can print.Before you print on the Siser EasySubli I recommend doing a test print for every image. Siser EasySubli isn't super expensive but it is not cheap either. Run a test print on regular sublimation paper or even just printer paper first. Remember to mirror!
After you have tested your print you also need to verify which direction to put the Siser EasySubli, once you have confirmed which side your printer prints on you will load the Siser EasySubli so that it is printing on the rough side of the sheet. DO NOT PRINT ON THE SMOOTH SIDE, it will be a huge mess.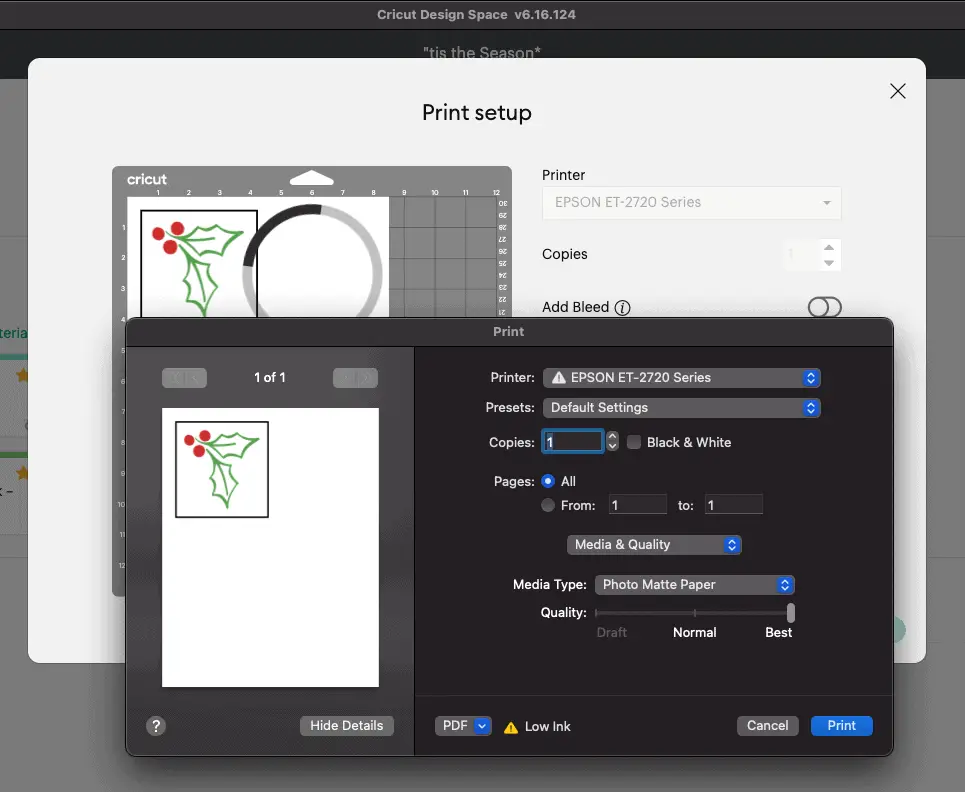 After you have printed your image on the Siser EasySubli you will need to allow dry time. You can put it under the preheated heat press for about one minute or you can let it sit for several hours. Do not try to press while it is wet. Again, you will have a mess.
While you wait for it to dry you can start prepping. Once your image is dry you will need to weed out the unwanted areas of the Siser EasySubli just as you would iron on vinyl.
Cut
After you have printed your image and it has dried you will need to run it through your cutting software. Remember to mirror your image! You will use the setting for printable iron on in Cricut Deisgn Space and the same for Silhouette Studio.
Prep
Prepping the heat press and garment you will be pressing is very important, this will avoid many ghosting and shadowing issues.
The first thing you will want to prep is the heat press. You need to preheat it to 385 degrees and set the timer for 60 seconds.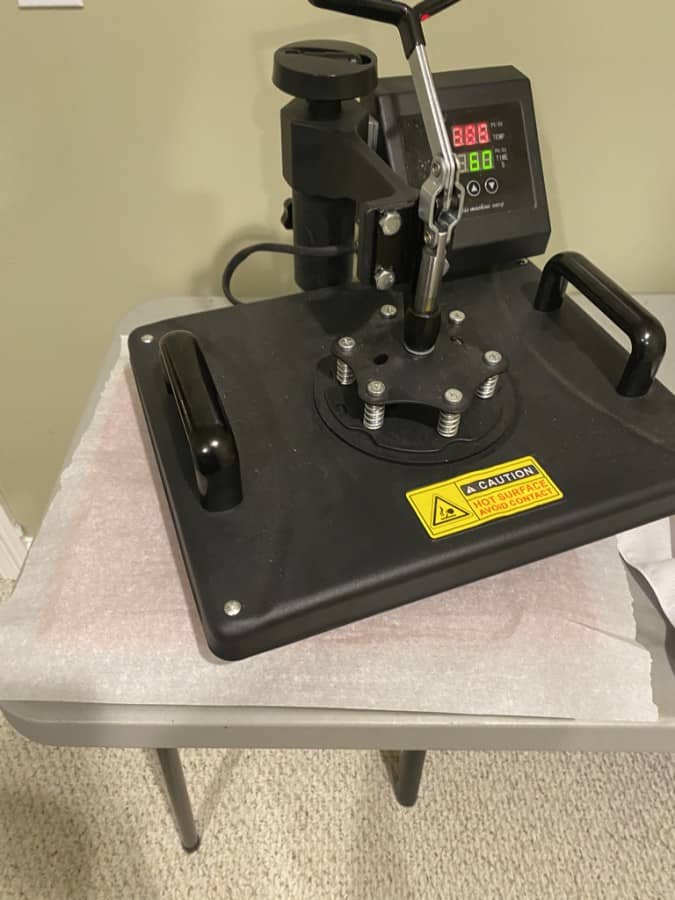 Then you will need to prep your garment, first you will use the lint roller and remove any lint or other debris from where you will be pressing. Then you will need to prepress the garment. Using your heat press place the garment on the platten with the general area of where you want your image to go and give it a 3-5 second press. Then release and leave it.
After the garment has cooled from the prepress you will need to place a sheet of butcher paper inside the garment to avoid any issues with the image bleeding through during the pressing process. Unlike with regular sublimation you don't have to do this but I do recommend as it is better to be safe than ruin a garment.
Press
Ready to press! Now that you have your image designed and printed and your garment is all prepped you are ready to start pressing.
Take your image and remove it from the backing sheet of the Siser EasySubli. If your design is simple with only one piece you can pull it right off and place where you want on your garment. If your image is really detailed you will need the Siser EasySubli Mask.
To use the mask you will simply place the mask sticky side facing the back side of your image and use a felt scraper to smooth it out and remove any air bubbles. Then you can peel the backing off and place on your garment.
Then you will use a piece of heat resistant tape to hold your image into place (use only a small piece or you can skip this if your confident it won't move) you can also use the mask to stick it in place. Cover the mask or EasySubli with a sheet of butcher paper and press for 60 seconds with light pressure.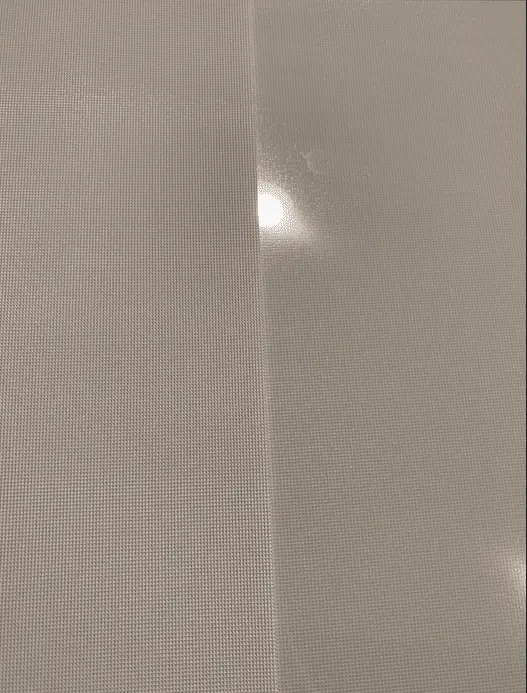 Cool
After you press the image and garment will need to cool. Remove the butcher paper and garment from the press platten and allow to cool. After about 5 minutes you will be able to remove the mask and your garment will be ready to wear or send off to it's final destination!
Final
Now that you know the benefits and process of how to use Siser EasySubli, order you some and get started creating! Remember the process can be a lot of trial and error based on your heat press and printer. These are the steps and processes that have worked successfully for me.
Be sure to check out some other nifty functional craft ideas through our other posts here on Craft-ILY as well as checking out some videos on DIY and How To's over on YouTube. Look for "Crafting Unedited" or just click the name in blue to see!