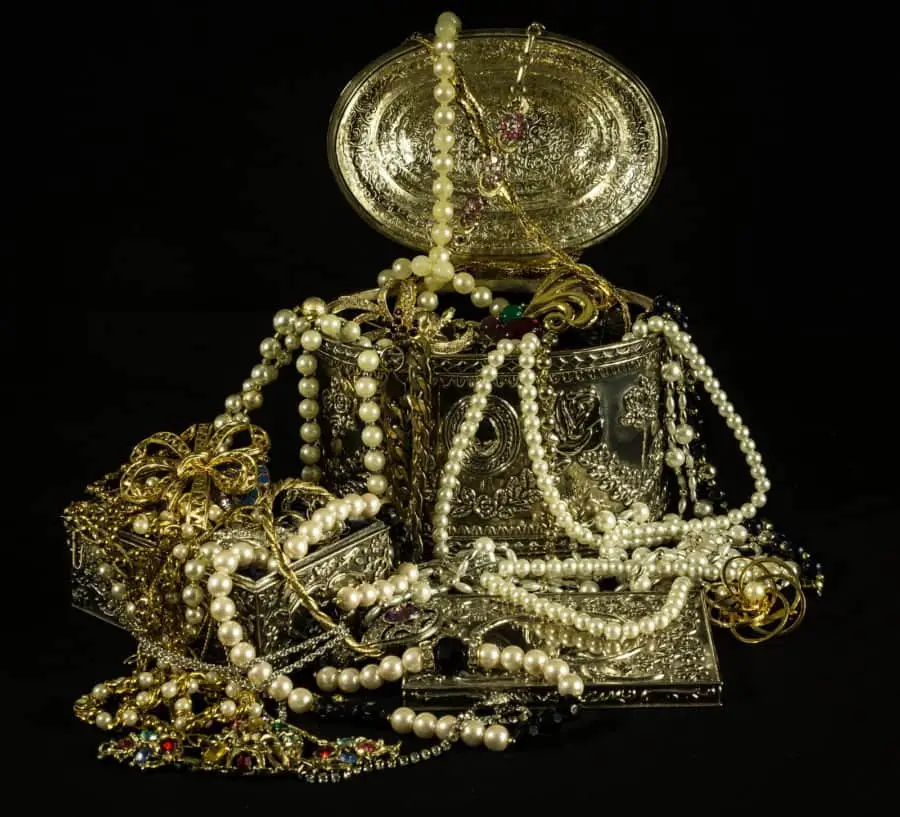 Everyone has a signature style or look. Even if our closets share some of the same pieces, we all have a unique way of making those pieces our own. One such way is with jewelry. It can be real or costume, but it's such a fun way to dress up (or down) an outfit. 
It's fun to be able to adjust your outfit with jewelry. I'm a firm believer that every lady should build up their own jewelry collection with both fun and elegant pieces. Jewelry is just as a part of our style as the clothes we wear or the way we apply makeup. 
So, what are the staple jewelry pieces every woman should have in her jewelry box? The basics to start a jewelry collection begins with a simple pair of diamond earrings, traditional hoops, long chain necklaces, pearls (duh), a classy watch, a casual watch and staple rings.
Diamond (or Cubic Zirconia) Stud Earrings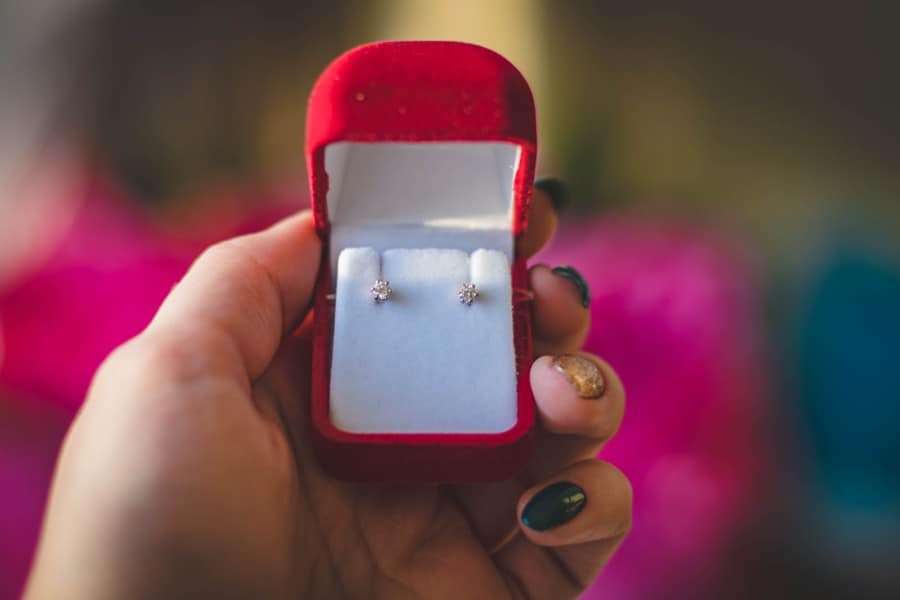 Diamond earrings with posts. These are simple and elegant. Diamond earrings are perfect for basically any and every occasion. They are appropriate for most workplaces and any type of event you can imagine. Sweep your hair up into a neat updo and you are ready for a night out on the town or drop your hair down and you're ready for a trip to the mall. The possibilities are endless because diamond earrings are so amazingly versatile.
If you're looking for an inexpensive option, check out the pair I found here on Amazon. With this set you get three looks for the price of one! If you are a gal with multiple ear piercings, this is a great option as you can stack them for a pretty subtle day look. 
Long Chain Necklace
Personally, I prefer long chain necklaces over short chained ones. These are easy to pop over your head and depending on the length you can layer. Necklaces can be a fun way to add some color or a specific style to  your outfit. You can keep it simple with a long plain gold or silver chain. Or get funky and add a pendant or jewel. These make a great addition while being subtle. These types of necklaces don't have to be as obvious as other pieces.
Long chain necklaces are great, they can finish off a plain look and take it to a whole new level. There are many different types of long chain necklaces, lariat necklace is one of my favorites. They have such a fun look all by themselves that there is no need to layer or worry about switching it out for a fun night out look! I found a great one on Amazon that you can check out here.
Hoop Earrings
Hoop earrings can be very sleek and stylish. Hoops are also very versatile. They are available in a ton of different styles,sizes, and colors. There are large ones for your bohemian look or small simple ones if you're wanting to be more elegant. The range of variety these come in is huge! So many different looks can be accomplished depending on the type of hoop you choose. I remember a time when the bigger the hoops the cooler you were was a thing, while that is no longer the case, hoops are definitely still a major must have!
Fun Fact: Hoop earrings are one of the oldest accessories in existence. They originated in Africa in 2500 B.C.! Hoops started out as a way to identify tribal members and status. Through our history, hoop earrings were worn by several cultures (Egyptian, Roman, Greek, Latino and so on).  Today, hoop earrings are worn by men and women of different ages and ethnicities. They began as a symbol of status and are now a favorite accessory worn by people all over the world today! 
Pearls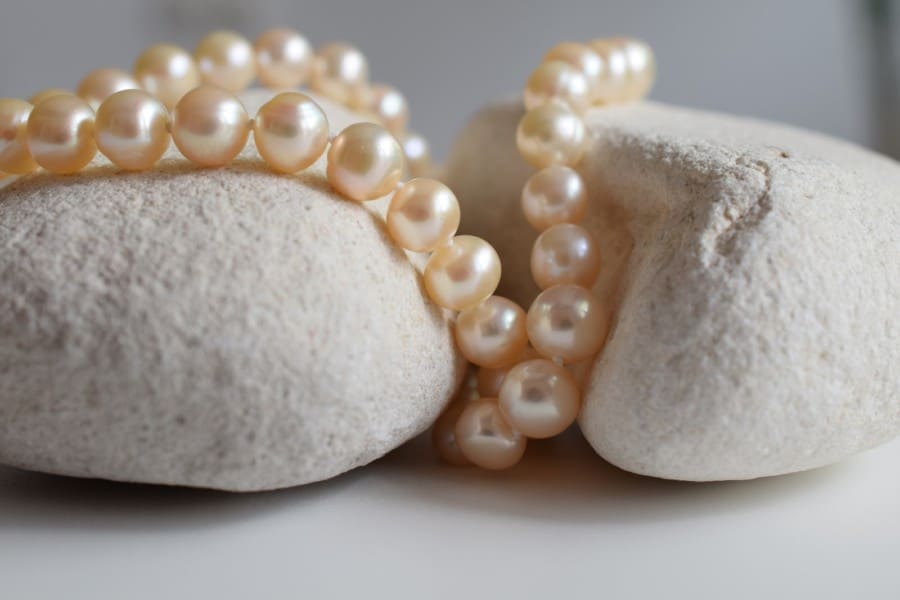 I know what you're thinking, pearls. Pearls are expensive. They're too nice. When could I possibly need to wear pearls? My answer for you is easy. Any time you want! Dressing up, pearls make an amazing addition. Going to a wedding? Great, throw on your pearls. Going to a fancy schmancy work party? Add a strand of pearls for a touch of elegance. Date night dinner? Grab those pearls and flaunt their simplistic beauty! It doesn't have to be a strand for your neck, you can have a pearl bracelet, earrings or even a ring!
Having a great strand of pearls in your collection is necessary in my opinion. It doesn't need to be anything insanely expensive but you definitely want to watch out for those super inexpensive pearls as they are just painted beads and peel very quickly.
A set is the best way to go, you can mash it up in other looks or wear it as the set for a very elegant look. Amazon has some great pearl sets and I found a gorgeous and wallet friendly one. You can see it here. 
Watches
Every gal should have herself a watch. Nowadays there are so many options for smart watches. But if you don't want to spend that kind of money, don't you worry. There are tons of options for basic generic watches. Large faces, small faces, round faces, square faces. There are watches with thin bands and thick bands. The styles available are plentiful! 
This accessory is necessary because it can help tie an outfit together and is also functional. Sometimes we have to leave our phones behind (sadly not every outfit has pockets) and it's nice to be able to check the time. Don't leave this important accessory behind!
The fun part about watches is that you can't have too many. You can have multiple to be ready for any occasion! Some of the really fun new styles incorporate a bracelet style band and they are pretty amazing! This is what they look like.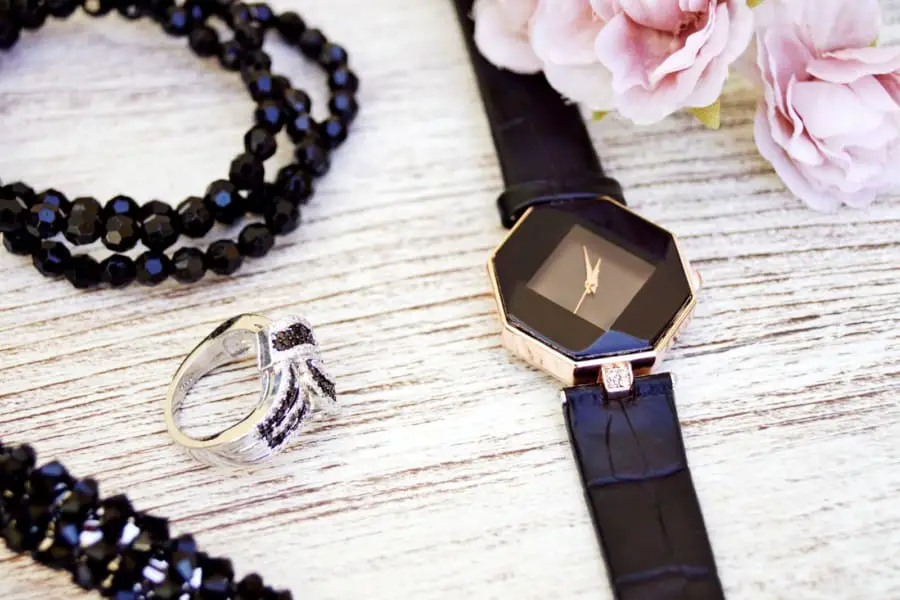 Watches can be just as fun as any other jewelry piece, you can dress them up or down and have them completely match your whole accessory ensemble!
Some Rings
This accessory is one of my favorites! Some simple rings (not just your wedding rings, though they are beautiful) can add the right pop of color or a bit of sparkle to an ensemble. There are plain bands and some really wildly designed bands. I'm a fan of plain bands with a single stone or jewel. And just like with bracelets, you can layer your rings. Don't be afraid to jazz it up with a bold piece as well! 
Time to Build Your Collection
 Now that we have our list, it's time to build up that collection! Don't kill your bank account. If you're in a place to spend tons of money for the top of the line products, go for it. But if you don't (like me and many others) there are always inexpensive options available. Department stores at the mall have great options with a wide range of prices.You can fancy pricey stuff or the inexpensive stuff (they even have stuff organized by color if you're looking at the costume stuff), this is where I like to buy mine. 
Wal-Mart, Target, and Amazon are also great sources. These places also have amazing options, from high end to low end. There really are options for every single budget, you can make your own or support a friend or small business if you know someone who makes jewelry it is a fun way to spice up your collection with customized pieces! This is one of my favorite ways to grow my collection.
Happy shopping and styling! Flaunt your style with your favorite pieces!
Be sure to check out some other nifty functional craft ideas through our other posts here on Craft-ILY as well as checking out some videos on DIY and How To's over on YouTube. Look for "Crafting Unedited" to see!