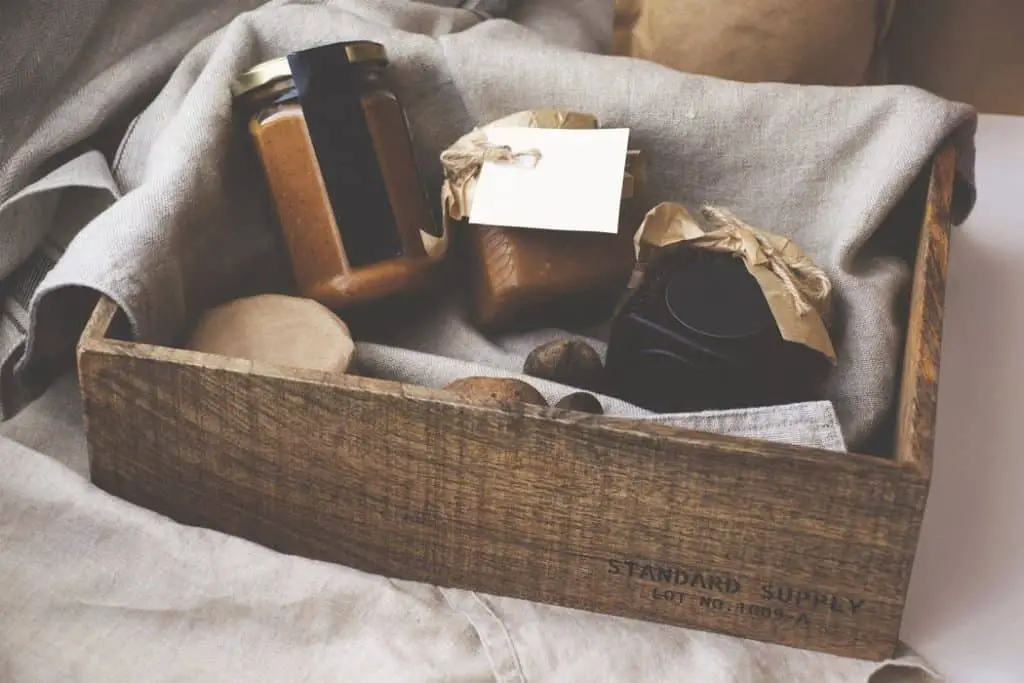 Painting, drawing, and crafting in general is fun. But it can be more than just a hobby. You can create functional crafts just to do it to avoid boredom or you can create things to use or decorate your home! These are my favorite type of crafts for several reasons but mainly because they are typically the easiest and most fun to do. 
You are probably wondering what a functional craft is, right? Well a functional craft is one a craft that goes well beyond just looking neat and pretty, it is useful! Have you ever gone to the craft supply store for a handful of things and walk out with a cart full? Yep, that's me too, pretty much every time I go in. Target and craft supply stores are my frienemy. Especially those dollar sections. I love to snag stuff that doesn't cost a lot and turn into something that fits my home and my style. So I basically can't go in without spending $40.I can't help myself when it comes to this stuff the ideas just run wild! My mind is like "we could totally use this, oh and I can add this to it to make it look pretty and unique"! 
Now let's talk about some of my personal functional crafts that have made life prettier and a bit more organized. With two little girls running around I can always use something functional and pretty. 
My first functional craft involves a small crate, some glittery letters and a hot glue gun. Hot glue guns are super cheap on Amazon, you can check out the one I use here and refills for them are usually in the dollar bins at local craft stores, Dollar Tree or even in bulk on Amazon! I also like to stock up on pretty letters when I find them for low cost because I find myself making signs for random occasions (I blame my kids). This time of year is perfect for stocking up on sparkly things. To make this cute bin, it was very simple. Once you find the crate or basket you like you just glue the letters onto it. What is also fun, is if you don't like the color or just want to switch it, you can paint the crate before hot gluing on letters. The crate I found isn't available anymore but I found one similar on Amazon here is the link if you want to try it!
***Tip: If you have left over paint samples, you can repurpose it: paint your mailbox, or picture frames, or a custom shelf. The possibilities are endless. Anything you might need some paint for, just use those leftover samples!***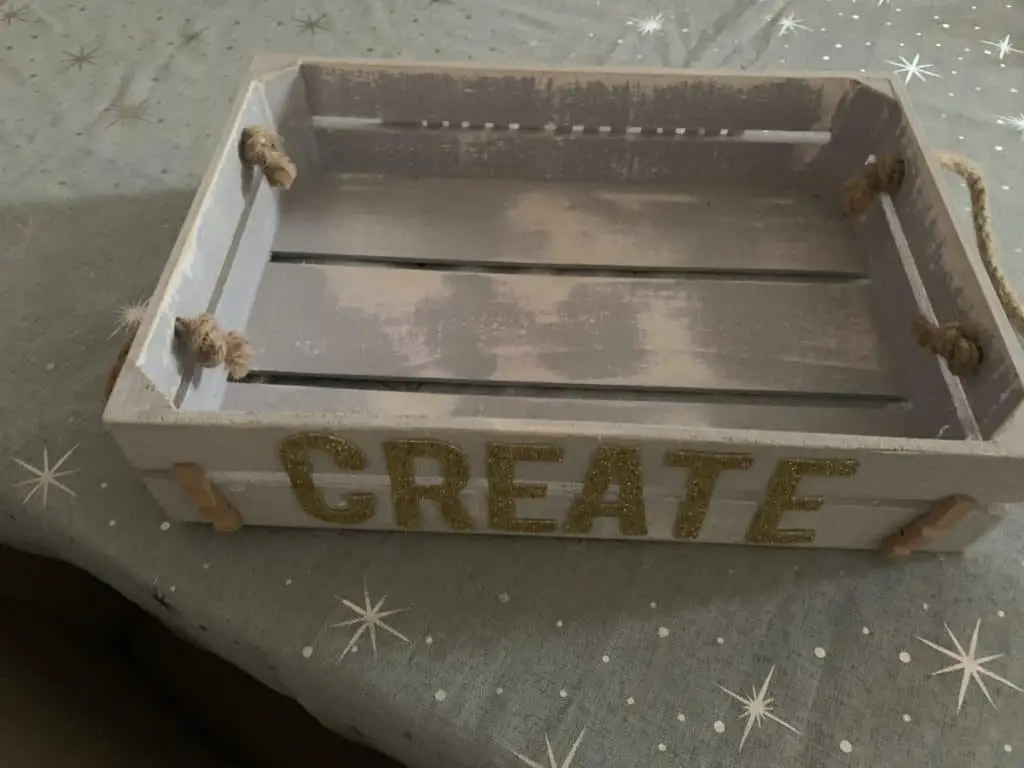 One of my favorite things to have in my home is pictures. It feels like we NEVER have enough frames. The ones I like, are usually too expensive so I only buy them occasionally (you know, when they're on sale or when I have a coupon or both). My husband and I are also the biggest procrastinators when it comes to actually hanging them. We get there, just slowly. However, our handy dandy supply stores (Michael's and Hobby Lobby are my go tos) have all sorts of wooden frames for just $1 -$2. I also LOVE painting. I'm not super amazing at it, but I really love it. It's relaxing and I feel like you can do some much with paint. So when you pick out your frames, grab some paint (water colors, acrylic, leftover samples, whatever you want). Set up a little area for yourself and just create. I use watercolors and acrylic mostly just depending on the look I am aiming for. It's really a fun way to be creative and have fun with decorating. Below is one of my favorite frames. I purchased it at Michaels. The additional decor on it was also from dollar bins (you know the ones you pass on your way to check out) and hot glued on.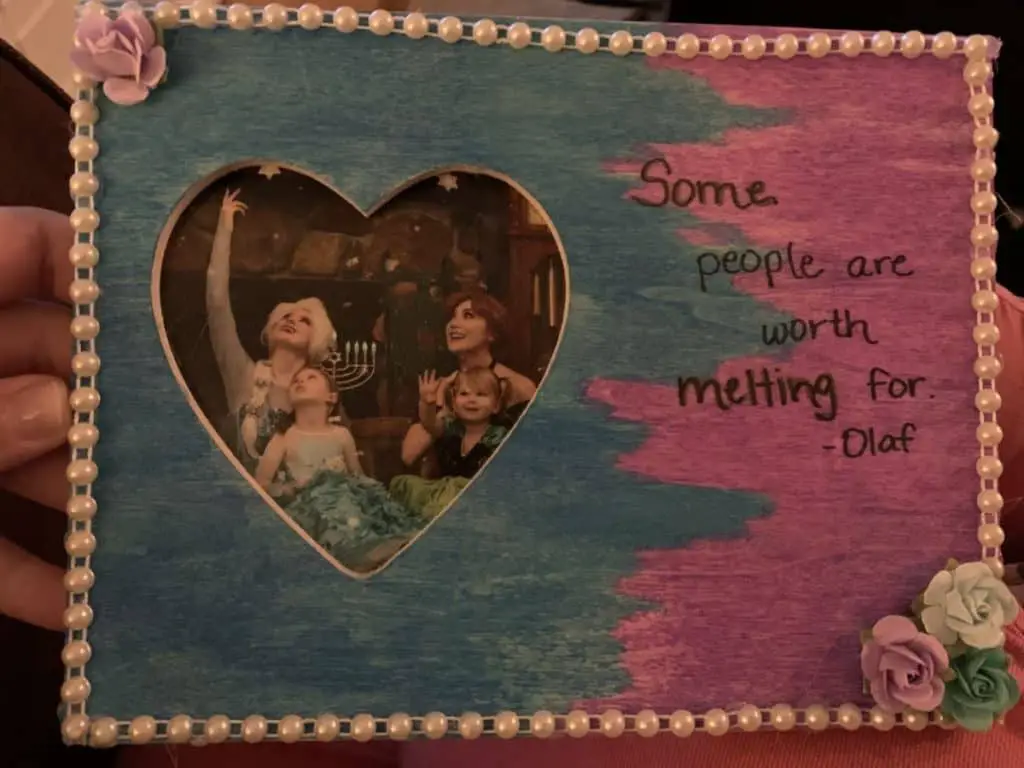 My next one is for the little girls! I remember when I had my first daughter, I was so excited! I couldn't wait to dress her in those cute dresses and those adorable bows. I had all these visions of how I wanted to style my sweet girl. Plus, clothes are one of the most common gifts to receive when you're expecting. A baby can never have too many clothes right? But little girls, they get bows and clips. And when you have a little girl, you go through an absurd amount of hair bows (like soooo many!). Now new babies usually wear the bows that go around the head (I guess head bands would probably be the technical term) but as they grow more hair, you get to use the ones that are clips. Now, how are you supposed to organize those cute hair clips? You make a bow holder of course! I made mine after my first daughter and got to pass it on to my youngest. And soon will go to my niece (a gift that keeps giving!).
This bow holder is super easy to make. You just need a canvas or something for the back. You can use a traditional canvas (like the ones used for painting), or burlap, or even a wood panel.They come in a variety of sizes and shapes depending on what you use. Make sure you take the space you plan to hang it into consideration before you buy your backing. You don't want to get something too big or small of the intended space. I prefer one that is square over rectangle (I like even lines), but I don't think shape matters. I found a 2-pack burlap one from Target and it was on sale (you know I'm all about getting supplies on sale!) Once you decide on your backing, you need to pick out some ribbon, yarn, or string (I chose ribbon because I  enjoy the look of ribbon and it's wide enough for the clip to hold onto). This will serve as something to clip the bows onto. Lastly, grab any extra decorations you want. Don't forget your hot glue gun! 
Now, let's make a bow holder! Measure two to three strips of ribbon, yarn, or string to be the length of your backing. The wider the back, the more strips you may want to cut. Using your hot glue gun, glue one end of the ribbon to the top of your canvas and then glue the other end on the bottom, leaving the middle free of glue so you can easily slide your bow clips on and off. Then decorate! I glued some flowers on the corner because I love flowers. This is where you can get really creative! If you use a canvas or wood, you can paint it to match the child's nursery. You can glue flowers (like me) or do jewels or ladybugs or butterflies (not real ones of course). There are so many options available! Get creative, design it and hang it in the perfect spot.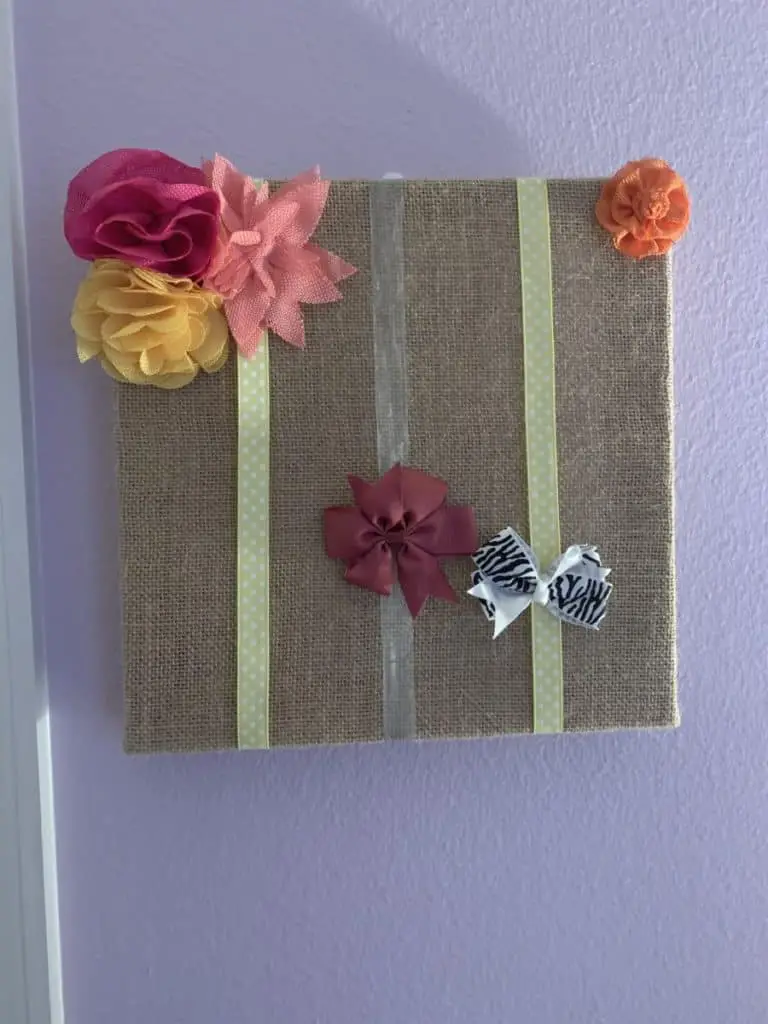 Now, I cannot offer help for the bow clip droughts. We sadly go through bows pretty quick. As your daughter gets older and decides she can pull her clip out, some clips may get misplaced. Sometimes they don't come home from school (as you can see from my picture, we're in the middle of a bow clip drought) or we find them randomly throughout the house. The older my kids get, the more random the places I find bows. 
As you can see, you can craft and create with purpose and it doesn't have to be part of a major renovation or be something that just takes up space. It's very simple to create functional crafts for your home. Before I purchase things, I think to myself "is this something I can do?" and "do I have the time and money to do it?" If the answer is yes, I get to planning. I explore Google and Pinterest (it's addiction in and of its own). Then I make my list of supplies. Once I have everything, I set aside some time and get to making. There's something so satisfying about making things for my home. I think it adds an extra touch of personality to our home.
Be sure to check out some other nifty functional craft ideas through our other posts here on Craft-ILY as well as checking out some videos on DIY and How To's over on YouTube. Look for "Crafting Unedited" to see!