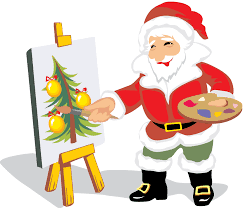 Christmas Crafts!
This is the time of year that everyone is stressed about money, about gifting, holiday parties and more. More importantly, it is the "Most wonderful time of the year" yes I just sang that as I typed it! Just as you probably did too. There is a lot to be happy about around this time, I mean come on! There is the extra family time for the holidays, the giving and receiving of gifts, time away (hopefully) from the 9-5, lots and lots of delicious treats and food and for me, I get to really dig into my creative mind! You don't necessarily have to go out and spend tons of money on gifts for everyone, besides, the best gifts are ones from the heart! So let's chat about how to get creative with your gift giving and how you can make some really amazing and personal gifts that won't break your budget!
Why you should I make a gift and not just buy one?
Well friends the obvious reason should be that the most special gifts come from the heart. The best presents are the ones that make a person think about what the receiver would adore or cherish for long after the holiday has passed. My personal opinion is if you take the time to make a gift or even buy part of and make part of a gift I am going to value it way higher than something you just grabbed at the store that has very little thought and meaning behind it. Either way I would be thankful you thought of me but I'd rather have something special!
Think about it, when you were a kiddo at school and you made a special ornament for Mom or Dad or even the grandparents? When they got it they were so happy and I am telling you from a parents perspective, I look forward to that handmade ornament every year!
One other reason you should create rather than buy is the cost. Sure buying all of the supplies at full price could definitely run you a pretty penny BUT if you do it right and get the deals, use coupons and wait for the right time you can save an incredible amount of money. 
What gifts you can make (even if you aren't super creative)
There are a ton of ideas all over Pinterest for Christmas crafting. I have included a few links for some of my favorite ideas just in case you weren't feeling the searching aspect.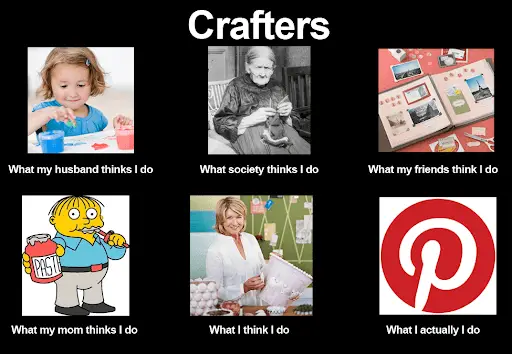 I have made several of these crafts in the past, however I do not have any photos of the process unfortunately. I can tell you that the ones for the kids are so much fun and of course the wine cork ones too because you get to drink the wine in order to get the cork!! The ornament wreath is my favorite and is currently hanging on my door.
Also, here are a few that a good friend and partner blogger of mine Samantha Ruffkess did with her kiddos recently! She's pretty creative and has two adorable little girls so I just know they had so much fun! 

My first craft for you today is watercolor dreidels (or christmas trees or ornaments). It's such an easy craft and the mess is very minimal (I actually set this up for my kids and had them painting while I made dinner). All you need is paper, a pencil, scissors, and watercolor paints.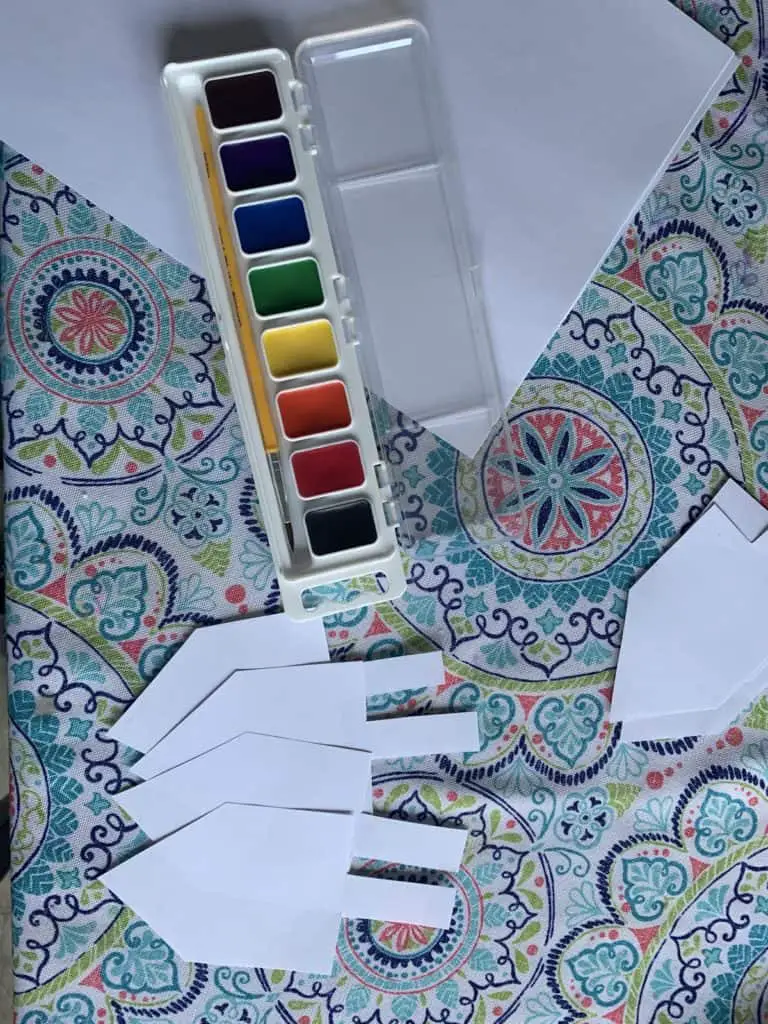 The first thing you're going to want to do is draw your dreidel (or whatever shape you want) onto a piece of paper. I used white printer paper (because that's all I had other than construction paper), but whatever paper you prefer for water colors is fine as well. After you draw your shapes, you will need to cut them out. I made ten dreidels, four for each kid and two for me (I paint slower than they do). Depending on your child's age and how much you trust them, you may or may not want to lay down some newspaper (my kids are young so newspaper mats were a must).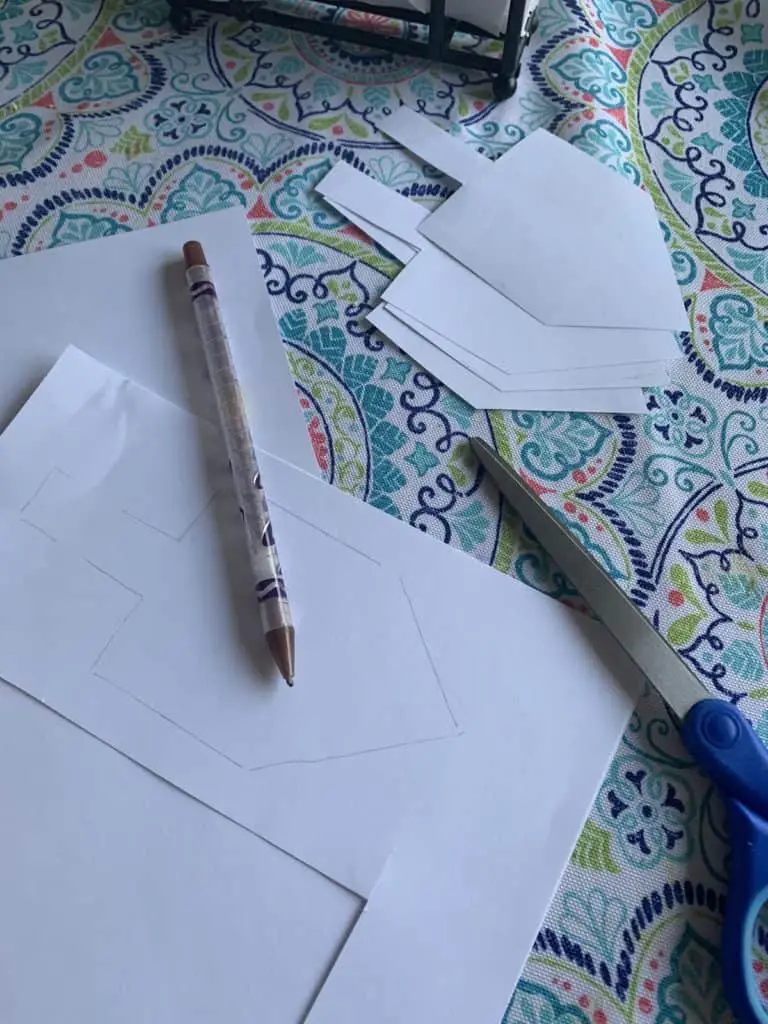 So, I prepared their work areas: laid down newspaper, opened their water color kit, gave them a plastic cup with clean water, and their handmade dreidels. My only instructions were to not paint my table and to have fun, paint your dreidels with color. It was perfect! They painted while I made dinner and since it was water colors, there wasn't really any mess to it!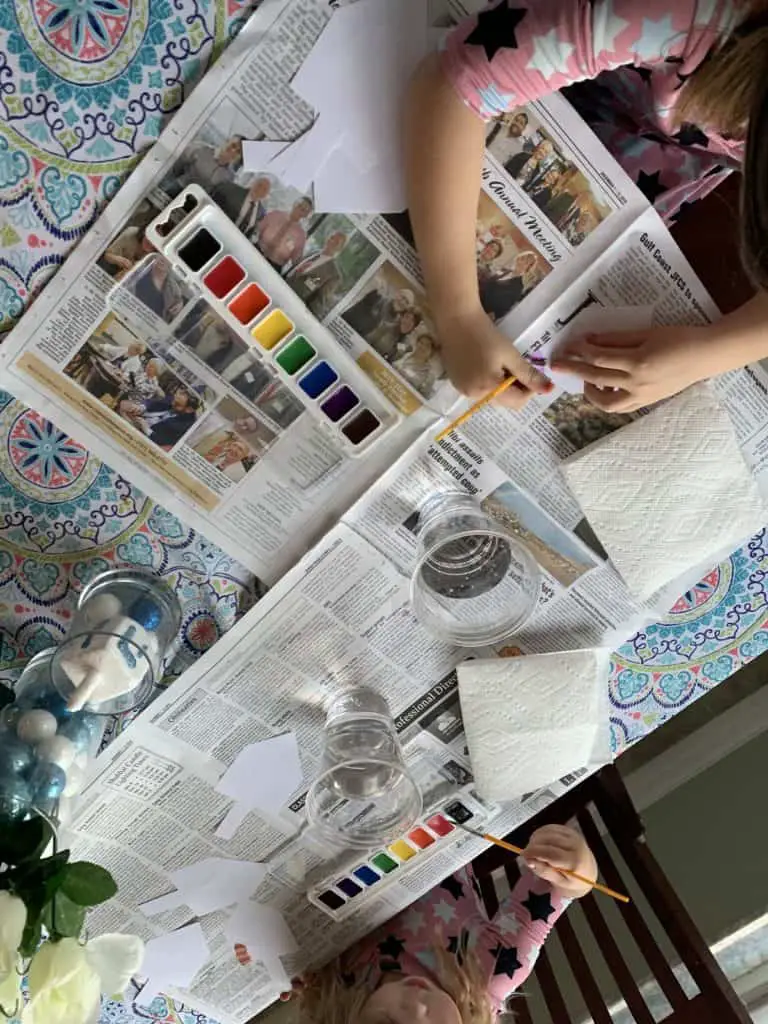 Now if you're feeling extra crafty, you can punch holes into your shape, tie it on some ribbon or string and BAM you got yourself a one of a kind handmade garland. That's what I'm going to do with mine, just need to decide on ribbon color.
My next craft (or crafts) involves popsicle sticks! I love popsicle sticks. You can do so much with them. Elmer's Glue (though I prefer a hot glue gun for a better hold) and popsicle sticks, you can get both at Michael's or any craft store. Just a little glue with your popsicle sticks and you can create a Star of David or a Christmas tree, even a snowman (it's on my list to make) and of course a picture frame! I know my kids' grandparents LOVE stuff that the kids make for them! If you're adventurous, you can even let your kids create their own shapes! The kids can paint them, add some glitter glue (if you don't mind always finding glitter everywhere no matter how much you clean), add some poms, or buttons or jewels. This is where the kids can really have fun and show their artistic side.
Where to find ideas?
The absolute BEST place to find ideas for your Christmas crafts is on Pinterest, hundreds of thousands of ideas! Literally anything you can think of, you can find on there with instructions too. Other than Pinterest there is also Google, which will more than likely pop up with links to Pinterest or you can also look up some crafting groups on Facebook for ideas. 

Another option you have is to hit up your local craft store, Dollar Tree or even Amazon for some of those fun kits like these!
Budget Them!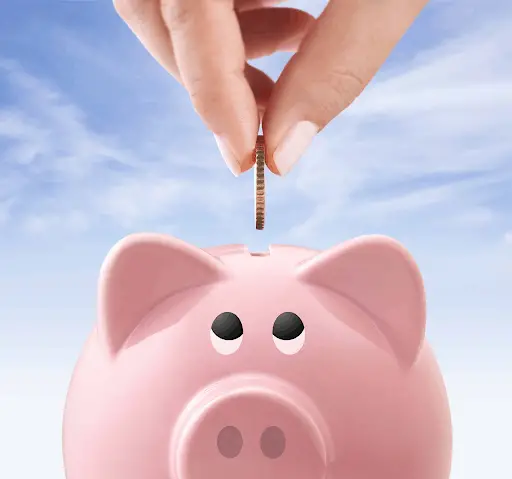 Now we all know the season can and will be VERY stressful as we try to manage everything and check off our lists on top of our normal day to day lives but this is the season for fun and giving. Crafting is a great stress reliever believe it or not! It creates a sense of happiness and accomplishment when the craft is completed. 
So how do you budget for your Christmas crafts when you've got a ton of other priorities piled up? Well, there are a couple of ways and I will let you in on my secret.
First you can try places like your local Dollar Tree, Craft Store, or department stores like Target and Walmart for supplies. Personally and my secret is, I love the Dollar Tree for fun stuff like this, easy on the wallet and the possibilities are endless. Craft stores have endless possibilities as well, however they are not always easy on the wallet (unless you know how to play the coupon game! I share my secrets on that here). Major department stores are going to a smaller selection of items but can be a bit easier on the wallet sometimes, same goes with Amazon with those you are paying a little more for the convenience of it being readily available or shipped to you. There is one more online retailer that is decent for supplies, though it doesn't trump the Dollar Tree and that is Oriental Trading, they give you the option of buying massive wholesale size (Costco size in my house) quantities of items. While you get the most bang for your buck, you may be wasting money at the same time. I mean do you REALLY need 5000 pieces of felt or plastic ornaments?? So in the end and in my opinion the best place to get all your crafting supplies for the holiday season is the Dollar Tree! 

There are so many ways to muster up some fun and spread lots of holiday cheer that there is no reason you have to stay stressed the whole season! Well, that is unless you are a Grinch and you are just miserable in general. YOu can always donate one of these fun little crafts you do to someone 🙂 
I don't mean to go from a happy and fun post to something on a much sadder end of the spectrum but,if you are going through something difficult in your life, remember this too shall pass. Not everyone can enjoy the holidays, not everyone can afford the season and for many people this season causes a ton of debt. My heart hurts for those less fortunate (not by their own doing), those struggling with loss and illness around the holidays so I try to do everything I can to help everyone I can. This does not mean donating a ton of money or time, sometimes all they need is a smile, hug, a simple "thinking of you" card. It doesn't take much at all to warm a heart and just like Buddy the Elf says "The best way to spread Christmas cheer is to sing loud for all to hear".