Sublimation paper is one of the key materials needed in the sublimation process. Choosing the right paper to use is difficult as there are so many!
A-Sub Sublimation paper has been on of the top 3 choices of sublimation paper in the sublimation industry and there are so many reasons as to why. Here are a few pros that I gathered in my review of A-Sub sublimation paper:
Transfer quality
Affordability

Size options

Quality
Ease of use
In this article we are going to go through a full review of this product and you will be able to see clearly why A-Sub Sublimation paper is one of the top three sublimation paper choices. We will review all of the pros listed above in a more detailed reasoning.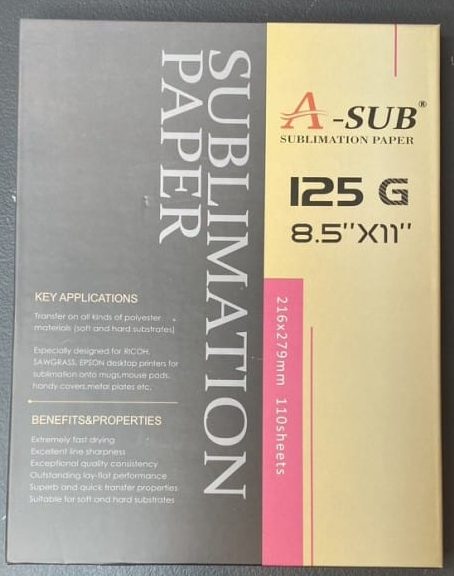 What is Sublimation Paper?
Sublimation paper is a specialty polyester coated paper that is made for sublimation specifically. It is much thicker and has a unique feel and texture to it. It is a mix of weight between cardstock and copy paper. Not like a very visible texture but like a rough texture and it has a matte look to it, not shiny like copy or laser paper.
Sublimation paper is solely meant to be used with sublimation ink. You can use it with regular and and you COULD use regular copy paper with sublimation ink but it is not recommended. You can read on that here.
There are many different brands of sublimation paper out there but A-sub is one of the top choices. Continue reading to learn why it is and will remain that way for the foreseeable future.
Transfer Rate
The transfer rate for sublimation is a big factor. There is also a lot of misunderstanding that if there is ink on the paper then it doesn't have a good transfer rate. This is not true. You can still achieve a highly vibrant and clear image with ink left on the sublimation paper. If there is ink on the paper when you are done pressing and your image looks like you wanted, then you win!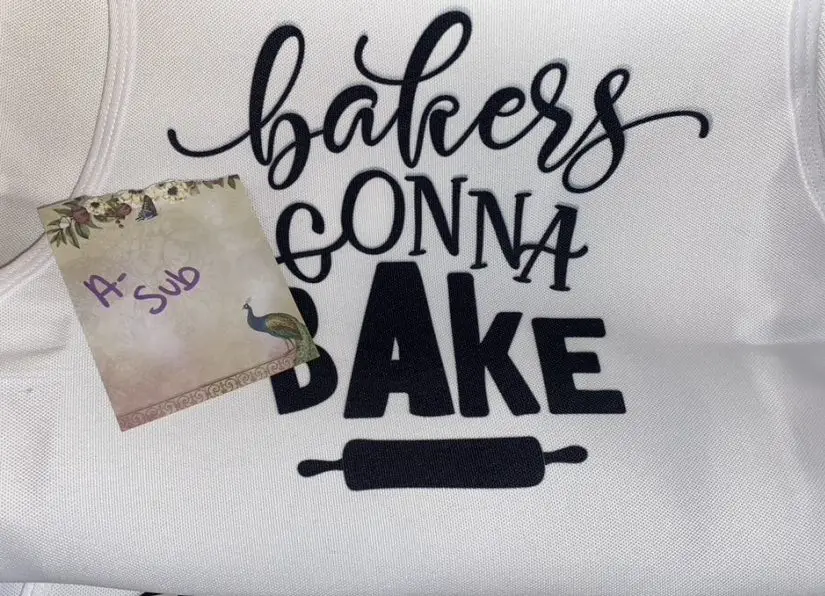 A-Sub sublimation paper has a 100% transfer rate, meaning that if you are using the right printing settings you should have little to no ink left on the paper when you are done pressing. Another way to tell if you are getting that 100% transfer rate is to feel the paper, if there is actual sublimation ink left on the sublimation coating of the paper you will be able to scrape it off. If you can not scrape anything off then the ink that is left has been set into the non polyester coated paper layer.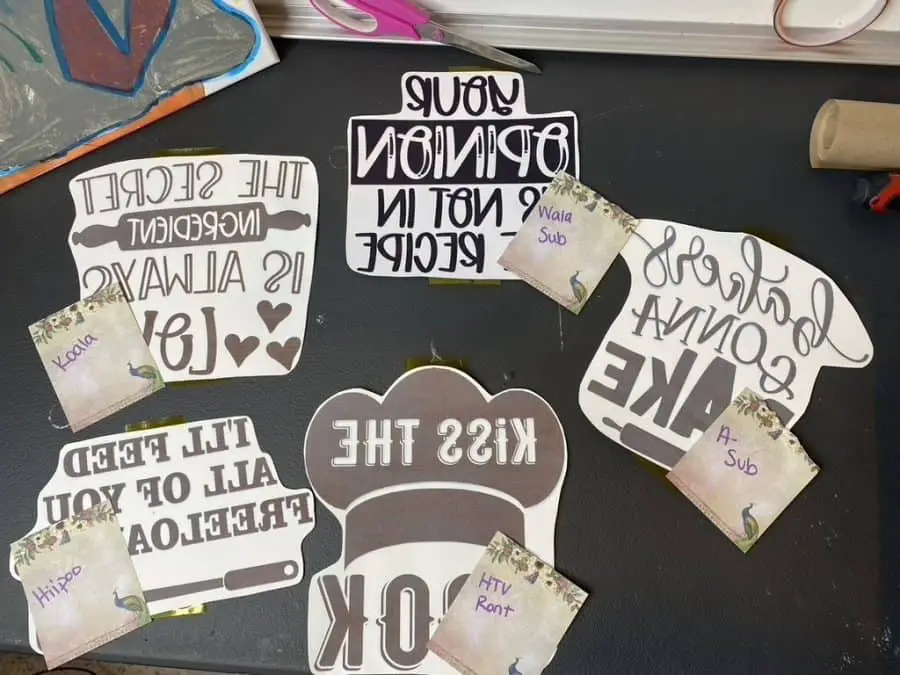 Affordability
A-sub sublimation paper is super affordable, they have set the bar when it comes to quality AND affordability. Here is a list of some of their prices today on Amazon (May, 2022) for a quick reference.
A-SUB Sublimation Paper 8.5×11 Inch 110 Sheets for Any Inkjet Printer which Match Sublimation $19.99
A-SUB Sublimation Paper Heat Transfer 110 Sheets 8.5 x 11 Inches Letter Size Compatible with Inkjet Printer 120gsm $16.19
A-SUB Sublimation Paper- 150 Sheets Heat Transfer Paper 8.5×11 inch Compatible with Inkjet Sublimation Printer 105g $19.99
HERE IS A LINK FOR 12% OFF to help save even more!
As you can tell they all range about $20 or less for about 110 sheets, which is a great price for the amount of quality your getting.
Size Options
When it comes to sizing A Sub kind of slacked but they make up for it with the fact that they sell sublimation paper by the roll. Which is great if you are a crafter of all things and use all different sizes of images.
Their standard size is 8.5 x 11 which is great for most projects and normally you can make it work for larger projects too. The roll comes in a 13 inch by 110 foot roll, this would be amazing for so many projects! The only issue is that you have to ct it to size but you can use a paper cutter to get a straight and even cut.
Quality
We touched base a little on the quality already when we discussed the transfer rate and the affordability. Using a quality sublimation paper like A Sub will make your projects vibrant, clear and the best available. So what makes sublimation paper quality or not? Well the transfer rate is the first thing to gauge but it is not the only thing. The other thing you should look at is the thickness, this should be thick lke cardstock, not thin like copy paper. Too thin and the sublimation ink will bleed, too thick and too ink much will get absorbed into the paper.
Ease of Use
Sublimation paper in general is easy to use. One side is coated and the other is not, you just have to make sure you are using the right side. A Sub makes it easy by marking the non coated side with their name all over it so there is no mistaking it. Some companies only tint the non coated side which can make it kind of difficult to see which one to use.
Final Thoughts
Final thoughts on A Sub paper are that it is high transfer rate, great quality, super affordable and really easy to use. A Sub has been one of the top three choices when it comes to choosing sublimation paper and it is easy to see why.
A-sub was kind enough to send me some of their amazing paper to review for them and even sent me a code to share with you to save you an extra 12% off! Follow THIS link for the discount and happy crafting!
Be sure to check out some other nifty functional craft ideas through our other posts here on Craft-ILY as well as checking out some videos on DIY and How To's over on YouTube. Look for "Crafting Unedited" or just click the name in blue to see!