Jewelry is a fun way to enhance or alter your style. Necklaces are definitely one of my favorites to wear. There are just so many styles and lengths available. Wearing necklaces can really dress up or dress down a look. \
There are many different chain styles as well as necklace styles. Deciding between the different types of chains will affect the look you are aiming for just like the style of necklace. Some styles and designs are simple while others can be more complex with lots of detail. We're going to talk about the most common and popular ones below.
Chain Styles
Did you know that there are different types of chains available for necklaces? The chain style you choose may also change your look up as well.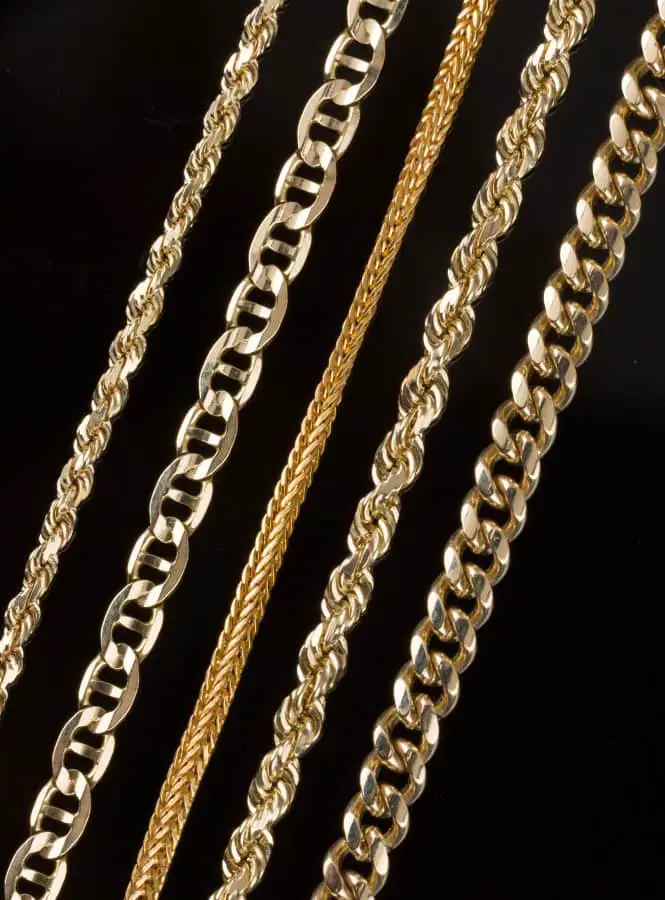 Anchor/Mariner Chain
Anchor chains, also known as mariner chains, get their name because of their close resemblance to the industrial anchor chain that ships use to hold it in place. They were designed based on the ship's anchor chains.
The oval or circular links on this style chain are interconnected. An individual link is designed to look like a figure eight. With its simplicity in design, this style chain is worn by men and women. Anchor or mariner chains are available in basically any length. You can get it from 16 inches to 30 inches for necklaces. They also come in different metals: gold, silver, platinum.
These are also extremely popular and very durable because of their design. Anchor chains have a range of prices. Depending on the length, the type of metal, and the thickness of the metal will determine if you are going to spend ten dollars or fifty dollars on a chain.

Ball/Bead Chain
Ball or bead chains are exactly as the name implies. It's a series of small balls or beads linked together to create a necklace chain. The spacing between each bead can be small or large depending on what you're looking for.
This style of chain is very common for tags (if you have military tags and even dog tags) or pendants. Ball or bead style chains aren't popular as a stand alone option but look great when you add a pendant or charm to it. 
Ball chain necklaces are not typically super strong either. They make for good kids necklaces because they aren't expensive and you won't be upset if it breaks. These are fun to craft with as well. You could make matching sets (best friend style necklaces or siblings sets).If you're wearing this style, just be mindful of the event you're wearing it to (unless you don't care if it breaks and falls off). If it gets yanked too much it will break.
Cable Chain
Cable chain necklaces are one of the basic chain styles and have been around for centuries. This style of necklace is made of identical oval or circular links of the same size. You can get cable chain necklaces that the metal is textured or smooth. It is a very simple style and extremely popular.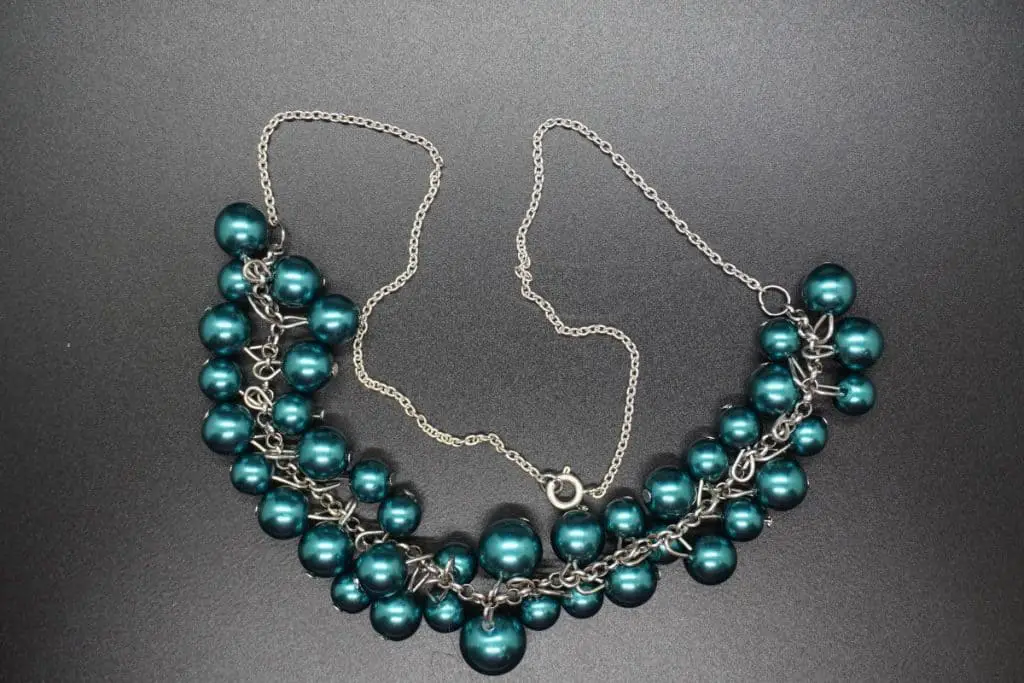 This chain style is usually pretty sturdy. Due to its simplicity and design, cable necklaces are very easy to repair if they break or one of the links gets misshapen. This style is also picked a lot by customers to use with a pendant.
Figaro Chain
This chain style is similar to a cable chain but it's a little fancier. Figaro (yes, I sang "Figaro, Figaro, Figaro" in my head as I wrote this) chains come to us from Italy (that's where they originated from). This style chain consists of an alternating pattern of flat links in different sizes. Most commonly is one long link with two or three shorter links followed by another long link and so on.
Figaro chains are a great gender neutral option as well. Both men and women enjoy this style. It's even pretty on its own, without a pendant. It looks nice with a pendant as well, so it fits both styles. This style can be made from different metals. 

The price of these is super dependent on the metal it's made from. Silver is going to be more budget friendly meanwhile anything gold is going to be more costly. There are options for any budget. But regardless, it's a very good looking chain. 
Box Chain
Instead of ovals or circular links, a box chain is made with square links. The square links are connected together to create a smooth continuous chain. Box chain necklaces are very sturdy. But if whatever reason a link breaks, this style is very easy to fix.
This style is favored by men and women as well (we love our jewelry don't we). Box chains come in a variety of widths and lengths. Men typically prefer the wider ones, while women prefer the thinner chains. Both genders make the personal decision on if they want a charm or pendant (depending on if they want that extra wow factor to their look).
Rope Chain
Rope chains are very beautiful and little more complex than a simple chain. Rope chains are oval links that are interwoven in a spiral like way to give the appearance that it looks like an actual rope. This style is also very strong and durable, making it perfect for everyday wear.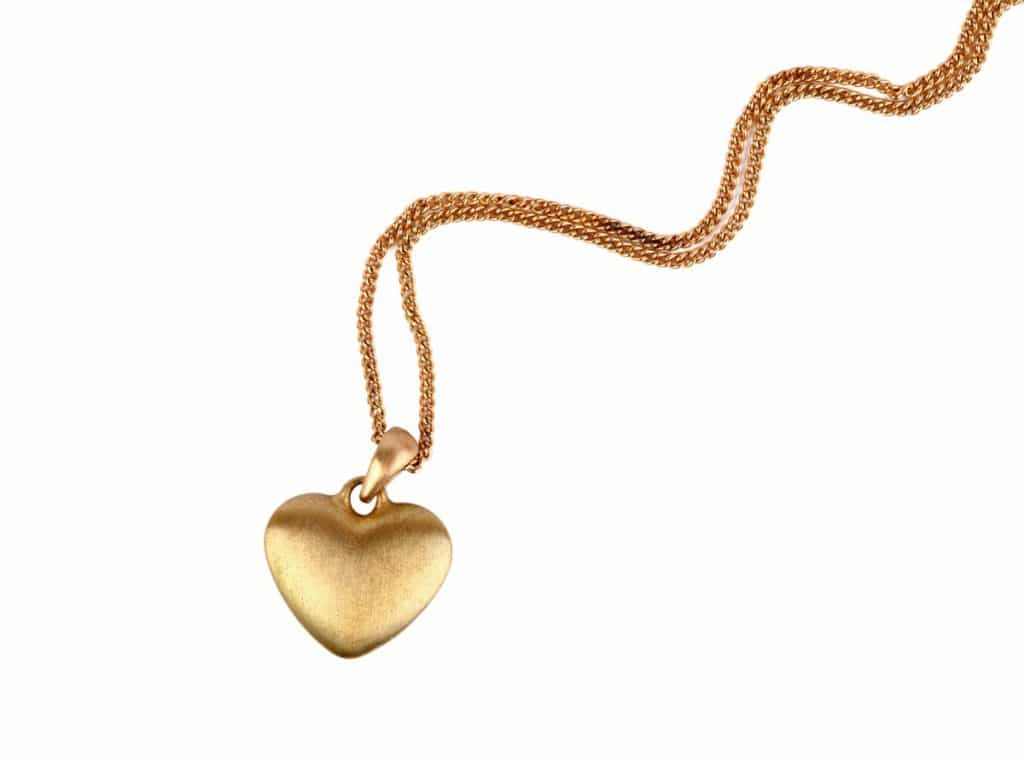 Jewelers and their customers love this style. It's favorite and worn by people all around the world! You can get it thick or thin, long or short and it'll still hold up (it's very strong). And no matter what size you get, they are beautiful and stylish.
Curb Chain
Curb chains are made with a series of interconnected uniformed links that are designed to lay flat. The thicker heavier ones are very popular among men. They are very sturdy and lack the delicate look most men avoid. However, they are also available in smaller thinner sizes for those (usually women) looking for something light.
Like with most necklaces there is a wide variety of sizes and they are made from different metals and may have different coatings. Curb chains have different options available depending on what you need or want. 
Singapore Chain
The singapore chain looks like a fancier version of a rope chain (very pretty).  It has a pattern that is twisted chain links. The singapore chain is sort of a cross between a rope chain and a curb chain. It has the twisting like the rope, but it's done in sections with a link in between creating a pattern and allowing it to lie flat. This intricate effect causes it to have an eye catching sparkle when it catches the light.
Singapore chains are perfect for pendants. They definitely create a look of elegance and class (even when you buy an inexpensive one). You don't need to spend a fortune to look good (though if you have it to spend it, go for it).
Snake Chain
Snake chains are also called a Brazilian chain and are not made with the traditional links like most necklace chains. They are made with round smooth looking links. The way they are attached together creates a flexible chain. Snake chains look like a snake body (of course!).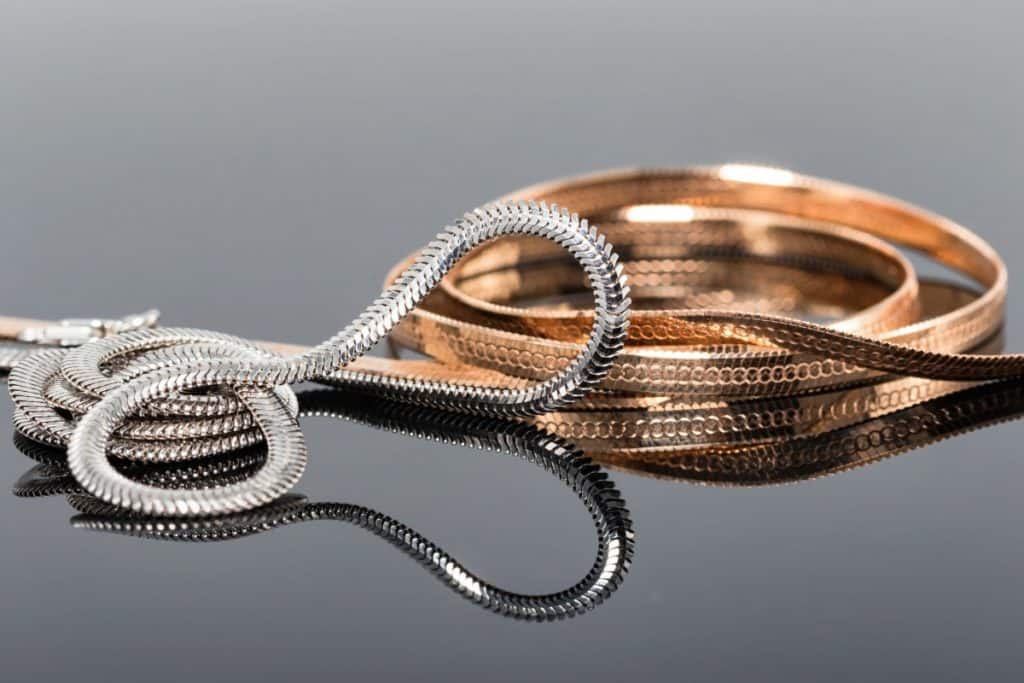 Some fun features of this style is that it doesn't tangle easily and doesn't tangle in your hair (winning all the way). They are easy to clean and take care of and perfect for everyday wear with or without a pendant. 
Wheat Chains
Wheat chains are a very beautiful and unique style chain. They are traditionally made of four strands of oval links and twisted oval links. Thanks are woven together like a braid (yes similar to the one you can do with hair). If you pay attention, you will notice that while yes it looks like a braid but this chain style looks like the tops of wheat stalks. The finished result is a good looking sturdy chain.
Wheat chains are a personal favorite of mine. They just look so elegant to me. You can wear just the chain to keep it simple or you can add some sort of a pendant to give it a pop of color. The only downside for this style chain is that they can kink (which is fixable). But to avoid kinking make sure when you are not wearing it, you hang it. You want to take care of your necklaces so that they last.
Types of Necklaces
Now that we've learned about some of the different chain styles, we're going to talk about different types of necklaces. All of these different chain styles can be worn as is but a lot (and I mean a lot) are incorporated into a specific type of necklace to create a certain type of look. There are so many styles to chose from.
Chain
So of course, a common type is just a chain. Most necklace chains can be worn as they are. Nothing special or fancy. You can just wear a simple chain (long or short, any way you want) to make you feel pretty and give yourself some decoration.
Choker
Choker necklaces are more fighting around the neck. They are usually 14 to 16 inches and can be made of so many different materials. This type of necklace can be worn with just about anything.  They can even be layered with other pieces to add dimension. Some are even made with an additional layer or two that can add some elegance to your look.
Bib
Bib necklaces, not to be confused with a baby's bib, is a style that is a chain with some sort of element that hangs down to cover up the breast bone. It can be additional chains or strings or beads, anything that has the extra layers hanging.
This particular style tends to be higher end and more expensive. However, these days we have so many options available. Necklaces can be made from so many different materials and not just expensive metals. Check out this one I found on Amazon. It's beautiful and blue and not expensive!

Festoon
Yes, festoon is a kind of an odd word if you haven't heard it. Festoon necklaces originated in Greece. This design means a wreath or garland of woven flowers, branches or leaves hung in a curve. They must have swags or drapes of chains, beads or metals (without this element, it is not considered a festoon).
These chains are often paired with gemstones, pearls, and precious metals (basically anything). This particular design was very popular in the 1700s through the early 1900s. It's still worn today (it's common antique necklace design) but not as frequently as it once was. 
Some festoons can be simple while others can be more elaborate. Of course depending on the material determines price. And if it's an antique you might be spending more. But they're so pretty!
Graduated 
Graduated style necklaces are a simple style. It's beads or gemstones on a chain of some sort. The beads or gemstones are larger in the center and gradually get smaller as they go out towards the clasp. It can be just a few gemstones or beads or they can go the entire length of the chain. Pearl necklaces often have this design. 
The graduated style of necklaces can be elegant and fancy even with its simplicity. There are different options available for different price points. But you can dress up your look with this style if you get something with faux pearls or cubic zirconia instead of beads. If you are wanting something casual for every day, you may want to choose a style made with beads instead. Regardless of your choice it's a very pretty style.
Locket
Locket necklaces are a pendant style of necklace. The locket hangs on a chain of the wearers choosing. However, there's something special about lockets. Unlike a traditional pendant, lockets have a small compartment that you can open up. The small compartment can hold a picture or momento of some sort inside. 
Locket necklaces are a very personal piece of jewelry to own or wear. The momento inside is often a picture or something small to remind the wearer or owner of someone special or of a special moment that they want to keep close to them. It helps keep that memory fresh in their mind. 
This type of necklace can be made from different metals and in different price ranges. There are options for adults and children, which can make it extra special to get something matching (As a mother of two girls, I love mother daughter options).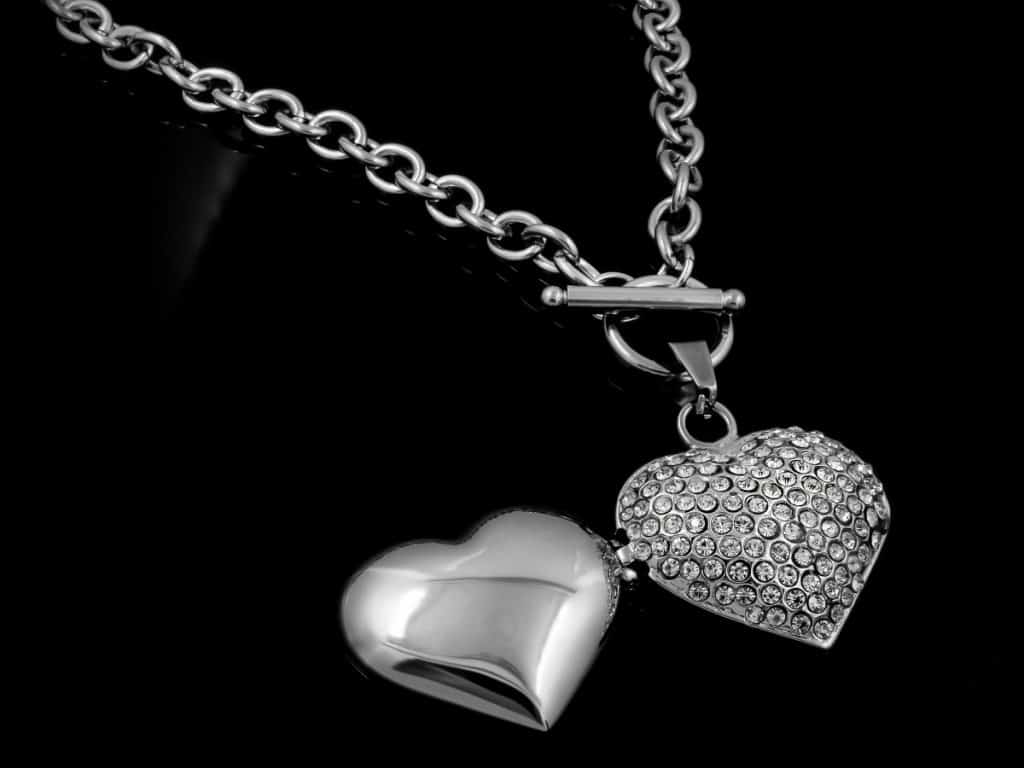 Pendant
Pendant necklaces feature a single pendant on a chain. The pendant can be super detailed or basic. It can be just a stone or something with more features. I love the personalization of these. And if you find a chain you really like, you can just swap out the pendants (they are super easy to put on a chain and take off).
Pendants have a lot of options. You can even get a piece of metal engraved with your initial and wear that as a pendant. There are lots of fun choices to pick from to add to your look. You can choose something for casual everyday wear or something dressier for a special event. Take your pick.
Princess
Princess style necklaces are usually 16 to 18 inches long and sit just below the collar bone with a focal point in the cent that may dip a little lower. These types of necklaces are usually reserved for more formal occasions. Just like you expect a princess to wear, this style of necklace usually features fancy shapes and lots of jewels.  Click here to see a beautiful sample of the princess style necklace.
Matinee
Matinee necklaces are longer, usually 20 to 22 inches long. Personally, I think it's a bonus if a necklace is long enough to slip over your head, I have a hard time messing with clasps sometimes (especially on myself).
This style necklace is embellished with gemstones or beads or both and makes a great layering piece. You can use it as a focal point and layer lighter and shorter necklaces to build onto your look. I wear this style all the time but it looks especially amazing with tops that have a high neckline (even turtlenecks if you wear them). 
Don't Worry, There's More
If you haven't been to a jewelry store or shopped for jewelry in a while, don't worry. There are plenty more options that we didn't get to talk about. The styles and designs mentioned above are the most common and popular style. However, the options to choose from are endless. You might think I'm exaggerating, but I assure you I am not.
There are antique options and modern options that are worn all the time (depending on your style and the event you are attending). Use the information provided here to give you guidance to get you started, but don't be shy about getting something that really calls to you (even if it's not the most popular). Rock your own style. If you are feeling good and as your best self, then you are beautiful and showing it off. 
Side Note: Don't forget to hang your necklaces. You want to avoid them getting knotted or kinked because they can be a challenge to get out. Have fun shopping around for all the different styles!