Cricut Infusible Ink has come pretty far since it was first launched. You can create so many things with the sheets, markers and pens. There is also a bigger selection of blanks to choose from now as well. I have covered a variety of compatible blanks in a previous post. One of the most popular blanks after coasters are shirts.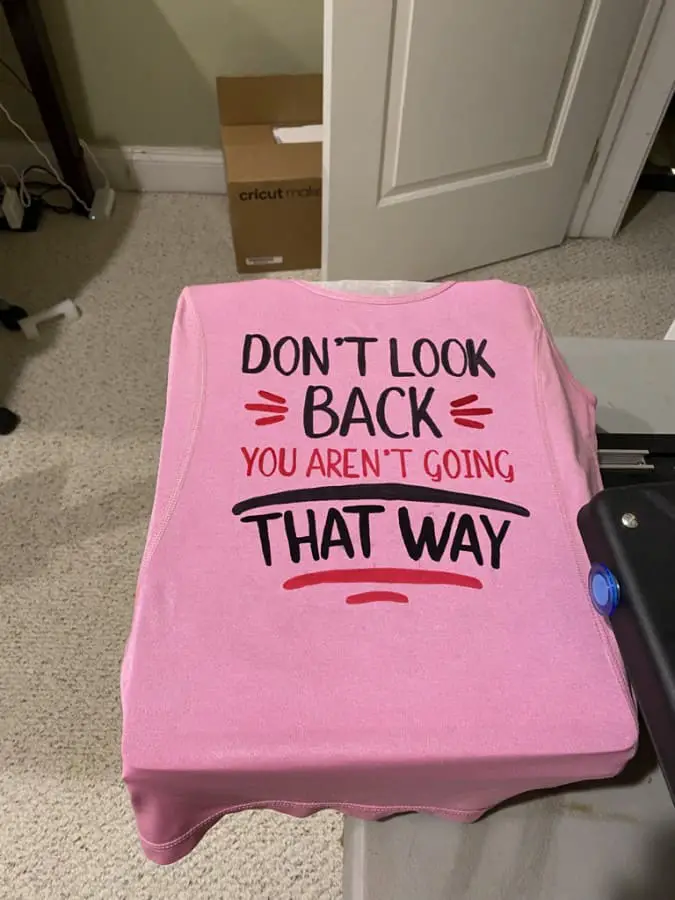 Shirt making in general is one of the top crafts in the Cricut world, then comes paper crafts and signs. Today however, we are not here to chat about blanks, we are here to learn how to use Cricut Infusible Ink Markers on Shirts! It is not as simple as color on the shirt then press, there is a bit more to it than that.
Did you know?
Did you know that the reason Cricut created the Infusible Ink markers and freehand markers was so that you can create even more unique designs and products. Using the draw feature in Design Space allows the machine to draw (with a significantly more steady hand than a human) your artwork, the freehand markers are meant for a human hand to draw one of a kind artwork.
Regardless of the method or marker you chose to use, the images and designs you create with the markers is going to be far more unique than something you find already made by someone else. Imagine it this way, even if you are not an artist by any means, you can grab a coloring book, image from Design Space or even a friends artwork and make it 100% unique by using your own colors!
Let me explain how these work, so you can get to creating.
Materials
Before we get started with the how, you will need to collect some materials and supplies for this project. You are also welcome to read through and then gather the supplies needed and always welcome to return and read through again as you go. This is what I do when I am working on something or learning something new. The materials you will need for using Infusible Ink Markers on a shirt are:
Laser copy paper (regular will bleed)
An image you drew or a design you can outline (mirrored)
Printer if you are using an image outline from Design Space
Heat Press – this is one of the two that I have and I love it!
Once you have all of your materials gathered you can start your project.
Prep Work
Prep work may seem like a waste of time but it (to me) is needed for a smooth and successful project. The first thing you want to do is make sure you have your materials close by and purchased. This will eliminate the unfinished projects laying around.
The second part of prep work will be pre heating your heat press. For this project you will need to have your heat press set to 385 degrees for 60 seconds. Preheating avoids you having to wait later and gives a more consistent heat.
Once you've preheated you are ready to design. For these project I will either draw my own outline or use one from Designbundles.net or Cricut Design Space. Regardless of your method of outlining you want to mirror your image. If you are drawing it yourself here is my process.
Draw the outline of what you want normally but use a pencil then go over with a sharpie when done. Then take a light pad (if you don't have one get one, so worth it! Flip your drawing face down and take a sheet of laser copy paper and redraw your image in reverse. Then color it in if you want color.
NOTE*** when tracing, drawing or coloring with the Infusible Ink Markers avoid touching the areas you already colored. Trace from left to right.
If you are using an outline from designbundles.net you will need to either upload into Design Space and have the Cricut draw it out for you using the Infusible Ink Markers or just print it and trace it, either way you want to make sure the image is mirrored before you press. Otherwise it will be a backwards image.
The final part of the prepwork is to prep the shirt for pressing. To do this you will want to first use a lint roller to remove any debris from the shirt. Then you will press it to remove any moisture, this is a short press talking 5-10 seconds no more. Then you will place a sheet of butcher paper on the inside of your shirt to protect the back from transferring.
Ready to Work
Now that you have your materials and your prepwork complete you are ready for the main project work. The pressing! Remove your shirt from the heat and make sure it has cooled from your prepress, the align your image where you want it to be (face down) and use a couple strips of heat resistant tape to stick it in place. DO NOT use any type of "spray adhesive" this will ruin the image and cause smearing especially if it is not dried.
Once you have the image in place you will need to verify your butcher paper is still inside the shirt (this is super important so always double check). Then you will move the shirt to your press and lay the shirt completely flat, making sure there are no wrinkles. Then place your sheet of butcher paper on top of taped design and press with medium pressure for 60 seconds. When the timer is up carefully lift the press and immediately remove the butcher paper and design.
When removing the butcher paper and design you want to be extra careful, don't move it on the shirt, just lift off of it. If you move it sideways or up/down it could ghost on you or shadow. Which means it will leave a second faded image.
Couple of tips here, first you want to try and avoid touching the Infusible Ink with your hands as you color…this is why.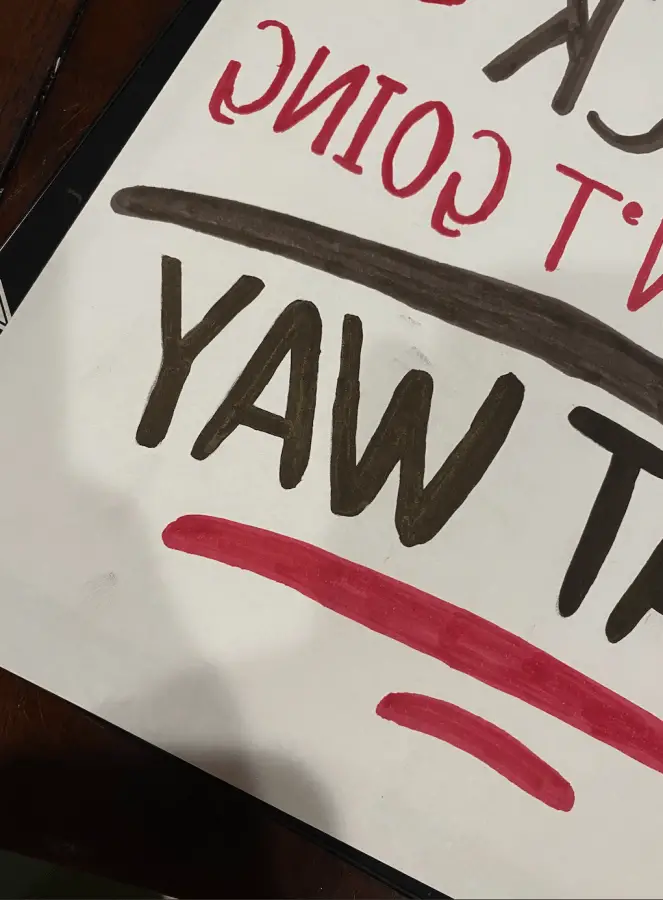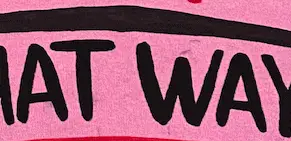 Second tip, ALWAYS use butcher paper inside and on top of your transfer, especially with Infusible Ink Markers. They bleed and ALOT as you can see here.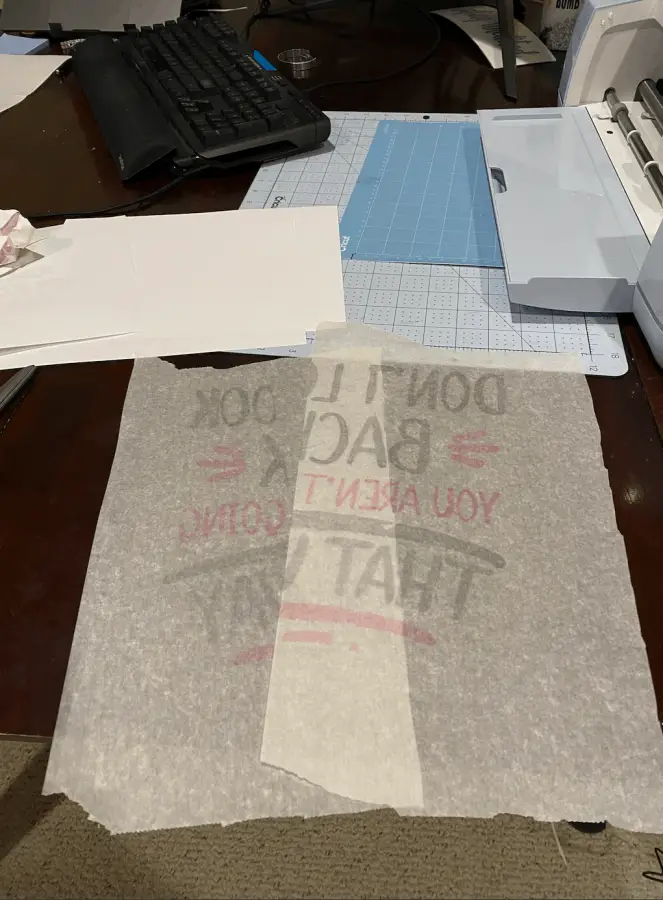 Final Step
Once the shirt has cooled remove the inside sheet of butcher paper and admire your work of art! It is now a permanent part of that shirt! You can wash regularly but do not bleach much. Bleaching too much will cause fading of these images as well as sublimation transfer. (the two are much alike).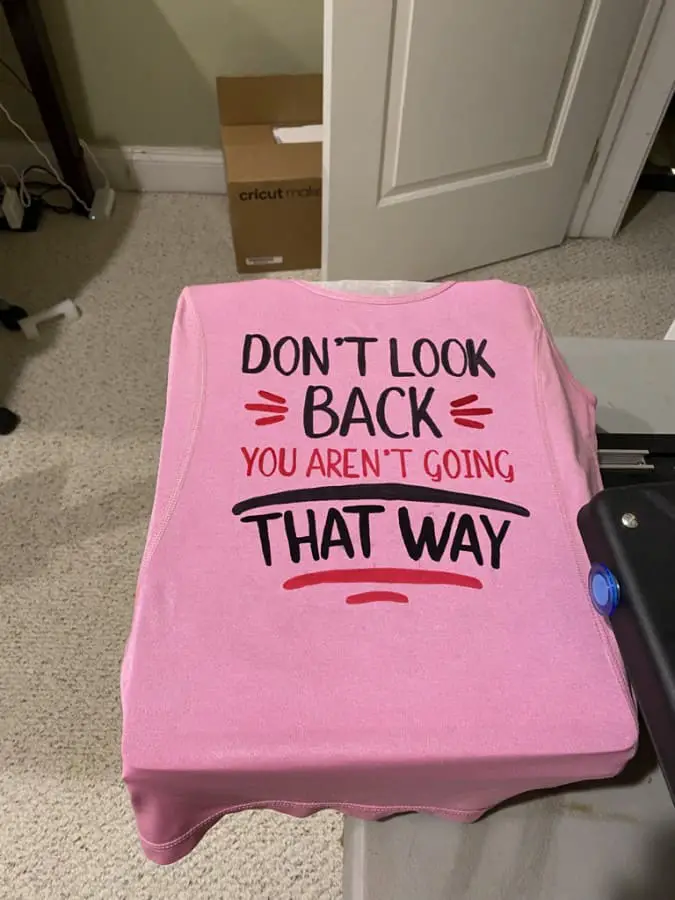 Now that you know how to make something even more custom than a fancy font, get out there and get creating. This process can be used for tote bags, make up bags, pencil pouches, and even mugs!
Crafting isn't about the process it is about the end results, the process is just the anticipation builder.
Be sure to check out some other nifty functional craft ideas through our other posts here on Craft-ILY as well as checking out some videos on DIY and How To's over on YouTube. Look for "Crafting Unedited" or just click the name in blue to see!