Did you know you can apply HTV or heat transfer vinyl to a yoga mat? Yogi crafters rejoice, because you can! You can create a yoga mat that no one else in the studio will have and everyone will want one.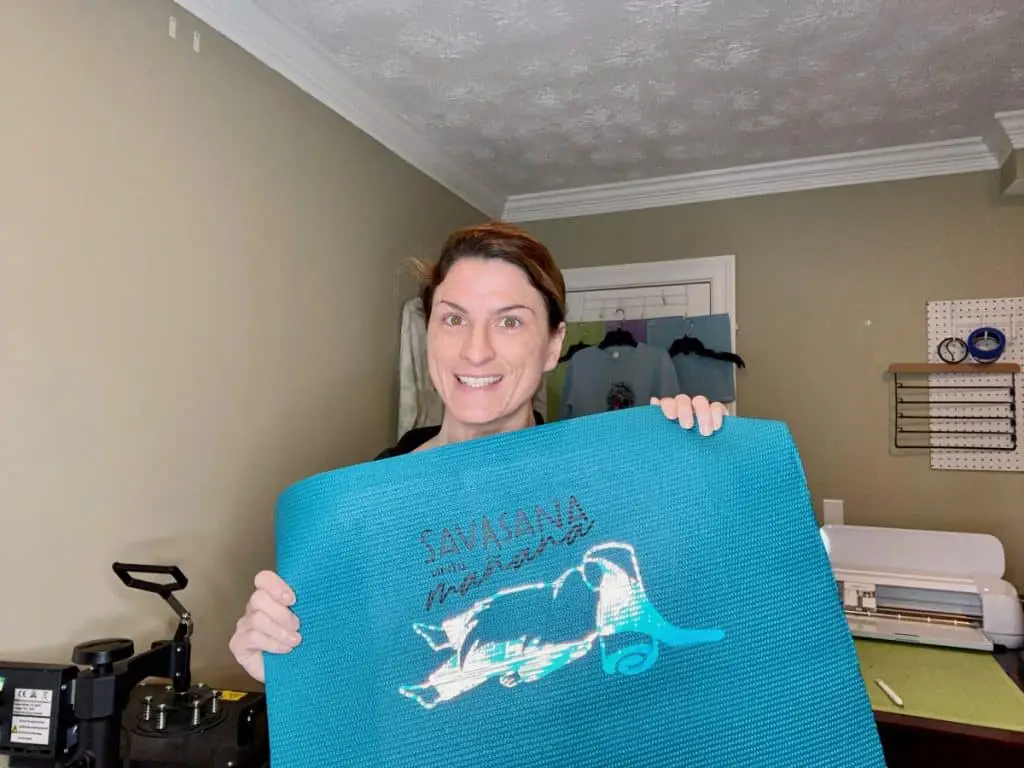 The process for how to apply HTV to a yoga mat is pretty simple but, it has a lot of tiny things that can go wrong. Most yoga mats are made from a blend of polyvinyl and polyester. Due to the polyvinyl being a delicate (but tough) material it doesn't resist heat well therefore melts quickly. Here are the basic steps to applying HTV to a yoga mat.
Pick a design using Cricut Design Space or whatever cut program you choose
Cut the HTV using your Cricut cutter or other cutter (remember to mirror!)
Preheat you heat press to 260 degrees and set it to 10 seconds
Weed your design
Place your design on the mat where you want to press it
Cover with teflon sheet
Press for 10 seconds with medium pressure
Lift press
Repeat if the HTV isn't adhered
HTV or Heat Transfer Vinyl is very universal in the crafting world. It is where most garment decorators begin. With it being one of the easiest to learn and use everyone goes to it for creating fun garments and products.
What is HTV
HTV is heat transfer vinyl, a vinyl that is made from polyvinyl that can withstand high heat and has an adhesive on one side that is heat activated. The adhesive is usually activated at around 265 degrees and higher. HTV is used for many forms of garment decorating but can also be used on wood and metal projects as well.
Heat transfer vinyl comes in so many different colors, styles, patterns and you can even get (or create) custom patterns and designs. This is why it is one of the most versatile products in the crafting world, the creating possibilities are endless!
Create it!
Now that you know what HTV is you are ready to learn how to apply HTV to a yoga mat. The first thing you want to do is gather your supplies. Here is a list with some links so you can get exactly what is needed: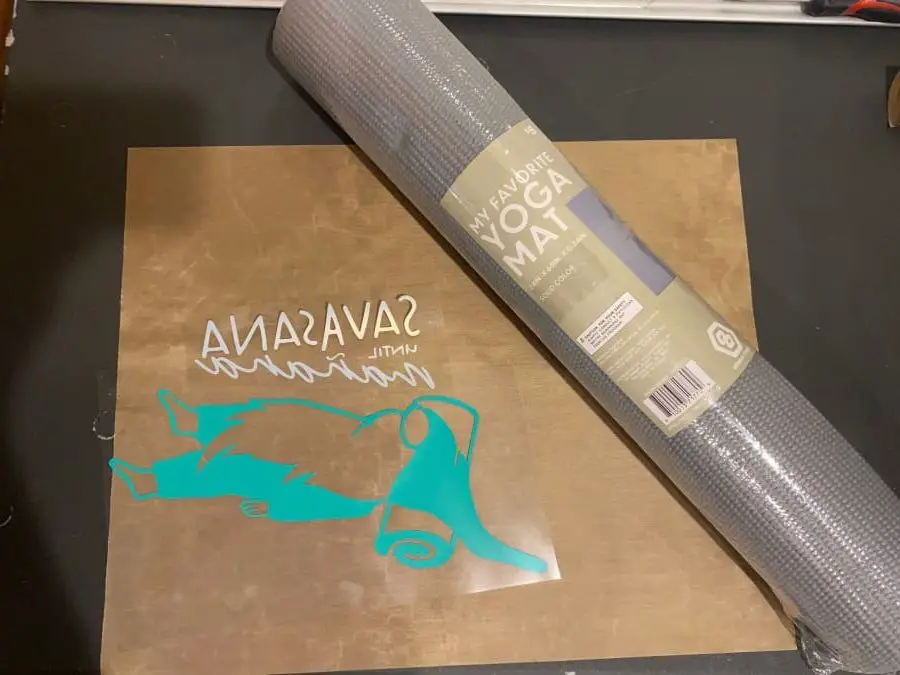 Yoga mat – I used one from Five Below
HTV – Any type, color or pattern you want (patterns do not get mirrored)
Design
Cricut or other cutting machine (Silhouette, Brother, etc)
Once you have your supplies gathered preheat your heat press to 250 degrees and set the timer for 5 seconds. If you have a full press adjust the pressure to light/medium or raise the lever to light/medium pressure for your mat.
After you have your press preheating, get on Design Space or other program you use to cut your images and create or find the image you want to cut. Then follow the process your machine requires for cutting. If you are using a patterned HTV remember that you do no mirror and will need to make sure you have a mask for it.
After you cut your image you will weed it and get it ready to press. Before you press you want to also make sure that your yoga mat is free from debris that can get stuck in the HTV. You can use a lint roller or tape to remove any debris.
Next you will apply your design to the mat where you want to press it. If you are using a full press you might want to stick to somewhere at the top or bottom for space purposes. Then you will cover the yoga mat and design with a teflon sheet to prevent the mat from melting to your platten.
Now that the mat and your heat press are safe you can lower the press and start pressing. Do not forget to set the timer! Start with just 5 seconds, if the HTV doesn't stick repeat the pressing for 5 seconds at a time until it does.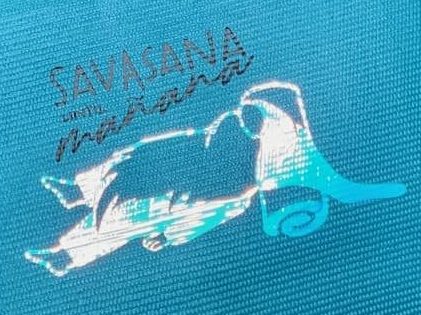 TIP – Using Siser Easyweed is best for this project because it has a VERY low tack time!
After the HTV has adhered to the yoga mat you can lift it from the press and peel the mask away to reveal your final product. If you followed the 5 second rule on this one you should not have a press mark.
Why HTV?
If you are a veteran crafter you may ask "why HTV if it is made of polyvinyl and polyester, you can sublimate that". While yes in theory you could, the reality is that you can't. The polyvinyl is made in a way that creates small bubbles and those bubbles deflate as the heat sits on the yoga mat.
When you use the sublimation process it requires high heat and time, typically the temperature needs to be at least 385 degrees and the time is normally around 50-60 seconds for a full transfer of the sublimation ink. The yoga mat material will melt if it is pressed for too long and at that temperature.
So yes, you can but you will melt the yoga mat and it will not be usable. If you attempted yoga on the mat after you sublimated or melted it the mat will tear apart.
Example of failed attempt
The original mat I did for this article I pressed for 30 seconds at 260 degrees and it was too long. I learned how to do it the right way by melting it first to show you the mistake and how to fix it. This is why the 10 second rule is vital, if you are nervous you can also drop the time to 5 second increments and repeat as needed.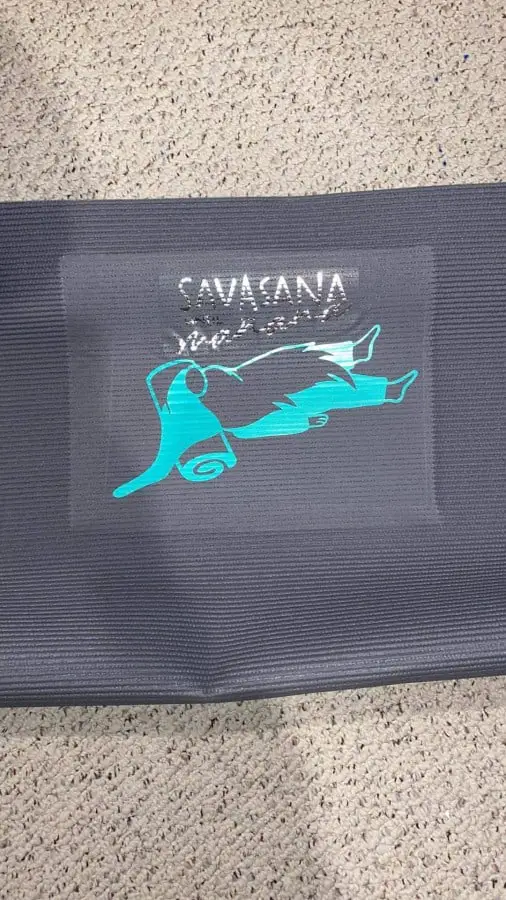 Final thoughts
Now that you know how to apply HTV to yoga mats you can get to creating your very own one-of-a-kind yoga mat and make all the yogis jealous of your amazing mat! You can also sell these and probably make a good chunk of money on them!
Be sure to check out some other nifty functional craft ideas through our other posts here on Craft-ILY as well as checking out some videos on DIY and How To's over on YouTube. Look for "Crafting Unedited" or just click the name in blue to see!