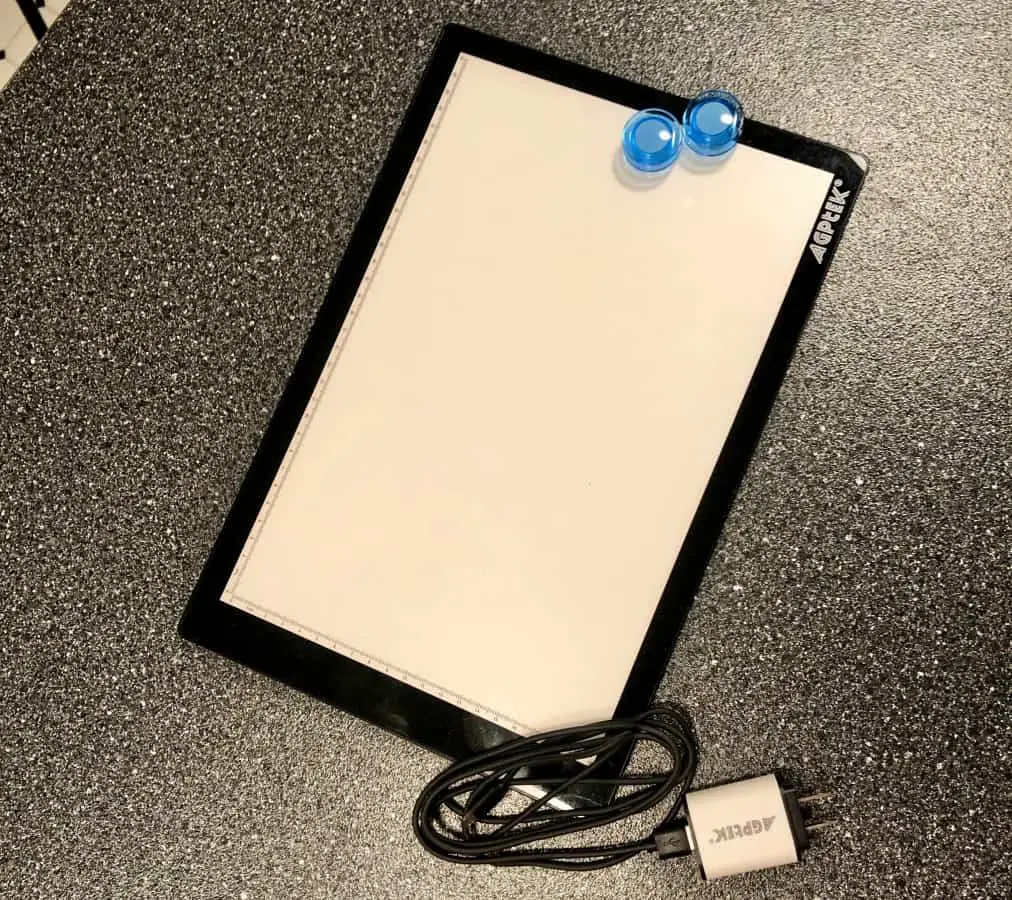 Cricut offers many Different tools and accessories. By many I mean in the hundreds of things to play and make with. Lots of their tools help make your Cricut crafting life a bit easier too.
The Cricut Bright Pad is one of those "making life easier" accessories for sure. The Cricut Bright Pad is a lightweight, low-profile tablet that lights up cut lines for weeding and those little lines for tracing.
While this little guy is a great tool there are other options out there that work the same, if not better (in my opinion) than the Cricut BrightPad and will save you some hardcore dough. I am all about saving money, if you have read my other articles, you already know. I love Cricut and most of their products, some though, just miss the bat for me.
Let's review the stats on the Cricut BrightPad then compare it to the non-Cricut branded one that I have. That way you have all the info you need to make YOUR decision.
Stats
I am going to recap directly from the Cricut site for the stats on the BrightPad, and for the other competitors, I will go off of Amazon since that is where I do most of my shopping for craft supplies these days.
Bright, uniform LED light 
5 brightness settings

Brightness settings, from lowest to highest, are at approximately 400, 1300, 2200, 3100, and 4000 lumens respectively

Lightweight, portable, and durable
9 in. x 11.5 in. lit area
Nonslip base
6 ft. USB power cord (must be plugged in during use; does not contain a rechargeable battery)
These stats are directly from Cricut's website, sounds like a phenomenal product! The only downside I can see is the price point, currently, it is between $50-$80 depending on where you get it from. Possibly the lit space could potentially be a downside as well, some of my projects are bigger than 11.5 x 9 in so it could get frustrating trying to move it around.
They don't list the weight of the product but it is around 1.75 pounds, so it is pretty light, and it is small enough to fit in a backpack or laptop case to travel with. The different brightness settings are useful for different kinds of vinyl, the darker the vinyl the brighter it needs to be.
My current Light Pad
I currently have a Light Pad that I purchased from Amazon about a year ago and it has surpassed my expectations so far. I haven't had any issues and it is used about three to four times a week.
Magnetic A4 LED Artcraft Tracing Light Pad 4 Light Box
Material: Mitsubishi Acrylic Panel
Dimension:35.7cm/14inch x 23.5cm/10.15 inch
Active Area:32.1cm/12.6inch*20.7cm/8.14inch
Thickness:5mm
Color Temperature:6000k white
USB cable length:1.5 meters
USB charger:5v /2A
Working Voltage: DC 5V
Rated Power: 5W
Interface: micro-USB
Net weight: 425g
Package includes:
LED tracing light pad
USB adapter
USB cable
4 Magnet pins
User manual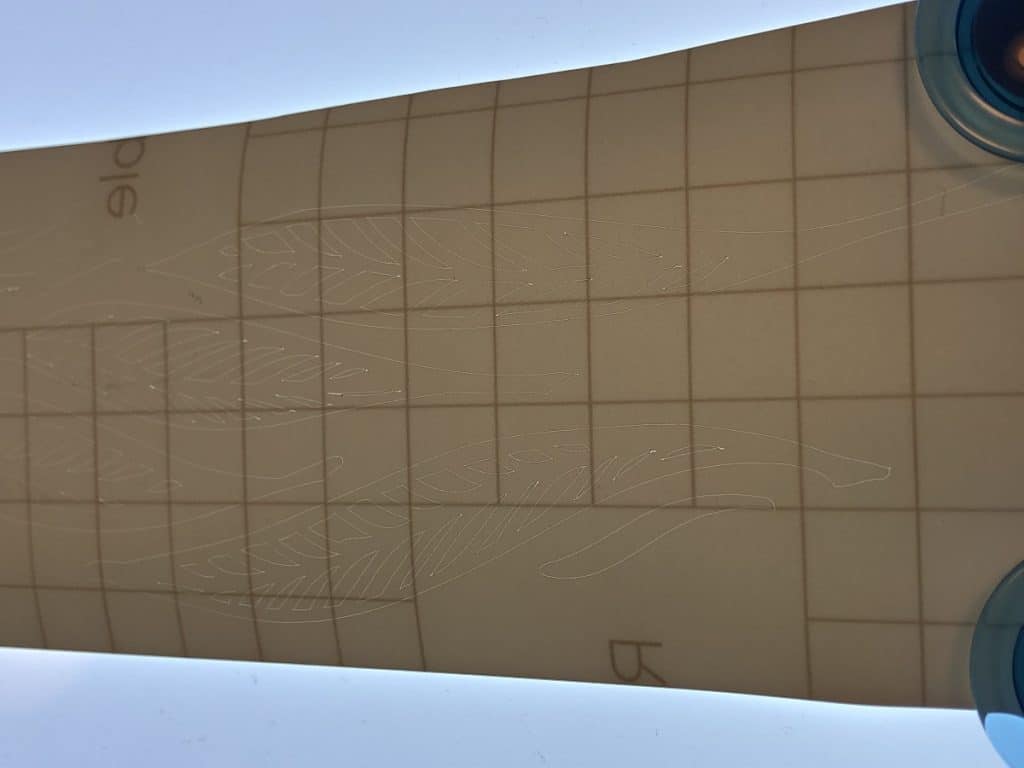 This light pad has actual buttons for the brightness to help avoid accidentally hitting the settings while working, uses USB for power supply which makes it helpful when traveling since you don't need an outlet, just find a USB port, these days they are everywhere.
The brightness control allows you to go from 0-100% with ease and it has a memory function, which is pretty neat, so if you walk away from your project and turn it off you can pick up right where you left off. This light pad also features LED lighting so it is pretty eco-friendly, easy on the eyes, and has a lifespan of about 500,000 hours.
Downside would be the same as the Cricut Bright Pad and that is the workspace. The size is just a bit bigger than the Bright Pad but still, in my opinion, not big enough.
Things to keep in mind when choosing
There are a few factors you will want to keep in mind when deciding on which product to get. Let's recap them so you know what to look for.
Hardness of the surface
This is a VERY important feature to look for in a light pad. Especially when looking at getting on to weed your vinyl on. The tools you use for weeding vinyl are super pointy and can easily damage the surface of one of these if you are not careful, or if you get one that isn't suited for stabbing basically.
The hardness is described as the resistance of the material to being damaged. For the surface hardness of a light pad you want to to be a 4.0 or higher, the higher the hardness the better.
Dimming options
The dimming options are the second most important feature to look at when comparing light boxes. You want a lot of options and a good range as well. Some of the darker vinyl is really difficult to see the cut lines so you need a really bright back light in order to see them. Other vinyls like glitter vinyl require a medium light and regular colors are good with low lighting.
Both the Cricut Bright Pad and the Artcraft Tracing Light Pad feature multiple settings and have great variations available. Which makes them both great products.
Corded VS Rechargeable
Convenience is the way these days. If we don't have to be attached to a wall to work it makes a world of a difference, it becomes easier for us to work wherever and whenever we want. Having to find an outlet (an open one in my craft room is a hot commodity lately) can be a pain in the rear, but if you get one that has a USB adapter you are in better shape.
Rechargeable is always better, of course, that is IF you keep it charged and it really depends on how long it an hold said charge. Some of these projects that I do can take up hours of weeding time, and if I watching TV or in a different area of the house and want to work on a project I would want to be able to do it with out stressing over if it is going to die or not.
I guess the idea with this is, personal preference. Me, I am good the the USB option, even my bed frame has those.
Screen Size
Choosing the right screen size is also pretty important. As I stated above, some of my projects are way bigger than an A4 sheet of paper, that my friends, is the one thing I wish I had paid more attention to when I purchased the one I did. The smaller surface can get annoying when working on larger projects but it works, so I am not bothered enough to replace it.
Slip Resistant Base
The base being slip-resistant is a "nice to have" feature. The light pad I have comes with magnets so you can stick your project to the light, the Bright Pad has a slip-resistant surface so you don't need to worry about anything extra to carry around, which is nice.
LED
Lighting can be really harsh on the eyes, and even more so when you are staring into it for long periods of time. When working on these light boxes having an LED screen is an absolute must for me. Anything else and you are asking for a headache.
Another reason you want LED is because they last for-eve-er. LED is super popular and for good reason, they are durable and last several years, we only have LED bulbs throughout our entire home and it has saved us a bunch of money and headaches over the years.
So when you are comparing be sure to look at the type of light it emits, to save yourself a major headache!
Weight
The weight of the light pad is important but not priority. Most of the projects I do I am at a table and have the light pad on that for support. The reason it is semi-important is if you want to take it with you somewhere, you will want something lightweight and portable. I can't imagine carrying around a heavy light pad, laptop and all the tools you use for weeding vinyl.
Anything under two pounds and I am good, I have a MacBook Pro so it is pretty light as well, the two together don't weigh more than an average laptop. So weight is kind of important but on the bottom of the priority sale when looking at a light pad.
Be smart, but don't over think it
You don't need to spend hours researching light pads in order to get a good quality one. Most are going to be sufficient and the one I have does really well. Follow these guidelines and you will be able to pick a great light pad in just a few minutes or so and without a headache!
Be sure to check out some other nifty functional craft ideas through our other posts here on Craft-ILY as well as checking out some videos on DIY and How To's over on YouTube. Look for "Crafting Unedited" to see!
As always my crafty friends, happy crafting!