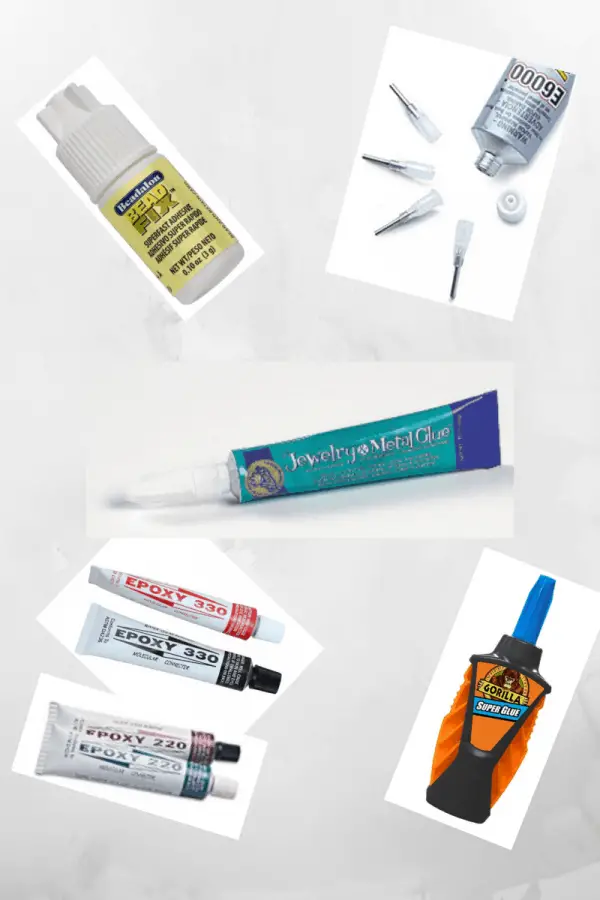 Jewelry Making involves lots of tools and supplies, it is right up there with crafting (some say it is part of crafting and I agree, but you really develop a massive collection of things with jewelry making alone and in crafting in general so I like to keep them separate). Glue and adhesives are a major supply you will want to keep on hand. 

There are a few brands and types of adhesives I keep in my workspace, up on a high shelf and out of sight from little ones due to the toxicity of them! What I usually have is some E- 6000, Epoxy, Gorilla Glue, and Aleene's (a few varieties). All of the products I reference have been tested and approved by this crazy crafter. 
E6000 has a few different types of glue and all serve different purposes, the one I use for jewelry making is the Jewelry and Bead Adhesive. It dries up clear in about 4 minutes and only takes about 20 minutes to fully set. Once it is dry it is flexible, therefore it is great for bracelets and necklaces that get moved around a lot throughout the day of wearing. This glue is also great to add a little backup security to your knots. 
Epoxy
Now when I say Epoxy I am not talking about the kind you dip tumblers in, as with most other crafting adhesives there are a variety of types here. The specific epoxy you would use for jewelry making is Epoxy 220 or 330. 
Dries with a transparent amber color in about 12 hours or in 20 minutes under a heat lamp. It is great for ceramic, metal and cabochons. Epoxy 220 is known as one of the strongest holds for jewelry. 
Dries clear with a blue tint in about an hour at room temp or in ten minutes under a heat lamp, great for the same uses as the 220 but in less dry time (at a higher price point) and it is a good option for bonding gemstones and metal findings. 
Gorilla Glue
Ah, good ole Gorilla Glue and it's thousands of uses. I honestly prefer the Gorilla Glue Precision Pen for everything IF I am need of a quick fix or don't have the patience to wait for my product to dry. It dries a soft white so it is not ideal for all uses but it only takes about 5-10 minutes to dry and holds wood, foam, ceramics, and metal. The best part, it is kind of like expanding foam, as it dries it expands and covers almost 5x the surface area you apply to.
Another product from Gorilla Glue I use for everything including household fixes is the Gorilla Super Glue Gel, this stuff is the best! It dries clear and in about 10-30 seconds and holds together certain plastics, wood, metal, ceramic, rubber (I have saved many shoes with it) leather, paper and more. 
Saving my favorite and most utilized adhesive for all of my crafting needs is Aleene's. Aleene's is known for their Original Tacky glue (which is the best thing ever) but they also carry a jewelry specific glue called Aleene's Jewelry & Metal Glue. Drying instantly means no waiting around for your next steps and it does not run!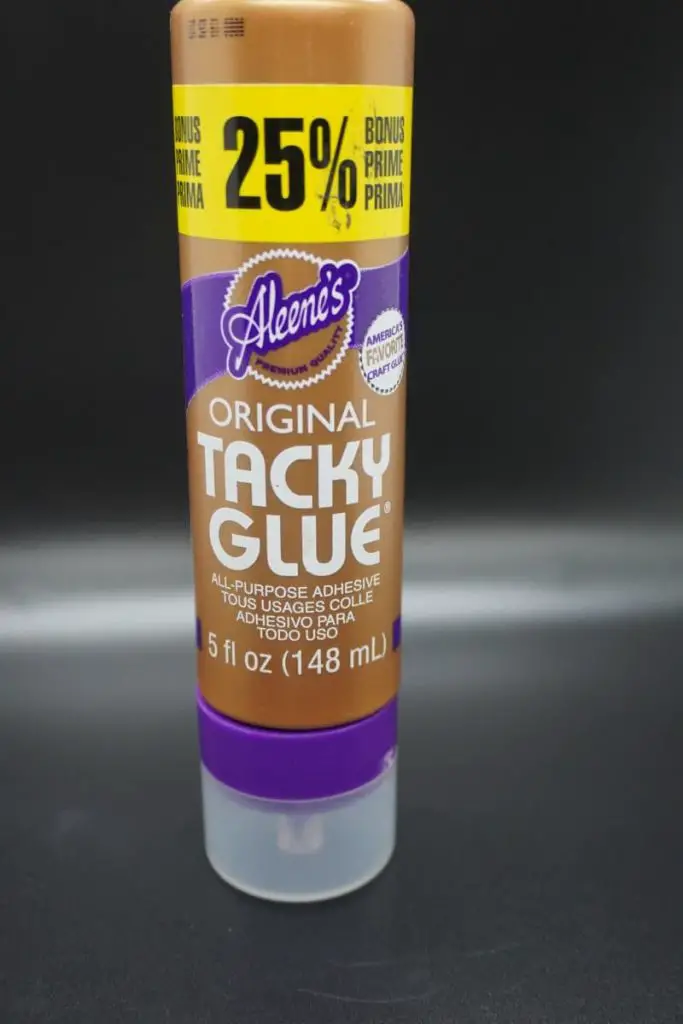 The best part is it's typically under $5! I am always game for an inexpensive and quality product! 
Beadalon is well known in the Jewelry making industry, for the hobbyist at least. I have purchased a ton of products from them and they never disappoint, their BeadFix is no different. I remember when our local craft store Pat Catans went out of business and I went in on a mission to get everything I could and I found 10 bottles of BeadFix and snagged all they had left, and I am so glad I did as I am now down to 2 haha! 

It dries clear and within a few minutes but it holds everything but leather (most glues don't hold leather well anyway, you need special glue for that) and has not failed me yet. BeadFix is most effective on beads but works really well on stones and gems as well, especially those with the flat backs, I use them to make stud earrings often.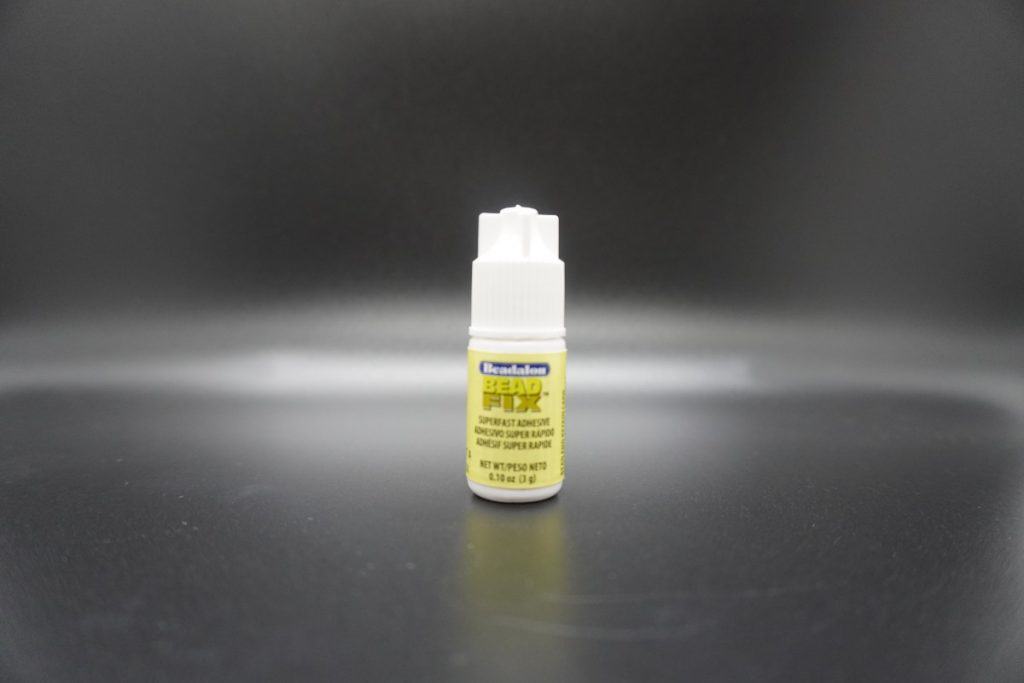 Reality Check
Glues and adhesives play a big role in jewelry making, they hold your precious creations together and your customers depend on that glue to hold basically forever. You should never skimp on supply because you found it cheaper or another version of it for less, trust me when I say you WILL pay for it in the end. 
I unfortunately have learned the hard way about what works and want to help everyone I can not make the same mistakes. Buy the good stuff, that way you always have a happy customer and quality products that last. A happy customer equals at least one referral and a happy business 🙂 

Tips for using adhesives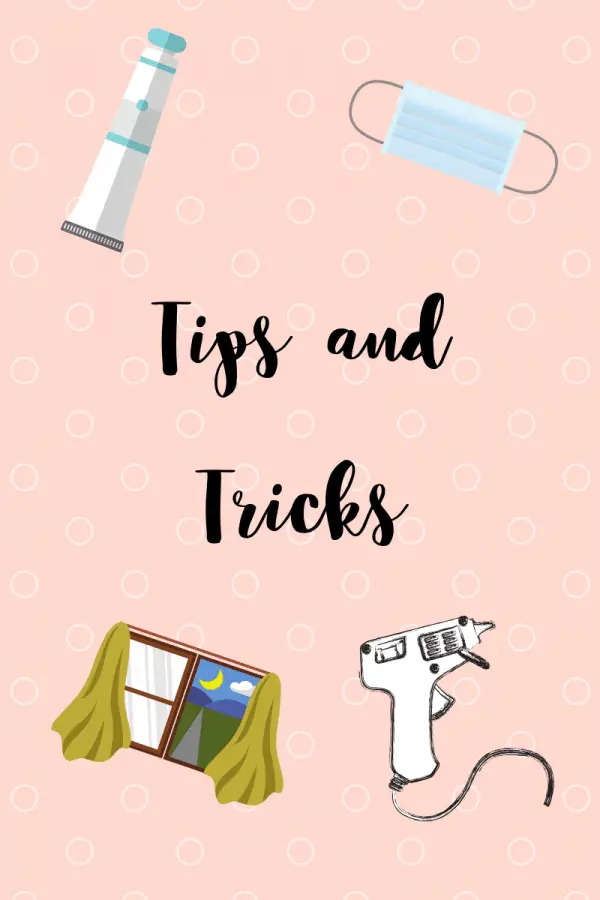 #1 – ALWAYS use any adhesives in a well-ventilated space, save your lungs, your eyes and your brain the pain! All of these are considered toxic and can cause some serious issues, not just a headache but things like cancer, respiratory complications, and other crazy illnesses. Wear a mask or open a window. 
#2 – Clean your surface with rubbing alcohol first! This will remove any oil or residue that could hinder the results of your work, leaving you with a less sticky product that could fail your customer. 
#3 – Wear some gloves you may have the best tips and tricks to avoid getting stuck (all puns intended) but I can promise you there will be that moment when you say "crap, I've stuck myself to myself" or something like that. Wearing gloves means you keep your hands from sticking to your product and the glue from sticking to you! 
#4 – SEAL THE GLUE!!! Whenever you are not using it, regardless of the amount of time in between coats or sealing, recap it, ALWAYS! Nothing is worse than going to use your glue again only to realize it is all dried up. Well that may be an over-exaggeration.
#5 – Hot glue is fabulous for many things with jewelry, however, use caution with what you use it for. It won't damage your products but it won't hold up too much after a while. Hot glue is great for a quick hold, but not for anything permanent when it comes to jewelry making. 
There ya have it folks, all of my best gluing choices for your jewelry making fun!
Be sure to check out some other nifty functional craft ideas through our other posts here on Craft-ILY as well as checking out some videos on DIY and How To's over on YouTube. Look for "Crafting Unedited" to see!